We all love a dessert don't we? I know I certainly do! In fact, when it comes to literally anything chocolate, I'm anybody's! But, we shouldn't have to feel guilty about enjoying something sweet after our meals or indeed any time of the day, not when we choose our desserts and plant based snacks wisely at least.
This post will give you examples of some of the tastiest and healthiest whole food plant based desserts and recipes, proving that dessert no longer has to be saved for a treat, but can actually serve to enhance your health and well-being with the clever use of superfoods, healthy fats, fruits and even veggies.
What is a Whole Food Plant based Diet?
Many plant based eaters are now taking their health to another level by eating the whole foods diet. This, in essence, means eating foods in their whole and natural form just like Mother Nature intended, and not extracting certain compounds away by any of the below methods:-
Juicing (smoothies are ok, as you usually blend whole foods).
Isolated protein powders.
Myco protein products that can come in many forms, but are mainly found in all the new-fangled plant based burgers, sausages, fake minces, and all of the other heavily advertised products that seem to be dominating the plant based market.
Taking a fat away from its original food, as in the case of most oils i.e. coconut, olive, walnut, avocado and sesame oil, or vegan margarines and butters.
Refined sugar and syrups in the form of white sugar, agave nectar, maple syrup, brown rice syrup, and all the other refined sweeteners on the market. Remember, pretty much all forms of sugar are not whole foods.
Why is this considered bad?
Eating foods in their whole and natural state is deemed healthier simply because the body recognises and assimilates whole foods better. A whole food is already perfect for us as it is, so when we isolate certain parts we are missing out on the food's other components that may help with the absorbability of its key nutrients. Not to mention the fact that isolating, refining or taking away integral part of a natural food will usually also remove nutrients and vital fibers that fill you up for longer and lower a its over-all GI rating.
How to make a whole food dessert
Using only whole foods in your diet can be hard enough at the best of times, and often requires a bit of skill and a lot of learning about how to put complete meals together, but desserts can sometimes prove even more tricky. So, instead of the usual fats and sugars that normally are abundant in your average dessert you can swap out for ingredients such as:-
Creamy avocados
Coconut
Nuts
Seeds
Fruits both dried and fresh
Date paste
I have done my upmost to find almost 100% plant based desserts for this list, however, a small amount of these recipes may contain a little dark chocolate or maple syrup, both of which can either be omitted or swapped out for something else if you wish to stick to strictly 100%. However, the recipes you find here are still very healthy compared to your average high sugar vegan junk foods.
Equipment you may need
In order to make many plant based desserts, you will more than likely need a powerful, high speed blender. You will need this in order to make beautiful, creamy sauces, nutty biscuit type bases, smoothies, fruit coolies and so much more. In fact, I don't think I could live without my blender these days, as I use it every day for making desserts, nut milks, protein shakes, smoothies and sauces.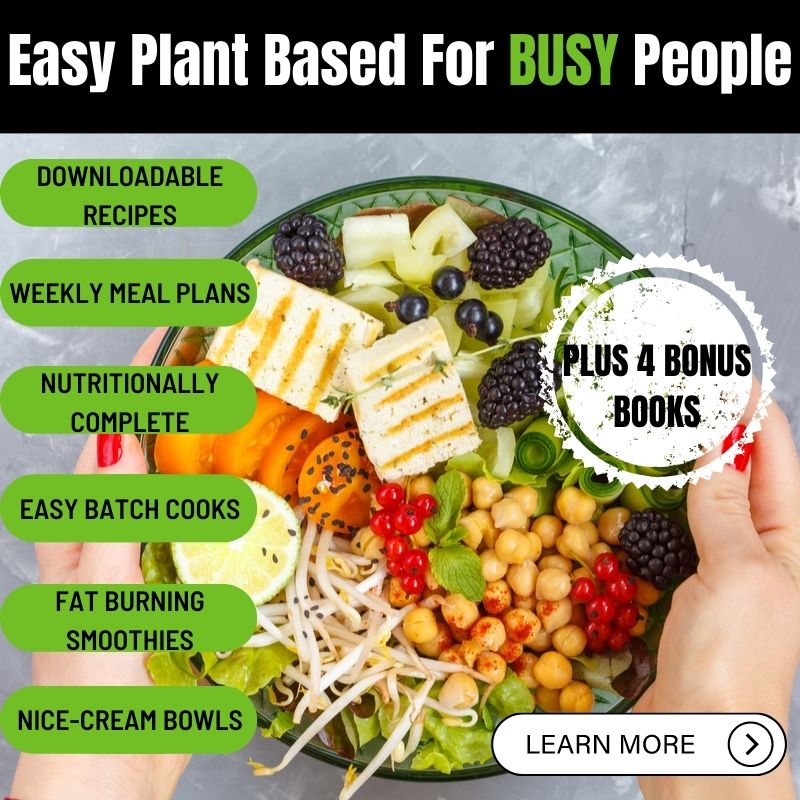 16 Tasty, healthy and EASY Whole Food Desserts
1. High Protein Nut Bars
Honestly, these are just truly amazing if you love a granola type bar. You can just whip up a batch at the beginning of the week and you're sorted – a very easily transportable and highly nutritious dessert, snack, or even a whole breakfast on their own.
The super high protein content of the nuts and nut butters in this recipe will keep you full and satiated for a long time, and combined with the rolled oats and the low GI sugars from the medjool dates you have a perfect meal.
Perfect to just run out the door with on your way to work or school, and a super healthy treat for the kids too!
https://itdoesnttastelikechicken.com/make-homemade-granola-bars/
2. Chewy oatmeal and lemon biscuits
One thing I often crave is a chewy cookie, and the chewier the better if you ask me, and that's why these homemade biscuits caught my attention straight away.
These are 100% pure and whole foods plant based and sweetened only with dates and apple sauce, making them a perfect breakfast or snack for the whole family. And easy transportability makes them perfect for busy, run-out-the-door mornings.
https://www.forksoverknives.com/recipes/chewy-lemon-oatmeal-cookies/#gs.wimgxe
3. Homemade Creamy and Nutty Ice-Cream
I scream, you scream, we all scream for ice-cream as the saying goes. Ice-cream is usually something that is hard to make healthy considering that it traditionally contains lots of dairy and sugar. But, if you think it's impossible, then think again.
Not only is this creamy, nutty ice-cream delicious, but it's very, very healthy. Obviously, we need to remember the fact that all fats need to be eaten in moderation if you don't wish to pile on the pounds, but other than that you have a dessert that's high protein and nutritious too.
Almond butter and dates are its key components, and those two go so often go together in vegan desserts for very good reason, because they are a match made in heaven and taste delicious, almost caramely together. And the vitamin E, manganese and magnesium in almonds make them a great, heart friendly snack in their own right.
https://www.unconventionalbaker.com/recipes/no-churn-dairy-free-creamy-almond-butter-ice-cream-raw-fruit-sweetened/
4. Classic Chocolate Chip Cookies
Almond butter, dates, almond flour, molasses, vanilla and chocolate chips make up this decadent and outrageously delicious cookie that will have your friends queuing around the block for afternoon tea at your house.
TIP – Use very high cacao chocolate chips to keep the sugar content down to a minimum. At least 70% is a good starting point, but I go 85% myself. You're taste buds will get used to darker and darker chocolate over time and with perseverance, but always exercise portion control with any kind of chocolate as it still contains lots of fat.
5. Cherry Ice-Cream
The thing I adore about homemade plant based ice-creams is just how FAST and EASY they are to make. Make a traditional homemade ice-cream and your looking at quite a bit of flaffing about, especially if you don't have an ice-cream maker. Well, non of that malarkey is needed with your plant based version.
As long as you pre-freeze your bananas and cherries (and you really do want to make sure they're properly frozen), then this dessert takes but a flash to knock up. Just make sure you have a pretty powerful blender if you're going to wizz up hard and frozen fruits, or at the very least make sure they are chopped well.
If you want to make this purely whole food plant based then simply omit the chocolate chips or go for chopped nuts instead.
https://www.forksoverknives.com/recipes/cherry-soft-serve-ice-cream/#gs.wnxkpf
6. Chocolate Orange Pudding
Orange and chocolate, chocolate and orange; whichever way you say it they are always the perfect couple. My love of this flavour combination started way back when I was a kid and used to receive a Terry's chocolate orange in my Christmas stocking – what can I say, it was the 80's!
But, this yummy dessert is miles away nutrition wise from the chocolate oranges of my childhood. This dessert is crammed full of avocados, and when combined with sweet dates and cacao are turned into a velvety dream with the use of a high speed blender.
Avocados are a plant based eater's very good friend due to the fact that those amazing omega 3 fatty acids, along with vitamins C, E, K and B's can help keep your brain and skin healthy. In fact, eat a little avocado every day and it's high vitamin E content will make your skin positively GLOW.
7. Coconut, Chia Seeds and Mango pudding
Coconut and mango are purely the taste of the tropics. Need some winter sunshine? Eat a juicy ripe mango and you will surely feel sunny and happy on the inside due to its raw super nutrition and high amounts of antioxidants, and Vitamins A and C.
Chia seeds are another powerhouse of nutrition in their own right as they are loaded with fiber, protein, calcium (learn more about obtaining calcium through plant foods), manganese, magnesium, phosphorus, zinc and B vitamins.
8. Easy Banana Loaf
Mmm, who doesn't love a good banana bread? And as this recipe is ALL whole foods it makes for a highly nutritious meal in itself, and I'm talking breakfast, lunch or just an anytime snack.
Most of the ingredients in this recipe come from cheap and cheerful store cupboard staples, so it is wallet friendly too.
9. Chocolate, peanut butter and Lentil Sundae
Yes, you heard that right! This sundae recipe calls for red lentils, but just think of that high protein intake when combined with peanuts and peanut butter.
Seriously, you could eat this beast of a sweet straight after a workout instead of a high protein shake, it's that good.
Red lentils are amazingly nutritious, and contain superstar amounts of fiber, protein, niacin, B6, folate, thiamine, magnesium, phosphorus, manganese, potassium, zinc, copper and pantothenic acid. In fact, all the nutrition a plant based eater needs in abundance.
10. 3 Ingredient Fudge
This fudge is exactly what it says on the tin. Just 3 ingredients and no baking, with minimum effort too!
This vegan fudge will satisfy your sweet cravings like nothing else, and it's fatty, creaminess comes from the nut butter. Personally, I'd go for a macadamia nut, as it is highly prized for its powerful effects on skin and hair, and its high levels of palmitoleic acid helps to prevent premature aging, so a great treat if you want to look glowing and youthful (who doesn't).
https://thebigmansworld.com/3-minute-paleo-vegan-chocolate-fudge-keto-sugar-free/
11. Chocolate Gelato
Made from peanut butter and cacao powder with ripe bananas and for sweetness. Totally refined-sugar free, and who needs sugar anyway when we can use whole and delicious fruits mulched up?
This chocolate ice-cream is made from just 4 healthful ingredients and takes only 5 minutes to prepare, and if you're anything like me you will want fastness and ease in all your plant based dishes.
You could probably swap the cacao (as with all the other recipes) with carob powder instead. The benefits of carob over cacao (which I still love too), is it won't be as stimulating as cacao which actually contains caffeine, and that can be a problem to caffeine sensitive people.
Healthy No Sugar Added Chocolate Peanut Butter Ice Cream (Vegan, GF, Dairy-Free, Paleo option)
12. Pina Colada Sorbet
Combine bananas, pineapple and coconut cream together and you have the makings of a tropical fruit dessert. If you love a Pina Colada (like I do), then you'll love this sorbet; and you even have the option to add the rum to make it more grown up.
The great thing about this dessert is it could definitely be served (maybe with the addition of rum) as a legit dinner party afters and be an all round winner. Best of all it takes minutes to prep, after which you just leave it to chill for a couple of hours and you're done.
13. Carrot, Almond and Coconut Energy Balls
Carrot – in a dessert! I'm a fan of all things vegetable in desserts, and have indeed used ingredients such as carrots, beetroot, courgettes, marrow, butternut squash and sweet potato to name just a few in past creations of mine. It really does work as long as you get your flavours and sweetness right, otherwise I can imagine it would be pretty awful.
These bites are full of flavour, and the addition of coconut is always a welcome texture in my opinion. Plus, the almond ensures good amounts of protein, making these bites suitable as a breakfast or nutritious snack any time of the day.
https://veganheaven.org/recipe/carrot-no-bake-energy-bites/
14. Raw Apple and Blueberry Tarts
Raw is always SO healthy, and I've been making a conscious effort to eat more raw foods for years, as raw foods really do indeed take your health to another level.
Get your daily dose of rawsomeness with these absolutely mind-blowingly delicious tarts. There's absolutely no refined sugars, oils, or anything else bad in there, just pure whole foods.
The cinnamon, nutmeg and cloves in this dish are all great digestive spices that are full of antioxidants along with the blueberries and other delicious fruits.
https://www.rainbownourishments.com/raw-apple-and-blueberry-tarts/
15. Devil's Food Cake
To finish up we have the best EVER chocolate fudge cake recipe I have ever tried (and I've tried many). This one has been tweaked to perfection and is as good as any unhealthy version of Devil's food cake.
This does have a couple of ingredients that aren't considered completely 'whole food', but on the whole, it's the tastiest version of chocolate fudge cake for as healthy as you can possibly get it, if that makes sense.
You could easily use this as a birthday cake for even a non-plant based person and they would never know the difference, it's that good!!
16. Chocolate Covered Rice Cakes
Homemade chocolate covered rice cakes are the bomb, and can be made really healthily if you use nutritious toppings.
The great thing about these homemade versions is the fact that you have all the control about what you use for your toppings. In fact, nuts, seeds and dried fruit all taste amazing with the addition of dark chocolate.
These are a good way to get nutrition into the kids too. They will think they're eating a a tasty treat and won't know any different.

CONCLUSION
Plant based desserts, as you now see, can be absolutely delicious and healthy at the same time. Going plant based has opened my eyes to a whole new world of food that I never knew existed before, and my life is 100% better for it.
Eating healthily brings your taste buds to life, and after a time you will realise that you can no longer tolerate junk foods and instead you will just crave the good stuff. Getting healthy and changing every cell in your body is a journey that just keeps getting better and better, and I truly hope this website can help you with that feeling of awesomeness that only comes from having a body that is thriving.
If you liked this selection of healthy desserts, then why not check out these amazing brownie recipes too? Some of them are high in protein and low in refined sugars and oils, making them a great anytime of day snack.