We all love ice-cream right?
What's not to like with this delicious treat? It's smooth, creamy, sweet and cooling and is probably one of the finest comfort foods in the world.
We eat ice-cream whether we're happy or sad, going through a break-up, or just in front of the T.V vegging out to our favourite films. Yes, ice-cream has many connotations attached to it, many from childhood memories of the ice-cream van singing its familiar tune in the streets and the excitement of being allowed to have one.
But, did you know that ice-cream can also be 100% HEALTHY without omitting any flavour, texture or anything else. You can even make your own healthy, homemade chocolate ice-cream recipe without a machine in less than 2 MINUTES with your average blender.
This chocolate ice-cream is from our famous Smoothie & Slushie Diet Plan that allows you to eat delicious ice-creams in order to lose weight and feel great.
How To Make 2 Minute Ice-Cream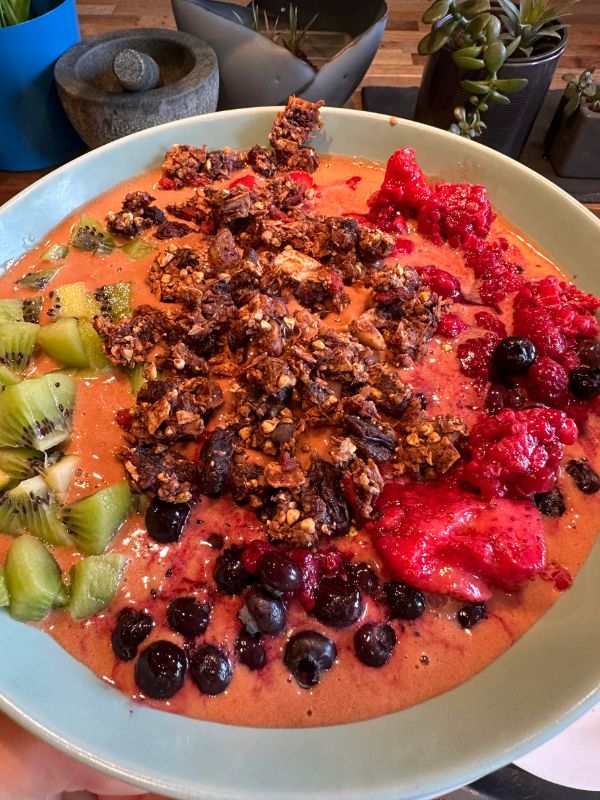 Many people presume making ice-cream at home is going to be time consuming and with much expensive equipment needed. We say NO to that because this homemade chocolate ice-cream recipe is anything but those things.
You'll also find that you will never miss those shop bought, unhealthy and refined sugar, dairy loaded versions of ice-cream again when you start eating this. Yes, you will crave only these blender ice-creams once you get used to them and realise just how versatile they are.
All you need is an average blender for the job too. No need for ice-cream machines which are very time consuming and cumbersome and are very hard to make healthy versions of ice-creams in. You blender can do this in minutes and with great texture too!
You will need to follow our instructions exactly if you want your ice-cream to come out thick and creamy and as close to an ice-cream texture as possible. If you don't, we can't guarantee you won't end up with a milkshake! Don't worry, this is something that you will quickly become accustomed to, and who doesn't love a chocolate milkshake anyway?
Benefits Of Homemade -Ice-Cream
Our best vegan, homemade chocolate ice-cream recipe is a crowd pleaser for all the family to enjoy. It has the following benefits and many reasons why we love it so much. This ice-cream is:-
Easy to make in minutes with your average blender, no special equipment or planning required.
Is customisable. You can literally make any flavour you like by adding different frozen fruits of strawberries, blueberries, mangoes, pineapple, cherries or raspberries. Feel free to experiment and change things up!
You can eat this ice-cream as a complete meal. Because of the whole foods plant based nature of your homemade chocolate ice-cream you can eat it as a breakfast, lunch or dinner too. Especially so if you add lots of tasty toppings such as raw granola, nuts, seeds, chopped dark chocolate, fresh fruits and coconut chips.
Our ice-cream recipe is whole foods plant based compliant and has no dairy, eggs or refined sugars in it.
A favourite with the kids. Make this fast and easy dessert or snack for the kids to keep their sugar consumption down and to get more fresh fruit into their diet.
Is completely vegan. This chocolate ice-cream recipe without machine is an easy vegan dessert, snack, or main meal.
High fibre, due to lots of bananas and other fruits.
Works well with other plant based desserts such as this fat free, spiced apple crumble.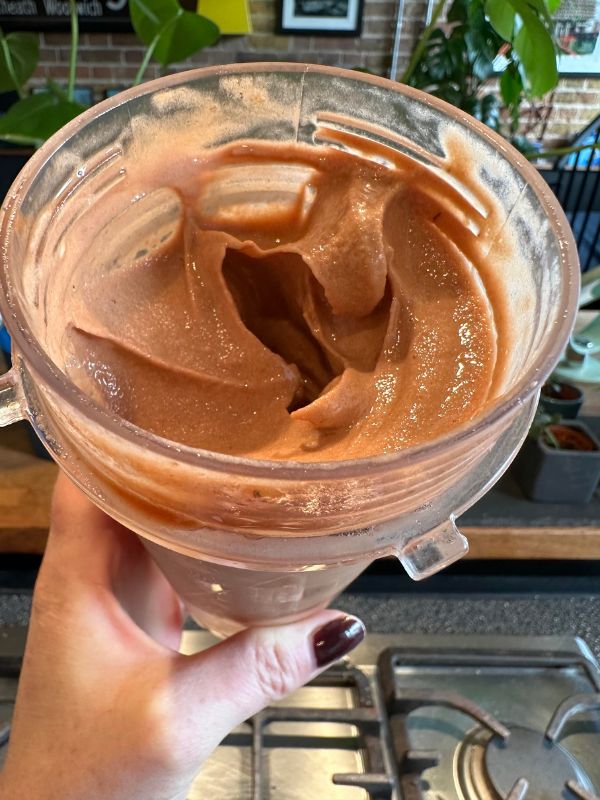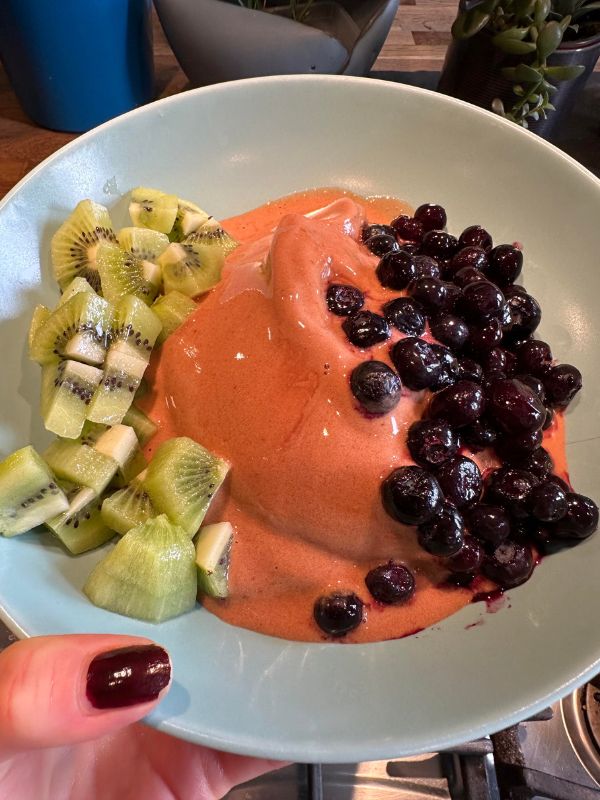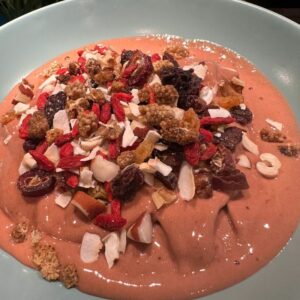 Homemade Chocolate Ice-Cream Recipe Without Machine (Vegan)
Chocolate ice-cream made with no dairy, no eggs and refined sugar free!
Equipment
Blender with about a 32 oz+ cup size. Smaller is fine for 1 serving.
Ingredients
3

large

pre frozen, very ripe sliced bananas

The importance of pre-slicing your bananas is to prevent them from buckling your blender blades, which can happen with lower quality blenders.

¼

cup

rolled oats

If you do not want an oat base to your ice-cream then you can use another plant milk, or watermelon as your fluid. If using watermelon you will need to omit the water and make sure your watermelon juice is blended first and comes up your blender by a couple of inches.

½

cup

water

2

tbsp

carob or cacao powder

Use carob powder for a caffeine free version of cacao.

2-3

chopped Medjool dates

Optional

Vanilla extract or essence to taste
Instructions
Blitz your oats in your blender with the water first to make yourself a creamy oat milk. Be sure to blend them down so they are as smooth as possible. You do not want graininess to the milk or it will make your ice-cream grainy and it needs to be smooth to be as close to ice-cream as possible.

This process could take up to 90 seconds. You may wish to stop and start again with the whizzing of your blender so that it does does not over heat.

Now add the rest of your ingredients and whizz again on high speed. The secret here is to only have enough fluids to just about get a whizz going on your blender. You should have roughly the right amount of oat milk to achieve this with the amounts in this recipe instruction, but it may vary from blender to blender.

If you do not have enough fluids to get a full spin going on your ice-cream, then you should add a little water at a time to achieve this.

You can stop half way through the blending process to bang down any ingredients stuck in the top of your blender, then continue until you have a very smooth texture ice-cream. You need to be able to get a blend going continually for 30 seconds to get your texture right.

Your machine may whirr a lot without the ingredients actually spinning. Be wary of this and do not wear your blender out. If it starts smoking or smelling of burning stop immediately and allow it to cool. You can then begin again afterwards, but just be wary as we do not want you to break or burn out your blender when there is no need.

Serve your ice-cream immediately. If you're using toppings such as nuts, seeds, dark chocolate or granola, be sure to have them prepared and ready to add. It is possible to freeze it, but not optimal as it will completely change the texture and make it super hard and possibly icy.
Video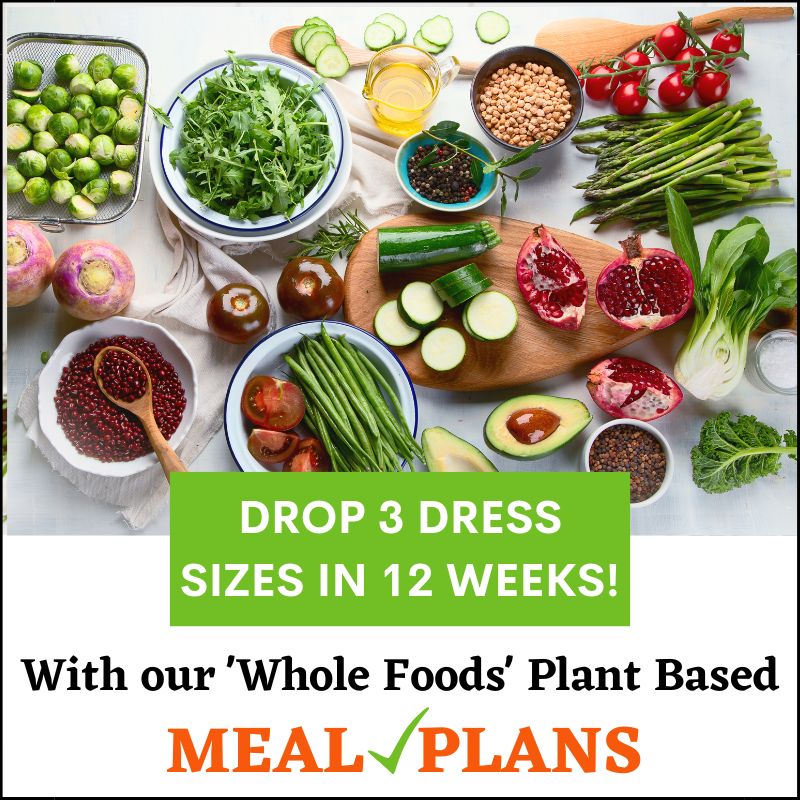 Thanks for visiting ZestForever today!
We wish to bring happiness to the world with out delicious, healthy and whole foods plant based recipes.
Please share the love (and our recipes) on your social media channels.
Let's bring about a healthier world and a plant based revolution!