Are you feeling like some comfort food? The kind that satiates you and makes you all warm inside?
This is what good comfort food is all about – bringing back memories and making you feel good. This fat free, apple-cinnamon crumble recipe with whole foods plant based ingredients does just that, whilst also being healthy and guilt free.
With this  delicious crumble you know you're eating something that's nutritious and good for you without ever feeling bad about it. You are, in fact, getting a good dose of heart healthy nutrition, the benefits of cinnamon, fibre from apples and oats and sweetness from whole dates.
What Is The Secret To A Good Crumble?
A good crumble should usually be buttery, fruity and delicious with a crunchy topping. Although we don't use any fats in this dish, they are actually not needed and it tastes just as good without. We've discovered that the use of date paste (or maple syrup) in the oats lends itself to a delicious and crunchy topping without the need for added fats or sugars at all.
Another secret to a great crumble is to use LOTS of spicing. Without the fats, you will need more spice to carry flavour so do not be shy with your cinnamon. Add other spices if you like too, such as pumpkin spice, ginger, cloves or even cardamon, but be sure to get those spices in there if you want a worthwhile apple-cinnamon crumble that tastes fantastic.
How To Make Apple- Cinnamon Crumble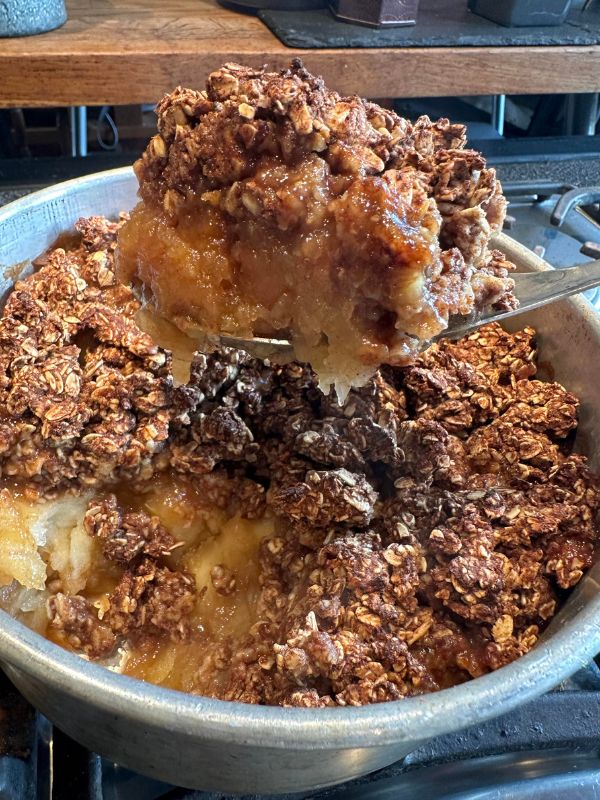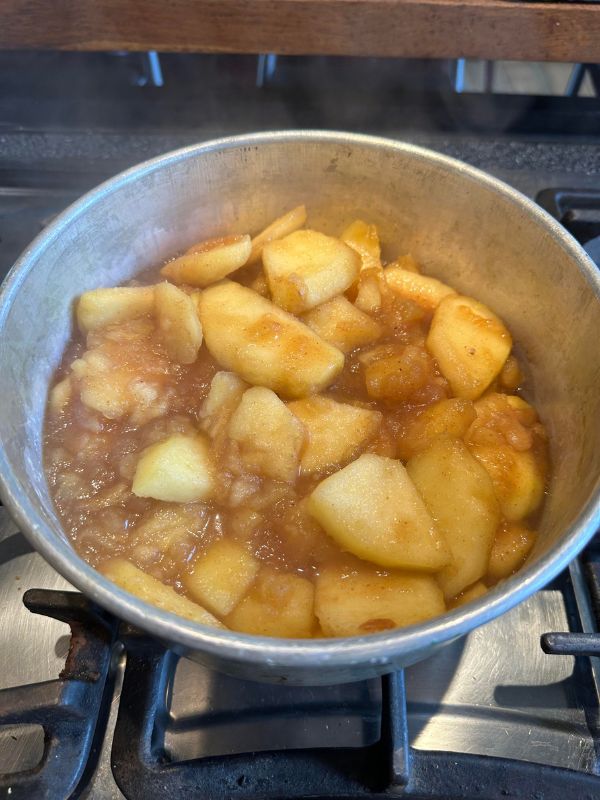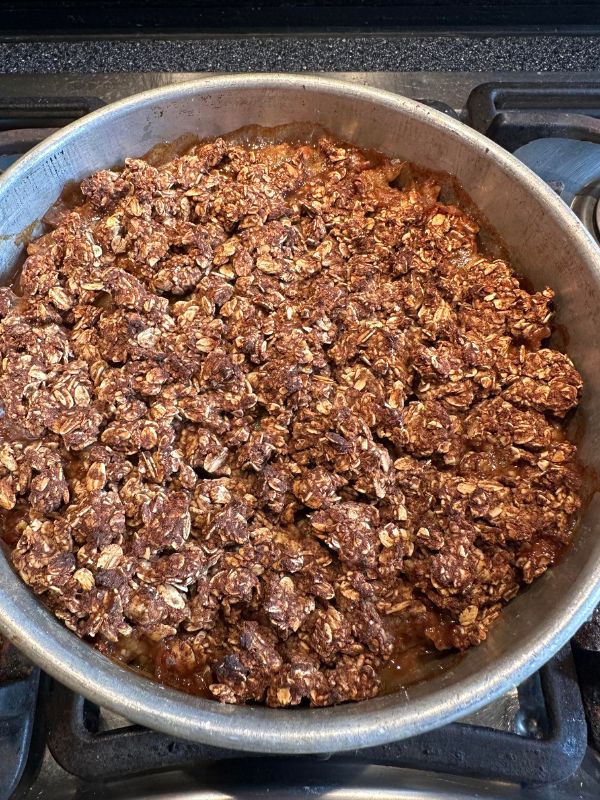 This crumble could seriously not be more simple. In fact, this recipe calls for only four main ingredients!
You can make this easy crumble recipe in around 15 minutes of prep work. We like to cook up our apples first so we can infuse some spices and sweetness into them, but this is no big deal and makes for a superior finished product.
The oaty crumble couldn't be more simple either. You just toss up your chunky oats with your homemade, date paste or maple syrup and lots of cinnamon and you will have the perfect, aromatic topping to go with your delicious, melt-in-the-mouth apples.
Making apple-cinnamon crumble completely fat free is so easy and will also not make you gain weight if you're on a calorie controlled diet. In fact, this crumble will come in at around HALF the calories of your average crumble that won't stick to your middle area half as much.
What To Eat With Apple-Cinnamon Crumble
This scrummy crumble is tasty either eaten alone or with something delicious and healthy like easy, banana ice-cream, custard, yogurt or plant based cream.
You can also eat your crumble hot or cold. It tastes great both ways and is healthy enough to be eaten as a meal on its own, especially as a breakfast food.
In fact, grabbing a bowl of this crumble cold out the fridge in the morning is like eating an oatmeal breakfast. It's filling and satiating and will set you up for the day ahead with ZERO refined sugars. Alternatively you can put a scoop of it in your microwave for a couple of minutes and heat it through for something warming in your stomach.
The Benefits Of Cinnamon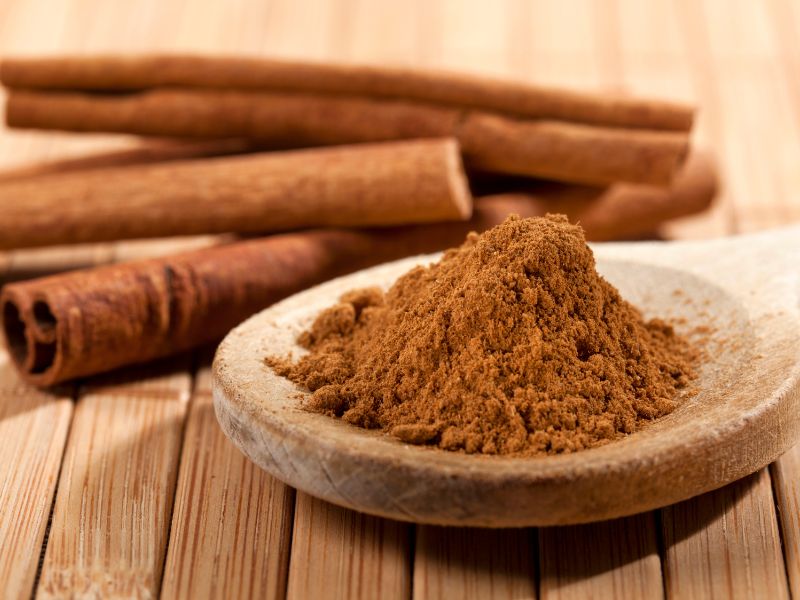 The reason why we like to use a LOT of cinnamon in this recipe is because it is one of the healthiest spices out there and proven to help keep blood sugars stable.
Keeping blood sugar stable is one of the ways to keep weight in check because it stops you over eating through blood sugar spikes and troughs. When your blood sugar is all over the place, you're more likely to eat and snack more, thus promoting weight gain. Using spices like cinnamon can help counteract this within a controlled diet.
Try using cinnamon in our homemade, weight loss spice mix every morning.
Other benefits of cinnamon include:-
High levels of protective antioxidants.
Anti inflammatory compounds.
Can help defend against infections, colds and flu.
Can help reduce the risk of insulin resistance.
May help lower cholesterol.
Supports the balance of the gut and digestive health.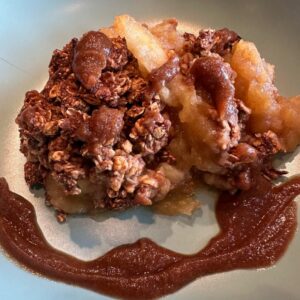 Fat Free, Apple-Cinnamon Crumble Recipe With Whole Foods
This apple-cinnamon crumble is aromatic, low calories and delicious!
Equipment
Large mixing bowl

Thick bottomed saucepan

oven proof dish

Wooden spoon

Chopping knife
Ingredients
3

large

Bramley cooking apples

You can use other apples of your preference as long as you know they cook down nicely.

2.5

cups

of rolled oats

The chunkier the oats, the crunchier the topping.

10

Medjool dates

Or, 15 regular dates. You can also use 1/2 cup of maple syrup (or to taste) instead of date paste.

2

tbsp

cinnamon powder + 1 tsp

1.5

cups

hot water
Instructions
Pre-heat oven to 190C (375F).

Pre make your date paste by soaking your dates (pitted) in enough hot water to cover for about 30 minutes. Then blend in a high speed blender until super smooth and thick (but still just pourable).

You may need to add a touch more water to get your paste pourable and blendable. Be sure to blend until super smooth. This may take a full couple of minutes of blending with a few breaks to be sure your blender doesn't burn out.

Peel and slice your cooking apples into 1/2 inch slices.

Simmer on a low heat with half the water until soft. This should take no more than 10 minutes or so as cooking apples cook quick! Stir as you go so they don't stick.

Add 1 tsp of your cinnamon, along with around half your date paste and cook for another minute or so. You may need to add more hot water to stop sticking. Be sure not to mash your apples up too much as you want texture in the finished crumble. If they start to break up too much then take off the heat.

Now add the rest of your water, stir and pour into your oven proof dish.

In the meantime, get your crumble ready by adding your oats to a mixing bowl along with the rest of your cinnamon. Mix well before pouring your date paste (or maple syrup) over the oats and mixing again to blend. You can use your fingers for this job too.

Don't worry if the date paste does not mix in well and it forms clumps. This is what you want for great texture. Just be sure to try and mix the paste in quite evenly though.

Now drop clumps of your crumble mix onto your apples until they are fully covered. Try and get the mix on evenly, but don't worry about the clumps.

Place in your pre-heated oven and cook for 25 minutes or until golden and crispy on top.

Serve with ice-cream, cream, custard or just eat alone as it's just as tasty.
Video
Notes
This apple crumble last up to 7 days in an air-tight container in the fridge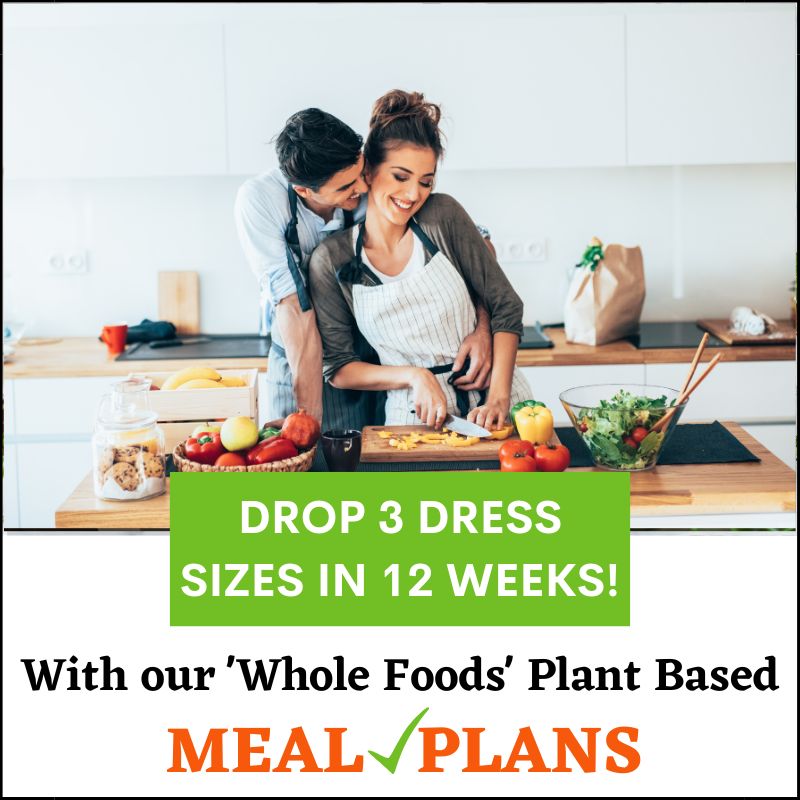 Thanks for visiting ZestForever today!
Your support is much appreciated and we hope you enjoyed this recipe.
Pleas share this post with your friends via your social media channels. Let's show our others that plant based and healthy food can be JUST as tasty as anything else!