Soups, stews and curries are all easy dishes to make whole foods plant based and completely oil free WITHOUT compromising on flavour. Due to the nature of these dishes being in a sauce already, it's easy to omit oils and added fats without anybody noticing.
Our flavoursome and aromatic, roasted cauliflower and curry soup recipe is very low calorie and fat free. This makes it perfect for anybody on a weight loss diet or just a healthy diet in general.
The Benefits Of Oil Free Cooking
Omitting or reducing oils and fats from our diet is a great way to not only lose weight, but stay healthy in general. Fats (even an over-load of healthy fats) are a leading cause of weight gain and even diabetes.
Eating a whole foods plant based diet is the perfect way to fuel your body without taking in excess calories from filler foods like refined oils, sugars and grains. Eating only whole foods, such as fruits, vegetables, greens, wholegrains, legumes, quinoa, buckwheat, and nuts and seeds in moderation will promote weight loss and potentially disease reversal over time and if the protocols of this lifestyle are adhered to diligently.
Can Curry Be Eaten As A Soup?
The answer to this question is 'YES'. You can eat curry as a soup quite easily if you make it a little differently from your average curry.
Our roasted cauliflower and curry soup recipe works perfectly as a soup, and is a lighter meal to eat without the usual rice if you so desire. This makes it a perfect lunch or light dinner without the heaviness of a usual curry.
For this Indian curry soup recipe we have omitted all oils and creams to make for a thinner sauce. Usually we would use a thick coconut or oat cream to make a creamy curry, but we have skipped that in this recipe and added more fluids to make a thinner style sauce.
How Do You Thicken A Curry Soup?
There is no need to use thickening agents in a curry soup because the addition of tomato paste and lots of spices act as a thickener in themselves. Also, this soup is delicious with a thinner sauce that carries lots of aromatic flavours over the palate.
Light simmering also reduces your soup down and intensifies the spices and flavours. You can reduce it down further if you would like a thicker soup. Or, you can add a thickening agent such as cornflour or arrowroot, but be careful to not turn it back into a regular curry if a soup is the texture you're going for.
What to serve curry soup with…
The beauty of this delicious, roasted cauliflower curry soup is the fact that it's a one pot meal in itself. You don't need to add all the usual sides and condiments such as rice, naan breads or poppadoms. This is a lighter meal made filling by the addition of potatoes, but it's also still a complete meal.
This soup is also full of lots of other vegetables such as carrots, celery, onions, cabbage, red peppers and green peas. All of these can be amended to your tastes, but we think this combination works well together and makes the soup healthier and more filling for fewer calories.
For the sake or argument, you could add any sides you like also. It is a nice idea to actually add some handfuls of cooked, brown rice to bulk your soup out if you love rice with your curries. This a great way to make your soup go further and add texture, but at the same time it doesn't need it.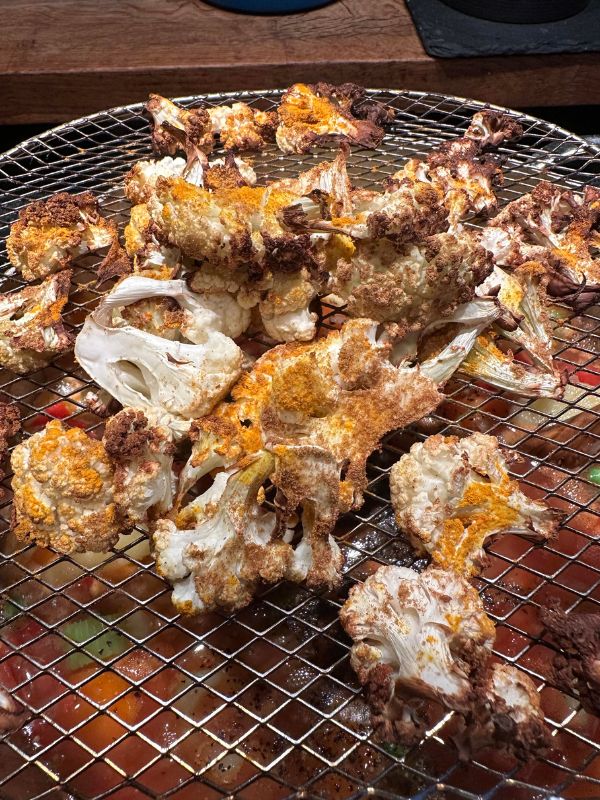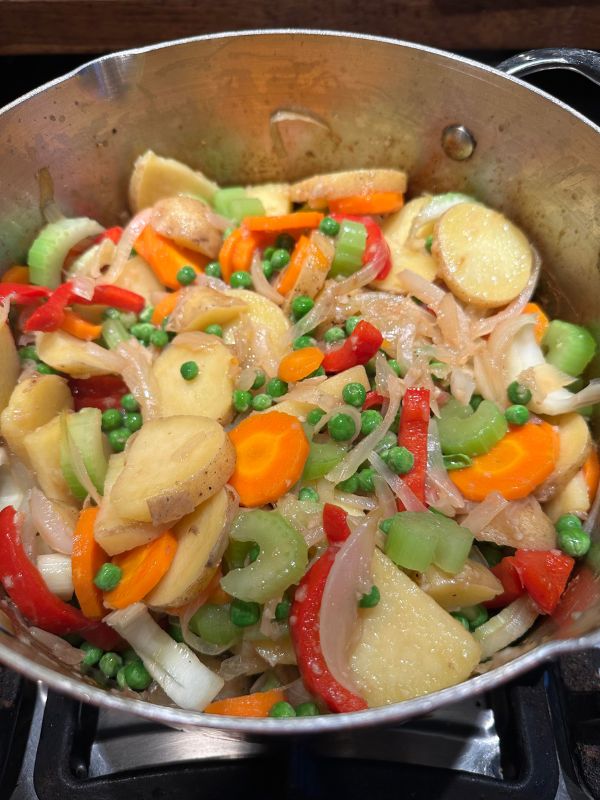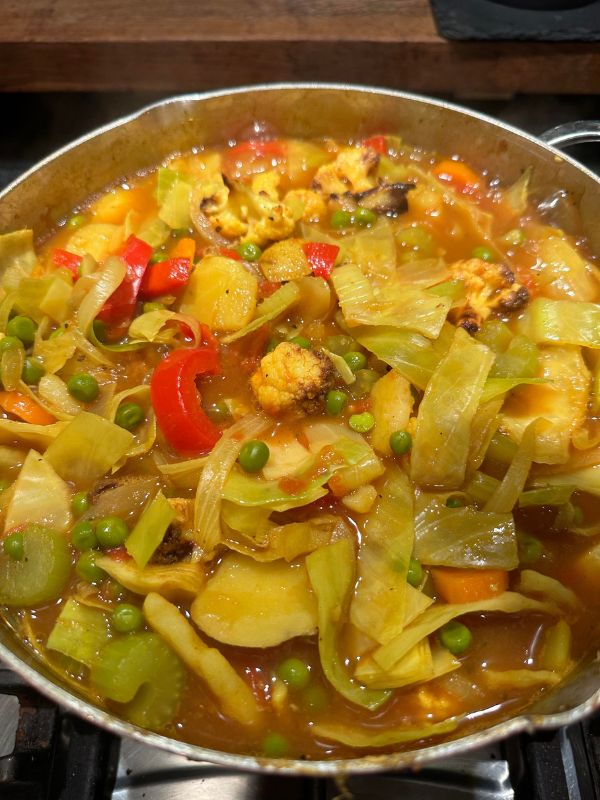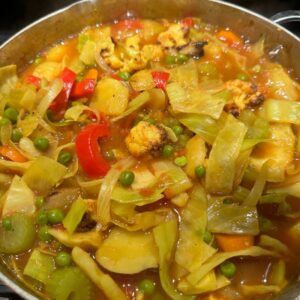 Roasted Cauliflower & Curry Soup Recipe (Low Calorie, Fat Free)
A heart and warming soup with aromatic spices. Perfect for a chilly Winter's day!
Equipment
Enough hot water to cover all ingredients

Large non-stick saucepan

Baking tray Wooden spoon

Chopping knife

Chopping board

Kettle for hot water
Ingredients
4

medium

potatoes

washed or scrubbed with skins on.

3

carrots

thinly sliced

2

onions

thinly sliced

4

sticks celery

thinly sliced

2

cups

green peas

½

head cabbage

chunkily sliced

1

large red pepper

thinly sliced

1

head cauliflower

cut into bite-size florets

5

cloves

garlic

crushed

2

heaped tbsp

general curry powder mix

or to taste

1

tbsp

turmeric powder

1

tsp

ginger powder

1

heaped tsp coconut or brown sugar

1

can crushed tomatoes

1

tbsp

vegetable stock powder

or 2 stock cubes

Enough hot water to cover all ingredients
Instructions
Firstly, get your roasted cauliflower ready by cutting into bite-size florets.

Pre-heat your oven to 190C (375F) or air-fryer on a medium-high heat.

Lay your florets flat on a baking tray covered in parchment paper to prevent sticking. There's no need to add oil in this process. Bake for around 15-20 minutes until golden (or starting to catch slightly with a charred effect).

For the next part, you may wish to prep all your veggies before you begin if you're not a fast chopper. If you're used to cooking then you'll probably be able to both cook down your onions and prep your other veggies at the same time.

Now, prep your soup. Skin and slice your onions finely. Heat a large, non-stick saucepan on medium-high heat and add your onions dry. Be sure to have a kettle of hot water ready at this point for the caramelisation process.

Let your onions cook down a bit and stir frequently. Don't worry if they burn slightly, just allow their natural juices to be released. Add splashes of hot water at a time to help the onions caramelise. Add your crushed garlic at this point and allow it to caramelise with your onions.

Meanwhile, wash and halve your potatoes with skins on. Cut into 1/4 inch slices (not lengthways, but the other way) and add to the pan with your onion and garlic.

Saute the whole lot for about 5 minutes, adding more splashes of water to prevent sticking.

Prep your other veggies. Peel and thinly slice carrots, red peppers and celery and add to your pan along with your green peas, curry powder, turmeric, ginger, stock, tomatoes and water. Stir well.

Bring the whole thing to a simmer and cover for about 10 minutes.

Cut your cabbage into quarters and then into thick slices. Add to the pan. Stir and add more water to just cover everything.

Bring back to the boil and simmer again, covered.

After another 10-15 minutes (stirring once or twice in that time), check your potatoes for softness and amend your spices to taste if need be. You may wish to add some cayenne pepper if you like a hot curry.

Once your potatoes are cooked fully your curry soup is ready to serve.
Video
Notes
Keeps for up to 3 days in the refrigerator or frozen for 6 weeks.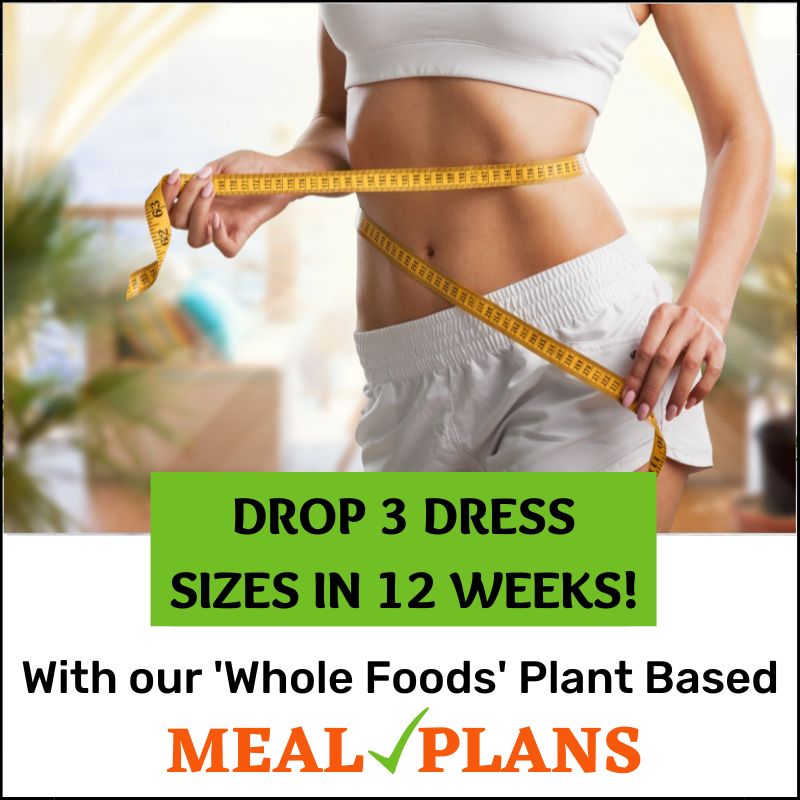 Thanks for visiting ZestForever today!
Your support is always appreciated. Please feel free to share our curry soup recipe with your friends via your social media channels.
Let's share the plant based word!