Adding some spice into your life can be great for your health as some spices really do have many benefits. Take cinnamon for instance, a delicious aromatic spice known for its blood sugar regulating and fat burning abilities.
Cinnamon bark comes from the genus cinnamomom tree and has an ability to help curb those unruly SUGAR cravings The bad thing about sugar is too much can lead to weight gain (specifically dangerous belly fat) and disease.
In this post you will lean about cinnamon and weight loss, plus the 8 other amazing benefits of this wonder spice.
Different Types Of Cinnamon
Before we start, it is essential to understand some little known facts about cinnamon. There are actually 2 different types: Ceylon and Cassia; and although they both taste similar, they are very different in terms of health benefits.
For Health Reasons, It is VERY IMPORTANT You Know the below Information About Cinnamon Before You Buy it.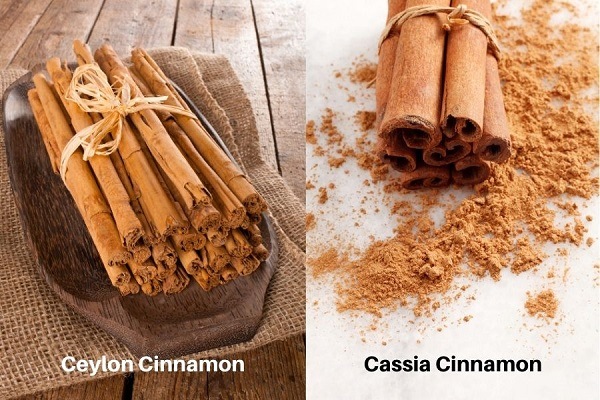 Ceylon cinnamon is the more expensive kind, but it also has the superior health benefits. It also has a flaky bark (see pic). Cassia is cheaper and not good to be taken daily or long term in higher doses.
The potential problem is, most people who buy pre-ground cinnamon from the supermarket will more than likely be consuming the cassia type. Cassia often comes from China, is up to 10 times cheaper than Ceylon, and may actually be unhealthy if you eat it regularly.
We will explain why shortly…
Most cinnamon labels do not disclose which type of cinnamon they use and it often just comes under the umbrella term of cinnamon. However, pretty much ALL pre-ground super market cinnamon will be this cheaper variety. You may even find this to be the case with organic cinnamon too. 
The problem with Cassia cinnamon
The issue with cassia cinnamon is although it does share some of the health properties of Ceylon, it is 1200 times higher in a substance called caumarin. This compound can be dangerous when ingested regularly (especially if you are going to start using cinnamon every day) and it can cause serious health problems, including liver and kidney damage.
Luckily, most people don't use cinnamon in high enough amounts for this to be an issue as it is often just used as an occasional spice in bakery. But if you are going to be using it a lot you should buy the flaky bark variety of cinnamon bark and not the hard curls (see pic), and just grind it up yourself.
This really is the only way to know that you're getting the real deal unless you go to specialist herbal shops.
Cinnamon and Weight Loss – Plus 8 Cinnamon Health Benefits
1. WEIGHT LOSS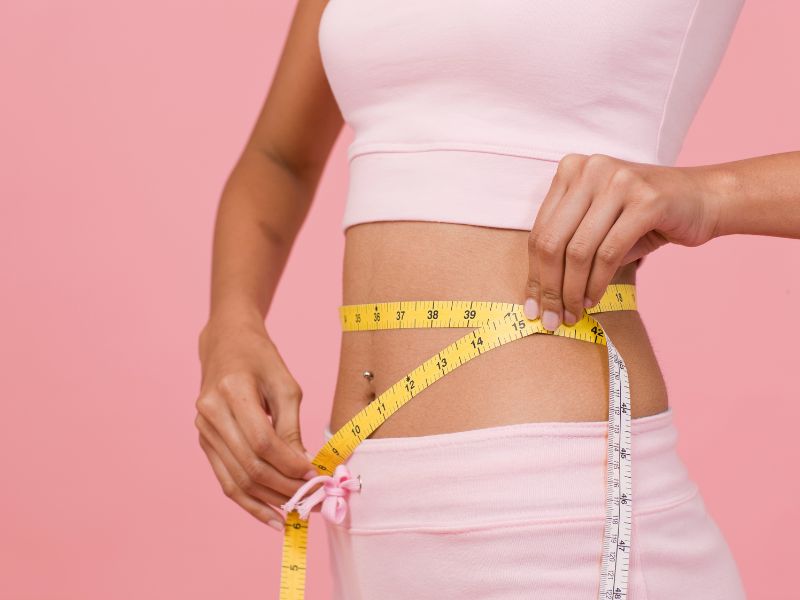 Cinnamon may help with weight loss. And, we're talking belly fat loss specifically here because of the effect it has on blood glucose.
When we a eat carbohydrates of any kind, which includes all things sweet,  refined flours, grains, starchy vegetables, pulses and fruit then insulin is naturally released from the pancreas to mop those sugars up. From there they will pushed into your cells to either be used for energy or STORED AS FAT.
Obviously, if you're eating whole foods then you do not need to worry about these sugars so much as you will be eating fibre too.
When you eat other kinds of sugars, adding cinnamon will be of benefit to an extent. But, you will find cinnamon of more benefit even if you're eating a whole foods diet if you want to lose weight. We do recommend you eat the whole foods diet for health, weight loss and best results of cinnamon.
You can also use your cinnamon alongside other natural diet pills and supplements for better results.
Sugar addiction
Most of us are petty hooked on both sugar and high GI carbohydrates. You may even be on that sugar roller that coaster that consists of eating high GI foods, having an insulin response, and then (if those sugars are not burnt off as energy, which mostly they're not) having them stored as fat.
Cinnamon can help by decreasing the amount of glucose entering the blood after a meal by interfering with digestive enzymes. This in turn slows the breaking down of carbohydrates in the digestive system and therefore lowering a meal's GI.
How much cinnamon should I take for weight loss?
You can add 1/2 a teaspoon into your breakfast by sprinkling onto your porridge, breakfast quinoa bowl, into your smoothies or nice-cream bowls, or sprinkle on toast and jam.
Other ways to add cinnamon into your life is to put it into baking such as homemade, whole foods waffles, breakfast apple cake, muffins, pancakes, chocolate-cinnamon chilis and curries. There are so many ways you can get this spice into your food every day.
How should I drink cinnamon water for weight loss?
You can also start your day with this amazing, homemade spice mix on an empty stomach to rev up the fat burning process.
Drinking your cinnamon and other spices on an empty stomach seems to work best. Just be sure you start with only a little incase of adverse reactions and to build gut tolerance.
2. IMPROVES INSULIN SENSITIVITY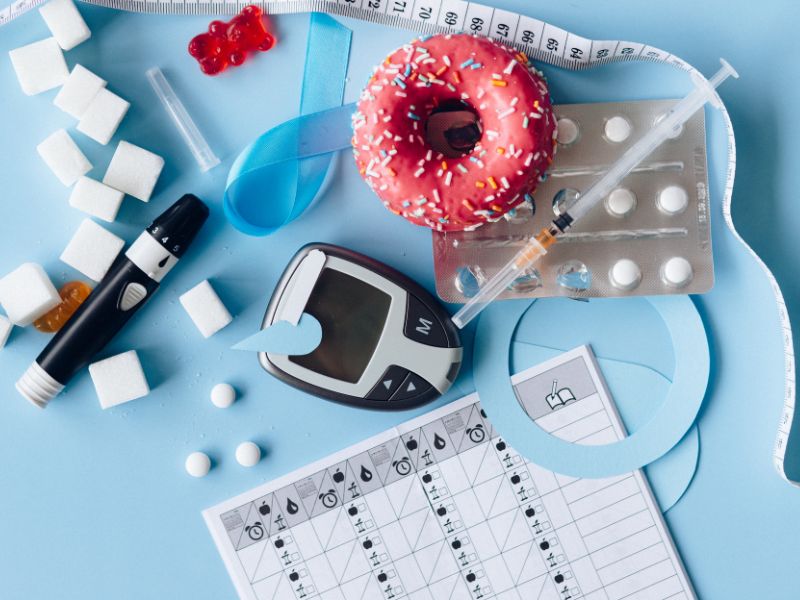 Insulin is a hormone that is released by the pancreas to clear and transport sugars (carbohydrates) from the blood and into cells. These days, many people are becoming insulin resistant due to this hormone's over use in their high sugar diets.
Insulin resistance is one of the main hallmarks of type 2 diabetes and metabolic syndrome. Cinnamon may actually reduce insulin resistance dramatically, and it does this by helping insulin to function properly and lower blood sugar levels.
3. ANTI-DIABETES
As well as its powerful effects on insulin, cinnamon also lowers blood sugar in other ways by decreasing the amount of glucose to hit the bloodstream after you have eaten a meal.
The insulin mimicking compound that cinnamon contains, helps to vastly improve the uptake of glucose into cells (a good thing because insulin is a vital part of keeping blood sugar stable). Numerous studies have been conducted that now confirm cinnamon most certainly has anti diabetic properties, and at doses of 0.5-2 teaspoons a day can lower blood sugar levels by 10-29%.
4. ANTI AGING 
All of the above benefits lead onto the amazing cinnamon benefit of anti aging too.
A low GI, antioxidant rich diet and better blood sugar control will keep you looking young and that's an absolute FACT! All these sugar spikes and troughs actually accelerate the aging process, not just on the outside, but on the inside too. This also means higher risks of many age related diseases.
A low GI diet, and the blood sugar control that naturally comes along with it, will help keep chronic inflammation to a minimum. This in turn lowers your chances of diseases such as obesity, diabetes, heart disease, Alzheimer's and even some cancers.
Given the fact that cinnamon in itself is a powerful anti inflammatory, adding it to a low GI diet can only enhance this effect.
5. ANTI FUNGAL/BLOATING
Cinnamon is a powerful anti fungal, anti microbial, anti bacterial and is great in the treatment of fungal infections such as candida overgrowth. It can also inhibit certain bacteria like salmonella and listeria from growing.
It is often used as a digestive aid to help eliminate gas and bloating. It's also great for alleviating IBS symptoms.
6.  ANTIOXIDANTS
The wonderful spice that is cinnamon is actually higher in antioxidants than any other herb or spice.
Antioxidants are an absolutely essential part of our diet because they mop up the free radical damage that is caused in our bodies by a continual toxic assault that comes from many sources such as junk foods, pollution, chemicals, pesticides, sun exposure, alcohol and nicotine.
In fact, we are being bombarded from ALL angles by toxins every day, many of which we have no control over such as traffic pollution and aeroplane fuel.
Free radicals are basically unpaired electrons that steal electrons from our own cells, thus causing damage to DNA. This damage then causes aging and disease, but eating high levels of antioxidant rich foods will help negate this damage and ultimately slow down the aging process.
7. POSSIBLE ANTI CANCER PROPERTIES
In studies on cinnamon's effect on cancer cells and tumour growth, it was shown to have an antiproliferative action on cancer cells, thus helping to stop them from growing. A separate study on mice with colon cancer showed cinnamon had the ability to activate detoxifying enzymes in the colon, therefore having a protective effect against further growth.
These same results were also was seen in test tube studies of human colon cells to activate a protective antioxidant response. We may not have conclusive proof in humans yet, but it certainly won't harm to sprinkle some cinnamon onto your morning porridge.
8. MAY LOWER RISK OF HEART DISEASE
The biggest killer of our time is heart disease. It is a disease we all simply must take preventative measures against, which is where cinnamon could be of help alongside a healthy diet and exercise plan. When it comes to lowering risk of serious diseases, such as this, then no one thing will likely work. It needs to be a series of changes, and an all round healthy lifestyle needs to be adhered to.
A recent study concluded that a dose of just 1.5 grams a day can reduce bad LDL cholesterol and trigylcerides, and actually increase good HDL cholesterol.
How To Take Cinnamon For Weight Loss
Cinnamon is a very versatile spice and can be used in all manner of ways. You need never be stuck for ideas when it comes to knowing how to add this spice into your life.
After you have sourced out your real Ceylon cinnamon sticks (don't forget these are the FLAKY bark variety not the hard tubes) you can grind them up in either a coffee grinder or pestle and mortar and add to pretty much anything you fancy.
Freshly ground cinnamon tastes just fabulous, and smells fresh and tangy. You can bake with it, sprinkle it on your cereal, add to deserts, yogurts or hot drinks such as herbal teas or your bedtime milk.
Go crazy with it and try new things, just be sure to get at least a teaspoon into your diet every day to reap all these awesome benefits.
Thank you for your support of this website – I hope you have found the information you are looking for.
Please feel free to drop us a line in the comments section should you need further help or have any other questions about this topic.
We're always happy to hear from you!