Everyone needs a good chili recipe under their belt, ESPECIALLY if you're a plant based eater. You always need that special dish to impress those friends and family members who are convinced that every meal needs to include meat.
But, the taste and texture in this World's best chili recipe made with dark chocolate and cinnamon will knock everyone's socks off, of that we can assure you.
You can prove to all the naysayers that plant based food can be delicious, tasty, cruelty-free, and environmentally friendly without the need for animal products. Now, this really will impress them!
What Makes A Good Chili?
There are quite a few key components in your authentic tasting chili. It's all about the correct spices, but equally you have room to experiment. Most people will have their go-to recipes when it comes to the humble chili con carne, but most people haven't tried this unique version.
Enhancing That 'Meaty' Flavour
When you make a plant based or vegan chili, you really want it to pack that meaty punch, both taste and texture-wise.
This needn't be a problem once you understand how you need to use your spices when you're not cooking with traditional meat. You're going to really have to get flavour into your meat substitute, whatever substitute you may be using.
You can use just pulses alone in a plant based chili recipe and still get loads of flavour in there with the correct spicing. But, in this recipe we will be using a meat substitute in the form of organic pea and fava chunks.
As we like to keep our meals as healthy and whole foods plant based as possible, we don't use fake meat substitutes such as Beyond eat and Impossible meat. We find them full of nasty additives, but by all means use them if this is what you prefer.
You can also go for a simple soy protein mince. Try to go for as lean a mince as you can find to prevent too many additives and fake flavourings. If you go for organic, you can be sure it will at least be a lot better for you than some of the other alternatives.
Flavourings That Add 'meatiness' To A Chili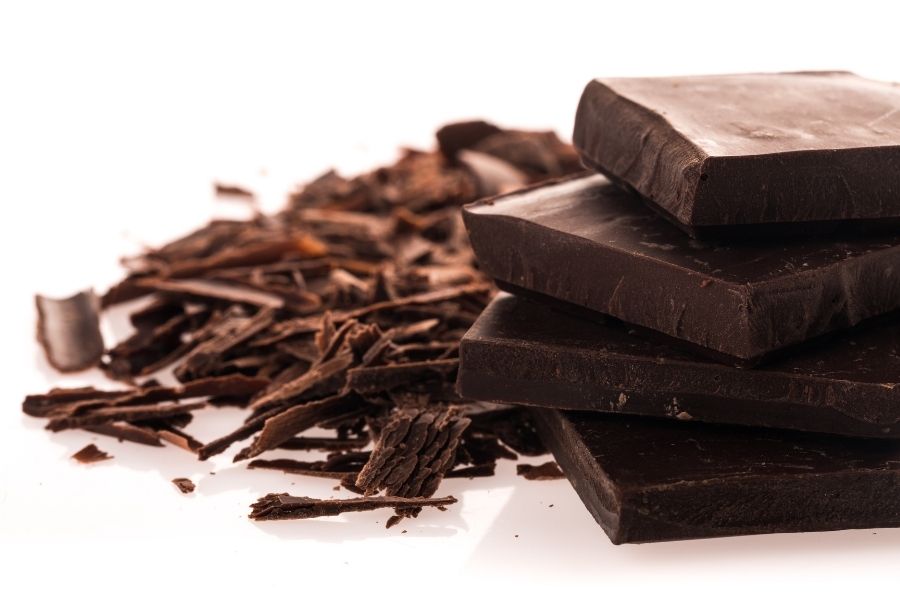 You will find a LOT of different ways to make a chili out there, some of them weird and wonderful it has to be said.
Many people have experimented and found what works for them. Some ways to add flavour and depth to a chili include:-
Instant coffee granules (or a shot of ground coffee)
Dark chocolate
Worchester sauce
Mushroom sauce
Molasses
Hot sauce
Tomato paste
Beer
Balsamic vinegar
Tamari
Soy sauce
Miso paste
Cinnamon
As you can see, there are lots of different flavours that work well alongside your classic chili spices. Sometimes you just need to experiment to find out what you like the best.
In our World's best chili recipe, we decided that we just LOVE the taste and richness of a few squares of dark chocolate, cinnamon and tamari sauce.
After much experimenting, we feel that the 70% cacao chocolate works the best as you want a slight bit of sweetness in there. The 85% can be a little bitter, but you can always add a pinch of sugar to even this out if need be.
Umami tastes work well!
Other "different" factors to our chili recipe is it includes tamari sauce for that slight umami taste, cubed and pre steamed white potatoes (you can use sweet if you wish, but we prefer the white so the chili doesn't become too sweet), and cinnamon.
The addition of cinnamon to a chili has been a game changer. It's such an aromatic spice that compliments the cumin and paprika perfectly.
Cinnamon also has the most amazing health benefits, including helping to keep blood sugar more stable. This in turn will help lower the GI of your chili, especially if you add other low GI foods to the meal.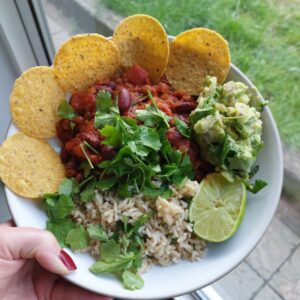 World's Best Chili Recipe With Dark Chocolate & Cinnamon
healthy, healthy spices, low fat, oil free, plant based, vegan
Equipment
Medium saucepan

Steamer

Large frying pan
Ingredients
500

g

plant based mince substitute

we like ProFusion Pea & Fava

1

medium onion

chopped

1

cup

sweetcorn kernels

(frozen, fresh or tinned)

1

can black beans

1

can kidney beans

3

x 400 g cans chopped tomatoes

2-3

medium white potatoes

chopped into 1/2 inch cubes

1

green or red chili pepper

finely sliced

2

cups

vegetable stock

3-4

tablespoons

tomato paste

25

g

dark chocolate

70% cacao solids

2

tablespoons

tamari or soy sauce

6

cloves

fresh garlic

crushed

2

tablespoons

cinnamon powder

1

tablespoon

chili powder

or to taste

4

tablespoons

of tomato paste

2

tablespoons

paprika

2

tablespoons

cumin

ground
To Serve
Brown rice

Chopped or smashed avocado/guacamole

Tortilla dipping chips

Chopped spring onion

Squeeze of lemon juice

Coriander
Instructions
Prepare your plant based meat substitute (if you need to). Some need hydrating first if they are in the dry packet form.

At the same time, get your brown rice on to cook as it takes up to 40 minutes. The nuttiness of brown rice works well with this dish.

Get your 1/2 inch, cubed potato on to steam. You will need to steam these as they are too small to boil and will probably fall apart. You want them pretty much fully cooked before you add them to your chili, but don't over-cook them or they will fall apart. If they are cooked before you have prepared the rest of your chili, just turn off heat, take steamer lid off and leave.

In a large, non-stick saucepan or frying pan, add a dash of hot water and start sweating off your onions and fresh chili. You can use oil for this, but we are trying to keep this meal as oil free as possible for health reasons. This dish works perfectly well by cooking with water, just make sure you keep your hot kettle of water by you so you can keep adding more splashes as you go to prevent sticking.

After 5 minutes of sweating down onions, add your plant based mince, tomato paste and all spices except garlic. Fry for about 6-7 minutes to really infuse the flavours of the spices into your plant based meat. You also might want to get a bit of a browning crust on the meat too.

Add tamari, garlic and stock. Mix well.

Add your dark chocolate, black beans, sweetcorn and kidney beans, stirring well until chocolate is melted.

If your potatoes are ready, add them to your chili, but stir in very carefully in order not to break them up.

Add more stock if the chili is too dry (this will depend on the type of meat substitute you have used).

Adjust flavorings and spices if you need to.

Serve with your sides of choice!
Video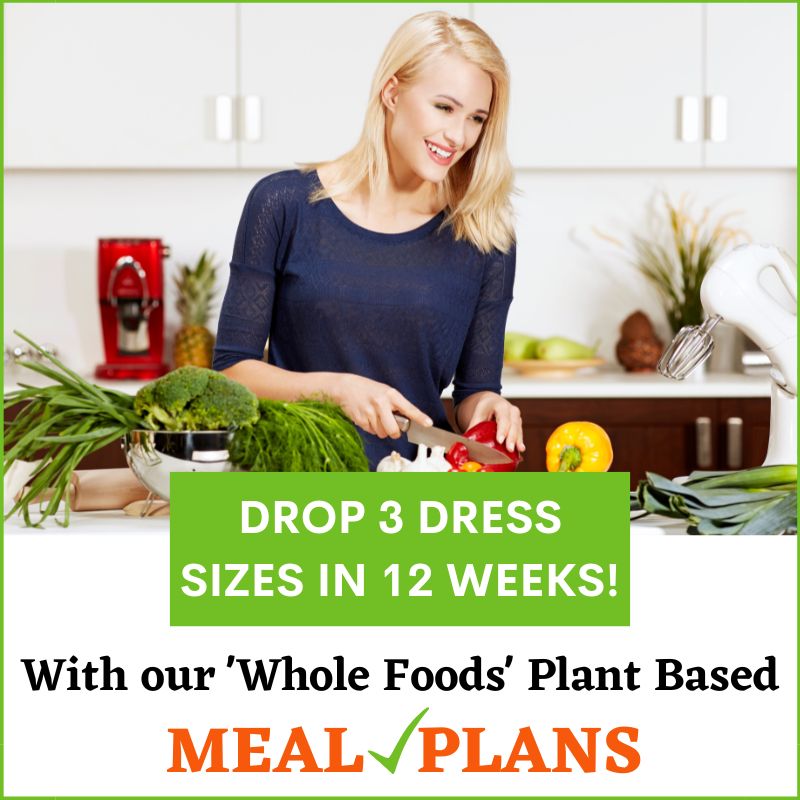 CONCLUSION
We hope you have enjoyed this plant based chili recipe and love it as much as we do.
You should experiment with your chilis too to find out your favorite versions. They are so malleable that you can afford to experiment.
This recipe is one of many from our Fast & Easy Meal Plans delivered straight to your inbox on a weekly basis.
Before you leave, feel free to sign up to our mailing lists and never miss a post from us again!