Sometimes you just want a warm and comforting soup, right? Especially in the cold and gloomy, long winter months.
Our plant based version of this authentic, Italian minestrone soup will really give you a boost from the nutritious veggies and the deep, rich tomatoey taste.
This is a robust soup that makes a great main meal, even on its own. You have a complete meal in itself in a bowl of this delicious soup. Protein from pulses, complex carbs from the wholegrain pasta, and lots of fiber and vitamin rich vegetables.
Of course, if you want to add a chuck of crusty baguette OR some authentic Italian bread like focaccia or ciabatta then go ahead and fill your boots. You'll only make this meal even better and more comforting.
Minestrone Soup Health Benefits
We like to take classic recipes and make them healthier. That's just what we do.
The classic minestrone soup is already a healthy Italian meal, but we've done a few swaps and added some extra protein rich beans to really make it healthier than ever.
Fresh Vegetables
We use lots of amazing fresh vegetables in this plant based minestrone soup recipe to up the nutrition and fiber. Green beans, courgettes, tomatoes, bell peppers, onions and spinach/Swiss chard are perfect for this soup.
Good Quality Olive Oil
Good quality olive oil is used in nearly all Italian cooking, especially in pasta dishes. It's a source of healthy fats, and is one of the reasons the Mediterranean diet is seen as one of the healthiest diets on the planet.
It's all about the quality of the olive oil though. Most cheaper supermarket versions are not the real deal; or are made with cheaper or refined oils.
Always go for the highest quality you can afford if you want the health benefits.
You can make this soup whole foods plant based if you do not want to consume oils, or if you want to reduce the calories. But, it won't have the same authentic taste. You could just reduce the oil though if you want to compromise.
Pulses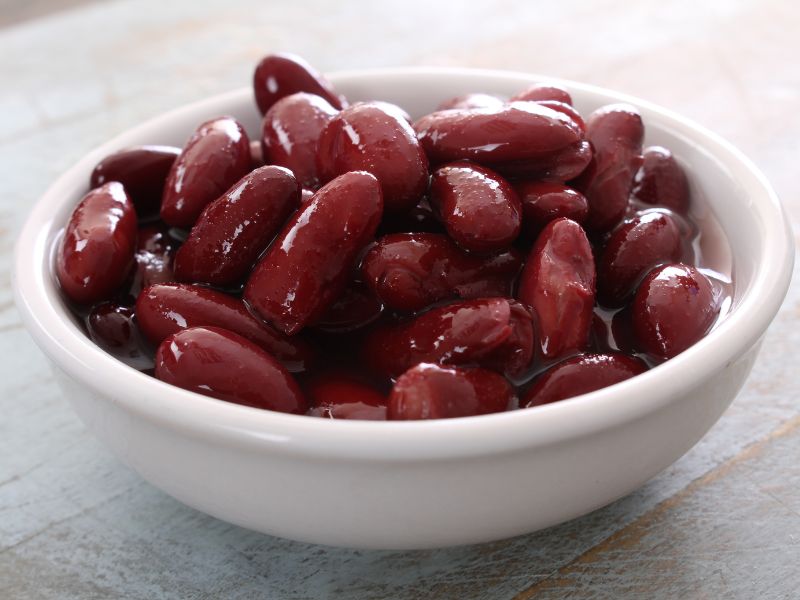 Adding pulses to this homemade, vegan soup is a great way to bump up the protein. Adding more protein sources to meals is important on a plant based diet where meat, dairy and eggs are omitted.
We have added kidney and cannellini beans to this minestrone soup, as the dark and white beans are a great contrast and have different nutritional benefits. For instance, the dark red, kidney bean's skin is a great source of antioxidants.
Another great bean you can use in this soup is the butter bean. Butter beans make amazing stews and add texture, protein and creaminess.
Tomatoes
Tinned tomatoes, fresh tomatoes and tomato paste make this dish super rich and almost creamy.
Tomatoes of all kinds are a great source of antioxidants, carotonoids, lycopene, potassium and vitamin K.
You do not need to use fresh tomatoes in this dish if you prefer not to. Canned work just as well, along with lots of tomato paste.
Herbs
Herbs are highly nutritious, and they all have different health properties.
We have used the Italian traditional herbs of oregano, rosemary, basil and marjoram. All of these will give your soup a taste of Italy, plus give you a myriad of potential health benefits.
Wholegrain Pasta
You can use any small pastas you like in this soup, but wholegrain will add more fiber.
Fiber is vital to the digestive tract to help the passage of food along and to keep things regular.
Wholegrains are also more nutritious because they are higher protein with more vitamins. The process of refining any grain means that all the fibrous husk is taken away, thus removing most of the vitamin content.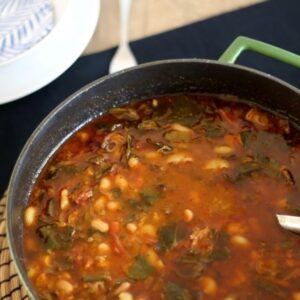 Authentic Italian Minestrone Soup
Authentic Italian soup made the plant based way!
Equipment
Large saucepan

Chopping board

Sharp knife
Ingredients
4

tbsp

extra virgin olive oil

1

medium onion

chopped

5

cloves

garlic

crushed

3

sticks celery

chopped

3

carrots

chopped

3

courgette

chopped

2

large tomatoes

chopped

2

400g

can tinned tomatoes

or, 3 cans if not using fresh tomatoes

300

g

green beans

chopped into inch long lengths

5

tbsp

tomato paste

1

can kidney beans

1

can cannellini beans

250

g

pasta of your choice

small and wholegrain is preferable

2-3

handfuls of fresh spinach OR Swiss chard

1

red bell pepper

2

bay leaves

1-2

tbsp

each of oregano

basil, marjoram, rosemary OR Italian spice mix.

1.4

litres of vegetable stock

you can use either homemade stock or dried bouillon
Instructions
Cut your carrots, onions, courgette, pepper, celery, tomatoes and green beans into small pieces.

In a little of the olive oil, fry your onions for a few minutes until softened (do not let them brown as this will affect the taste negatively).

Add your celery, courgette, carrots and green beans, along with the crushed garlic and fry for about 5 minutes (add small amounts of hot water if it starts to stick, especially if you are making an oil-free version)

Add the tomato paste, season with salt and pepper and fry everything over for another 3 minutes to deglase (don't worry if the bottom of the pan gets a light brown crust. This is a good thing and helps bring out the authentic taste).

Add the vegetable stock and tinned tomatoes and simmer for 5 more minutes.

Now add your tinned pulses and pasta (if your pasta takes longer than 10 minutes to cook, then add it in the previous step).

Add your chopped spinach of Swiss chard, herbs and spices to taste (if using fresh herbs, then add them at the end of cooking time).

Simmer for another minute until spinach has wilted.

Stir in the rest of your good quality olive oil (we add this right at the end so as to not over-heat it and lose the delicate nutrition of the oil). If you are not using extra virgin oilve oil, then you won't have to worry about this so much as it can take the heat better).

Check flavours and consistency. If the soup is too runny, then add more tomato paste to thicken. If it's too thick, add more broth.
Video
Notes
Serve with some delicious and fresh, crusty bread. Or serve alone for a lower carb version.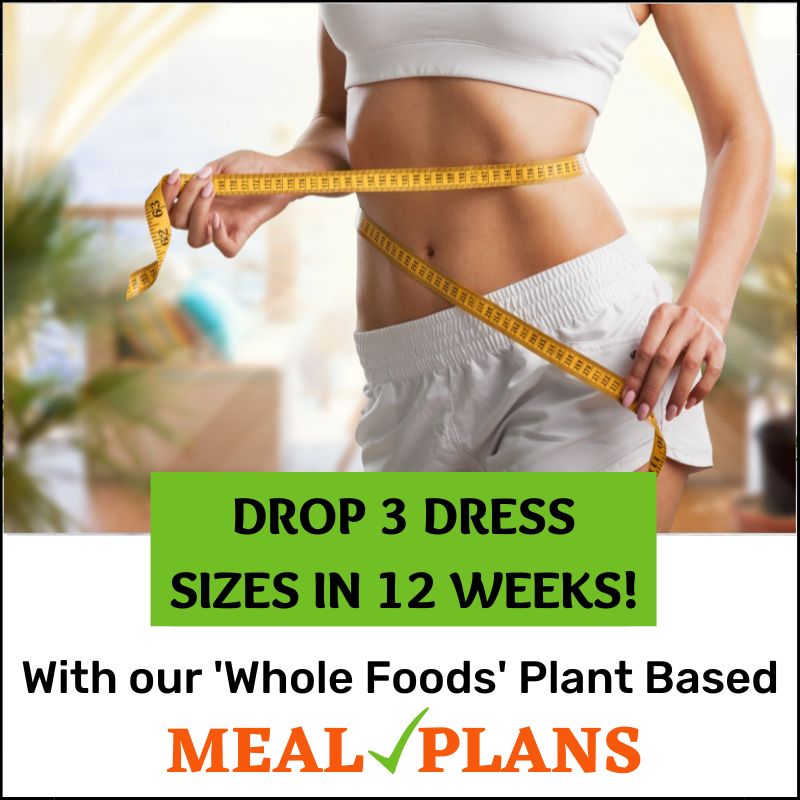 This delicious Minestrone soup recipe is from our ZestForever Meal Plans that we update every week. Please check them out!
Thanks for visiting ZestForever today. We hope you love our recipes as much as we do!
Please feel free to share this recipe to your social media platforms and spread the love.