Do you miss ice-cream on your plant based diet? If so, then we have discovered something absolutely addictive and totally delicious that we know you will LOVE!
This best nice-cream ever recipe is made with a good quality protein powder. Adding a scoop of protein to this dish helps to make your nice-cream creamy, filling, and more like a nutritionally complete meal.
The Power Of Protein Powder
The good thing about using protein powders in your nice-cream is the fact that you can literally make any flavour that you like. You can also add lots of other healthy fruits, nuts and seeds; even superfood powders such as turmeric, beetroot, camu camu and acai.
If you buy a flavoured protein blend, then you can emulate you favorite ice-cream. The most popular protein powder flavours are chocolate, strawberry, banana, peanut butter and vanilla. And, believe us when we say, they are all absolutely delicious in a nice-cream bowl!
Choosing Your Protein Powder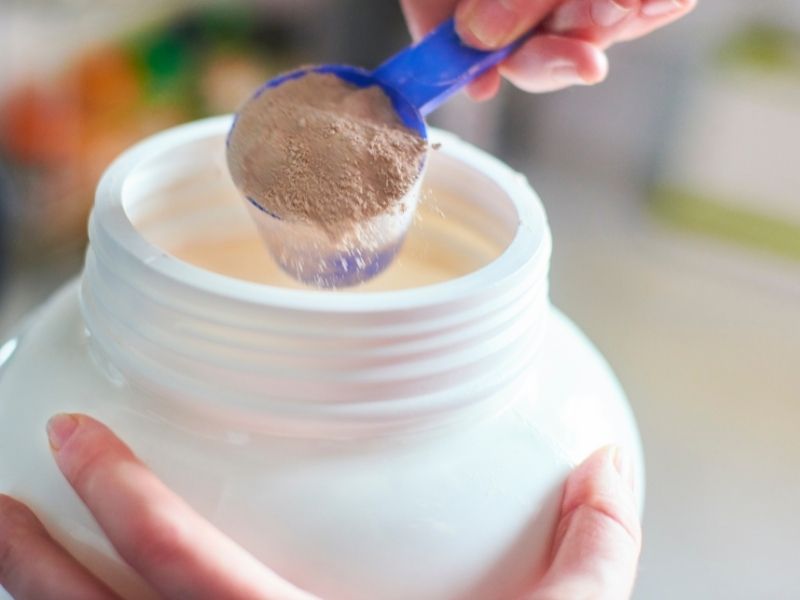 To get the best textured nice-cream possible, you will want to go for a high quality protein powder. Make sure you steer clear of fillers or bulking agents because these are not healthy, and will also add a floury texture to the finished ice-cream.
The two best protein powders for your perfect nice-cream bowl (that we have tried and tested) are Amazing Grass and Orgain Organic Protein Powder. Both of these fantastic powers also contain loads of green superfoods that you cannot taste at all in your finished ice-cream.
The reason why we say these are the best to use is because they contain no nasty fillers and are as clean as possible. If you're going to be eating something pretty much every day (and believe us, you will want to eat this a lot), then you definitely don't want to be loading yourself up on rubbish.
Eat Protein Nice-Cream as a Complete Meal
Our nutritionally complete, creamy nice-cream bowl is a meal in itself. This is due to the fact that it has a high protein content, is full of superfoods, frozen banana and loads of delicious toppings of nuts, seeds, coconut and dark chocolate.
Man, we're not lying when we say it's the topping on this nice-cream that make it so great! There's something about smooth, creamy ice-cream with crunchy toppings that is SO addictive. These toppings make it way more decadent, yet you can eat it every day with zero guilt.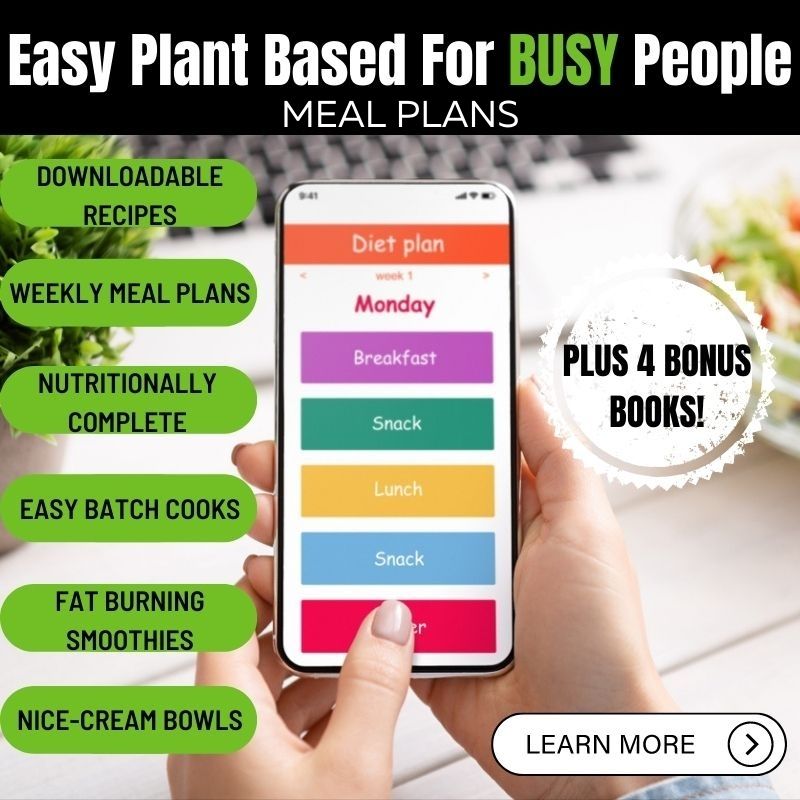 Changing Your Nice-Cream Bowl Up
You don't want to get bored with your nice-cream bowl (perish the thought), so it's always a good idea to have a couple of different flavours of protein powder on the go so you can alternate.
You will always have the same base of frozen, ripe banana, sometimes frozen berries, and ice-cubes, but it's the flavour of the protein powder that will completely change the taste and texture.
Nice-Cream Bowl Important Tips
Always make sure your banana base is made from as ripe a banana as possible. This will make the texture better and offer more sweetness to the nice-cream. Freeze your banana in a container pre-sliced, otherwise hard banana can break your blender.
Buy your bananas in bulk when you see them going brown in the shops. Usually you can get them cheaper when you do it this way. These are perfect for chopping and storing in your freezer ready for your ice-cream and antioxidant rich smoothie bowls. They never go to waste.
If you want a creamy nice-cream, then make sure you always use a creamy fruit as a base. Bananas work best, but mango and peaches work well too.
Have your toppings prepped and ready to add, as you will need to eat your nice-cream as soon as it is made. It does not keep, nor does it freeze well.
If you are using strawberry protein powder, then feel free to add some frozen strawberries (or other berries) in place of ice-cubes for extra fruit. You could even add some acai powder to a strawberry protein powder bowl, as it is similar in taste and colour and will up the antioxidant content of the whole dish.
Make sure you add less milk to start with, and build up. You want it to turn into an ice-cream texture and not a milkshake.
The milk I have found that gives the best texture to your nice-cream is the Alpro Almond. It seems to blend well and gives a fluffy, smooth finish.
If you do accidentally turn your nice-cream into a milkshake, then don't despair. Just make a smoothie bowl instead. Checkout our smoothie bowl recipes.
Always use a powerful blender like a Nutri Ninja or Bullet. If you use a less powerful blender, then we can't guarantee the same smoothness or finish. A low quality blender is also more likely to buckle under the pressure of frozen banana and ice-cubes.
Serve you nice-cream in a flat bowl like a pudding bowl, especially if you are adding toppings.
Different Toppings To Use
You can add any toppings you like to your nice-cream bowl. Healthy toppings include:-
Chopped nuts – Walnuts, peanuts, pecans, Brazils and cashews all work well
Seeds – Chia, sunflower and pumpkin
Coconut – Flakes, chopped fresh or desiccated
Dark chocolate – shopped, 70% cacao solids or above
Dried fruits (try these fat burning dried fruits)
Fresh, chopped fruits
Depending on your flavour choice of protein powder, you can also add other superfood powders such as turmeric, acai, camu camu, cacao, maca, and even beetroot powder. You will find that turmeric will go best in a banana flavoured nice-cream bowl, acai and camu camu in a berry flavour, and cacao and maca in a peanut butter or banana flavour.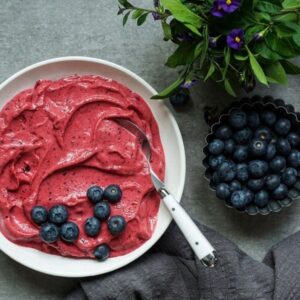 Delicious, High Protein Nice-Cream
Perfect for a hot summers day. Child friendly.
Ingredients
100

ml

Plant milk

almond, soy and oat are good (You will find that some brands of these milks don't work as well as others and you may have to experiment. We have found the Alpro Almond gives the very best texture out of all the others)

1

Frozen

very ripe, chopped banana (use as soon as you get it out of the freezer, don't leave it on the side) (Always chop your banana into about 12 slices before freezing. You can chop into a plastic container. You will find that the riper the banana, the better the texture and sweetness of the finished product.)

1

scoop or portion Flavoured protein powder

Picking a good quality protein powder with no bulking agents will ensure the best nice-cream that won't have a floury taste. Good flavours are strawberry, chocolate, peanut butter and vanilla.

5-6

Ice-cubes

Frozen fruits

optional (If you are using a fruity flavoured protein powder, then you may wish to add extra strawberries, raspberries or blueberries in place of some of the ice-cubes. This will give you an extra portion of fruit and also enhance the flavour.)

Dash Water

You may need a dash of water to get a good spin going on your blender.

Toppings

Dark chocolate

chopped (70% and above cacao solids is a low sugar amount to keep this nice-cream as healthy as possible.)

Coconut

Desiccated, flaked or fresh

Pumpkin or sunflower seeds

For omega fats

Chia seeds

For fiber and healthy fats

Walnuts

chopped (For antioxidants and omega 3 fats)

Fresh chopped fruits

optional

Dried fruits

optional

Superfood powders

optional (Turmeric, acai, camu camu, cacao, maca and beetroot powder are among some of the nutritious superfoods you can add into your high protein nice-cream. Acai, camu camu and beetroot will go well in a berry flavoured bowl, turmeric will go with banana or mango, and cacao and maca will go with chocolate, peanut butter and caramel. )
Instructions
Prepare your toppings first as you will need to serve you nice-cream immediately. Chop your chocolate and nuts into a chunky sprinkle. You can leave seeds whole.

Add you plant milk to your high speed blender first. This stops your protein powder from clogging and sticking to the bottom.

Next add your frozen banana chunks, protein powder, frozen fruits (if using), ice-cubes and about 1/2 an inch more of water. You may want to add this slowly to get the texture of your nice-cream just right. Too much fluids and you will just end up with a tasty shake,but not an ice-cream. So, take care with this part.

Now whizz your nice-cream up on full blast for a count of 30 seconds. Only count this 30 seconds once you have a proper spin going and not before. 30 seconds is the ultimate amount of times it takes to get your nice-cream as smooth as is possible.Make sure you stop half way through to scrape the sides down and to make sure there are no air pockets in your smoothie. You need to be able to see all the ingredients being sucked down in a swirl from the top.If your nice-cream wont blend, you may need to add a little more fluids and bang it down so that the frozen pieces drop down. Sometimes chunky fruit ad ice-cubes can get stuck in the blender funnel.

The secret to getting this nice-cream's texture perfect is the perfect amount of fluid. So, add slowly if you're unsure.
Video
Notes
Serve your nice-cream in a flat bowl so you can sprinkle your toppings on in a nice pattern.
Serve immediately! This nice-cream does not keep, not even in the freezer. It will crystalise. Always eat straight away
If you are going to be having your nice-cream protein bowl as a meal substitute, then it is always best to keep your toppings healthy and low sugar. The above toppings are all appropriate for a compete meal as you have protein, healthy fats, and lots of plant based antioxidants.