Losing weight can be a frustrating business for many people, especially with so many different diet plans out there all promising fantastic results fast. You should be very wary of these types of claims as they often promote very restrictive and often quite dangerous diets that can do you more harm than good in the long term.
The biggest mistake most people make whilst on a weight loss diet is to not understand proper food combining, which means they often leave out vital nutrients that are very important to their health. In this post we will discuss the top 6 dried fruits proven to boost weight loss, and which foods to best combine them with for added extra benefits.
What are the Best Dried Fruit for Weight Loss?
A lot of dried fruits can be super high in sugar and you need be wary of this, especially when it comes to the topical fruits such as banana, papaya, mango, pineapple and banana. The drying process concentrates all fruit's sugars, but even more so in the tropical variety that are already very high before the drying process even begins. Therefore, be sure to eat these particular fruits in moderation if you wish to keep your weight down.
The best dried fruits to eat for weight loss in particular are already the lower to medium sugar fruits before they're dried, such as those on the list below. This list also gives the other reasons as to how and why these particular fruits can help you to lose weight when eaten in moderation on a weight loss plan.
1. APRICOTS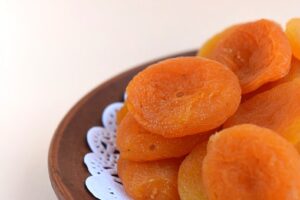 Apricots had to come first on this list as they have been dubbed one of the world's healthiest foods, and when you see their awesome nutritional profile for yourself you will understand why. Some of their benefits include:-
HIGH IN FIBER –

Apricots are very high in the fiber that not only keeps you regular, but also keeps you FULL – meaning less room for snacking on the bad stuff and ultimate weight loss.
HIGH IN ANTIOXIDANTS – Apricots are high in both vitamin A and C, which are antioxidants that can help with weight loss due to the fact they can help speed up your metabolism.

RICH IN POLYPHENOLS, FLAVENOIDS AND NUTRIENTS –

All of these are high in apricots, plus, keeping quality nutrients going into the body will stop food cravings as your body will not be starving for nutrition.
CAN HELP LOWER INFLAMMATION – Chronic inflammation is rife, often due to our modern diets filled with junk foods, trans fats and unhealthy sugars; not to mention all those environmental toxins in the air being breathed in every day. Apricots contain powerful catechins that can help to lower this inflammation, thus promoting weight loss in the long term.
HIGH IN IRON – Iron helps to boost metabolism, which means you will burn more calories overall.
2. GOJI BERRIES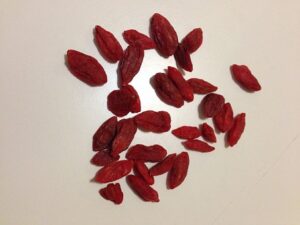 A known super food and for very good reason, goji berries taste delicious and are a perfect low GI snack. They also offer the following weight loss benefits:-
UNIQUE ANTIOXIDANTS – Goji's contain their own unique antioxidants that cannot be found in any other food.
HIGH IN PROTEIN – Goji berries are higher in protein than any other berry and offer an impressive 11 essential amino acids. High protein foods are low GI and fill you up for longer, as do most other

high protein plant foods

.
SELENIUM – An antioxidant that is good for the brain, heart and immune system. Also needed for thyroid health – and a healthy thyroid will ultimately help to keep you slim.
HAVE A GI OF 29 – Making them the lowest GI fruit to help fill you up, keep you full, and also control blood sugar, which of course means weight loss!
3. DATES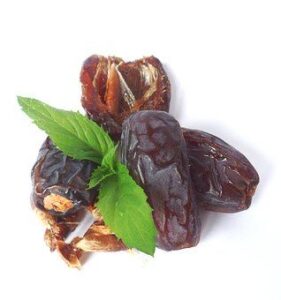 Dried dates are nature's very own chewy and tasty candy and are such a delicious treat it's hard to believe they are so healthy. But healthy they are, and if you're having a sugar craving then you can literally blast it into kingdom come with a couple of low GI dates. In my opinion, medjool dates are by far the tastiest and well worth paying the extra cash for. Like the goji berry they are another all round weight loss superfood when eaten in moderation, and they offer all these other great benefits too:-
A GREAT TRAINING FOOD – Perfect before, during and after exercise due to their low GI carbohydrates and sustained energy release. They literally fill you up for hours and also refuel muscles after exercise.
HIGH FIBER – To fill you up and keep your blood sugar stable.
MAGNESIUM – Great for soothing anxiety, reducing muscle aches and pains after exercise, and easing PMT symptoms.
HIGH POTASSIUM – Another reason they are great if you are into fitness, as they help to restore electrolyte balance in the body.
BONE HEALTH – Goji's are great for the bones due to their nutrients of phosphorus and calcium. Keeping bones healthy and strong will keep you more mobile and able to exercise for longer.
ANTI INFLAMMATORY
HIGH IN ANTIOXIDANTS
4. RAISINS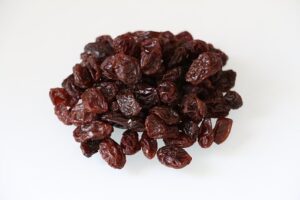 The raisin is high in sugar, in fact, the highest of all the dried fruits, so therefore must be eaten in moderation (a handful should be considered a portion). However, they do deserve a place on this list due to their astounding health and weight loss benefits of:-
HIGH FIBER – Keeping you full and less likely to snack, meaning ultimately weight loss.
A HEALTHIER SWEET TREAT – Like the date, raisins are super sweet which makes them good for busting a sugar craving. Only a very small amount is needed for you to feel satiated, and they are also much more preferable than reaching for refined sugars that will make you gain weight – specifically belly fat.
REDUCE RISK OF METABOLIC SYNDROME – According to this

ncbi study

, raisins can lower your BMI, waist circumference, body weight, AND lower your risk of metabolic syndrome and obesity. This is the main reason they can actually be classed as a fat burning food, contrary to popular belief.
5. PRUNES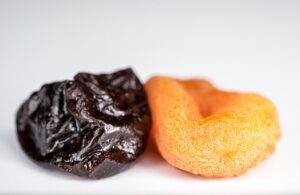 Prunes get a bad rap due to the fact they are often eaten by the elderly to help stay regular. But they truly do deserve to be made cool again as they are just SO outragously healthy. I spent most of my life not even realising what a prune actually was (it's a plum by the way) and so I stayed clear of them. But, turns out they are actually pretty tasty and well worth giving a try before they get dissed.
Be sure to stick to only 1 or 2 at a time as they are high calorie, but as they are very nutrient dense you will still get the benefits eating only this small amount. They also contain the following weight loss benefits:-
VERY HIGH IN ANTIOXIDANTS – Would you believe that prunes are even higher in antioxidants that blueberries? Well it's true, so this is probably the number one reason why they are a great fat burning and metabolism boosting dried fruit.
THEY KEEP YOU REGULAR – Prunes are so high in fiber that they are said to be even better for keeping you regular than psyllium husk. Keeping bowels regular will help to drag impurities and toxins from the body, all of which will contribute to weight loss in the long run.
PROVEN TO BOOST WEIGHT LOSS – Prunes have been scientifically proven to have weight loss benefits due to their effects on satisfying the appetite.
6. APPLE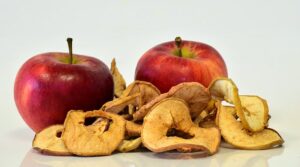 They say an apple a day keeps the doctor away, and very true this could be considering apples are not only cheap and easily available, but also abundant in health giving nutrition. This goes for the dried ones too, maybe even more so as they are often harvested and dried at the peak of their nutrition which is just after picking (and the same goes for all dried fruits). Apple's benefits when it comes to weight loss include:-
SOLUBLE FIBER – This is the kind of fiber that helps to control blood sugar, and being as stable blood sugar will help keep your weight down (and we're talking specifically dangerous belly fat here) then it goes without saying that they are great for weight loss too.
INSOLUBLE FIBER – This kind of fiber keeps the digestive system healthy by dragging impurities out, which in turn helps to keep your body detoxified thus leading to weight loss.
CONTAINS PECTIN – Which is associated with feelings of satiety, plus it helps keep you full which stops you snacking or over eating.
DECREASE IN LDL CHOLESTEROL – In this six-month study scientists found that women eating 75 grams of dried apple every day decreased their LDL (bad cholesterol) by 23%. They also lost 3.3 lbs in weight even though they were consuming an extra 240 calories a day in dried apple.
Combining Dried Fruits and Nuts 
As you can see, these fruits are all great on a weight loss diet as a healthy snack, but this should be instead of the more unhealthy foods that you may usually go for, and definitely not as well as. They are not only very sweet and satiating, but will also give you a hit of energy at the same time which is pretty much all of the things you could want in a snack.
Another great way to eat them is combined with some healthy fats and proteins in the form of nuts and seeds. Nuts and seeds contain an abundance of these and will also help to lower the GI of the fruit's even more, which could potentially boost weight loss even further. But, be wary to only eat nuts and seeds in moderation (which would be a small handful) as they are very high in fats and calories, and too many will defeat the object of fat burning.
Other ways to Eat Nuts and Seeds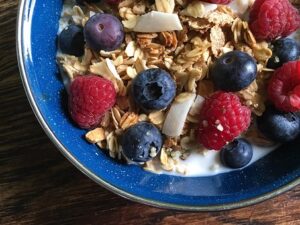 Why not make your dried fruits more interesting by making a high protein granola for you breakfast, or even an any time of the day snack. You can add lots of nuts, seeds, oats, buckwheat, or any other low GI grain or seed that you like, and you can top it with coconut or soy yogurt, cinnamon, cacao nibs, and a nut milk of your choice. Or just snack on it as it is as its also easy to transport to work or school.
Please check out my easy homemade muesli that also contains other added fat burning ingredients too. It's really tasty and simple to make in big batches, which will keep fresh in an air tight container for months. I always have one of these on the go, and as it's so very versatile you can use up all the unused nuts, seeds and dried fruits in your cupboard.
Thank you for reading this post today. I always appreciate and am happy to reply to any comments and questions about fat burning foods and the plant based diet, so go ahead and post away!
And before you leave, don't forget to sign up below↓↓↓ for more great weight loss posts, recipes, plant based eating tips and guides and so much MORE from ZestForever.