If you've ever tried a medjool date then you will know just what a yummy, sticky and sweet treat they are. But, along with being delicious they are also unbelievably healthful. In fact, these 6 health benefits of dates are literally astounding, and as they are so full of nutrient dense energy they can also be classed as the ULTIMATE training food.
I'm talking specifically about the medjool date variety, as these really are the rolls royce of the date world in terms of both taste and nutrition. They mostly come dried and taste super sweet – almost caramely, and are the perfect fix when you are craving something sugar or are in need of a quick energy boost.
The Date's Nutritionl Profile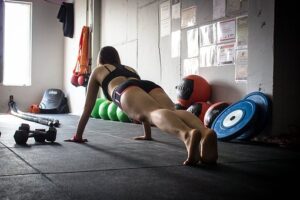 Dates are the ultimate fitness training food for before, during, and after exercise, due to the fact they are packed full of low GI sugar; the type that give you a slow and sustained energy release over time, and not that fast hit you get from refined or free sugars. They also fit the perfect macro-nutrient requirements of a training food: Each date contains 66 calories, 17g carbs, and barely zero protein and fat making them similar to most energy gels – only way more nutritious of course, and much cheaper!
Although the sugars in dates are high, they are in the form of glucose, fructose and sucrose – the types that are easily broken down and processed by the body which is exactly what is needed when you need an instant but long lasting energy fix.
A Perfectly Packaged Superfood!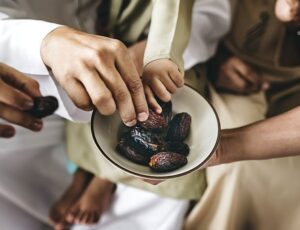 Dates already come perfectly packaged, making them easy to transport; and they don't spoil easily either, so you can either eat them straight out of the fridge, or wrap them in some tin foil and take them with you on your run, to the gym, or for a snack at work.
Dates aren't just for those in training, they are good for EVERYBODY; this includes diabetics (in moderation, and along with a healthy diet plan). They also have an impressive number of other nutritional benefits including:-
HIGH FIBER – To keep your bowels working well, and to slow down the release of the date's sugars.
HIGH IN IRON – A vital component of hemoglobin, which is the substance in your red blood cells that helps to carry the oxygen you breathe throughout your body.
VITAMIN B6 – Vital for good mood, your central nervous system, brain health, reduces PMT symptoms, good for the heart, eye health, and anti inflammatory.
MAGNESIUM – Great for soothing aching muscles, reducing anxiety symptoms, easing migraines and headaches, helps the body to absorb calcium from other foods, heart healthy, and reduces PMT symptoms.
POTASSIUM – Helps to lower blood pressure, enhances power and strength in your muscles, puts electrolytes into your body (one of the reasons dates are so awesome for those in training), regulates metabolism, and helps reduce symptoms of anxiety and stress.
1. Perfect on a plant based diet
A healthy plant based or vegan diet will require you to make sure you are eating lots of good sources of plant proteins; plus lots of antioxidants and nutrients – especially calcium. Fortunately for plant based eaters dates are abundant in all of these due to their impressive nutritional profile, and should be a staple in any plant based eating plan.
2. Heart healthy
Medjool dates are good for your heart, as both their soluble and insoluble fiber content helps lower bad LDL cholesterol and triglycerides, which in turn may help lower your risk of heart attack, stroke, and heart disease. Taken alongside a healthy diet and regular exercise, dates may help act as a preventative measure against all of the above.
3. Bone health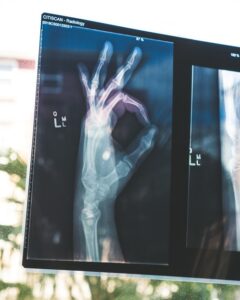 The high amounts of key nutrients in dates, the likes of calcium and phosphorus, are perfect for strong bones and teeth. Phosphorus is also needed for the repair, maintenance and growth of cells and tissues.
Calcium is crucial to the healthy function of your nerves, muscles and heart, and is the NUMBER ONE mineral for helping to prevent osteoporosis. It is worth noting that contrary to popular belief, there are many plant foods higher in calcium than dairy products, and their calcium is often more easily absorbed too. 
As you age you need more calcium than ever, because your bones will be becoming more fragile and your absorption rate will be lower. Therefore, lots of calcium rich plant foods should be of number one importance at any age if you want to keep your bones strong and healthy for life.
4. Natural sweetener
Medjool dates are what you could call 'nature's very own candy', and if you feel an itch for a sweet treat then dates will certainly scratch it – plus they are guilt free! They come in low on the glycemic index scale at 43-55 for non diabetics, and 43-53 for type 2 diabetics (diabetics can eat up to 3 a day if the rest of their food intake is healthy). As with all the good things in life they will still need to be eaten in moderation, or instead of other treats if you don't want to gain weight.
 

5

. Antioxidants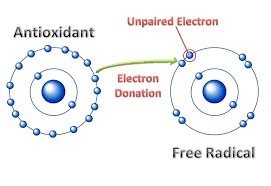 Dates are a very high antioxidant fruit, and antioxidants are needed in abundance in our diets, especially as we are living in such a highly toxic environment. Antioxidants help to neutralise free radicals in your body before than can damage your cells and DNA, therefore slowing down the aging process on both the inside and out. If this damage were to be left out of control it would more than likely lead to premature aging and degenerative disease.
6. Anti inflammatory
Dates, along with most other plant foods are anti inflammatory, and therefore can help to fight chronic inflammation in the body. This in turn may help to ease pain, especially the pain caused by inflammatory diseases, such as autoimmune disease, arthritis, and inflammatory bowel disease.
Chronic inflammation is something that affects more and more of us in the modern world, usually due to our toxic environment and factors such as too much sugar, trans fats, alcohol, tobacco, pollution and other toxins in the environment, andcan eventually lead to certain diseases. You can help to lower chronic inflammation by eating lots of alkaline plant foods, plus antioxidant and age defying foods such as fruits, legumes, vegetables, healthy fats, nuts and seeds on a daily basis (You will need at least 7 portions to make a good impact).
Other uses for dates
Dates can be used in all sorts of baking and cooking too. Who doesn't love a gooey date flapjack, protein or energy balls,or a fruity breakfast granola? All healthy and wholesome examples of the versatility of dates.
Check out the energy ball recipes I sourced out from YouTube as they are an easy way to batch make these treats for your week, plus they contain lots of other healthful ingredients too.
Sign up to Zestforever
Why not join up below↓ and receive straight to your inbox the latest news, tips, meal plans, and guides to plant based eating for health, weight loss and fitness. Thanks for reading and supporting this website. Have a healthful day!