The thing you have to love and admire about peanut butter is its sheer versatility in the baking world. I mean, you can eat this delicious wholesome stuff with either sweet or savoury foods, and it never goes out of fashion.
One of the best ways to use your peanut butter is in some of these World's best peanut butter cookie recipes. We've trawled the internet to put together this amazing list. And we're sure you will find something you'll completely love and will make again and again.
Every recipe on this list is 100% plant based, and where possible whole foods plant based too. At the very least, they are all healthy cookies that would make a great on-the-run breakfast, a pre or post workout snack, or just a substantial snack in general.
Peanut Butter Benefits
There are so many reasons to love peanut butter. It has truly stood the test of time and brought pleasure to so many of us that it surely deserves some kind of medal. But for now, we shall honour it by making delicious, homemade peanut butter cookies that the whole family will enjoy.
Here's some reason why you should be adding peanut butter to your diet if you can tolerate nuts/legumes:-
It's High Protein
If you are on a plant based or vegan diet then you will probably find peanut butter (along with other nut butters and spreads) will become a very close friend. Finding good protein substitutes is a great way of keeping your diet well-rounded and healthy, and peanut butter can have its place in this.
Peanut butter contains around  around 26g of protein per 100g, so that's pretty impressive. However, it's also super high fat and calorie, so portion control is a must, especially if you want to keep your weight in check. But, still, when used as part of a meal or snack, it is fine to indulge a little.
Vitamins And Minerals
Peanuts are an excellent source of many nutrients, including:-
Magnesium
Folate
Copper
Vitamin E
Arginine
Peanut butter is highly nutritious and contains many vitamins and minerals along with its high protein and healthy fats that can help lower your cholesterol.
It's also low GI (meaning it releases its energy slowly into the bloodstream over a period of time), so can also help with weight loss and blood sugar control when eaten in moderation alongside a healthy diet and other low GI foods.
So, don't be afraid of peanut butter because of its fat and calories content. It's a healthy, nutritious and inexpensive food that has a place in everyone's diet providing they don't have an allergy.
It's Inexpensive
Peanut butter (and peanuts in general) are one of the cheapest among the nuts, and with pretty much the same health benefits too! For instance, you can easily pick up a jar of peanut butter for a third of the price as almond or cashew butter, especially when you buy bulk jars or purchase when on special offer.
Versatility
Peanut butter truly is a versatile, healthy food source that can be used in so many dishes. These range from its most popular use in the US in the form of the 'peanut butter and jelly' sandwich, to a tasty addition to many Indian, Thai and Vietnamese dishes.
You can eat any nut butter with both sweet and savoury foods alike. It's a great addition to desserts, breakfast porridge, smoothies and milkshakes, cookies and biscuits. It also makes a great snack just to scoop straight out of the jar and devour alone.
Which peanut butter should I buy?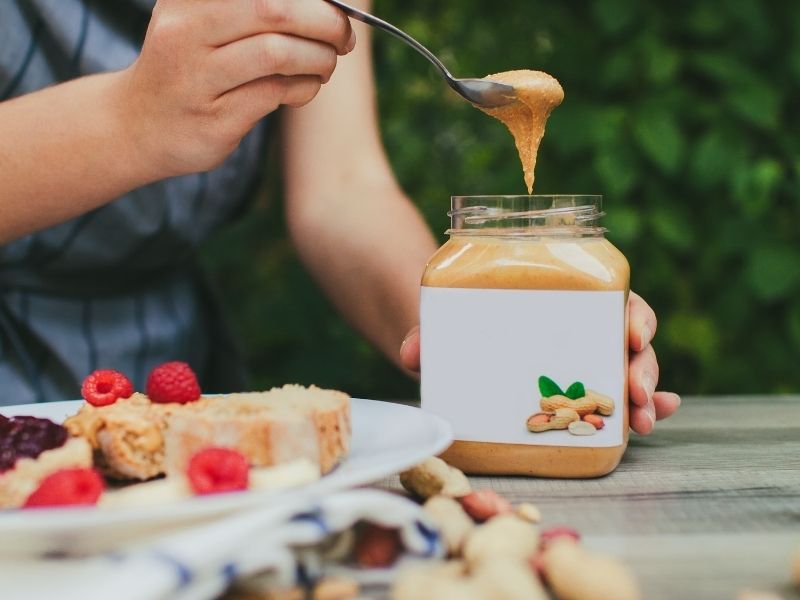 If you can afford it, you should always go for organic to lower the risk of toxins, pesticides and other chemicals that may be involved in the growing or roasting process. However, this does bump the price up, so check whether you can find bulk jars to lower the cost.
If you are strapped for cash then buy whatever you can afford (it's still better than not eating it at all because it will offer many benefits that outweigh risks). But, always be sure that you check labels for added sugars and palm oil as both of these additions will counteract any health benefits.
You will find that most supermarkets and health food shops will stock 'no added sugar or oil' peanut butters, so it's rarely a problem these days. Most retailers are aware that we don't want all the rubbish in our foods anymore. Not now we are more aware of ingredients, so it shouldn't be a problem to find a healthy version.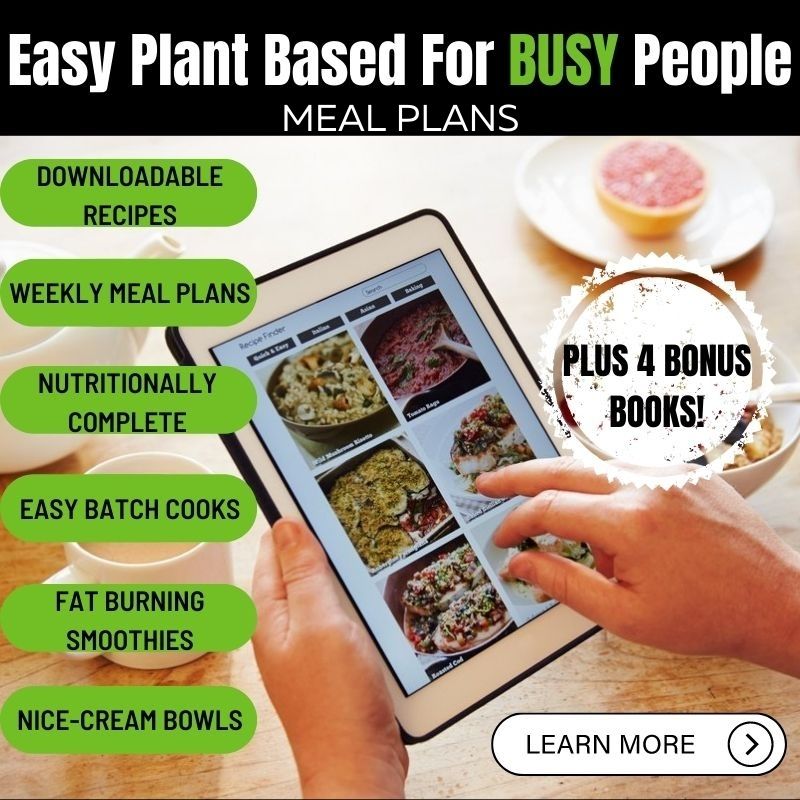 World's Best Peanut Butter Cookie Recipes
1. Peanut Butter Chocolate and Banana Breakfast Cookies
These cookies are brilliant because they are only made out of 4 store cupboard, staple ingredients – peanut butter, cacao powder, oats and banana.
You can add your own dark chocolate chips if you wish to make them more indulgent and special. But, other than that, these tasty cookies are whole foods plant based and make the perfect breakfast or afternoon pick-me-up snack.
Pretty sure you can win the kids over with these double chocolate treats too!
2. Peanut Butter High Protein Cookies
These peanut butter cookies are a high protein, sweet and indulgent treat that are still pretty darn good for you.
Peanut butter powder has a delicious, creamy taste that is different from smooth peanut butter. It really adds richness and creaminess, and is definitely worth trying.
The sweetness in these cookies comes from maple syrup. This gives them a mouth-watering caramel taste that will make them perfect with your afternoon cuppa.
3. One Bowl Peanut Butter Cookies
These cookies are a very fast and easy bake that you can knock up in 15 minutes flat. You can use coconut sugar for sweetness (rather than unrefined sugar) to give it a more caramel like taste, and also to make them healthier.
These cookies are melt in the mouth delicious, but need to be eaten in moderation as a dessert or a treat because they are not considered whole foods plant based.
4. Banana and Peanut Butter Breakfast Cookies
These simple cookies are made of 3 staple ingredients – oats, banana and peanut butter. But the best thing about them is you can add anything else you like to make them more interesting, and even healthier.
Chopped nuts, seeds, desiccated coconut and dried fruit of your choice can easily be added to these healthy breakfast cookies. Adding some crunchy nuts, seeds and antioxidant rich, dried fruits makes them a perfect start to the day, and enough to power you through a busy morning.
You can also tailor these to be a great pre training food by adding chopped dates. Dates are the perfect workout fuel, and can keep you going for longer sessions due to their complex carbohydrates and slow release energy that can keeps you satiated and full.
5. Vegan Cookie Dough
Did you know that it's possible to eat healthy cookie dough? That's exactly what you get with this delicious, simple recipe that is also high protein.
This cookie dough contains peanut butter and chickpeas. A combination you may not ever expect to see together, but it really does work believe it or not. Another unhealthy treat made healthy, and a great one for the kids to snack on instead of the usual high cookie dough.
6. Keto Peanut Butter Cookies
If you like low carb treats, then these keto cookies will serve you well. They are high fiber due to the flax eggs, and full of healthy fats due to the ground nuts and seeds of your choice.
You can use a sweetener of your choice here. But, if you would like to keep them keto and sugar-free you should go for something like stevia or xylitol, and then also use only very high cacao content chocolate chips.
7. No Bake Peanut Butter Cookies
Now, you will be really intrigued by these super healthy, no bake cookies because they contain white beans as their main ingredient. Yes, you heard that right! Just white beans, peanut butter and pitted dates make these cookies the healthiest we have found so far.
Taking only 5 minutes to prep, these cookies will make the perfect snack or breakfast that you can knock up at a moments notice. Sticky, gooey, and oh so healthy, they really are an unbelievable find.
3-Ingredient Vegan Peanut Butter Cookies | Gluten-Free, Easy
8. Chocolate Peanut Butter Cookies
It kinda felt like we needed a true "chocolatey" chocolate peanut butter cookie on this list that was indulgent and very chocolatey indeed, and this one really fits the bill. It's indulgent enough to be a real sweet treat, whilst still being way healthier than anything you would but at the shops.
These cookies are made from spelt flour, maple syrup, chocolate chips and peanut butter, but also have the option to be made keto friendly if you desire.
They are definitely special occasion cookies that will impress your guests and fool them into thinking they they are eating a naughty treat.
https://chocolatecoveredkatie.com/chocolate-peanut-butter-cookies/
CONCLUSION
Here at ZestForever, it is our mission to bring you all the delicious foods you enjoy, but in a way healthier and environmentally friendly way. And a great cookie is just one of those ways out of many!
Making the plant based diet easier and more accessible to EVERYONE, with minimal fuss, and to fit in with your busy lifestyle is always our number one priority.
For a complete meal plan from our nutritionist, shopping lists, and everything you need to start you off on your plant based journey to a better you, please check out our FAST & EASY Meal Plan for BUSY People. It will offer you everything you need in order to change your mentality about food, teach you lots of nutritionally compete meals that you will eat for a lifetime, and ultimately give you a whole new zest for life and delicious plant based foods.
And, before you check out, please don't forget to sign up to a mailing list so that you never miss our new posts, recipes, and lots of other plant based information and news. Thank you 🙂