Protein balls/energy balls, or whatever you want to call them have always been a great way to have a healthy, yet filing snack on the go. They are also super easy to make and need NO baking.
You can knock a batch of these redskin peanut-vanilla protein balls up in under 10 minutes. They keep for up to 10 days in your fridge, so plenty of time to scoff them.
I've tried making protein balls many times over the years and usually get pretty bored with them, due to them mostly being that mushy texture.
However, recently I found some delightful protein balls in Greenwich market on a vegan cake stall. I found they were completely different to the usual mushy balls I had tried and I have been recreating them ever since.
Luckily the recipe only called for 3 ingredients, so it was pretty easy for me to recreate them at home.
How To Make A Good Protein Ball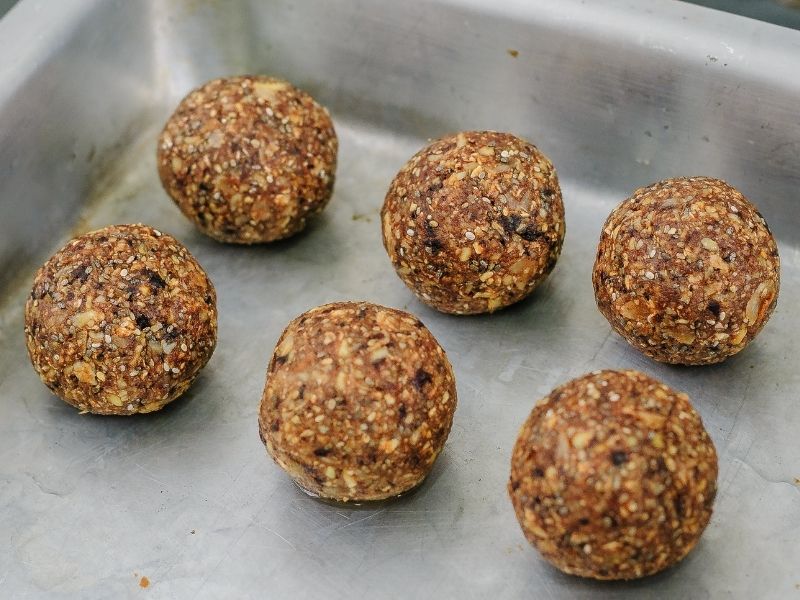 I discovered the secret to a good protein ball is to NOT add any fluids; even fluids in the form of maple, agave or date syrup. No syrups at all, it just doesn't need them.
It's those syrups that get added to most protein balls that completely changes their texture. You want a dryer ball for a more cakey/crumbly like texture and for this you need no fluids, except maybe a little vanilla paste or essence.
You can give your protein balls all the sweetness they need by using a date base (or any dried fruit base as long as it also contains some sticky dates, or other sticky fruit to bind). I have found that any dates work for this, and you do not need to use the more expensive Medjool date to get the same effect.
Protein balls are very cost effective
In fact, these redskin peanut-vanilla protein balls are SO cost effective and come in at around £3.50 for 12 large or 24 small balls. Now, that's a cheap and easy way to make completely healthy and filing snacks for your family!
This costing, of course, depends on the products you wish to use. I buy the pre-chopped dates that you can buy in any supermarket for very little outlay.
In fact, unless you buy Medjool or organic, nearly all dates are very inexpensive. Just be sure to check that they don't have any added oils to keep them separated, as this is not necessary OR healthy. Most pre-chopped dates will have rice flour added to prevent sticking, but this is nothing to be concerned about as it's such a little amount.
Are protein balls healthy?
Yes, providing you make your protein balls out of whole food ingredients, then they will be healthy.
It's always handy to have protein balls in your fridge for a number of reasons:-
They are super easy to make
Make a healthy and filling, low GI snack
Kids will love them and also love to make them
They are completely refined sugar free
They are a protein bomb
Due to high protein content and filling effect, they can help with weight loss
Protein balls make the perfect pre and post workout food. Check out why dates are the ultimate workout fuel.
High protein peanuts and low GI dates help to keep blood sugar stable
Peanuts are high in healthy fats, protein, magnesium, fiber and B vitamins
Dates are high in fiber, deliciously chewy and sweet, plus a great source of many nutrients. Make these delicious, snickers stuffed dates as an alternative to your protein balls as well.
Peanuts and peanut butter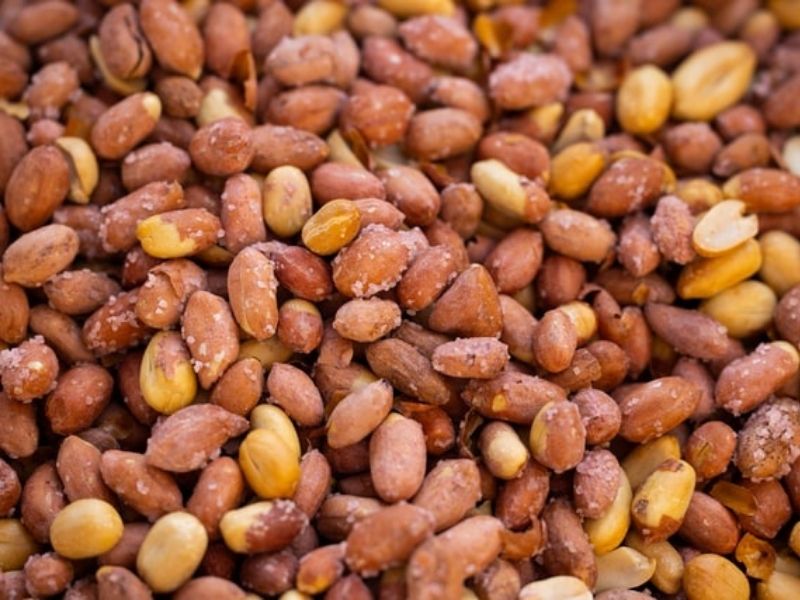 You want raw, red-skin peanuts for this recipe, and they just happen to be the most inexpensive kind to buy that are available almost everywhere.
The peanut butter is yet another ingredient that can cost a lot or a little. Just make sure you only buy 100% peanuts peanut butter with only maybe a little salt added.
Do not use the peanut butter that has palm oil or added sugars or you will not be making a healthy, whole foods treat. With peanut butter, you always have to check labels as so many products are made with these extra added ingredients that are detrimental to your health.
Why these peanut-vanilla protein balls are customisable
The great thing about this uber simple recipe is the fact that you can completely customise it to your tastes. Or, better still, make a batch with 2 or 3 different flavours to see which you prefer.
Your base will be the same as the recipe below. Just split your mixture into separate bowls before you start rolling into balls, then add your different flavours and ingredients.
Use any nut butter
Of course, you don't necessarily have to use peanut butter. You can use any nut butter you desire to add more varied nutrition.
Just be sure that you only use the smooth version of any nut better you do use, as smoothness is needed for binding. You already have whole peanuts being used so they will add the texture and crunch needed to make these protein balls non mushy.
Different flavours you can add to your protein balls:-
1 -2 tbsp ginger powder
1-2 tbsp cinnamon powder
1-2 tbsp mixed spice (or, pumpkin pie spice)
A little crushed cardamon
Vanilla essence (as per recipe below)
Maca powder
Lacuma powder
Baobab powder
Other superfood powders
Cacao nibs
Dark chocolate chips
Desiccated coconut
Other chopped nuts
Seeds
Dusting your protein balls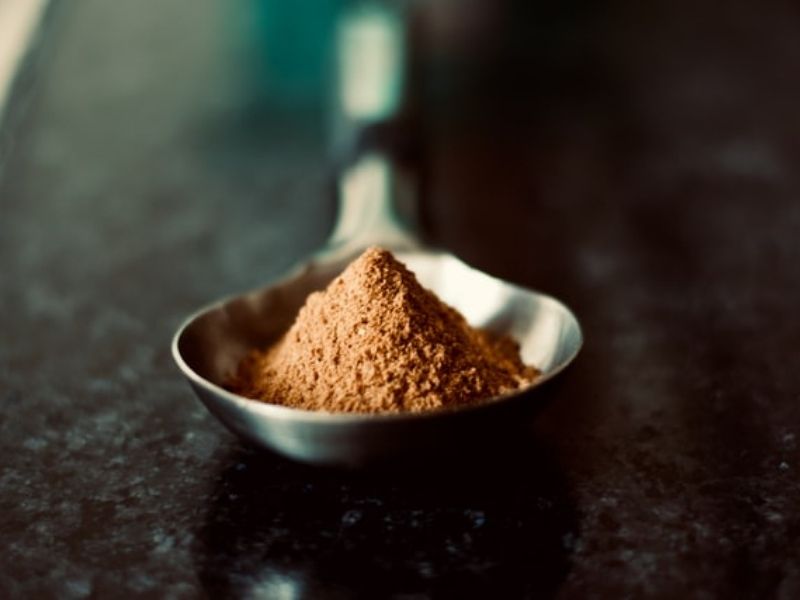 Once you have rolled your mixture into balls, you will want to coat them in some kind of dusting to make them easier to eat without getting sticky hands.
The perfect thing for this job is to roll your balls in sugar-free cacao powder. Don't be tempted to use desiccated coconut because your protein balls will not be sticky enough for something like this to stick. I tried and tested this, and the lack of syrups in the recipe means your balls are drier and cannot take a chunkier coating.
Coat in chocolate
For a real treat, why not melt some very dark chocolate down and dip your peanut butter protein balls in it to coat. You will need to use toothpicks to dip, then lay on some parchment paper before refrigerating.
This will make your protein balls worthy of a tasty dessert or delicious treat without any guilt.
How To Make Completely Raw Protein Balls
You can easily customise this recipe to make it completely compliant with the raw food diet. Just use RAW peanut butter instead of the roasted that is readily available in the supermarkets.
You can but raw nut butter from specialist suppliers or from most health food shops. Or, you can easily make your own from raw peanuts. This will give you a completely raw protein ball that will benefit from all of the nut's oils and nutrients being intact.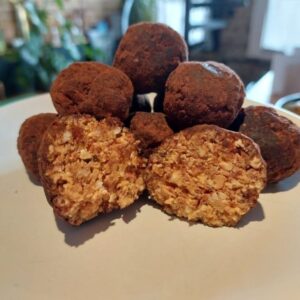 Red Peanut-Vanilla Protein Balls (Customisable)
Equipment
Food processor

Mixing bowl

Storage container
Ingredients
250

g

pitted dates

pre-chopped or chopped

1

cup

redskin peanuts

1

cup

smooth peanut butter,

or any smooth nut butter (peanut is highest protein)

1

tbsp

vanilla bean essence or paste, or to taste

(or, any other flavour you are using. Spices like ginger and cinnamon will need about 3 tsp of dry powder)

½

tsp

salt
Instructions
Add your peanuts, dates and salt to your food processor and mix on high speed until crumbly. You don't want to take it to a powder as you will need some texture in there unless you want them to be mushy. Very small pieces of peanut are good.

Add your peanut butter and vanilla (or other flavourings) and combine again until your mix starts to form hard ball.

Transfer mix into a mixing bowl.

On a separate side plate, or small bowl, sprinkle a tablespoon of pure cacao powder. Shake the bowl to get the powder spread flat over the bowls surface. You can add more cacao powder later if you need to. If you don't want to use (or don't like cacao), then any fine powder will work. You can potentailly use carob, lacuma, baobab, or even grind down desiccated coconut to a finer mill.

You will also need a large dinner plate to temporarily place your protein balls whilst in the rolling process.

Now, split into equal parts. I like to make 12 larger balls as they are more of a substantial snack. For bite-size balls you will yield about 24 from this mix.

Roll your mixture between the palm of your hands to form a ball. The mix shouldn't be too sticky or stick to your hands due to the fact you have no syrups in there. Put your rolled protein ball onto the dinner plate ready to be dusted.

Roll all protein balls out before dusting in your cacao powder. If you try to mould your ball and then roll it straight into your cacao then your hands will get covered in chocolate powder. This will then get smooshed into your subsequent protein boll as you roll it. This will dry it out too much, so do this afterwards.

Once you have all your balls moulded and ready to go you are now ready to dust them in cacao powder. Dip the ball into the cacao, then roll around until completely coated.

Set aside into a air-tight container.

Repeat the process until you have all your protein balls dusted.

Refrigerate and eat. Keep in the refrigerator to store for up to 10 days.
Video
Thanks for visiting us today!
Please feel free to share our delicious recipes with your friends and on your social media.
Let's bring the plant based revolution to the masses!