Often high protein diets (especially those designed for weight loss) require you to eat copious amounts of animal products with little fruits, vegetables or legumes for fibre and nutrients. The eating of way too much dairy and meat often results in bad skin, lactose intolerance, and chronic inflammation in general. Not good, especially when your reasons for cutting down on the carbs is to actually look and feel healthier!
This list of 10 high protein, low carb snacks recipes are all plant based, natural and bursting with nutrition. Best of all, they won't make you pile on the pounds but will instead help to boost fat burning and weight loss. They do, of course, need to be eaten 'instead of' and not 'as well as' your usual snacks that are more than likely high in bad fats and refined sugar.
Why Are Plant Based Snacks Healthier?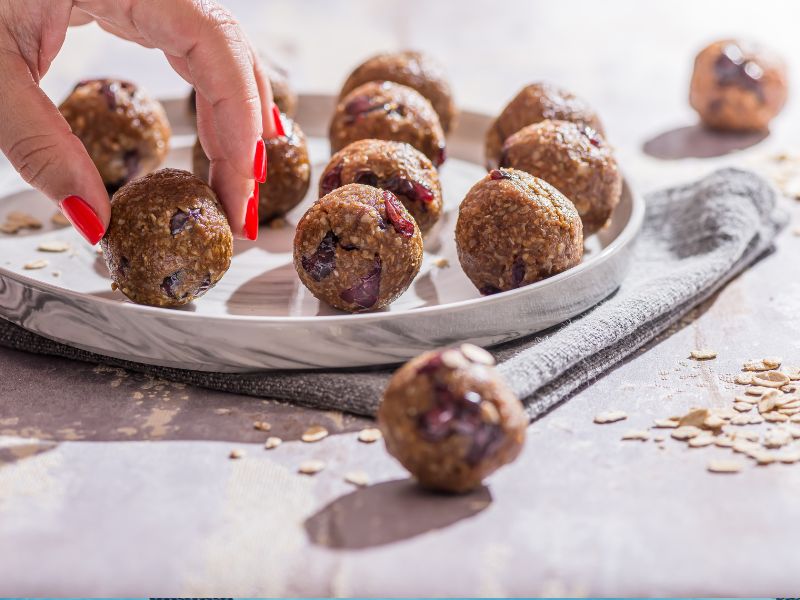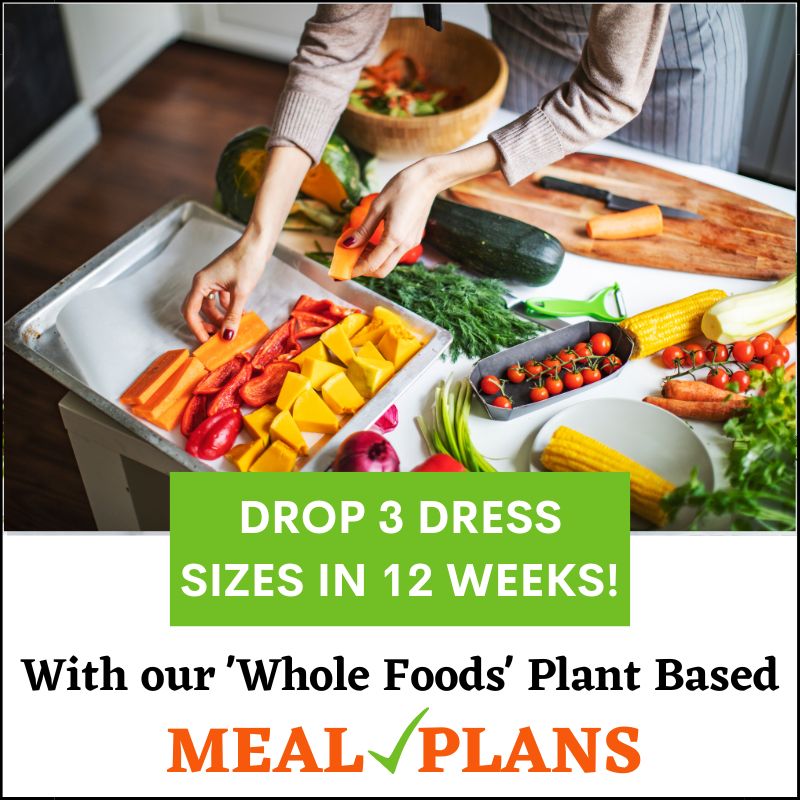 The whole foods plant based diet is fast gaining popularity, due to it not only being more environmentally friendly, but also super healthy for the body, mind and soul.
However, if you do decide to commit to 100% plant based. then you will need to understand some important elements of this lifestyle in terms of correct food combining in order to put together nutritionally complete meals. If you do not take the time to do this, then your health may suffer and you will be left thinking, and probably spreading the word, that the plant based diet made you sick.
Even if you're happy eating animal products, you can still cut down this inflammatory load by eating healthy plant based snacks. These will improve your health vastly as you will automatically be eating more phytonutrients, antioxidants, vitamins and minerals. ALL of which have a myriad of health benefits, including:-
Anti aging
Much more energy
Better skin
Weight loss
Higher immunity
Lower risk of disease in general
Less brain fog
Better memory
Higher fitness levels
Less chronic inflammation
By adding more plant foods into your diet in general you could potentially benefit from all the above fantastic benefits. The more you add, the more benefits you get. It's simple maths that never fails. Also, the more healthful plant based foods you add into your diet, the less room you have for the unhealthy junk foods, making it a win win situation.
1. PROTEIN SHAKE
Adding a protein shake to your day as one of your meals or snacks is a great way to help boost fat loss. Keep muscle mass high (muscle helps keep your body in fat burning mode), and lower your sugar cravings all in one go. A protein supplement is even more important if you are a vegan or plant based eater who does lots of exercise, as in this case your needs will be higher than the average person.
Be sure to use good quality plant based protein as it will more than likely be specially formulated to contain a complete amino aid profile, which is even more important if you don't actually eat any animal products.
PROTEIN: Most protein supplements contain around 40-50% of pure protein per 100 grams.
To keep the shake low carb you need to make sure that your protein powder contains no added sugars, apart from low GI, 'healthier' sweeteners such as xylitol, stevia or erythritol. You can then blend it with sugar free almond milk and something (or a couple items) from the list below:-
1/2 a ripe avocado.
Berries such as blueberries, raspberries, strawberries and blackberries.
Greens, such as spinach or kale.
Green superfood powders such as spirulina, barley grass, wheatgrass or moringa.
A teaspoon of coconut oil (if not using avocado).
A handful of low carb nuts such as Brazil, macadamia, pecans or walnuts (again, only if not using any other fats).
A tablespoon of nut butter.
If you decide to use fats, fruit and veg in your protein smoothie then this will make it more like a meal replacement that can be used in place of breakfast or lunch rather than just a snack. Check out these other fat burning smoothie recipes for more inspiration.
2. TRAIL MIX
You can easily make a homemade trail mix in minutes, then just store in an airtight container for months to pick at as and when. Just grab yourself whatever you fancy from the list below, shake in a mason jar and that's it! Be sure that none of these ingredients contain hidden added sugars or they will NOT be low carb.
PROTEIN: Depending on the ingredients you choose, a trail mix will contain between 10-15 grams of protein per 100 grams.
Make sure all these ingredients are dried, not salted and refined sugar free:-
Coconut flakes
Sunflower seeds
Pumpkin seeds
Pecan nuts
Macadamia nuts
Walnuts
Brazil nuts
Almonds
Peanuts
Hazelnuts
Pine nuts
Dates
Raisins
Apricots
Prunes
Apple
Goji berries
Pinch of cinnamon, ginger, or any other spice you enjoy.
Although some of the above fruits may seem high in fruit sugar, we have decided to add them to this list as there are some dried fruits that have been proven to aid weight loss. So, if losing weight is your aim then feel free to add them.
3. GRANOLA AND YOGURT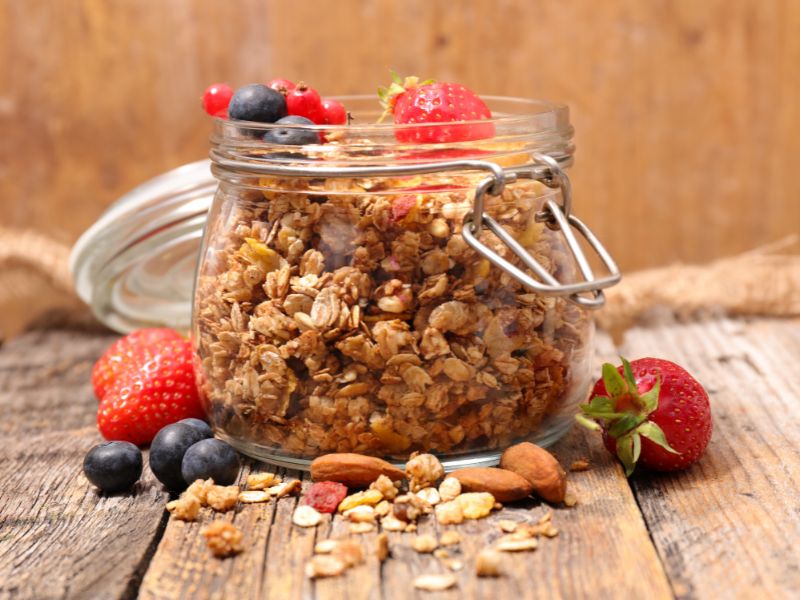 You can use your above trail mix with a spoonful or two of coconut cream/coconut or soy yogurt, plus a handful of toasted buckwheat flakes or grouts and fresh berries, which will turn it into a more substantial snack or breakfast.
Just be sure to check labels to make sure your yogurt contains no added refined sugars if you want to keep this snack as low carb as possible.
PROTEIN: If served with soy yogurt this granola should come in at around 15 grams of protein per 100 gram portion.
4. VEGETABLES CRUDITES AND DIPS
Use either a tahini, hummus or guacamole dip and chop the following raw veggies. All these dips are full of healthy fats and nutrients which will fill you up and help stop carb cravings. Plus the fibre and vitamins in the raw veggies will be great for your gut flora, helping to detoxify your system to flush out toxins and ultimately get your skin glowing.
PROTEIN: Depending on your choice of ingredients, 100 grams of this snack will come in at around 5-10 grams of protein.
Carrots
Courgette
Bell peppers
Tomatoes
Broccoli florets
Cauliflower florets
Cucumber
Green beans
5. ROASTED KALE CHIPS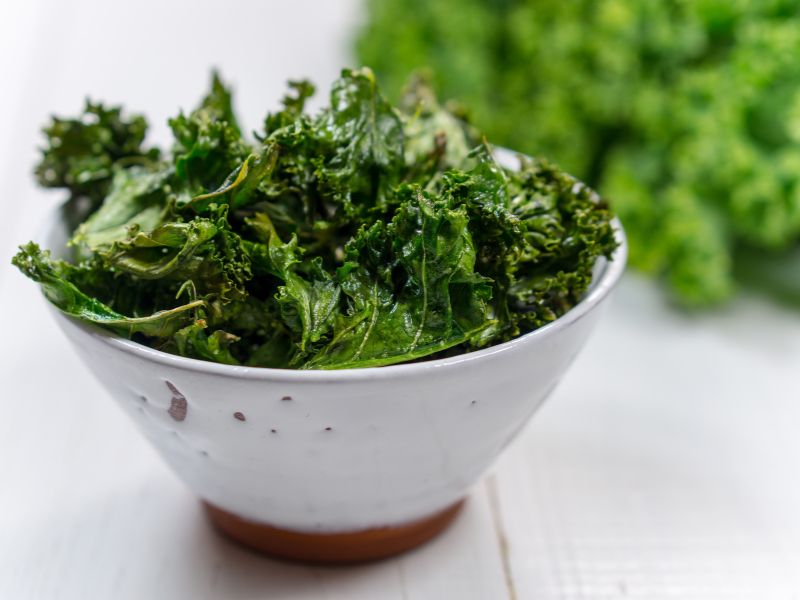 Kale is packed full of nutrition and fibre and actually really tasty when crisped up in a very low oven, or even better a dehydrator.
PROTEIN: 4.3 grams per 100 grams.
Turn on your oven to the lowest possible setting.
Wash and thoroughly dry your kale.
Rub a small blob of coconut oil into your hands and rub together to melt, then massage into your kale as you set it out onto oven trays in a single layer.
Add herbs and spices of your choice (a sprinkling of simple mixed herbs can be good), but they also taste just delicious without any seasoning.
Bake on a very low heat until dried out and crispy (you will have to keep checking on them).
Best eaten immediately as they don't store too well. If you do need to store them then use an airtight container and freshen up for a couple of minutes again in a low oven if need be.
6. CELERY AND PEANUT BUTTER
Simple, but pretty delicious. Use sugar-free peanut butter and spread a tablespoon onto a couple of sticks of celery. Peanut butter is very filling and full of healthy fats that will keep you satiated until your next meal. You can use any nut butter for this, but the highest protein ones are peanut and almond.
PROTEIN: 1 tablespoon (16g) of peanut butter is roughly 4 grams of protein. 100 grams of peanut butter is 25 grams of protein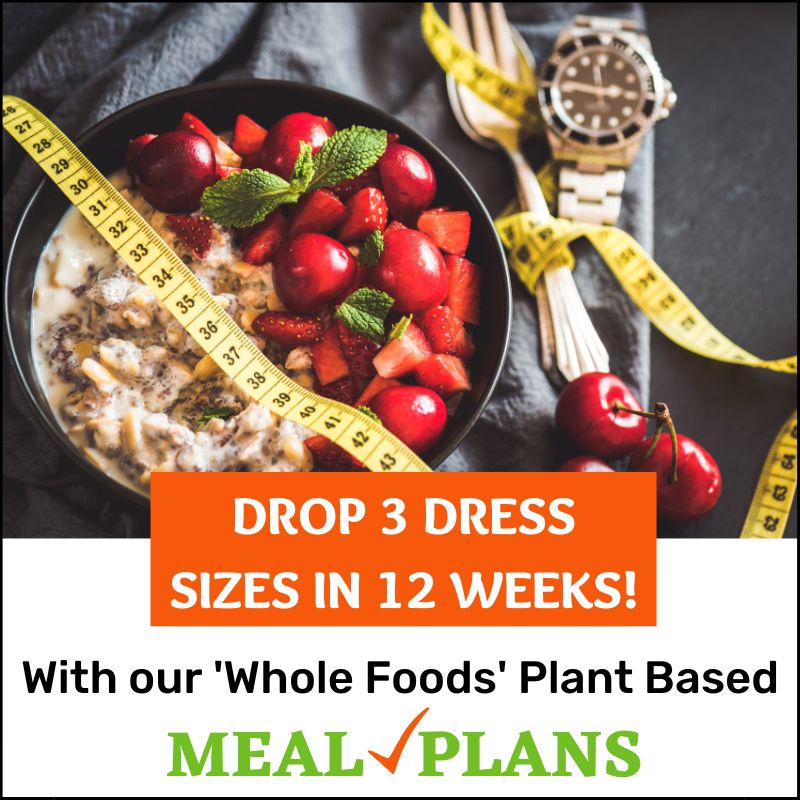 7. TOASTED TAMARI PUMPKIN SEEDS
PROTEIN: A 50 gram serving of pumpkin seeds comes in at 10 grams of protein.
These are truly addictive and can be made within minutes. You can use soy sauce instead of tamari, but we personally prefer the flavour of tamari as it's gluten and sugar free whereas most soy sauce isn't, so do check labels.
Heat up a frying pan or skillet to a medium temperature (no oils required).
Add a couple of handfuls of organic shelled pumpkin seeds and a good splash of tamari then keep on the move with a wooden spoon for literally only a couple of minutes. They will start to go sticky and clump together a bit, but this is a good thing and makes them even tastier.
Eat either hot or cold.
8. GINGER AND TAMARI FRIED TOFU PIECES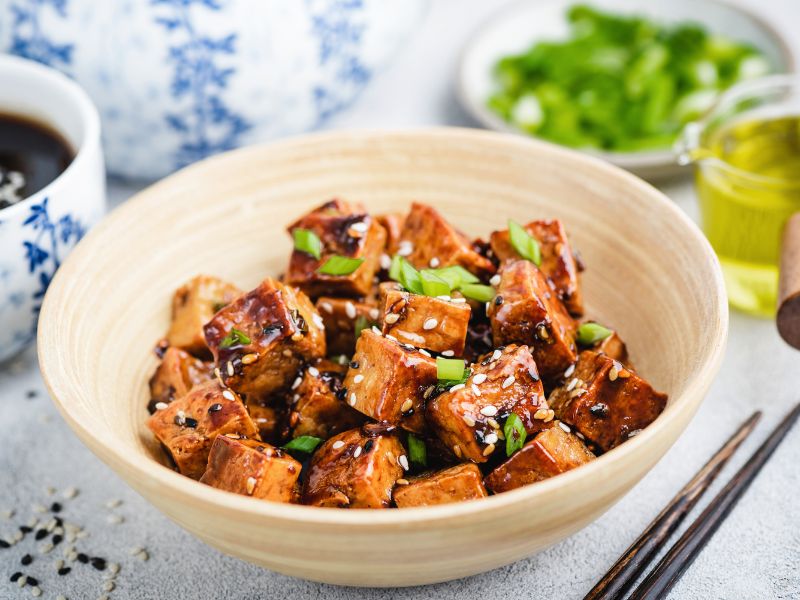 Tofu is made of soy beans. They are really high protein, but are also low fat and low carb making it a great snack or added as a protein source to main meals instead of meat or dairy. You can often buy tofu pieces already cooked with spices, but we like to make my own as it's tastier and you can decide which flavours you would like to use.
These are also easily transportable when put in an air tight container to take to work (try to keep them refrigerated though).
Typically, I would go for a classic tamari and ginger, but you could also use smoked paprika, cumin, chili powder or just plain.
PROTEIN: Tofu is crammed full of a lot of protein for a very low amount of calories. 100 grams contains 10 grams of protein at ONLY 76 calories, making it very unique in this respect.
Chop your block of tofu into bite sized chunks.
Add a little coconut, sesame or olive oil to a medium hot pan along with a dash of tamari sauce.
Add tofu pieces along with a sprinkling of ginger powder, then add a little more tamari to taste.
Cook until golden and crisp on all sides. This shouldn't take more than a couple of minutes, but do keep turning one by one and not just shake the pan or you won't get all sides cooked evenly. Take your time to cook all sides if possible for best results.
9. ROASTED CHICKPEAS
Simple, tasty, and oh so versatile. Chickpeas (or garbanzo beans as they're sometimes called) can be dry roasted in a medium oven with a shake of salt, pepper, cumin or any spice that tickles your fancy. And the great thing about them is you can cook them to the level of crunch that you desire.
If you would like them really crunchy then just leave them in for longer, but be careful not to break your teeth as they can go rock hard when over done and no snack should put you in the dentist's chair!
PROTEIN: Chickpeas contain around 12 grams of protein per 100 grams of cooked product, plus high amounts of fiber to keep you full, thus making them a fantastic fat burning, low GI snack.
10. PROTEIN BALLS OR BARS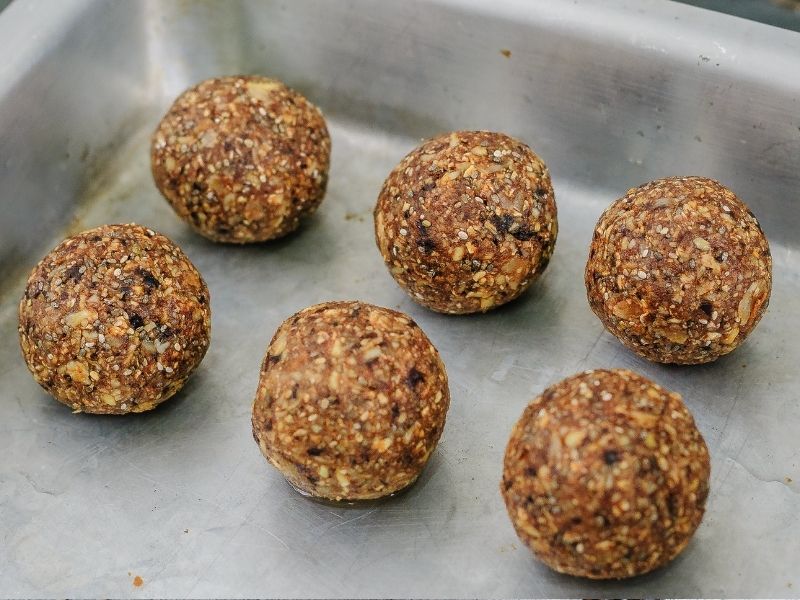 Make your own quick and easy protein balls to see you through the week ahead. They are versatile and transportable and you can experiment with flavours and textures. The simple and basic protein ball recipe contains a mix of sugar free nut butter, dates, oats, vanilla bean essence, and cacao or desiccated coconut for dusting.
These balls are also ideal snacks for pre and post workout fuel due to their unique slow release sugars from the dates.
PROTEIN: If you mix your balls with peanut butter, then the protein content will come in at around 15 grams per 100 grams.
Blend 100 grams of pitted medjool dates with 100 grams of nut butter, vanilla essence, 50 grams of rolled oats, and enough melted coconut oil to make a dough texture.
Roll into bite-size balls between the palm of your hands, then roll again into a plate of either cacao powder or desiccated coconut. This makes them easy to handle when you eat them without getting your fingers all sticky.
Store in an airtight container in the refrigerator for up to one week.
Thanks for visiting ZestForever today!
Your support is always very much appreciated. Don't forget to check out our other delicious, plant based recipes.