Congrats if you've decided to begin the wonderful journey into a plant based life. Truly, I'm happy for you because I  know that soon you will be feeling healthy, vibrant and totally amazing as you fill your body with delicious and nutritious plant foods.
This lifestyle is something you will never regret, as every day you will feel better and better – more alive and more freer as your body heals and you soul awakens. This post will give you examples of EASY plant based diet recipes for beginners that you and your whole family will enjoy.
Getting your family on board from the start will help save you a whole lot of time in the future in respect to cooking meals. You don't really want to be cooking meals for you then separate meals for your family, as that's just a pain in the butt and will fast become tedious and tiring.
That's why you need tried and tested reliable recipes that even the most hardened meat eater will enjoy. And that's exactly what I have found for you in this post, so I hope you love them as much as I do.
Beginning your Plant Based Diet
Before you begin, you may wish to have some tips on how to prepare for this big change in the easiest way possible. Some easy pointers are as follows:
And, don't forget to get your shopping at a budget supermarket if you need to.
1. Read up on plant based nutrition
It's important you know what you're getting into, and it's important to understand your plant based macronutrient groups of proteins, fats and carbs so you have an understanding of how to put a high nutritional value plant based meal together. Knowing these basics is a good starting point to keeping you and your family healthy and happy.
2. Clear out your cupboards
If you're going for the whole foods plant based lifestyle, which means the elimination of anything highly processed such as oils and sugars, then you will more than likely need to have a jolly good clear out of your cupboards.
Bad guys to look out for include refined oils of any kind, refined sugars such as biscuits, cakes, sweets and highly processed foods such as crisps, chips, white bread, pastas, white rice, most canned goods (with the exception of pulses in water), frozen pizzas, fries, ready meals and burgers.
Even technically "plant based" foods can be highly processed, as in the case of sugar and oils. This is why the more you cut down on these so called 'vegan junk foods', the healthier your plant based diet will be.
3. Batch cook
Oh yes, you'll want to become the master of batch cooking and meal prepping (especially so if you are only cooking for one). Batch cooking, then freezing or refrigerating for the week ahead can be a life saver when it comes to the plant based diet.
You will also find batch cooking makes for a much cheaper shopping list in the long run. Great things to batch cook and freeze (or refrigerate) are:-
Beans, pulses and lentils (all of which are cheaper to buy dried). Just soak and cook in vast amounts, then freeze in portions. Not only does this save you money in the long run, but making your beans from scratch like this makes them so much more tastier than their canned counterparts. Plus, no added salt or other preservatives to worry about.
Make pasta sauces of all kinds and freeze in portions. All you need to do then is make your pasta fresh, and your sauce is ready to go.
Bean chili's always freeze well
Soups ( I find pureed soups freeze better than chunky veggie soups)
Stews
Make big salads and put in plastic containers undressed and they will keep for up to 3 days.  That's your easy lunches sorted, and you can just add your toppings and dressings fresh on the day.
Make salad dressings and refrigerate for up to 3 days (for your batch salads).
Freeze sliced, very ripe bananas for your morning smoothie or nice-cream bowls.
Other fruits work well for freezing too, such as mango's and berries.
I always have a mason jar of my favorite fat burning, high protein granola on the go. It's delicious, VERY healthy, and is choc full of anti aging antioxidants to keep you looking young.

EASY Plant Based Recipes for Beginners
1. Yellow Lentil & Eggplant Curry
Who doesn't love a delicious and warming curry, especially as the days get colder?
Plant based curies are every bit as tasty as any meat based version. In fact, the aromatic spices of these sorts of dishes make the veggies sing on their own, and would easily satisfy the whole family, meat eaters an all'.
Lentils, like all pulses are high in protein, fiber and nutrients, and because of their low glycemic index can contribute to weight control when eaten daily.
This curry tastes super luxurious! It's kind of amamzing that it takes only about half an hour or so to put together then! The texture and depth of flavor you can achieve in so little time is quite amazing. You have to take into account layering your flavors, as that is the key!
2. 15 Bean Soup
Oh yummy, you just got to LOVE this!! 15 beans in one soup!
For this super hearty dish you will need to buy the 15 bean dried mix pack, but if you cannot find it then you can use any dried beans you like. But, you want a good mix as it's the beans that sing in this meal, therefore 1 or 2 different kinds won't be enough in my humble opinion.
As all beans have their own nutritional profile, it means this mix is bound to cover all bases. Beans are full of antioxidants, potassium, magnesium. iron, folate, zinc, and of course are high protein too!
Once you've soaked your beans overnight, you simply just throw them in your instant pot with some stock and herbs and leave to cook out. Easy peasy.
This vegetarian 15 bean soup is a classic recipe made from the Hurst's brand dried beans mix but adapted to be made meat-free. This smokey protein-packed soup is easy to make with shelf-stable ingredients and is a healthy, affordable way to satisfy your whole family.
3. Beefless Stew
Do you miss a hearty winter stew? Just look at the picture of this delicious one pot stew and tell me you don't want to dive in! 🙂
This is everything you could wish for on a cold winters night. Lots of potatoes and other root veggies will fill you up nicely, along with a lovely hunk of crusty bread of course.
If you would like lower calorie or carb then, serve with some green steamed veggies such as broccoli, cabbage or green beans and give the bread a swerve. Never miss the opportunity to add extra green veggies to your meals, especially in winter when you need to keep you immune system strong.
This generous stew incorporates huge pieces of potato, carrot, celery, and onion, and portabella mushrooms remain in for the hamburger. Garlic, paprika, and new rosemary give magnificent flavor. This is a standout amongst my most well known recipes- particularly with spouses!
4. Spinach & Quinoa Patties
Spinach, quinoa, chickpeas and lots of lovely herbs and spices make these delicious patties good enough for a main meal. High in protein, quinoa has a great amino acid profile and is a great ingredient for plant based eaters.
They would go well with some steamed side veggies, homemade sweet potato fries, a salad, or maybe in a bun like a burger.
Quinoa patties made with spinach and chickpeas are perfect as healthy snacks. These crispy quinoa cakes or burgers are completely vegan, gluten free and nut free and made with very little oil! It's getting cold outside and has been drizzling too and all that this heart wants in this cold weather and the drizzle outside are hot piping Cutlets and Tikkis!
5. Red Beans & Rice
This wholesome and whole foods one pot recipe freezes well, and is also great for batch cooking.
It's crammed full of veggies, beans and wholegrains, so the perfect filling and satisfying meal. This is an instant pot recipe, so you can throw all your delicious ingredients in and just leave to cook out whilst you do more important things.
I'd probably serve this with a side of green vegetables as a dinner, or in a bowl on its own as a lunch with maybe some dipping bread if you're really hungry.
Published: · Modified: by · This post may contain affiliate links. Dry red beans and brown rice are cooked together with flavorful seasonings in the Instant Pot in this classic vegetarian staple! As I seem to say with most recipes, this one is a long time coming.
6. Instant Pot Pho
One thing I miss being plant based is a delicious bowl of traditional pho. I didn't even realise that it could be made vegan yet still be so tasty.
This truly is a bowl of health, as the broth contains lots of aromatic spices that are all high in those important antioxidants that have so many health benefits. You could easily omit the oil in this dish to make it fat free, lower calorie, and whole foods plant based all in one.
This dish is already high protein, but could be made more so by using buckwheat noodles instead of rice if you desire.
A super flavorful broth, crispy tofu, herbs and banh pho; this Vegetarian take on Vietnamese Pho is super delicious. Plus it takes less than an hour thanks to the Instant Pot! Have you ever tried Pho?? The super yummy Vietnamese broth FULL of flavor and served with a LOT of toppings?
7. Whole Baked Cauliflower
Here's something that makes a change – a whole baked cauliflower made in you instant pot in just 25 minutes, along with a recipe for a garlic and onion gravy to serve with it.
To make this more of a main meal, then it would be good to serve with some high protein sides such as quinoa, beans or lentils, plus some green peas and broccoli.
If you don't have an instant pot then you could just as easily cover in tin foil and oven bake. Just remove the tin foil 10 minutes before the end of cooking time to get a bit of a roasted outer crust. You will need to cook for about 40-50 minutes in a medium/high oven for the same effect and depth of cooking as the instant pot.
Make this awesome healthy Instant Pot cauliflower with creamy gravy for any party night or weeknight dinner. This garlic and herb whole cauliflower will be a gorgeous addition to your dinner table. After cooking a whole chicken in the Instant Pot it was time to try this delicate vegetable in it.
8. Beyond Amazing Vegan Meatballs
I had to add this recipe to the list because it's comfort food and sometimes you just need comfort food, that's all I'm sayin'. These meatballs contain the beyond beef vegan mince which I think is fine once in a while. It's not strictly a 'whole foods' plant based food, so I keep dishes like this to a minimum on my website and try to always stick to the 90/10 rule which I like to reflect in my posts – as in 90% whole foods and 10% for the rest.
These are SO easy and take only 10 minutes to prepare. Probably a good starting point dish if you are new to plant based and want to break yourself in with more 'meat' like textures.  Also, good enough to convince the family that no animals need to be harmed in order to have a delicious meal.
I would always serve with a healthier pasta such as wholegrain, buckwheat or chickpea, along with a big green salad… of course.
Seasoned readers of BVK know I typically don't use mock meats in my recipes. But unless you've been living under a rock for all of 2019, chances are you've seen the epic leaps that vegan food is making in the news these days. Plant-based food is SLAYING and in a big way.
9. Cheesy Protein Pasta
I got excited when I found this recipe because it's so fast, like under 15 minutes fast!
And the secret to that rich, creamy and high protein sauce is actually the humble white bean (you could use either Navy, Lima or Cannellini I'm sure for the same effect) and the naturally cheesy tasting nutritional yeast. Couple this sauce with a high protein pasta (such as lentil or chickpea) and you have the makings of a perfect post workout meal too.
It's also a great batch cooker, so be sure to put some portions in the fridge for lunches.
This healthy cheesy protein pasta is vegan and gluten free. One serving contains 41 grams of protein, and this recipe serves two. It's also high in calcium from the sesame seeds and beans. As nutritional yeast contains all nine essential ammo acids, it provides complete plant protein.
10. Vegan Meat Loaf
I chose this easy meatloaf because it has minimal ingredients, all of which are simple and store cupboard basics such as brown rice, lentils and walnuts.
A meat loaf is a great meal than can even be transformed into a great Thanksgiving or Christmas meal with the addition of all the usual festive trimmings (I'm talking chestnut stuffing, roast parsnips, cranberry sauce, and even meatless pigs in blankets). Or, it can be played right down for a week day meal with some side veggies and a tasty gravy; it's your choice.
However, the even better thing about this kind of meal is the fact that it freezes well and is great for batch cooking.
It's time to CHOW DOWN on delicious LENTIL LOAF – the perfect vegan alternative to meatloaf! Enjoy it as a cozy dinner, portable lunch, or Holiday meal!
11. Sweet Potato & Spinach Stew
Sweet potatoes, cannellini beans and mushrooms make this a hearty, warming stew with a curry kick. These one pot stews are fast, easy, require little prep, and often freeze well if you prefer to batch cook.
Serve with some brown rice or quinoa plus some extra veggies or salad, and you will elevate it to a, even higher level of healthy.
No oil AND packed with flavor? I know what you're thinking. Probably as skeptical as I look in this picture! But yes you can make dishes without oil still packed to the brim with nutrition. As a home cook, this was one of the hardest things for me to wrap my head around.
12. Broccoli & Chickpea Stir-Fry
This is a dinner that I make on an almost weekly basis due to the fact that is so loved in my house. The sticky tamari and maple sauce just brings it all together and goes so well with a nice portion of brown rice. This dish is definitely better with rice rather than quinoa (yes. I've tried both).
I also like to add another vegetable when I make it, so usually a red bell pepper will get thrown in along with the broccoli to make it healthier and to give another element.
Not too spicy, just aromatic and sweet, so great for all the family.
By on | . This post may contain affiliate links*. As an Amazon Associate I earn from qualifying purchases. Flavorful broccoli stir fry with chickpeas and a delicious garlic ginger sauce! This vegan weeknight dinner is easy to make in just one pan and it's ready in about 25 minutes.
13. Curried Ramen Noodles
Sometimes you just wanna eat noodles right? Maybe it takes you back to those childhood memories of Batchelor's super noodles if you're a Brit (it does me), or those other unhealthy instant ramen noodle pots that used to taste so good. Whatever you association, you can make a much healthier, grown up version with this recipe.
It's so easy; it's store cupboard ingredients and it's done in under half an hour, so the perfect fast and easy work night recipe.
Published: " Modified: " By: " This post may contain affiliate links. " 20 minutes is all it takes to get this flavor-forward curry ramen noodle dinner on the table! Loaded with fresh veggies and rich curry flavors, you'll feel good about serving this meal to your family! It's SO easy.
14. Hearty Vegetable Soup
I love this recipe because the creator explains in detail how to make a flavourful vegetable soup from scratch. There's a proper method to it that releases the natural flavours of the individual vegetables, thus leaving a tasty soup that requires hardly any herbs and spices. Lots of great lessons to be learned in this post that I never knew before!
A vegetable and bean soup can be a main meal in itself, especially with the addition of the potatoes. If you're extra hungry then add a crusty, wholegrain roll into the mix and you'll be full for hours.
Oh, and don't forget to batch cook this as it will store in your refrigerator for up to 3 days.
This healthy, hearty vegetable soup is not only easy to make, but it is also so good for you. It is loaded with healthy vegetables, and the potatoes make this a satisfying comfort bowl that you can quickly turn into a full meal.
15. Easy Tuscan White Bean Skillet
I thought a taste of Tuscany would round this post off well. Who can resist Italian food right?
This 30 minute skillet recipe uses minimal store cupboard ingredients and is super easy. It's also a meal in one pot, so not much washing up for the other half 🙂
Ever wondered what to do with artichoke hearts? Well, you'll find out in this recipe. In fact, it reminds me that I have a can in the back of my cupboard, so this may well be on the menu this week.
Serve with an Italian style olive oil bread for that true, authentic feel.
Spice up your dinner routine with this easy Tuscan white bean skillet. Ready in under 30 minutes, perfect with a crusty loaf of bread! A delicious, easy dinner recipe that happens to be casually vegan. If you enjoy this meal, you'll also enjoy this simple and tasty Tuscan Chickpea Stew !
16. The Best Spaghetti Bolognese
If you miss a good"meaty" spag bol, then this dish is 100% for you!
Using pea based plant based mince meat makes all the difference to taste and texture, and works much better than lentils. Ans, sometimes you just fancy something that more closely resembles a traditional bolognese sauce. Look no further!
Pea mince is also extremely high protein, so perfect as a post workout snack. Or, simply if you need some extra protein in your life.
17. English Pub Curry
Ever had a curry in an English pub?
Well, I have, and it can be different to your usual curry. The Brits like to add everything into their curries, rather than have lots of different dishes.
This one is perfect, warming, filling and does double carbs with the potatoes and rice… but good carbs, we say!
The blend of all of your classic curry spices in this dish, makes it super high in antioxidants and other health boosting nutrients. It's also oil free and low calorie.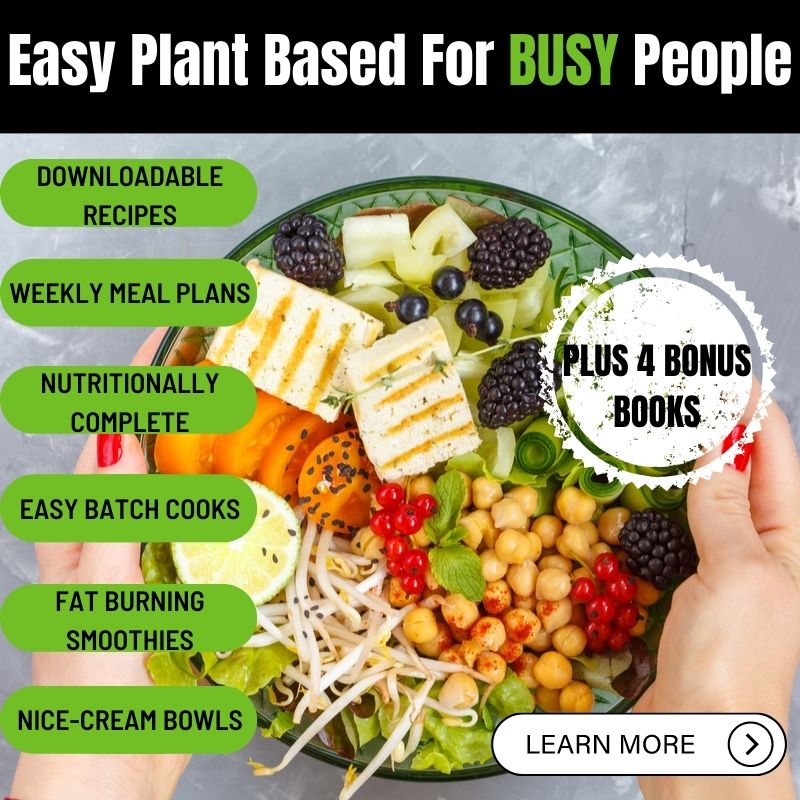 CONCLUSION
Plant based meals are easy and delicious and there are an abundance of them on the internet these days. Here at ZestForever we try to bring you the fastest and simplest recipes because we know you have busy lives.
For a more structured fast and easy meal plan please check out our Ultimate Family Friendly 4 Week Plan. You will learn lots of fun recipes that will last you a lifetime, learn how to put nutritionally complete meals together, and use the art of batch cooking to save time and money.
Thanks for visiting ZestForever today!
Don't forget to sign up to our awesome newsletter before you leave and never miss a post from us again↓↓↓