You can't beat a good curry to warm you up and boost those endorphins in your brain, that's for sure!
And, there are so many curry recipes out there to sample, ranging from mild and aromatic to fiery hot. But, us Brits have messed about with the traditional curry somewhat to please our own taste buds. And this Pub classic, quick English vegetable curry recipe is a prime example of that, however, it does taste amazing.
Over the years, we've become accustomed to the subtle changes from the classic curry. If you go to an English pub and order the curry, you'll often find it has evolved to be quite different from the traditional Indian curry. You've usually got a lot more thrown in the one dish as opposed to the tradition of lots of different dishes.
We also have the influence of the Chinese take-away curry that has it's own differences too. This is due to the addition of soy sauce to give it a Chinese twist.
This curry is completely oil free and whole foods plant based, apart from 1 x teaspoon of coconut sugar which could probably be substituted easily for something you prefer.
Curry Health Benefits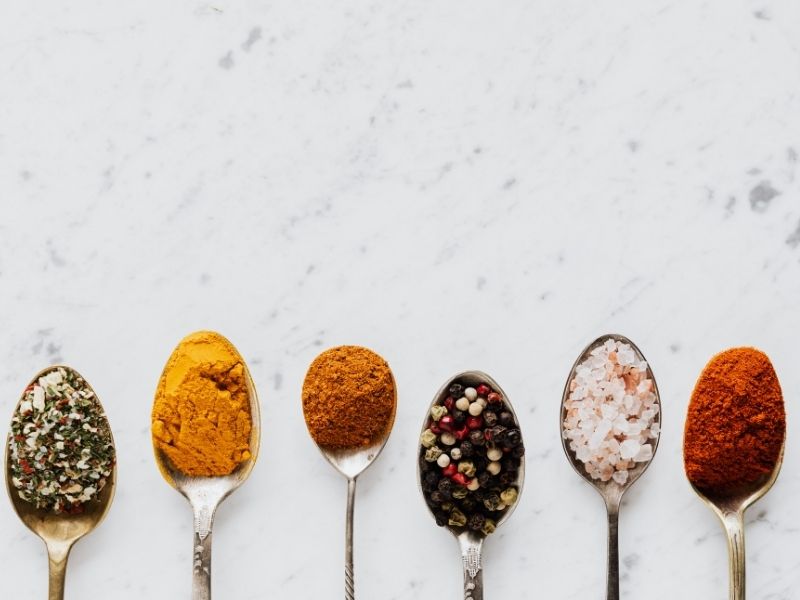 A curry isn't just food. It is probably one of the most nutritious meals you can eat. All of those traditional spices are packed full of health benefits, anti aging antioxidants, flavenols, vitamins and minerals that have a myriad of health benefits. The whole dish is bursting with all of these, If you serve it with brown rice, as opposed to less healthier and high GI white, then you up the nutritional anti even more.
And, this curry is 100% jammed packed with nutrition, containing ALL of the below spices with all of these amazing benefits:-
(Please note that the list of benefits below are for educational purposes more than anything else. You would have to eat these spices on a regular basis to get most of these benefits, rather than if you just eat them occasionally)
TUMERIC
Turmeric is a spice that is scientifically proven and recognised in the medical world  to have a myriad of health benefits.
These include:
ANTIOXIDANTS – Turmeric's compound 'curcumin' is where all it's powerful antioxidants lie. Antioxidant rich foods help to fight aging and the free-radical damage done to the body from oxidative stress. This can be caused by factors such as pollutants, smoking, too much sun, alcohol, junk foods, and other chemicals. But, fighting oxidatative stress with antioxidant rich, plant foods may help lower your chance of certain diseases.
ANTI INFLAMMATORY – Turmeric is a powerful anti-inflammatory proven to rival the effectiveness of many drugs. Chronic inflammation is now thought to be the main underlying player in most Western diseases.
Turmeric is also high in Iron, manganese and vitamin A.
CUMIN
Cumin is another amazing and underrated spice that has a powerful antioxidant and anti inflammatory value similar to the above benefits of turmeric. It can also:
LOWER BLOOD SUGAR – Cumin may help control blood sugar, in turn helping with weight loss when eaten alongside a healthy diet.
HELPS FIGHT BACTERIA AND PARASITES – The oils in cumin seeds have been found in studies to help fight harmful bacteria on a mission to attack your immune system. This is why it makes the perfect, natural preservative in foods and the reason why it is so widely used around the world.
HELPS EASE SYMPTOMS OF IBS – Cumin has been found to help sufferers of IBS with their pain, bloating and other associated symptoms.
Cumin is high in calcium, iron, magnesium, potassium and vitamin B6.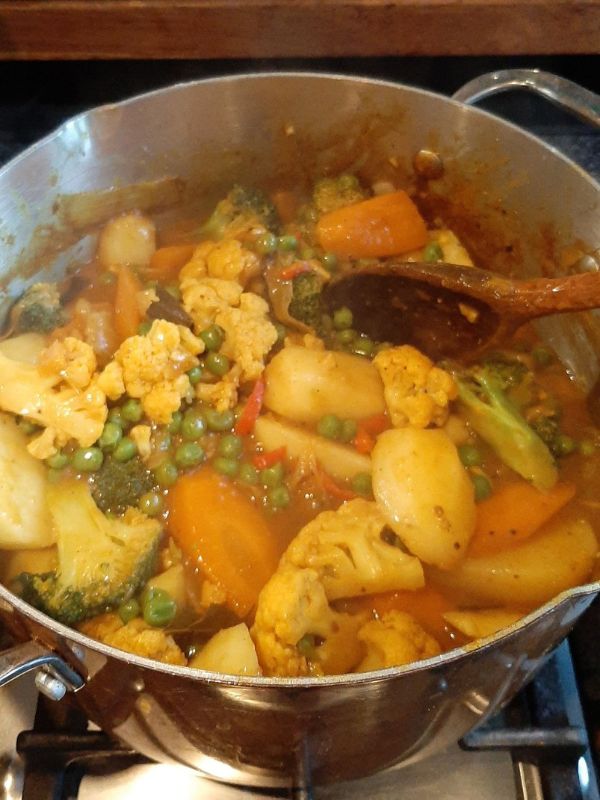 GINGER
What an amazing and warming spice ginger is! You can add ginger to so many dishes due to it's versatility. It's perfect, not only in your classic curry, but also in stir-fries, baking, porridge, smoothies and hot drinks.
Ginger really is a fantastic root with so many health benefits, including:
A POWERFUL ANTIOXIDANT
HELPS NAUSEA AND MORNING SICKNESS – Ginger can help with all types of nausea, but is most commonly used and effective for morning sickness during pregnancy.
MAY HELP WEIGHT LOSS – This astounding spice is also found to be effective at reducing BMI and blood insulin levels of people with obesity.
HELPS LOWER BLOOD SUGAR – Ginger can help lower your blood sugar levels, in turn helping diabetes and weight control.
CAN HELP INDIGESTION
IS AN ANTI INFLAMMATORY
IS AN ANTI BACTERIAL SPICE – Has been shown in studies to inhibit the growth of many different types of bacteria.
GARLIC
A curry is full of garlic, and if it's not then you need to add more, more and more to your food as much as possible.
Garlic is a wonder botanical vegetable that is JAM PACKED full of health benefits, including:
ANTI VIRAL – Garlic is most famously known for it's anti viral properties. Better still to eat it raw on a daily basis and you will surely feel its effectiveness. Just don't kiss anyone 😉
HIGH IN ANTIOXIDANTS
ANTI INFLAMMATORY
Garlic is also high in manganese, selenium and vitamin C. It also has good amounts of iron, copper, potassium, calcium, phosphorus.
CARDAMON
Cardamon is a spice that can be used in both sweet and savoury dishes alike. Ever had cardamon cake or cardamon ice-cream? It's very versatile and pairs perfectly with sweet foods too. So, do experiment with this absolutely delicious spice in your cooking and baking.
Not only is it delicious, but cardamon is yet another highly nutritious element to this English vegetable curry that has the following astounding benefits:
HIGH IN ANTIOXIDANTS
ANTI BACTERIAL
MAY HELP LOWER BLOOD PRESSURE – Cardamon's rich profile of antioxidants and diuretic effects have been shown in respected studies to help lower blood pressure.
ANTI INFLAMMATORY – Another great anti inflammatory spice, cardamon eaten on a regular basis along with lots of other anti inflammatory, plant based foods can help lower risk of many chronic diseases.
GREAT DIGESTIVE SPICE – Cardamon has been used for centuries and has well stood the test of time as a great digestive aid.
BREATH FRESHENER – Cardamon's anti bacterial properties help to fight bacteria commonly found in the mouth, meaning sweeter smelling breath for you.
Cardamon is high in iron, vitamin C, magnesium and calcium.
As you can see, there are lots of other nutritional benefits to a curry and many more than on the list above. I've just given you the most powerful ones to give you some insight into why you should be eating a curry as often as possible.
It's worth noting here that many of the above spices can also be used to make his amazing, weight loss spice mix at home.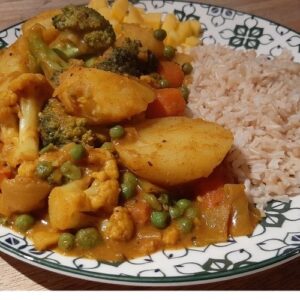 English Vegetable Curry Recipe
Healthy, antioxidant rich plant based curry
Equipment
Very large saucepan or pot

Medium saucepan

Wooden spoon
Ingredients
4

fist size potatoes

skinned and cut into about 4-6 pieces each

4

medium carrots

sliced into 1cm slices at an angle

1.5

cups

frozen

green peas

1

head of medium cauliflower cut into florets

2

medium

thickly sliced, white onions

1

head of broccoli

cut into florets

2

heaped tbsp of medium OR hot curry powder

depending on your preference

2

heaped tsp of turmeric

15

cardamon pods

crushed, then seeds taken out and crushed

1

heaped tsp ginger powder

OR thumb sized piece of fresh, grated ginger

2

tsp

vegetable bouillon

1.5

tbsp

soy or tamari sauce

½

can of low fat coconut cream

or 1 x cup of sugar free soy milk for low calorie version. Homemade cashew milk for whole foods plant based. Or oat cream made from whizzing up 1 part oats to 4 parts water in your blender.

1

tsp

tomato paste

1-2

tsp

of coconut or brown sugar

You can substitute this with date paste made from soaking whole dates and blending with a little water.

2.5

roughly cups water

TO SERVE

OPTIONAL

Brown rice

Chopped mango

Poppadoms
Instructions
If you aren't using pre cooked rice, then get your brown rice on to cook. Basmati goes well with this dish, but it really is about personal preference.

Next, peel and chop your potatoes into about 16 pieces. Get them into your steamer and begin to cook. You will need these fully cooked before you add them to your curry, but don't over cook or they will break up when you mix them in.

Next, slice your onions thickly and start to soften on a medium heat in a very large, non-stick saucepan. Add a little hot water to the bottom to prevent sticking, and keep adding more as it dries out. Don't let your onions caramalise too much!

Whilst your onions are softening, slice your carrots and add to the pan.

Soften down further for about 3 minutes.

Meanwhile prepare your other veggies of cauliflower, broccoli, peas and garlic.

Before you add your veggies, mix in all your spices, including your crushed garlic, coconut sugar, vegetable bouillon and lots of black pepper. Dy fry whilst stirring continuously for about 1 minute to bring out the flavour of the spices.

Add 1 x cup of your water, tamari/soy sauce, and all other veggies. Cook down for about 10 minutes to soften.

Add the rest of your water with your coconut cream and tomato paste.

Cover and let simmer on a very low heat until your vegetables are tender (about 10 minutes). Stir often.

At this point, you will want to adjust your spices if you need to. You will find that you may need to add more coconut sugar to get the taste right. If you get the sugar and sweetness wrong in this dish you won't get the balance you need for the spices to come alive, and it will taste pretty bad. Just add more sugar very slowly (you should only need roughly 1-2 x tsp altogether, but because curry powders can vary you will need to check for yourself).

If your curry seems too dry, feel free to add more hot water. But don't over-do it as you want a thick sauce along with the veggies so you have something for you rice to soak up. If your curry is too runny, add some cornstarch to thicken.

Add your pre-cooked potatoes to the curry, and fold in very gently as not to break them up.

Serve with your rice, chopped mango and poppadoms. There's no need to use sugary, shop bought mango sauces, because a finely chopped (or crushed), very ripe, mango is 10x more delicious and WAY healthier!

This delicious curry will keep well in your fridge for about 3 days. In fact, the flavours get better over time, so do feel free to batch cook this and eat it for more than one meal.
Video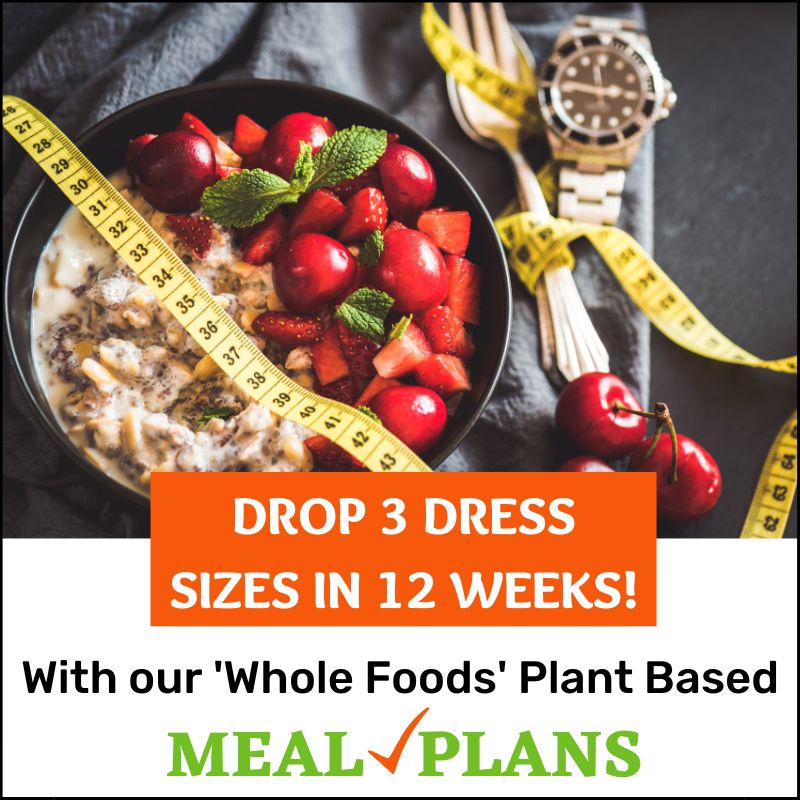 CONCLUSION
A curry can be a very healthy meal for the whole family. Or, you can eat it when you are sick and those antioxidants and anti bacterial spices may well help you to feel better a lot faster.
You'll also find a curry always cheers you up, due to the fact that the spicy foods trigger endorphins (your happy hormones), making it perfect on a cold, winter's day too.
Thank you for visiting ZestForever today!
If you enjoyed this recipe, then please check out many more similar to this in our Ultimate Plant Based Meal Plans. You'll not only learn loads of nutritionally complete, plant based recipes to keep you and your family healthy, but you"ll find they are all FAST & EASY with complete shopping lists so you have everything ready in advance.