A stir-fry has always been a quick and easy way to get loads of fresh veggies into your diet, and the minimal cooking process involved helps to prevent destroying key nutrients through accidental over-cooking.
And, it's that Chinese take-away flavour that is often hard to replicate in your own kitchen, especially without the use of any nasties such as MSG, swathes of oils, and even added sugars and sweeteners. Depending on the take-away you visit, your average Chinese food can be super high in calories and fat, and pretty darn unhealthy to say the least!
This best tofu stir-fry recipe is made in a Chinese Take-Away style, but WITHOUT the high fat, high sugar content of your average stir-fry. This version made with wholegrain rice noodles and tamari sauce is also completely gluten free to keep tummies happy too.
The recipe also doesn't compromise on taste – it feels like comfort food, but it's way healthier and very, very good for you.
Why we LURVVE this Chinese tofu stir-fry recipe so much!
Low calorie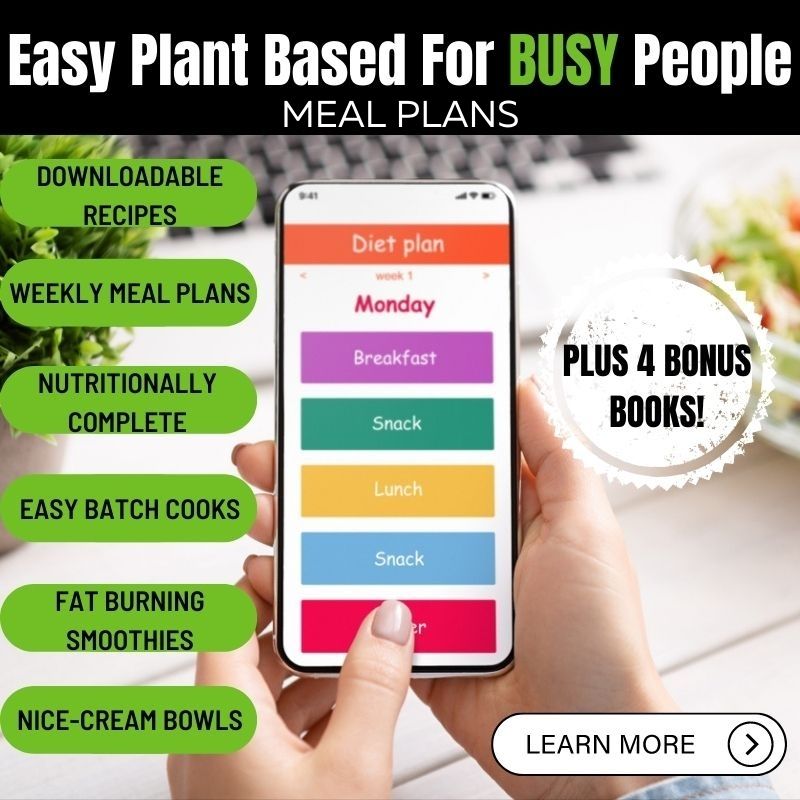 We've used minimal oil (you can make yours oil free, but we feel this does compromise the end result), but a little goes a long way. You can use peanut, olive, coconut or sesame as they all will all work well. Sesame is traditionally used in Chinese food, so if you have it in your cupboard already then you should go with that.
Ordinarily, we do like most of our dishes to be whole foods plant based with NO oils, but there are a couple of dishes that sometimes may need a little to still taste amazing. But, if this does happen, we use only very minimally and feel this doesn't compromise an otherwise healthy plant based diet. However, this is personal choice of course!
High protein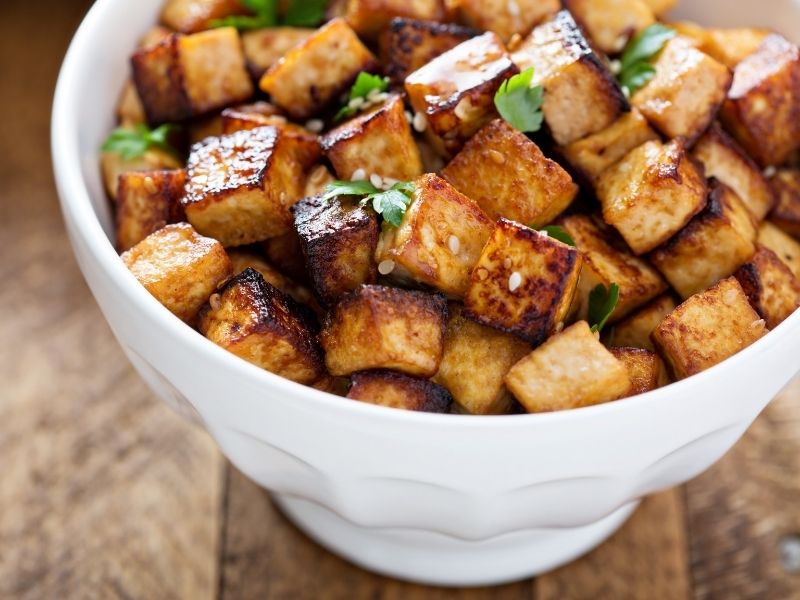 The addition of tofu (which is a very protein dense, plant based meat alternative) makes this delicious stir-fry very high protein.
Tofu  is derived from the soy bean, is minimally processed, and is a complete protein in itself very close to animal protein in it's amino acid profile. Also, it's an easily absorbable protein for the human body.
Brown rice/buckwheat noodles
You can use either of these noodles as they are both gluten free and will keep your tummy happy. Buckwheat is slightly more favourable because of its higher protein content, and also has a great amino acid profile like tofu.
We use tamari instead of soy sauce
Tamari sauce is way superior to soy sauce, yet it tastes very similar and can be used the same way. Many store bought soy sauces will contain gluten, sugar and other preservatives so tamari is far superior, albeit more expensive.
Healthier tamari is in a very different league to soy because it is made using a very natural fermenting process, is less salty, and has a stronger umami flavour, meaning you can get away with less.
There are no sugary sauces
There was a time when most people who made a Chinese style meal at home would buy a sugary shop bought sauce and be done with it. Plum sauce, black bean sauce, sweet chili sauce – all of these are just another word for SUGAR when you shop buy them! In fact, you will find sugar to be one of the main ingredients in these typical jarred sauces, every time.
Here's a little tip that I learnt a long time ago. You really don't need a sauce like this when you make a stir-fry. Fresh chili, ginger, loads of garlic and tamari sauce are all you really need to make a tasty tofu stir-fry dish that is out of this world.
Trust us, you will never want to even think about any shop bought sauces for any of your plant based needs ever again when you learn to cook with proper spices and fresh herbs. Best of all, it's all completely SUGAR FREE!
You get about 6 portions of fresh veg
When you make a stir-fry from scratch, you pretty much get your veggies quota for the day in one single meal! That's the great thing about a stir-fry, the fresh veggies and the fast cooking means you get a highly nutritious and filling meal.
Antioxidant rich spices
This dish is full of antioxidant rich spices of garlic, chili, and ginger.
Garlic is great anti viral, anti bacterial immune booster.
Ginger has many qualities, including being great for digestion, nausea, and an anti inflammatory.
Chili is an anti inflammatory that is high in antioxidants and a good fat burner/metabolism booster.
It's versatile
This stir-fry is pretty versatile because you can pretty much throw in any veggies you like. This kind of dish is perfect for using up vegetables that are about to go out of date. In fact, any veggies stir-fried in this manner will always taste amazing.
For this recipe, we have used specific vegetables to replicate a vegetable Chow Mein type dish, but feel free to use whatever you like. It's good to keep the base the same, such as the spices, cabbage and beansprouts to keep that Chinese feel about it, but after that, feel free to experiment.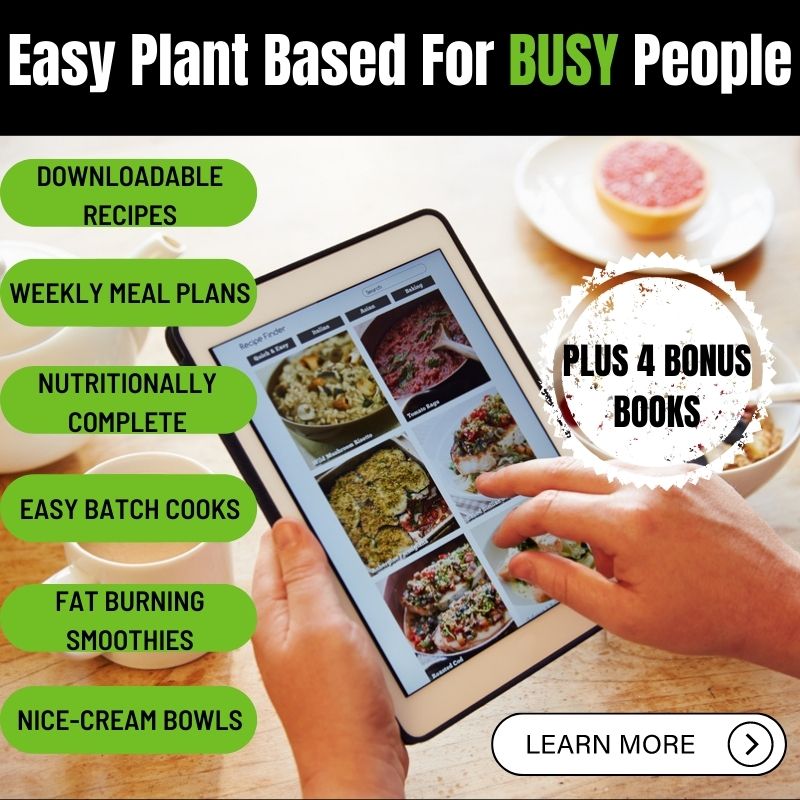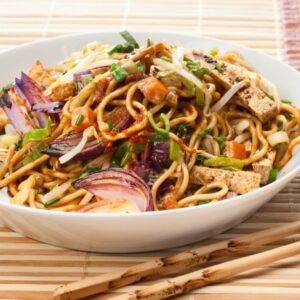 Tofu Stir-Fry Recipe
This dish keeps well in an air-tight container for the next day's lunch if you make too much. It also microwaves petty well too.
Equipment
Large wok or frying pan

Another smaller frying pan

Medium sized saucepan

Wooden spoon
Ingredients
200

grams

firm block tofu

3

large handfuls beansprouts

2

carrots cut into thin strips

or use a vegetable peeler to make them

1

large courgette cut into thin slices

2

nests of buckwheat

ramen or brown rice noodles (or, enough for 2 portions)

2

handfuls of edamame beans

frozen or fresh (optional)

1

very thinly sliced

large white onion

1

green

round cabbage ((if you can't get this, then use either white cabbage, sweetheart, or savoy). You will need to slice this as thinly as possible for the effect you want in this dish)

7

cloves

fresh

crushed garlic

1

red

thinly sliced chili pepper (or chili flakes to taste)

3-4

tbsp

tamari sauce

2

tsp

x tsp of coconut

OR, sesame or peanut oil (you can use water if you are oil free, but it will affect the taste and texture)

1

tbsp

ginger powder

Cracked

black pepper

2

tbsp

Sesame seeds to top

optional

4

thinly sliced

spring onions to serve
Instructions
Start off by preparing your tofu ready to go. Take it out of the packaging, and whilst still in it's block form gently squeeze of excess water over the kitchen sink. Don't go too far with this or it will end up too dry and salty, just squeeze lightly.

Chop your tofu into around 12 bite size pieces and add to a pre-heated non-stick frying pan. No need for oil as we want to dry fry slowly. Once in the pan, add a splash of tamari all over your tofu pieces and a sprinkle of ginger powder.

Dry fry slowly, turn, and do the same on the other side until golden brown all over.

Meanwhile, start prepping and cooking your veggies, garlic, chili peppers, and noodles. Get your noodles on to cook as per packet instructions, then start heating up a very large wok with your oil or water.

Add about 3 x tbsp of tamari to the hot pan just before you add your veggies because you don't want it to burn. Tamari does not taste good burnt!

Once you tamari has come up to temperature, add your thinly sliced onions and very thinly sliced cabbage and fry for about 5 minutes. You will need to add splashes of hot water as you go to prevent sticking and burning. However, you do want a little browning on the this for the authentic Chow Mean type flavour we are looking for in this dish. As you are cooking, don't stir the whole time and leave the bottom to brown a little. Doing your cabbage and onions like this first may seem strange, but it really works with the end result.

Now add the rest of your veggies, sliced chili, cracked, black pepper and lots of ginger powder. You want about 1 x tablespoon at least (do not add your garlic yet).

Stir-fry stirring continuously for about 4-5 minutes. You want your vegetables to be more al dente for this next part. You may need to add more hot water and tamari to prevent sticking, but literally just dashes at a time. You want this dish to not be dry, but with a tiny little bit of sauce in the bottom, but be very careful not to over wet it or you'll lose all the flavours that should be sticking to your vegetables.

Add your crushed garlic just before the end of cooking time. The reason for this is because it not only keeps it super "fresh" tasting, but also you will keep all of the garlic's nutritional value in it. It's a great anti viral and anti bacterial herb with a zillion great qualities, so capatalise on that!

Hopefully, you've been keeping an eye on your noodles and they are ready to add straight into your wok. Don't over-cook them as the last thing you want is sloppy noodles in this dish. Just toss through to heat, adjust flavourings if you need to, and split between your two heated bowls.

Finish by sprinkling with sesame seeds, chopped spring onion slices, a dash more tamari, and your pre-made tofu chunks (the reason we add the tofu last (and not into the frying process) is to keep it as crispy as possible and to stop it breaking up.
Video
More Tofu Recipes
 Tofu Fried Rice & Veggies next
Miso Soup, Veggies & Ginger Tofu
CONCLUSION
At ZestForever we are all about nutrition and flavour. We eat to live as well as live to eat, and holding in nutrition on certain antioxidant rich foods is something we consider a priority for health, and the reason why some dishes may be prepared unconventionally.
But, we never compromise on taste! If anything, fresh ingredients taste way better anyway, and you can feel assured in the knowledge that you are keeping you and your family happy and healthy.
Thanks for visiting us today!