This sticky teriyaki and tofu stir-fry with spring onion is a real crowd pleaser. You can pull out of the bag last minute and still impress your friends and family with a tasty and satisfying, plant based meal.
As with all of our delicious recipes at ZestForever, we ago for simple, fast and easy. We know that when you begin a plant based diet, spending hours wondering what to cook every night is not a luxury many of us have.
That's why our recipes are usually done and dusted in under 30 minutes, giving you time to relax and enjoy your free time doing the things you love.
What Is Tofu?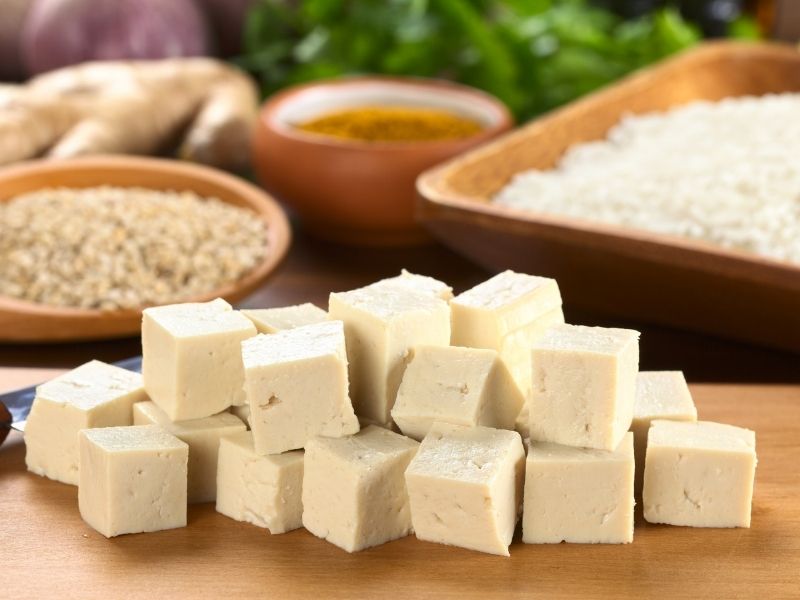 Tofu is made from soybeans by coagulating soy milk and then pressing into firm blocks. These blocks come in various levels of firmness, starting out with silken tofu and working up to the hard-pressed versions.
Silken tofu is creamy, silky and soft. It's great for using in desserts and smoothies; or as a creamer in curries, soups, dressings, smoothies and dips. This is because it breaks down to a smooth creamy texture and taste, unlike the hard pressed versions.
Hard pressed tofu is often used as the 'meat' or protein element in savoury dishes. It's perfect for stir-frys, curries, schnitzel, tofu scramble, miso paste soups, and many other Chinese and Japanese style dishes.
Where Does Tofu Originate?
Over the years, tofu has been one of the most widely used foods globally. It originated in China over two centuries ago during the Han Dynasty and has been going strong ever since.
However, in the West, we didn't start eating this strange pressed bean curd until the 1960's when vegetarian diets started to gain popularity. And, by the 1980's tofu became so popular that there were almost 250,000 manufacturers globally, mostly located in China and other Asian countries.
Tofu Nutritional Profile
As well as being a perfect meat substitute for vegetarians and vegans the world over, tofu also has an impressive nutritional profile. This is probably one of the main reasons it has stood the test of time, along with the fact that it is cheap and easy to produce.
100 Grams of Tofu Typically Contains:
CALORIES – 76
PROTEIN – 8g
FAT – 4.8g
of which saturates 0.7g
POTASSIUM – 121 mg
CARBOHYDRATES – 1.9g
DIETARY FIBER –
CALCIUM – 35% RDA
IRON – 30% RDA
MAGNESIUM – 7% RDA
As you can see, a portion of tofu is a very low calorie/fat food and perfect for weight watchers too. The high protein will fill you up for very few calories. It also has a complete amino acid profile, similar to animal based products.
Calcium is also a great feature of tofu too. If you are eating a plant based or vegan diet, you will want to make sure you eat lots of calcium rich foods. Tofu is a very easy way to get a good chunk of your calcium RDA into you diet.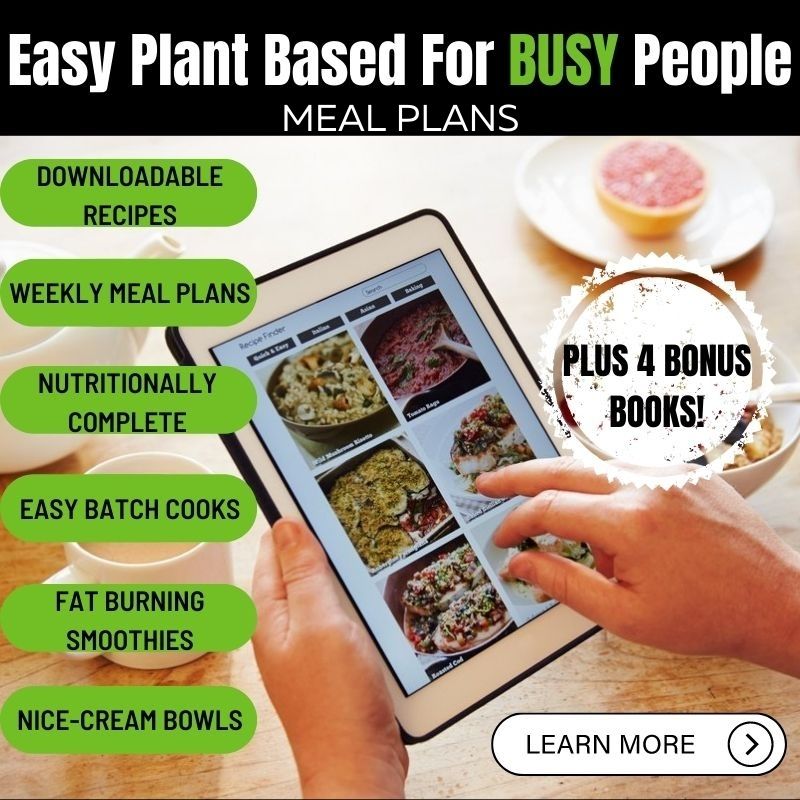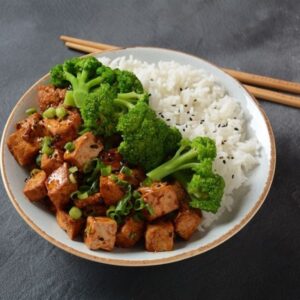 Sticky Teriyaki Tofu & Broccoli Stir-Fry With Spring Onions
A family friendly, sticky dish for comfort eating (oil free and healthy)
Ingredients
2

x small mixing bowls

1

x frying pan

1

x Wok or skillet

Medium saucepan

Chopping board

Wooden spoons

Sharp knife

200

grams

of firm block tofu

Cornflour to coat

1

x tsp paprika

1

x tsp turmeric powder

Pinch

of salt

1

x head of broccoli

cut into small florets

1

x medium sized

white onion, cut into thin slices

5-6

spring onions

half sliced into 2 inch diagonal strips, and the other half thinly sliced

3

x cloves of fresh garlic

crushed

1

x cup of water

3

x dsp of balsamic vinegar

3

x dsp of tamari

or soy sauce

2

x dsp maple syrup

1

x dsp cornflour

2

x tsp ginger powder

Black pepper to taste

sesame seeds to finish

optional

Brown rice to serve
Instructions
Get your rice on to cook so it's ready to serve when stir-fry is ready.

Prepare your tofu by slightly squeezing out excess moisture between your hands over a sink. Do nor squeeze hard because it is delicate. You don't need to squeeze out all of the moisture, just a little of the excess. Now cut into about 18 square cubes ready to fry.

Add about 2 dessert spoons of cornflour to a medium mixing bowl, along with paprika, turmeric and a pinch of salt. Mix really well. Toss you cubed tofu in the mix to coat. Be very careful with this process as you do not want your tofu to get damaged. Use a wooden spoon and very gently stir to coat as much as you can. You may find it hard to coat every side, but this is not a problem. It doesn't have to be completely coated. Doing this will help crisp up your tofu as you dry fry it. You can cook your tofu whilst you get on with preparing the rest of the dish if you like as it will save time.

Now heat a large frying pan on medium heat. Gently add your coated tofu pieces and dry fry on every side until golden and crisp.You will need to manually turn every piece, rather than toss. The tofu is delicate and you have to take care to cook it evenly.

Get you sauce prepared and ready to go. In a small bowl add you cornflour, then add a dash of the water and mix to mix to a paste. Add your balsamic, tamari, maple and the rest of the water and mix well.

Meanwhile, heat a large skillet or wok with a couple of tablespoons of hot water (no oil required).

Add sliced onions and 2 inch length spring onions (save the finely sliced ones for topping). Fry onions for about 5 minutes, but keep adding more hot water to prevent sticking.

Now add your broccoli florets, ginger powder, black ground pepper to taste, and fresh garlic. Carry on stir-frying until tender (about another 5 minutes). You may need to add more dashes of hot water to prevent sticking or browning too much.

Now add your sauce mix (it will thicken up as it heats) and cook for another couple of minutes until thick and sticky. Check flavours and add more water if it is too dry. You want the sauce to be thick and sticky, and to coat the veggies nicely.

Add you pre-prepared tofu cubes last minute as you want to keep them as crispy as possible. Coat them with the mixture and heat through.

Serve with brown rice, topped with more sliced spring onions and optional sesame seeds.
Video
Thanks for visiting ZestForever today!
If you like this recipe, then why not check out our sticky, teriyaki tofu as well?
We are always grateful of your support and would love for you to share this recipe with your friends via your social media profiles if you find it interesting.
Together we can make the World a more plant based place!