Tofu is a versatile food that can be used in many vegan and plant based dishes as a protein source.
This sticky, teriyaki tofu made with maple syrup is perfect for all sorts of meals and is the perfect protein element to your main meals on the plant based diet.
What Is Tofu?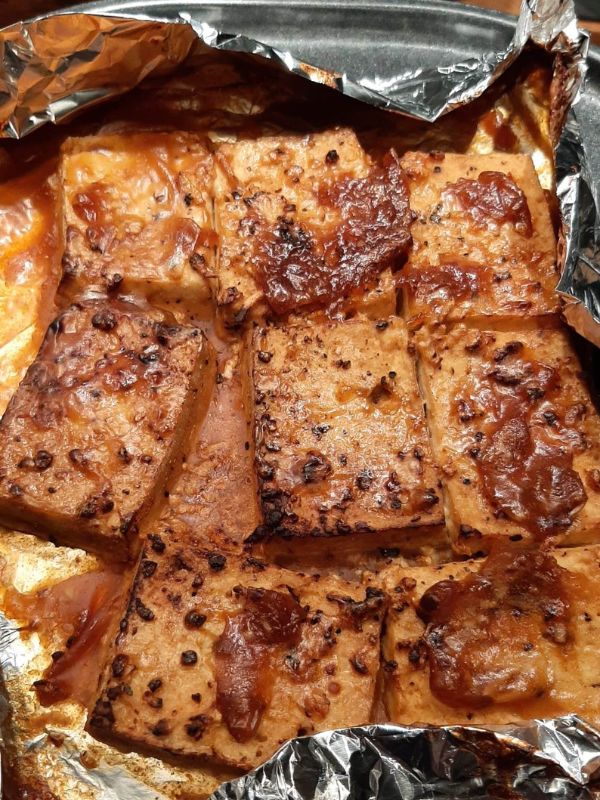 Tofu is made for soya bean curd in a process of curdling fresh soya milk, cooling and then pressing into a firm block type consistency. This soya bean curd is highly popular in East and South-East Asian countries (particularly China where it has been consumed for over 2,000 years).
Tofu is hugely popular in stir fried dishes, curries and Pho, and sometimes even used in desserts too.
For desserts specifically, often a silken tofu is used for its creamy texture so be aware that there are in fact different types of tofu.
How Do I Use Tofu?
Tofu can come in different shapes and forms and used for different purposes. Be sure to use your harder, firm block tofu when needing something that is going to hold its shape well. For instance, this sticky, teriyaki tofu dish and dishes such as stir fries, curries (if you would like the meaty chunks of tofu) and any other dish that requires the texture of a meat substitute.
Silken tofu, on the other hand, does not hold its shape well and is best suited used as a cream substitute. For instance, silken tofu makes a creamy, high protein addition to desserts and smoothies OR a great creamer for curries. It's high protein content makes it filling, whilst being virtually FAT FREE.
What does tofu taste like?
If you've never tried this highly versatile food then it's high time you gave it a whirl, especially if you are vegan or plant based.
Firm block, pressed tofu (depending on the brand you use) has a soft texture that can kind of resemble a scrambles egg texture. In fact, scrambled tofu is a thing and makes for the perfect egg substitute in this regard.
Tofu, as and within itself, has not much flavour and needs herbs, spices and flavours added to jazz it up. It is highly absorbable and takes on any seasoning you may use with it.
Is Tofu Good For You?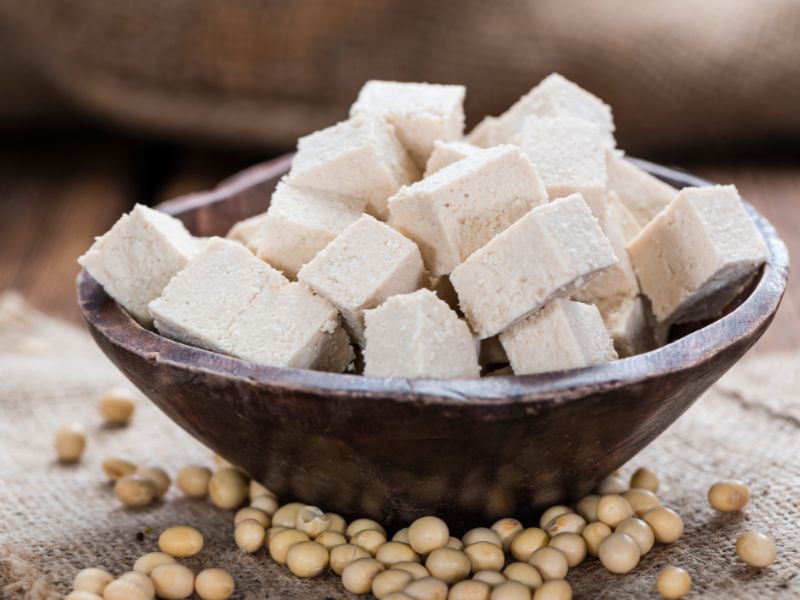 Tofu is very good for you in moderation and a great source of vitamins, minerals, calcium and protein. When eating a plant based diet you will find tofu to be a substantial source of all of these, making it a great addition to your healthful lifestyle.
All kinds of soy products, including tofu, are a great source of virtually fat free protein. In fact, soy has a full amino acid profile like meat and dairy, making them a great source of protein for plant based eaters.
Tofu Nutritional Profile
Tofu is a nutritious, virtually fat free food that contains all the essential amino acids, unlike most other plant foods. This makes its protein source invaluable when you're eating a plant based or vegan diet because it means you don't ever have to be concerned about getting all the protein you need. This is specially so you're an avid exerciser or are in training when your protein needs will be higher than the average person.
Nutrition of tofu per 100G:-
73 kcal /304KJ
8.1g Protein
4.2g Fat
0.5g Saturated fats
0.7g Carbohydrates
Other Ways To Eat Tofu
Tofu is so versatile and can be used in many different dishes as the main protein source. It also takes on the flavour of any herbs and spices that you may use in your dish quite easily.
Examples of of how to use tofu in a dish include:-
Tofu scramble
Sticky, teriyaki tofu
Crispy tofu tacos with lime crema and crunchy quinoa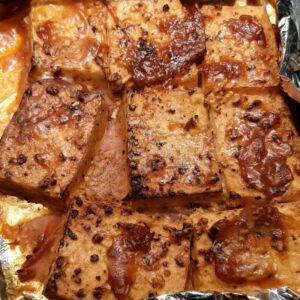 Sticky, Teriyaki Tofu Made With Maple Syrup
Serve this teriyaki tofu with brown rice, noodles, cracked wheat, or quinoa.
Equipment
Chopping board

Large knife

Air fryer, frying pan or oven
Ingredients
400

g

block hard tofu

It's best to try and always buy organic when it comes to tofu to avoid GMO products.

¼

cup

water

¼

cup

maple syrup

3

tbsp

soy or tamari sauce

1

tsp

ginger powder

1

clove

garlic

crushed

1

heaped

tbsp cornflour
Instructions
Line an air fryer tray with tin foil and turn it slightly upwards at the edges so that your sauce stays inside. If you're using your oven then line a baking sheet instead.

Cut your tofu in roughly 16-24 pieces and lay flat on the tin foil.

In a small bowl mix your cornflour with a little of the water to form a paste. Then mix in the rest of the teriyaki sauce ingredients and pour over your tofu pieces until well covered. If lots of the sauce runs off the edges then spoon it up and cover the tofu again. Don't worry if sauce pools into the tin foil because you will be basting again half way through.

Put into your air fryer at 185 F. Alternatively you can use your oven by lining a baking sheet with tin foil OR fry in your frying pan by adding the tofu first and drizzling the teriyaki sauce on, then fry gently.

However you choose to cook your tofu, it's a good idea to turn and baste halfway througt so the other side can cook properly.
Video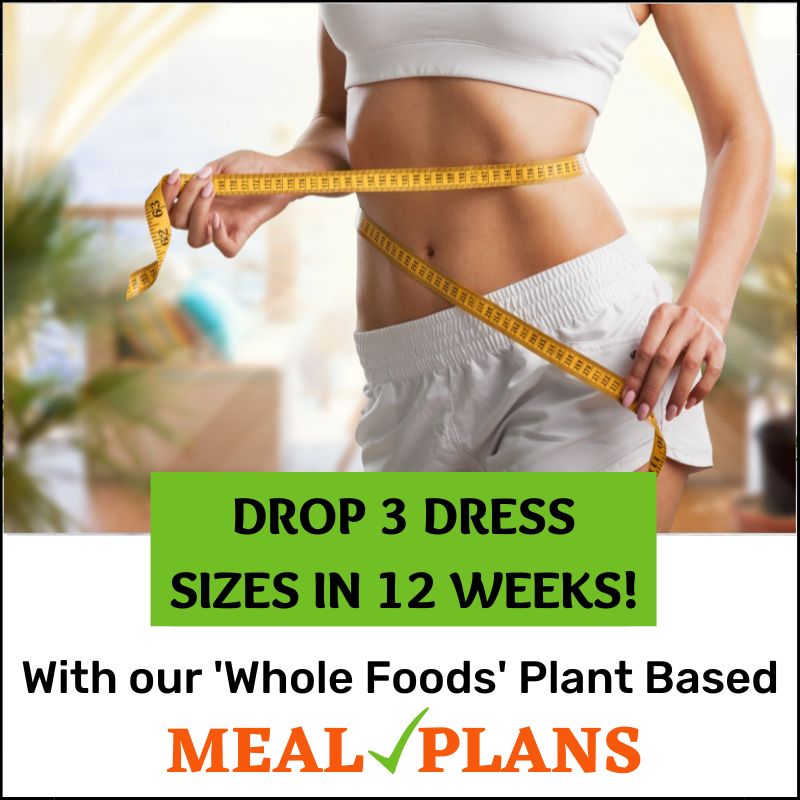 Thanks for visiting ZestForever today. Your support is very much appreciated and we would love for you to share this post with your friends via your social media channels.
Let's bring about a plant based revolution!