Watermelon is one of the most hydrating foods on earth and perfect for any time, but especially in the summer months when we lose a lot of fluids through perspiration.
The amazing watermelon is a plant based superfood that will take your health to great heights when eaten every day. This amazing fruit has a water content of 92% and that water is more hydrating than ordinary water due to its minerals and electrolytes.
Our super hydrating watermelon and strawberry slushy is utterly delicious to drink as a great start to your day or just any time of day. It's also perfect as a pre or post workout drink or an any time drink.
Drink your hydrating strawberry slushie as part of your RAW smoothie diet plan to get the best results.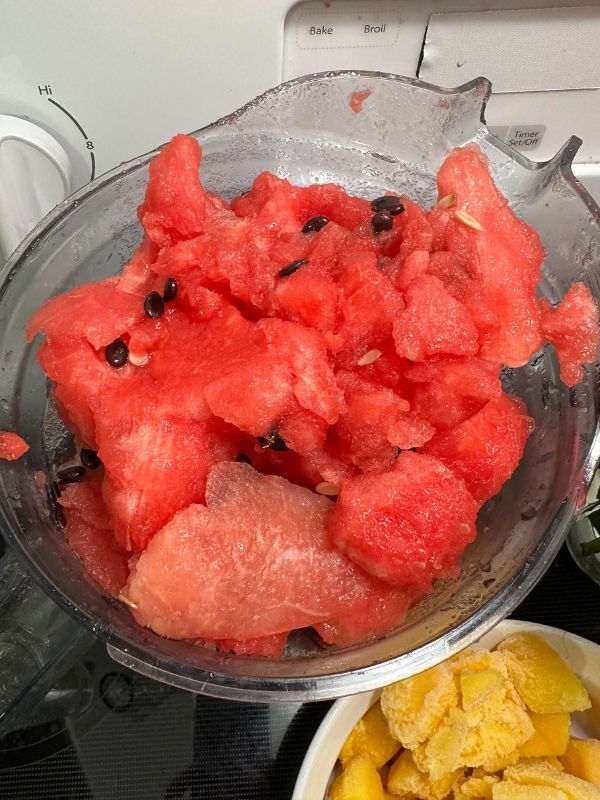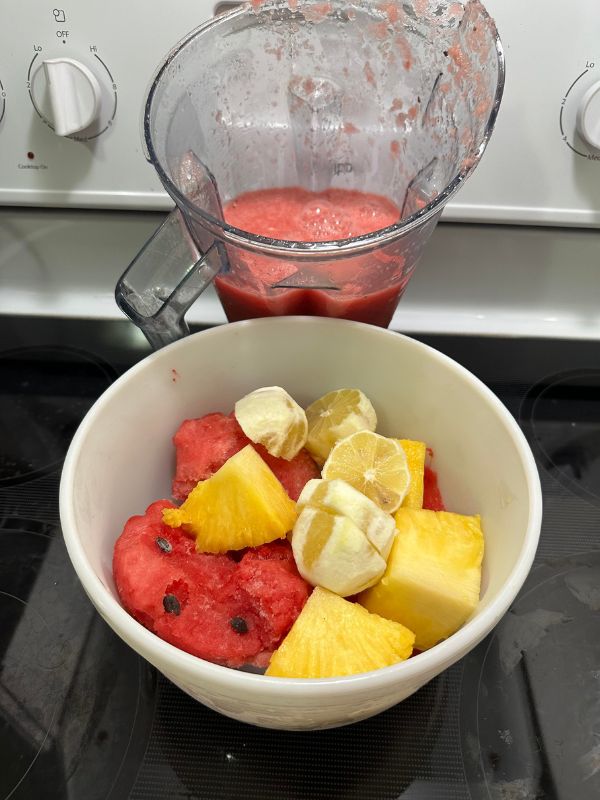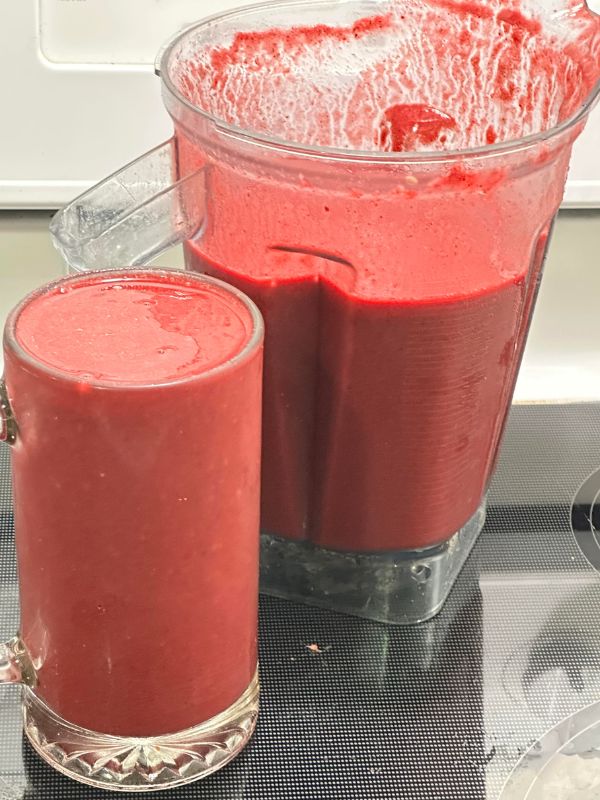 Watermelon With seeds Benefits
The watermelon has so many benefits when eaten with the seeds that it truly is astounding. Some of these benefits include:-
HYDRATION – The watermelon contains H3o water that is far more hydrating than ordinary water.
LOW CALORIE – Watermelon is low calorie at only 30 calories per 100g.
GREAT POST WORKOUT – Eating a big hunk of watermelon directly after your workout or exercise is a fantastic way to put the glycogen back into your muscles and cells after depleting it from exercise.
HIGH FIBRE – The fantastic watermelon is full of fiber to help keep your blood sugar stable and detoxification.
ZINC – Make sure you eat the seeds of your watermelon because that is where a lot of the nutrients lie such as zinc. Zinc is good for the immune system, wound healing, blood clotting and the thyroid.
Strawberry Benefits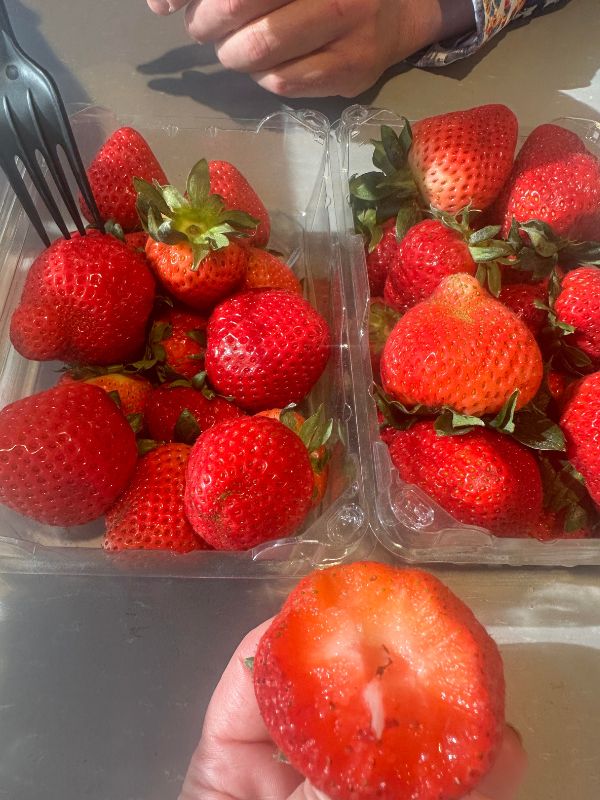 Fresh strawberries are bursting with flavour, fibre and anti aging antioxidants. The best time of year to get your strawberries is in season when it's Summer because they will be far superior and flavourful.
For this slushie specifically you will need to wash and freeze your strawberries, OR buy pre-frozen. You will probably find that pre-frozen is a good alternative as they will be picked and frozen soon after harvest, thus holding in a higher nutrient content.
Organic produce
If you can afford it, then organic produce is always best to use when it comes to most fruits. This is especially so with the berries because they do not have a thick outer skin like the watermelon.
Berries are notoriously known for being sprayed with pesticides, due to the fact they are vulnerable to being eaten by birds and insects, delicious as they are.
Other strawberry benefits include:-
ANTIOXIDANTS AND POLYPHENOLS – Strawberries contain high levels of both of these, making them a great way to anti age along with lots of other nutritious, plant based foods.
HIGH IN VITAMIN C –  There are over 58 mg of vitamin C in 100g of strawberries. This vitamin is vital for the growth, development and repair of all body tissues, in the formation of collagen, iron absorption, wound healing, cartilage, bones, teeth and the proper functioning of the immune system.
LOW GLYCEMIC – Strawberries of low glycemic and come in low on the GI scale, making them a great choice for weight loss and diabetics.
HIGH FIBRE – This amazing berry is high in dietary fibre. High fiber foods are detoxifying and help push waste and toxins through the digestive tract to keep you regular.
Super hydrating Watermelon & Strawberry Slushie
This delicious and refreshing drink is a great way to hydrate, perfect for garden parties or as a soft, healthy drink for the kids.
Equipment
High speed blender

Chopping board

Chopping knife
Ingredients
6

cups

fresh or frozen strawberries

Organic is best to cut down pesticide contamination. if you're using fresh strawberries then you should wash and freeze them for a couple of hours first.

6

cups

watermelon

Try to buy the watermelons with seeds as you will also be getting some omega 3 fatty acids too.

2

cups

frozen pineapple

1

lemon

Take the skin off your lemon but leave quite a lot of the white pith for extra fibre. no need to remove the seeds as they are healthy too and will grind down.
Instructions
Add your watermelon to your blender first and blitz down until the seeds are fully broken up and the juice is pretty smooth. You need to break down the seeds as much as possible so that your slushie has a good texture and you are getting the most out of the omega 3 fatty acids in them. Breaking them down as much as possible is good for maximum absorption!

Now put the rest of the ingredients into your blender and blitz for 90 seconds. This is the optimal time to break everything down and get that texture you're looking for.

Your strawberry and watermelon slushie is now ready to drink immediately. If you want the frozen, slushie texture to remain then you should drink straight away. You can store in your fridge for up to 24 hours but it will not be the same texture.
Video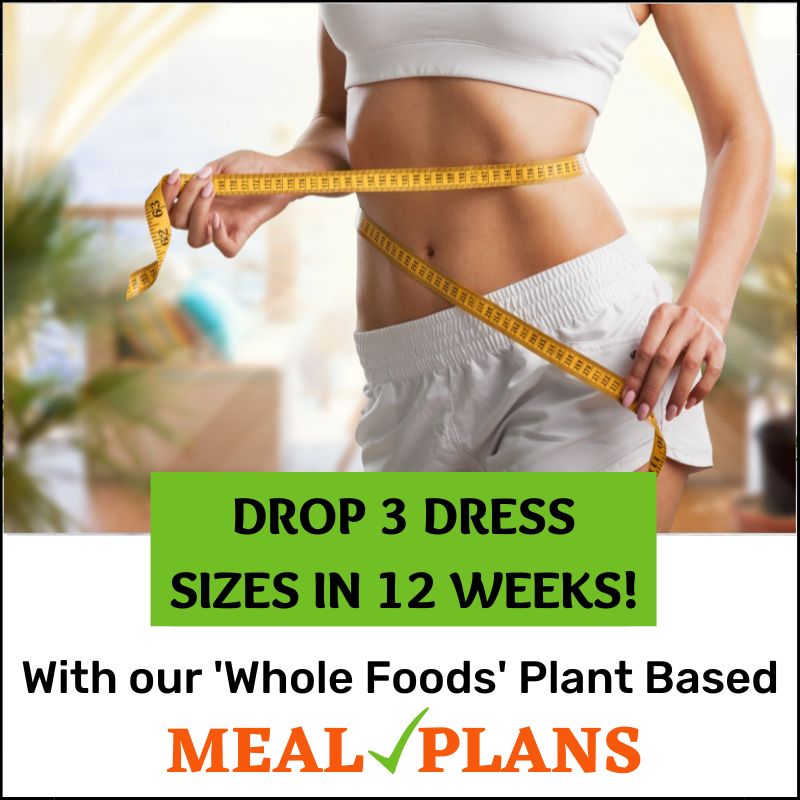 Thanks for reading this article from Zestforever today. We always endeavour to bring you authentic and fresh recipe ideas to boost your plant based health to the maximum.
For lots more nutritious recipe ideas and a whole foods plant based shopping list, please check out our Aldi grocery list.
Don't forget to like and share this recipe with your family and friends via your social media channels.
Let's begin a plant based revolution!