There's nothing like coming home to the smell of a slow cooking stew after a hard day's work in our opinion.
Coming home to this sweet potato, bean and red pepper slow cooker stew means you don't need to spend any time in the kitchen cooking and you can relax with a hot meal and no worries.
What Is Best To Cook In The Slow Cooker?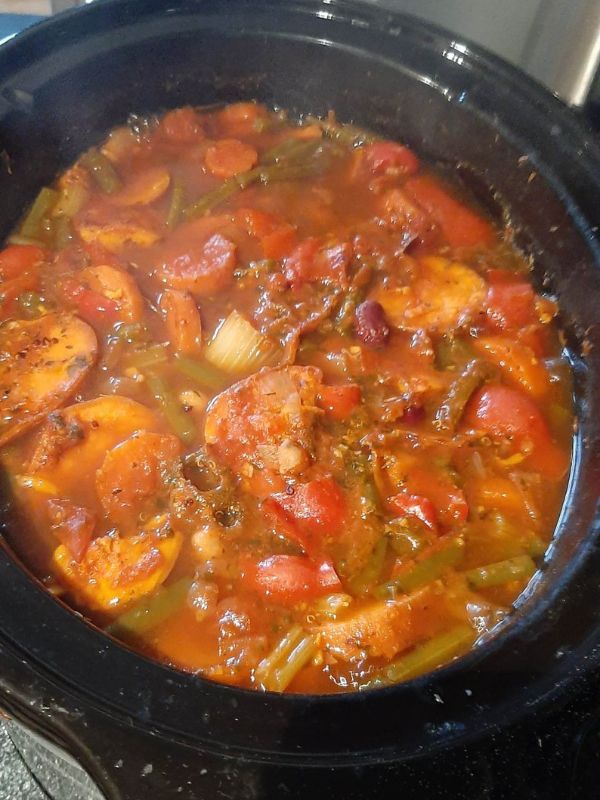 The great thing about slow cooker food is the fact that it is so VERSITILE. You can literally chuck any veggie in there and it will cook to perfection and infuse itself with any herbs and spices you have added.
This particular stew is a tried and tested combination of beans, sweet potato, vegetables and herbs that really works and is highly satiating. The trick is to use LOTS of herbs to get the flavour you're looking for. Lots of seasonings are usually needed when you make plant based dishes like this to make the  most out of them.
If you want to be sure your slow cooker dinners are complete meals, then always add a starchy carb source such as potatoes, brown rice, cracked wheat or freekeh with some high protein sources. Protein foods include beans, peas, quinoa, tofu, tempeh, lentils and split peas.
After you have sorted your protein and starchy carb sources, you can then add lots of delicious veggies of your own choice.
Example foods you can add to your slow cooker are:-
Protein elements:
Pulses and beans such as kidney beans, chickpeas, borlotti beans, cannellini beans, black beans, lentils, yellow split peas, green peas. All of these can be purchased cheaply at most supermarkets. Check out our Aldi Shopping List Guide for an amazing list of whole plant foods.
Tofu, tempeh or seitan
Quinoa (red, white or black)
Amaranth
Starchy carbs:
White potatoes
Sweet potatoes
New potatoes
Parsnips
Brown rice
Cracked wheat
Pearl barley
Noodles
Brown pasta
Veggies:
Carrots
Peas
Peppers
Green beans
Onions
Celery
Swede
Celeriac
Mushrooms
Tinned tomatoes
Greens such as Kale, Cavelo Nero and Swiss Chard
Sugar snap peas
Mange tout
Herbs and spices:
Oregano
Rosemary
Thyme
Mixed herbs
Parsley
Bay leaves
Mint
Sage
Paprika
Garlic
Smoked paprika
Cayenne
Turmeric
Curry spices
Cinnamon
Nutmeg
Mixed spice
Ginger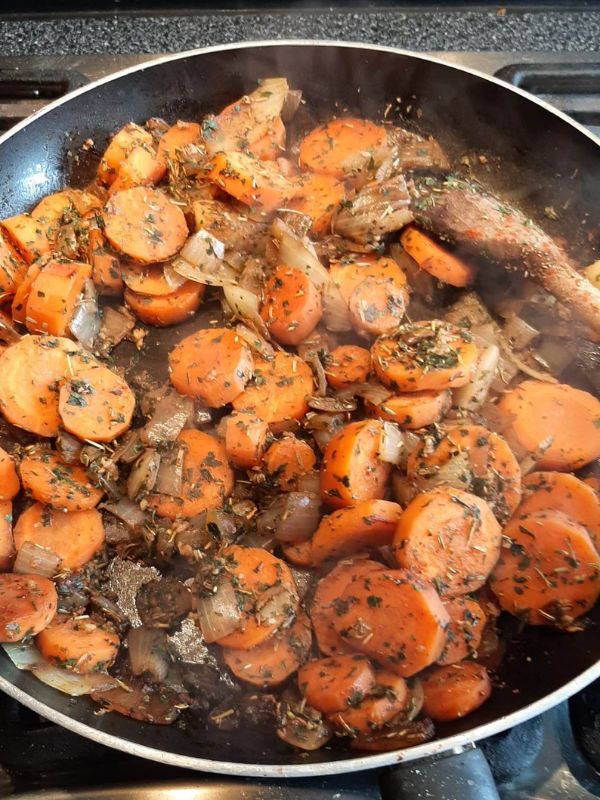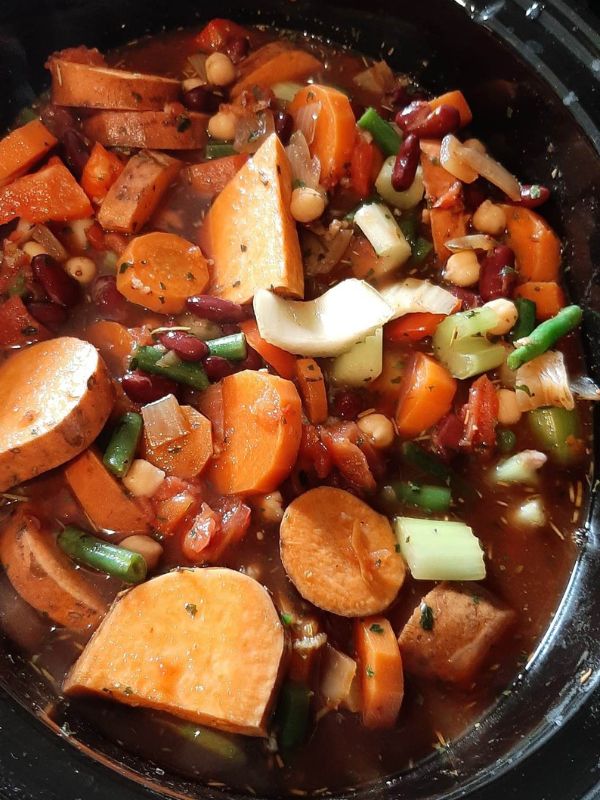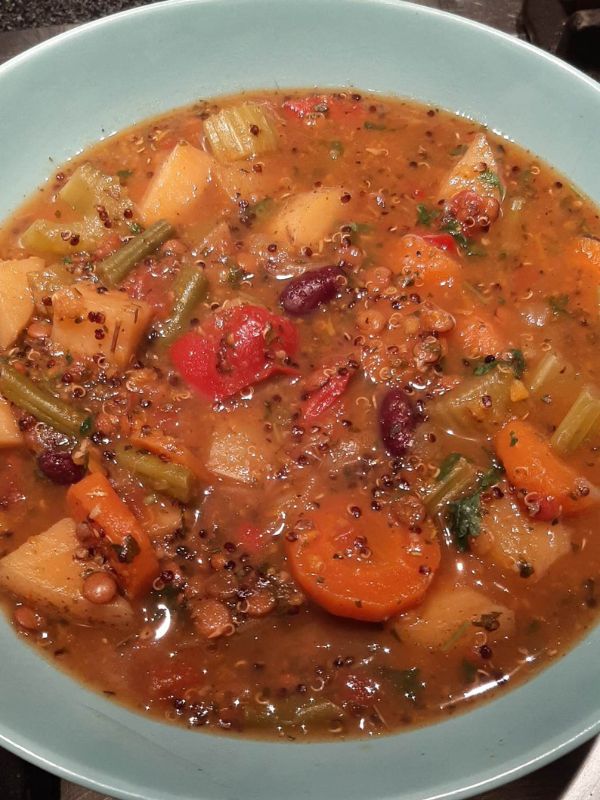 What Dishes Can I make In A Slow Cooker?
There are many wonderful dishes to be made in a slow cooker. In fact, pretty much any one pot meals you can make on the stove or in the oven can be made in your slow cooker, such as this sweet potato, bean and red pepper stew.
Slow cooking really brings out the flavour of your food because it gets infused over a number of hours, slowly. This makes a huge difference to the final taste and texture and allows your food to take on all the flavours of the herbs and spices.
Some of the best dishes to make in the slow cooker include:-
Veggie and bean stews like this one.
Chili
Curry
Soups
Tofu butter chicken
Baked beans
Sweet potatoes
Oatmeal
Lentil masala
Soups like this Hippocrates style Healing soup.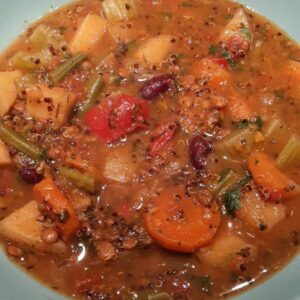 Sweet Potato, Bean & Red Pepper Slow Cooker Stew
A delicious and comforting, whole foods plant based dish for all the family to enjoy.
Equipment
Slow Cooker or Instant Pot

Large frying pan or skillet

Chopping board

Chopping knife
Ingredients
4

medium sweet potatoes

chunkily chopped

1

large onion

chunkily chopped

5

carrots

sliced

200

g

green beans

chopped into 3-4 pieces

4

stalks celery

roughly chopped

1

red pepper

chunkily chopped

1

400g can

red kidney beans

1

400g can

chickpeas

1

400G CAN

can crushed tomatoes

3

tbsp

tomato paste

1

dessertspoon

yeast extract (optional)

You can use marmite or any other vegan yeast extract.

2

tbsp

rosemary

dried or fresh

2

tbsp

parsley

dried or fresh

1

tbsp

oregano

dried or fresh

1

tbsp

thyme

dried or fresh

2

tbsp

paprika

6

bay leaves

Cracked black pepper

6

cloves

crushed garlic

Enough vegetable stock to cover

Handful

dried quinoa (optional)

Feel free to throw in a handful of dried quinoa to add another element of texture and more protein.
Instructions
Get your slow cooker on and heated ready for your ingredients. Boil a big kettle of filtered water. Using properly filtered, pure water is best in stews and soups because you won't be draining it. Also, it helps give a better flavour.

Chunkily chop your onions and get on to fry in a large pan with a little hot water (no oil required). Turn the heat up pretty high. Add your crushed garlic. Let them caramelise slightly whilst you slice your carrots.

Once carrots are sliced, add to your pan with the onions and keep on the move. Add your herbs and spices. Allow the whole thing to slightly stick then add some more hot water to make a carmelised jus. This is a great trick to help get flavour into your stew with no fat.

This whole process should take around 10 minutes. Now add your carrots and onions to your slow cooker, along with your crushed tomatoes.

Now prepare your other veggies by chopping chunkily and adding to the slow cooker, along with your canned beans and stock water to cover.

Cook on high heat for 5-6 hours until all veggies are soft. Be sure to stir well at the end (and even in-between if you're home). You will find that your sweet potatoes may break up or even disintegrate, but this is good because it will thicken your stew and add a delicious sweetness.

If your sweet potatoes don't break up you can always thicken with some arrowroot or cornflour. To do this you should add a heaped tablespoon of the powder to a cup and stir in a very small amount of cold water to make a runny paste. Stir this into your stew and allow it to heat slightly further and thicken.

Check all herbs and spices before serving. Don't be shy to add more for herbs, spices, yeast extract and veggie bouillon flavour.

Serve alone or with some delicious crusty bread and plant based butter.
Video
Notes
This stew will last up to 3 days in your refrigerator. Allow it to cool completely in slow cooker before transferring to suitable containers for refrigeration.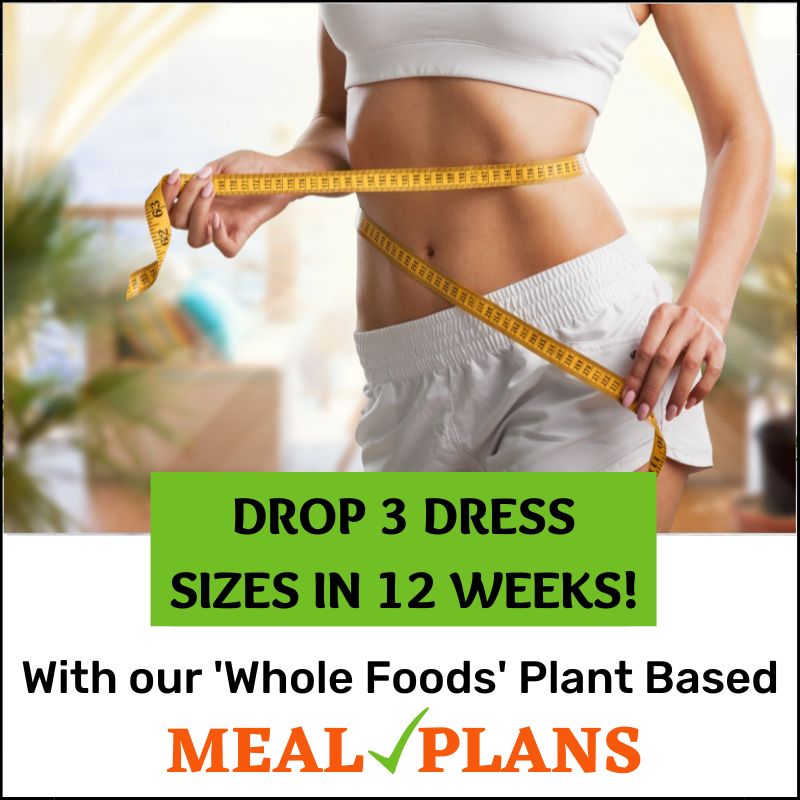 Thanks for visiting ZestForever today!
We love bringing you our favourite recipes because we feel they make the world a tastier place.
Please share the plant based love with your friends by recommending our recipes.
Let's bring about a plant based revolution!