Pancakes are a comfort food that we all love, but did you know you can make them oil free, HEALTHY and filling as a complete meal in themselves? You sure can when you make them like our delicious version that is guaranteed to hit all your comfort foods spots.
These WFBP cinnamon-sweet potato and buckwheat pancakes can double up as an amazing, plant based waffle too. Yep, just pour the mix into your waffle iron and make tasty waffles in minutes. Eat them with ice-cream, cream, custard or just keep it simple with lots of fresh or dried fruits.
What are plant based pancakes made of?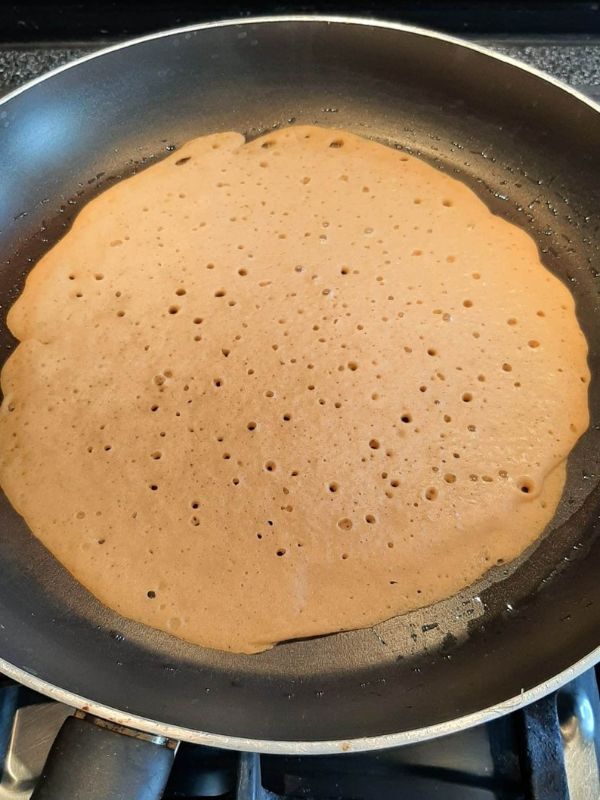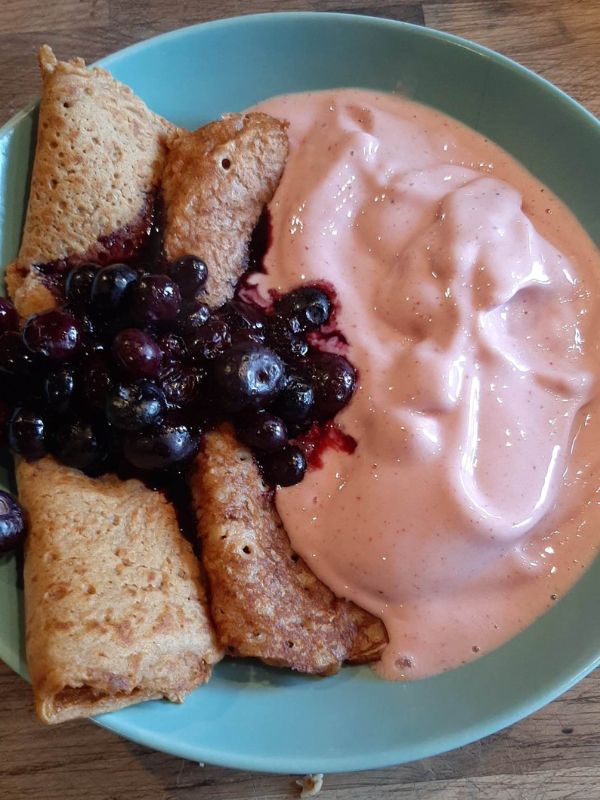 You can make vegan, oil free pancakes from some very simple ingredients that are easily customisable. There include:
Oat flour (make your own 60 second oat flour)
Buckwheat flour
Wholegrain spelt flour
Wholegrain wheat flour
Rye flour
Soy flour
Mashed banana
Peanut butter
Sweet potato
Flax meal
Chia meal
Maple syrup
Spices such as cinnamon, nutmeg, ginger, clove and pumpkin spice
You can mix and match these ingredients, but be sure to use a flour along with either sweet potato, mashed banana or peanut butter. You will also need some kind of egg substitute like chia or flax egg to prevent sticking and for a better texture.
How To Make A Flax Or Chia Egg Substitute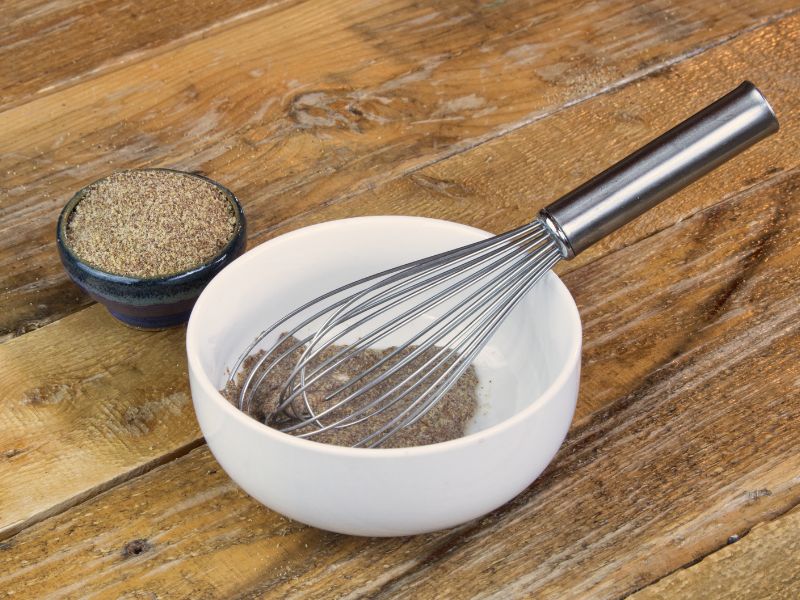 Making flax and chia eggs is so simple and takes around 10 minutes. You will need an egg substitute with your WFPB Cinnamon-Sweet potato and buckwheat pancakes to help prevent sticking and to create the texture you need for your pancakes to taste authentic and delicious.
If you are on a no fat diet, then you can possibly leave out your egg substitute if you are using a high quality, non stick frying pan.
Method for egg substitute:-
Simple soak 1 tablespoon of ground chia or flax with 5 tablespoons of water for 10 minutes and they should turn into a gloopy texture. These amounts will be equivalent to one egg, which will be plenty for 1-2 portions of pancakes.
It is vital that you use ground flax or chia to make your egg substitute as they unground versions will not give you the gloopy, egg-like texture that you are looking for.
What Can I Serve With Pancakes?
The great thing about pancakes is the fact that you can eat them for breakfast, brunch or lunch and they will fill you up and satiate you until your next meal. This is especially so when you make them from low GI, wholegrain flours and ingredients.
There are many delicious toppings and sides you can serve with your plant based pancakes. There include:-
Ice-cream (try our 2 minute blender ice-cream)
Plant based yogurt
Coconut cream
Flakes almonds
Seeds
Blueberry sauce
Maple syrup
Lemon juice and sugar (classic version)
Spices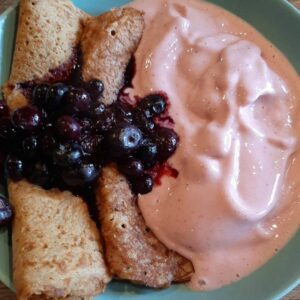 WFPB Cinnamon-Sweet Potato & Buckwheat Pancakes
Whole foods plant based, HEALTHY comfort food that all the family will enjoy.
Equipment
Non-stick frying pan or skillet

Spatula or fish slice

High speed blender
Ingredients
½

cup

cooked sweet potato

You can either steam your potato OR for ease, just microwave it whole then scoop out the middle. One small potato takes around 4 minutes on a full power microwave.

½

cup

buckwheat flour

Other possible flours to use would be oat, spelt, or whole wheat. Or, use a mix of a couple.

1

flax/chia egg

Make your egg by soaking 1 tbsp of either flax or chia meal in 5 tbsp of water for 10 minutes until it goes gloopy.

½

cup

water

½

cup

plant milk

Any plant milk will work well. We like soy milk for extra protein.

1

tbsp

maple syrup

Use other syrups such as agave or brown rice syrup if you prefer.

1

tsp

cinnamon powder

¼

tsp

bicarbonate of soda

Pinch

nutmeg
Blueberry Sauce For serving (optional)
1

Cup

frozen blueberries

Make your blueberry sauce as per instructions below.

Coconut or brown sugar

Lemon juice

A little coconut oil for frying

Use any oil you prefer, but coconut oil enhances the flavour of your pancakes.
2 Minute Blender Ice-Cream
2

Pre-frozen, ripe sliced banana

½

cup

Frozen berries such as blueberries, strawberries, cherries or raspberries.

100

ml

Plant milk
Instructions
Blitz all ingredients in your high speed blender for 30 seconds until well combined. Leave for a few minutes for the bicarbonate of soda to aerate the mix up. You are looking for a very thick but pourable batter here. Add more water if needed. It has to be a pourable texture to work.

Now get a high quality, non-stick frying pan and heat on a medium heat until fully hot. Add 1/4 tsp coconut oil and swirl it around the pan so that you get a full coverage of oil all over the pan.

Now slowly pour roughly one quarter of your pancake mix into the pan and move your pan in a swirling motion to help the mix spread evenly into a circle (see video if unsure). You need only a thin layer of mix, enough to just cover for quick cooking.

Allow your pancake to fry for around 1-2 minutes before flipping gently with a spatula. Be very gentle during this process as you ideally want to keep your pancake intact and easy to roll.

Your pancakes are ready to flip when they are a golden brown colour. Another sign to watch out for is no uncooked batter squishes out when you press down with your fish slice (only do this when on your second side of cooking).

Once your pancake is cooked, lay it on a heated plate and get your next one on to fry. Use the same process again until you have fried all 4 pancakes. Whilst your pancakes are frying, be preparing the previous one by drizzling with lemon juice and 1/2 tsp coconut or brown sugar and rolling.
How to make easy blueberry sauce
Put your frozen blueberries into a microwavable dish and blast for roughly 90 seconds until sticky and bubbling. You DO NOT need any added sugar with this sauce!
How to make 2 minute, blender ice-cream
Put all ingredients in your high speed blender and whizz for 30 seconds until super creamy. Add more milk if you cannot get a blend going.
Video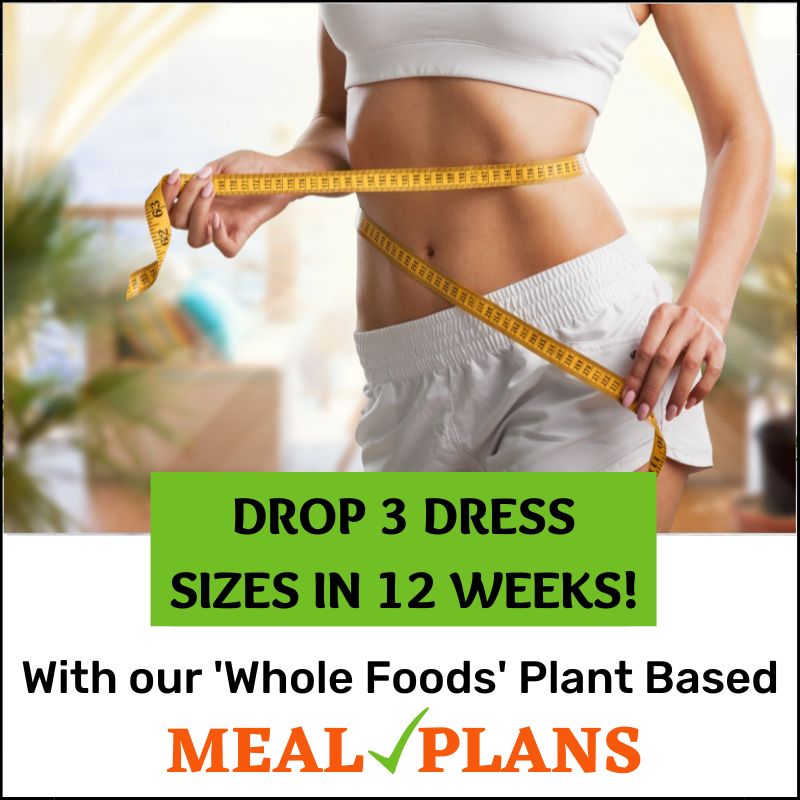 Thanks for visiting ZestForever today. Your support is always appreciated.
We would love for you to share these delicious and healthy pancakes with your friends on your social media.
Let's begin a plant based revolution!