Are you on a healthy eating plan but miss delicious waffles dripping in maple syrup?
Well, not only do you not have to go without this world famous breakfast (or any time meal), but you can make it HEALTHY and whole foods plant based. And, this includes your homemade, ice-cream side!
We've made these WFPB waffles with homemade, easy ice-cream with delicious, whole foods ingredients. Best part is, you can't even tell the difference and they taste every bit as amazing.
What Is A WFPB Diet?
The abbreviation WFPB stand for 'whole foods plant based'. The whole foods plant based diet means eating foods kept in their whole and unfractured form. This is the advice from plant based Nutritionists who recommend this way of eating for the highest health benefits.
Examples of fractured foods removed from their whole foods source are oils, refined sugars and refined carbohydrates. On the whole foods plant based diet you are encouraged to eat the 'whole' olive instead of the olive oil; or the 'whole' grain instead of the refined version. Same goes for all refined sugars and syrups.
It makes sense that the body can break down foods better when they are kept in their natural state. You didn't see Caveman extracting the oils out of anything, or removing the outer husk from grains. Instead, food eaten in its natural state comes with all its fibre and other nutrients that are designed to work in harmony together by Mother Nature.
This is why we try to keep all our recipes as whole foods as possible, even our desserts and other sweet treats. We want you to  be able to eat them for breakfast, lunch or brunch without worrying about nutrition.
WHAT ARE VEGAN WAFFLES MADE OF?
Gluten Free Flour
There is absolutely no need to use wheat flour in a waffle. Your average waffle is made from refined, white flour which is unhealthy and spikes blood sugar. Even whole wheat flour contains gluten which can be bloating to some people.
You can steer clear of unhealthy flours completely and instead go for buckwheat, rice or oat flour.
It's very simple to make your own oat flour by using a high speed blender and just whizzing for a couple of seconds.
This recipe calls for half oat and half buckwheat flour, as this seems to make the perfect waffle. However, feel free to try all buckwheat, oat or brown rice flour alone if it's all you have.
How do you make waffles without egg?
Like our egg free French toast, there is no need for real egg in a waffle either!
We have used a 'flax' egg and it works perfectly well. You wouldn't believe how much you cannot tell the difference between real egg and flax egg in a waffle.
It's also very simple to make your own flax egg by soaking flaxmeal with double parts water for 10 minutes.
Another alternative to the flax egg is the 'chia' egg. Again, this is the same concept as the flax, but with milled chia seed.
Using a flax or chia egg also gives you added healthy, omega 3 fats and important fibre.
Peanut Butter
The addition of peanut butter to your waffle batter offers another source of whole foods fats and extra protein. These WFPB peanut butter waffles are a meal in themselves with good amounts of protein, wholegrain carbs and healthy fats.
Peanut butter is also whole foods plant based when you choose the kind with no added oils or sweeteners.
Maple Syrup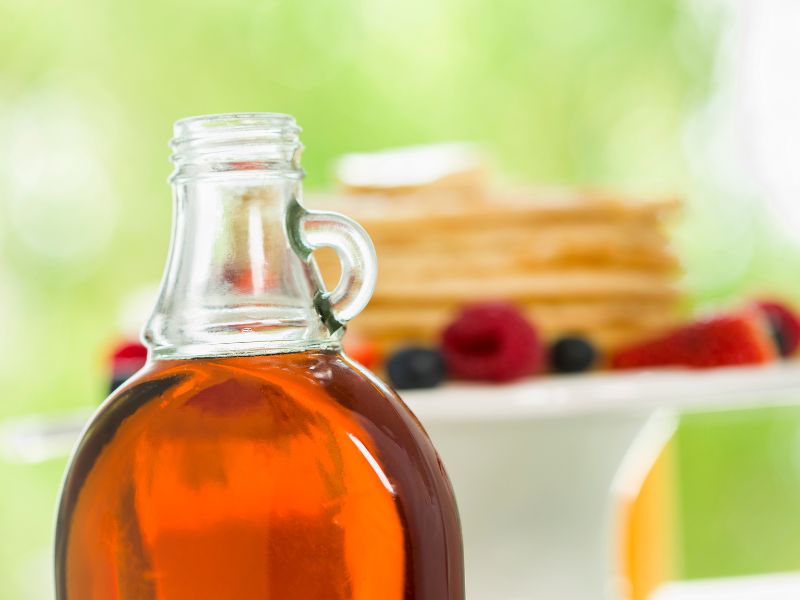 Maple syrup is a healthier sugar alternative to any other syrup, has a lower glycemic index and is high in nutrients. It's also the perfect sweet sauce to go with your waffles, hence the reason the two are already a match made in heaven.
Always choose high quality, pure maple syrup if you want the health benefits. Low quality syrup will contain negligible amounts of actual maple and instead topped up with refined sugars and flavourings. This is not pure maple syrup and will be unhealthy.
Look for labels that say '100% pure maple syrup'; not labels that say 'maple "flavoured" syrup. Maple flavoured syrup means it will be mostly sugar flavoured with a synthetic maple flavouring.
You can usually tell the quality of your maple syrup by its price tag. Low quality syrup will be cheap to reflect its ingredients.
If you don't want to use maple syrup in your recipe, then you could potentially use date paste or brown rice syrup. These may be cheaper alternatives.
Check ingredients
You can also just check the ingredients list of maple syrup if you want to find out exactly what's in it. It should only contain one ingredient, which is maple syrup.
Waffle Toppings
For your waffle toppings, the world is your oyster friends. There's not much that doesn't go with a delicious waffle; that includes savoury items too.
We have used maple syrup, fresh fruit and homemade nice-cream in our recipe, but you can also mix and match any of the following (this list is only for healthy, plant based toppings only):-
Maple syrup
Brown rice syrup
Date paste
Homemade Nutella
Fresh fruits
Fruit puree
Jams
Homemade ice-cream
Toasted nuts and seeds
Coconut cream
Coconut, oat or soy yoghurt
Plant based bacon
Homemade, Two Minute Nice-Cream
We have used a Yonanas machine to make our banana ice-cream. You don't need to add anything to this machine except very ripe, frozen banana. That's it. That's why this ice-cream is so healthy.
If you don't have a Yonanas machine, don't fret. We have you covered. You just need a high speed blender and a little plant milk and you can make a delicious ice-cream this way. All you need to do is make sure you pre-freeze your ripe, chopped bananas ready to blend.
Alternatively, you can pre buy plant based ice-cream, but it will more than likely be high in sugar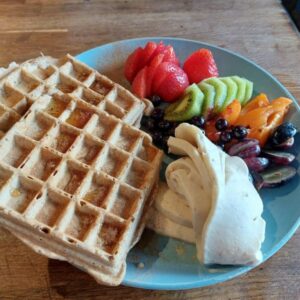 WFPB, Peanut Butter Waffles with Homemade, Easy Ice-Cream
Waffles can be enjoyed as a main meal or a dessert.
Equipment
Waffle maker

Mixing bowls

Yonanas machine OR high speed blender
Ingredients
Make sure you pre freeze your ripe, sliced bananas at least a couple of hours before (or overnight) if you wish to have homemade ice-cream with your waffles.
For the waffles
For the waffles

½

cup

oat flour

½

cup

buckwheat flour

1 ¼

cups

plant milk

2

loaded dsp smooth peanut butter

2

dsp maple syrup

2

heaped dsp flaxmeal

6

dsp water

1

tsp

baking powder

Pinch

salt

½

tsp

cinnamon

½

tsp

nutmeg

optional
For the ice-cream
3-4

pre frozen, ripe bananas

Plant milk (if using a blender)
For the toppings
Fresh fruit

Toasted almonds

optional

More maple syrup

Coconut cream

optional

Banana ice-cream

Cinnamon for dusting
Instructions
If you want healthy, homemade ice-cream with your waffles, then be sure to pre freeze at least 3 pre-sliced, very ripe bananas (you will need very ripe (to the point of brown speckles) if you are using a Yonanas machine. If using a blender you can get away with less ripe bananas. But, the riper they are, the sweeter your ice-cream. Potentially, you can add extra maple to your blender ice-cream if your bananas are not sweet enough.
For the waffles
Heat your waffle maker ready to use.

Start by mixing you flaxmeal with the 6 dsp of water in a small bowl. Leave aside for 10 minutes for the flax to soften and do its thing.

Meanwhile, put all your dry ingredients into a medium size mixing bowl and combine.

If you are using a Yonanas machine then now is the time to get your bananas out because they need 10 minutes to thaw slightly before use. You have to time this right. If you're just using a blender then you don't need to do this, and in fact shouldn't.

You should also have your other toppings and sides ready to go. For example, chop your fruit up.

When flax egg is ready add your wet ingredients of plant milk, peanut butter, flax eggs and maple syrup and gently fold to fully combine. Do not whisk. Be very gentle as you don't want to knock the air out of these. This is not a normal batter mix where you whisk. You want your batter to be very thick and gloopy. Not a pancake batter; much thicker.

Set aside for about 5 more minutes to let the baking powder do its thing too.

Now add half your batter to the waffle maker (which should be two waffles) and cook for roughly 4 minutes or until golden.

Immediately take out and plate, then add the rest of your waffle mixture to the waffle maker and cook.

Meanwhile plate up your already ready waffles with your fresh fruit, leaving space for your ice-cream.

Begin adding your bananas to the Yonanas machine and let it come out straight onto the gap on your plate. Leave the rest of the banana ready to go onto your second plate when your next waffles are ready.

If using a blender, then add your bananas and about 2 inches of plant milk to your high-speed blender. You may also wish to add a little maple or vanilla essence if you like a sweet ice-cream. For a creamier ice-cream (and more calories), add another dessertspoon of peanut butter.

Blend on full power for about 30 seconds, or until very smooth and creamy. Always blend for at least 30 seconds for the smoothness. Try to get your fluids just right. You want enough to just get a spin going on your blender. Too much will mean a smoothie texture!

Assemble your next waffles and serve with other toppings of choice.

Eat immediately! These waffles will go soft if you don't eat them (though, they're still delicious as a snack, even when soft).
Video
Notes
Use only one waffle per person if you are making this as a dessert or a child's portion.
For a main meal, two waffles will be more filling.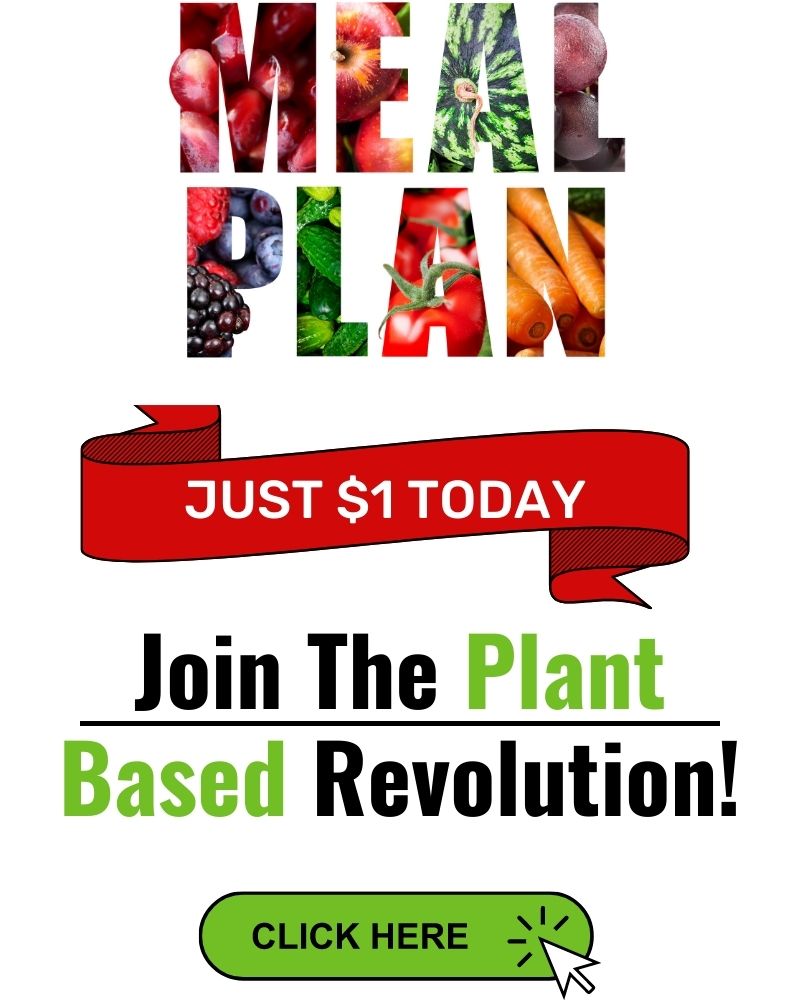 Thanks for visiting us and enjoying our delicious and healthy recipes.
Why not check out our delicious, peanut butter stuffed dates as it's one of our most popular, sweet treats.
Please share with your friends and help us make the world a more plant based place for the future!