One of everyone's favourite staple meals you may miss on your plant based diet is eggy bread. There's something so comforting about this delicious breakfast/brunch dish, but most new vegans believe they can no longer have it.
However, you couldn't be more wrong. This vegan French toast 'eggy bread' made with chickpea flour really does taste very, very similar than the real thing.
Before you balk at that, you really must try it for yourself because we know you won't be disappointed. This eggy bread really is a close match to the real deal, except much healthier, yet still high protein.
What's the deal with chickpea flour?
Chickpeas, once dried and ground to a flour, have a similar taste and texture to egg.
They can then be used to make all manner of dishes, including omelettes, custards, pastas and cakes.  All high protein and WAY healthier than their animal based counterparts.
Have you ever heard of meringues made form chickpea juice? Chickpea juice acts very similar to egg white in many dishes. We're talking about the juice you find in your canned chickpeas, drained. That's all it is! This juice actually makes meringues so good that you cannot tell the difference between chickpea meringue and egg white meringue.
3 Ingredient Vegan French Toast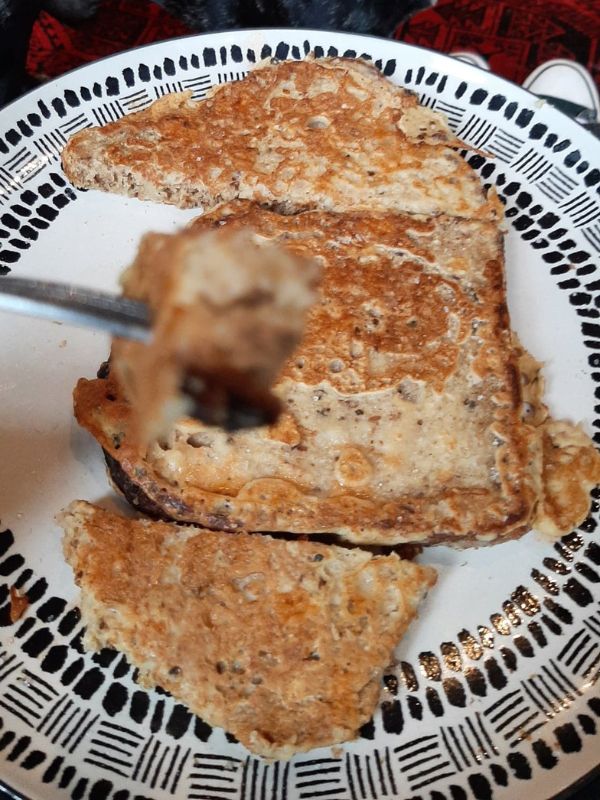 The great thing about this simple French toast eggy bread is the fact that it is SO easy. You can make this recipe from 3 simple ingredients in under 15 minutes if you would like the sweet version. It really cannot be more simple that that!
If you would like the savoury version, then you will need to add nutritional yeast to make a forth ingredient. This will give your toast a cheesy taste, but is not essential if you don't have any.
How To Serve French Toast
Depending on whether you are making a sweet or savoury version, this French toast will be served differently.
If you're going for sweet, then you can go crazy with a variety of toppings and sides. These include:
Maple syrup
Date paste
Agave nectar
Brown rice syrup
Icing sugar
Sliced banana or other fruits
Blueberry sauce (you can make a simple and healthy version by microwaving frozen blueberries until they bubble. takes about 90 seconds).
Chocolate spread
Melted chocolate
Grilled peaches, bananas, plums or figs
Yogurt
Granola
If you're going for a savoury version, then there are some equally delicious toppings and sides. These include:
Plant based bacon
Tofu scramble, potentially with veggies fried in.
Sausages
Asparagus
Peanut butter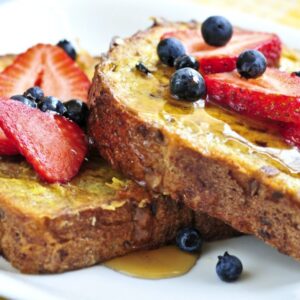 Simple French Toast 'Eggy Bread' Made With Chickpea Flour
Equipment
Large, non-stick frying pan

Flat bowl

Mixing bowl

Fish slice
Ingredients
4

slices

white or brown sourdough bread

(breads with seeds and savoury flavours will not work well if you're making sweet eggy bread).

¼

cup + 1tbsp

chickpea flour

1

cup

plant milk

(do not use plant milks with added sugars, fruit juices or sweeteners if you're making savoury eggy bread).

2

tbsp

nutritional yeast

(use this only if you're making savoury eggy bread).

Salt and pepper

Oil and butter to fry

coconut oil is nice when making a sweet version.

Sides to serve

see list below or on post

1

heaped, tbsp

flax or chia meal for 'egg'
Instructions
Start by mixing your flax or chia meal with half your milk and leave to stand for 10 minutes.

Now add your chickpea flour to a small bowl and gradually mix in your milk. Be sure to only add a little at first to mix to a paste, otherwise your mix will be lumpy.

Add the rest of your ingredients and whisk thoroughly with a fork.

Now you will need to put half your mix into a flat bowl. You will need to use a bowl wide enough to fit a whole slice of bread as you will need to be able to soak it for about a minute each side.

Lay your first piece of bread into the eggy mix and leave for 1 minute.

Meanwhile, get your frying pan on to heat with your oil and butter of choice. If using both, do a half and half split. Do not over-heat. Keep your pan on a medium heat throughout the whole cooking process.

Turn the bread that is in the eggy mix over and repeat process on other side.

Now add to your soaked bread to the hot pan and immediately get your other piece of bread into the eggy mix. Repeat the same process and add to your hot pan. Spoon over any remaining egg mixture onto both pieces of bread whilst they are in the pan (before they have been turned over). Don't worry if it spills over the sides and into the pan. This just makes it tastier, with more body.

Whilst your first 2 pieces of bread are frying on one side, tip the remaining egg mix into your flat bowl and start the process on your other slices of bread.

Don't forget to keep an eye on your French toast that is already frying. You will want to flip it gently when it is golden brown and fry the other side whilst your other slices of bread are soaking.

You will need to either keep warm your already cooked slices of French toast, OR serve straight away whilst the others are frying.

Serve with toppings of choice.

This can be sausages, bacon, maple syrup, tofu scramble, vegetables or peanut butter for a savoury version.

Or. maple syrup, other syrups, icing sugar, chocolate spread, fried banana, grilled peaches, plums or figs, yogurt, granola or blueberry sauce for a sweet version.
Video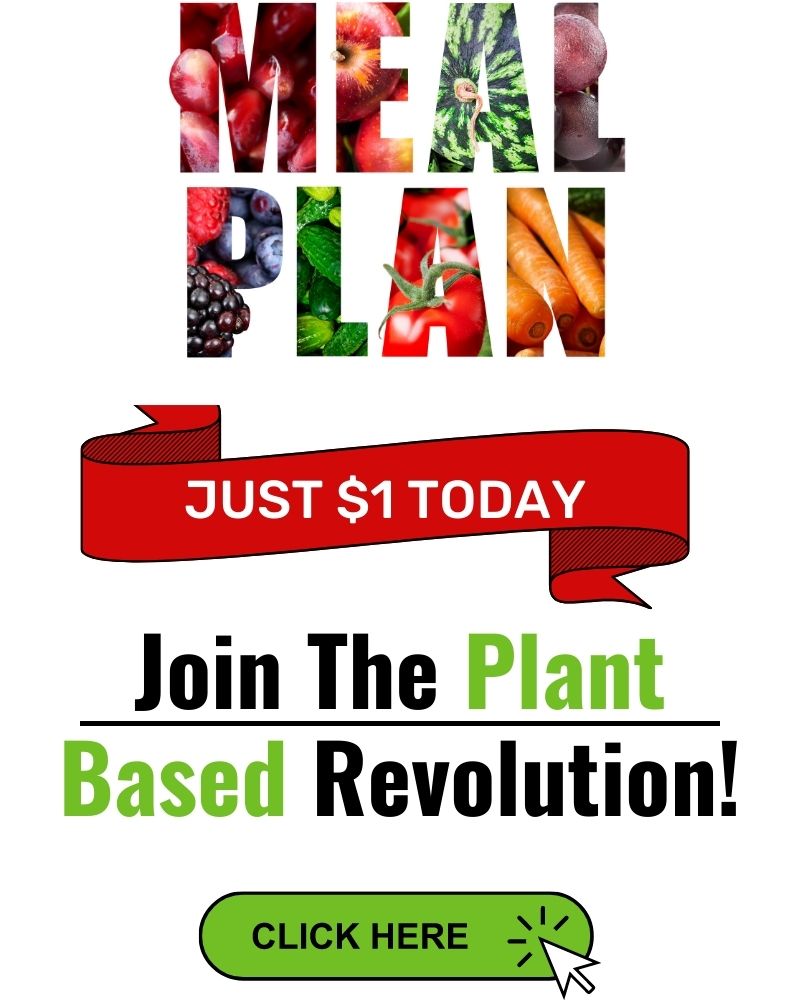 Thanks for visiting ZestForever today!
We would be really happy if you were to share this post to your social media accounts.
let's show the rest of the world that you DO NOT have to miss out an anything when eating a plant based diet!