Everyone loves jam, right? This sticky, sweet treat goes with so many sweet and savoury dishes and can be made from many different fruits and even vegetables.
However, one not so great thing about jam is its SUGAR content. If you buy your jam from the supermarket, then you can guarantee that it's first ingredient will be sugar nearly every time.
That's why our easy, 5 minute spiced, raw berry jam with chia seeds is so unique. Not only does it not contain sugar (and nor does it need it), it also contains NO refined fruit juices to sweeten either.
No Added Sugar Jams
You will notice that even when you see a jam in a shop that says 'no added sugar, it will actually be sweetened with fruit juice (usually grape). Fruit juices are no better than any other refined sugar because they have had their fibres taken out and are usually pasturised.
This refining and pasturisation makes them a high GI/sugar laden food that will spike your blood sugar and cause all the same potential problems as other refined carbs.
Another potential issue with your shop bought jams is the diabetic versions. Although these are technically very low sugar, they will usually have artificial sugars in them. This will make them taste artificial, especially if those fake sugars are sorbitol or aspartame. Both of these potentially are not suitable for everyone and are certainly not good on a healthy diet.
How Do I Make Jam Sweet Without Sugar?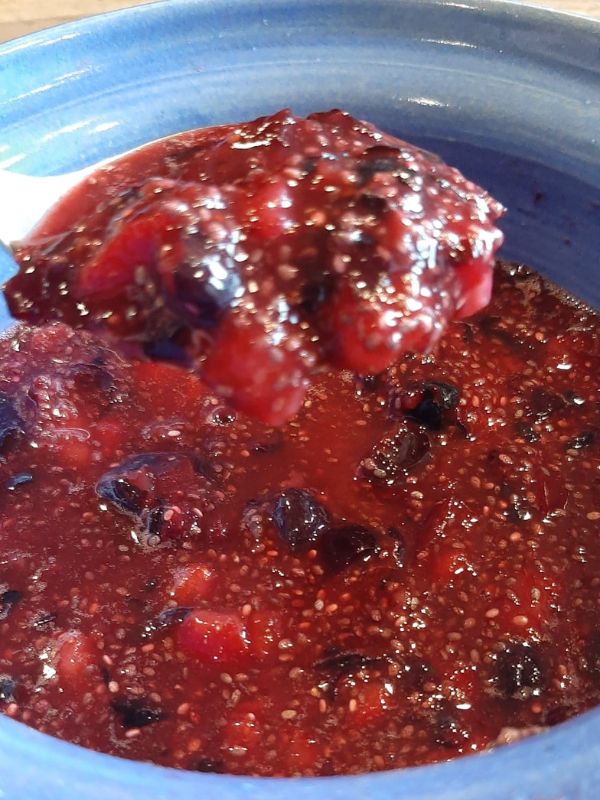 When you make your own easy homemade jam you will find that it naturally tastes sweet. Of course, this sweetness depends on the type of fruit you use, and you always want to use something sweet if you truly want a sugar free, healthy, raw version.
Our mixed berry jam with chia seeds uses 3 berries. We find strawberries give a great texture, blueberries much down to add the gloopy texture you want and need in a jam and cherries add lots of delicious sweetness.
You can use any berries you like in this simple jam, but we've gone with these 3 for the above reasons. You will also get good results with blackberries, black currents, red currents and raspberries, but you will kore than likely need to add some kind of healthy sweetener because these particular berries can be more tart.
How Can I Thicken Jam Without Pectin
The great thing about this jam is the fact you do not have to boil it up (which affects nutrients and flavour). You only need to chop your fruits and thicken with chia seeds.
Chia seeds are perfect for this jam because they go gloopy once left with water for 10 minutes and will bind all your jam together perfectly. It really is a simple as this and you don't need to use pectin for this task.
How long does raw jam keep?
It's worth remembering that as this jam is not cooked (and therefore not pasturised) you will need to keep it refrigerated.
Fresh jam like this will also not last longer than 1 week, so only make enough for that amount of time only. It's so easy to make this spiced jam that this won't be a problem and you can easily make another batch pretty fast when you need more.
What To Eat With Your Raw Jam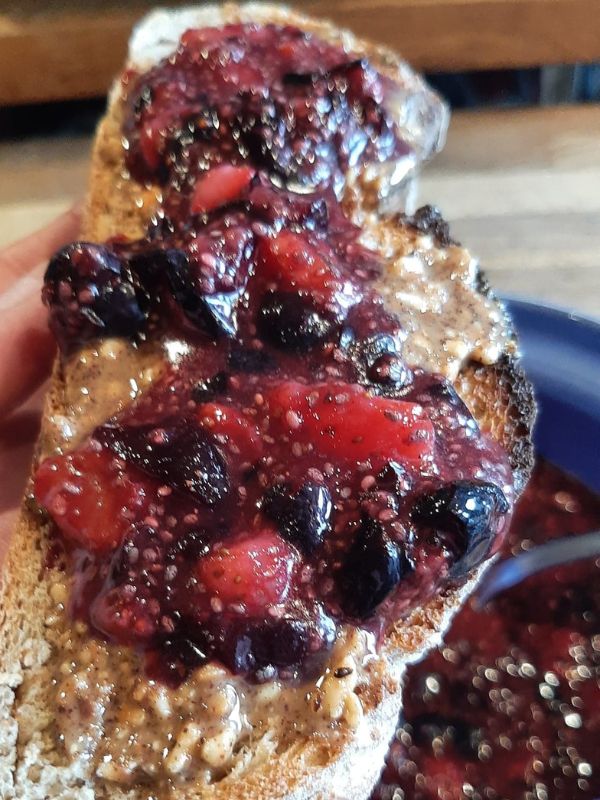 Raw jam goes with many foods and is a perfect accompaniment to a raw foods diet.
Adding more raw foods into your life will give you many health benefits, including more energy, clearer skin, mind and weight loss to name just a few.
Eat your delicious raw jam with the following:-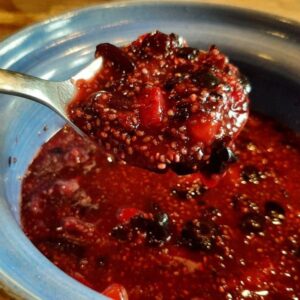 5 Minute, Spiced, Raw Berry Jam With Chia Seeds
This jam is whole foods plant based, RAW and counts as 1 of your 5 a day.
Equipment
1 medium ceramic or glass bowl

Smallish mason jar

Chopping board

Knife
Ingredients
⅔

cup

frozen strawberries

⅔

cup

frozen blueberries

½

cup

frozen cherries

2

dessert spoons chia seeds

⅔

cup

water

1

tsp

cinnamon powder

½

tsp

ginger powder
Instructions
Get your berries out to thaw in a bowl for about 30 minutes. Keep blueberries separate.

If you're in a hurry, just defrost your berries in the microwave but be careful not to cook!

Now, chop your strawberries and cherries onto smallish pieces (you want to get about 12 pieces from your average sized strawberry to give you a reference to size). Place back in the bowl.

Mash your blueberries with a fork. You don't need to mash them to a complete pulp. Leave a little texture!

Add to the bowl with your other berries.

Now add your spices, chia seeds and water and mix well. Leave for 5 minutes.

Mash down your jam a little further with a fork so it combines together well. Again, leave some texture and lumps. Or, mash to your own desired consistency.

Make sure your jam tastes right. Add more spices or even a little sweetener if you like. Sometimes certain batches of berries are sweeter than others. Use only a natural sweetener like stevia, xylitol, agave or maple syrup.

At this point you could probably blend your jam if you would like a smoother consistency.

Leave for another 10 minutes.

You jam should now be gloopy after the chia seeds have soaked up all the juices. Now add your jam to a sealed mason jar OR eat it!
Video
Notes
Stores for up to 1 week in refrigerator. Be sure to store in a covered, glass container.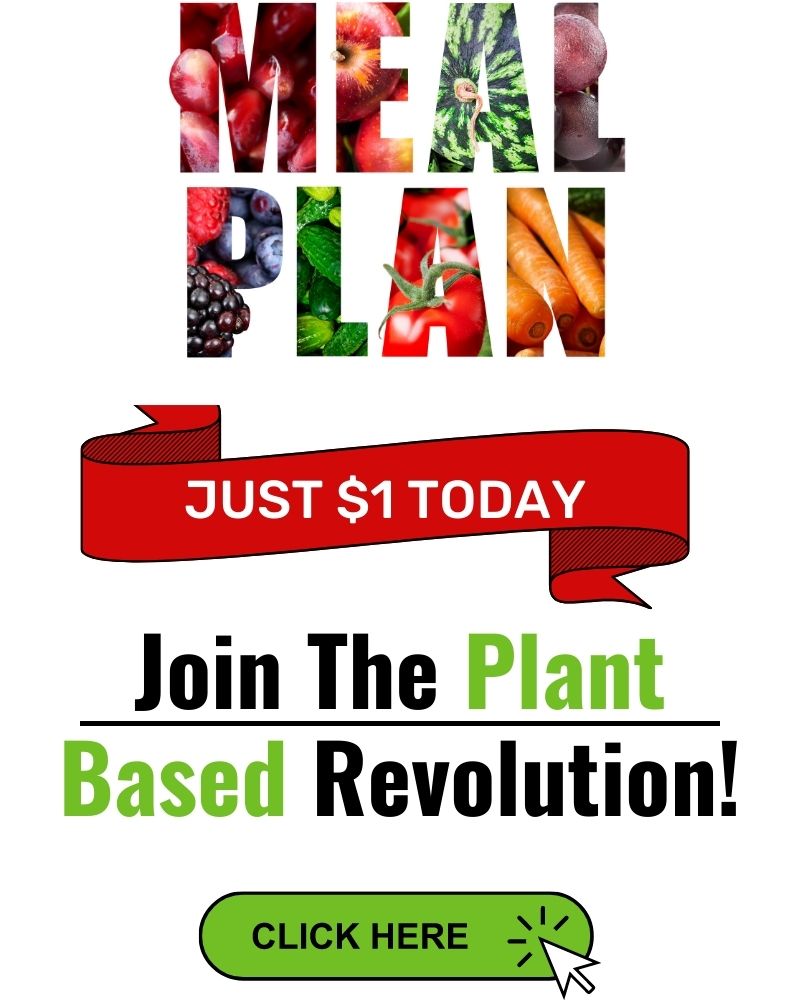 Thanks for visiting ZestForever today!
Your support is appreciated.
If you would like some more child friendly recipe ideas like this to get your kids then please check out this article and help get them on board.
Please support us further by sharing this recipe with your friends via your social media channels. Together, let's make the world a healthier, more plant based place!