Most people love green beans and they are often a favourite with the kids too. They're mild tasting, yet highly nutritious and high in protein, making them a great addition to a healthy, plant based diet.
Many herbs and spices can be added the the humble green bean to elevate it. We've chosen to make air-fried beans with chestnuts, garlic and lemon because it's seasonal, but you can use any nuts with this recipe and it will be equally delicious. Or, go completely nut-free. The choice is yours.
What To Eat With Green Beans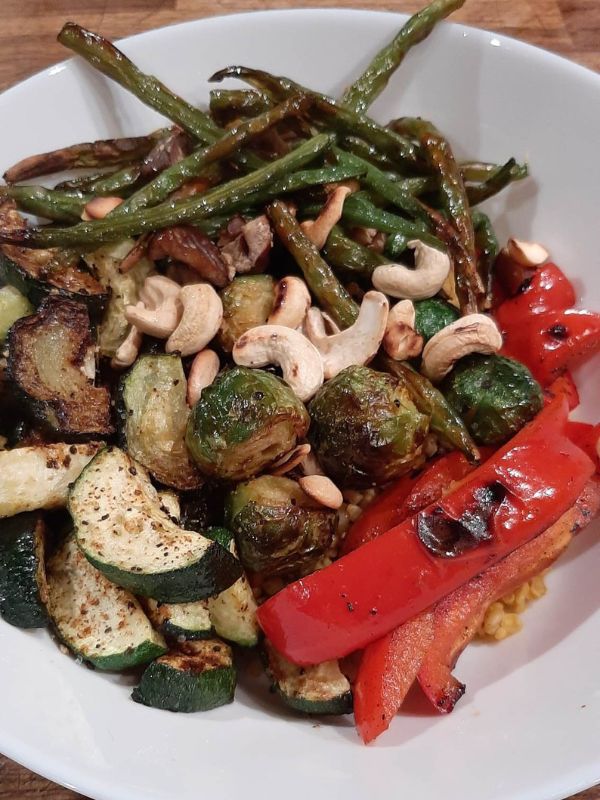 Green beans can literally be served with pretty much ANY dish as a side.
They also have multiple ways of being prepared, including boiling, steaming, stir-frying, air-frying and roasting. You can drop your uncooked green beans straight into plant based curries, chilis, stews and soups to soak up all the lovely juices of your dish and enhance their flavour further.
Green beans also go well blanched for 5 minutes and added straight into a raw salad.
Or, serve them with a side on your Sunday roast or weekday meal.
There is never a meal that isn't enhanced by a serving of nutritious green beans.
You can also make these green beans the STAR ATTRACTION of your meal by serving them on a bed of brown rice, protein rich quinoa or freekeh. Just be sure to add extra nuts to make it more filling!
What Are The Health Benefits Of Green Beans?
Green beans are highly nutritious and a great way to make sure both you and your family are eating well.
Per cup, green beans contain the following:-
Protein – 2g plant based protein. Amino acids are needed to maintain strong bones, hair and muscle not to mention many other vital functions.
Calcium – Green beans contain 37% of your daily calcium needs per serving. It's crucial to eat beans and other high calcium, plant foods if you are vegan or plant based.
Iron – These beans contain 1.3mg of iron which is vital when eating a plant diet devoid of red meat.
Magnesium – 25mg. Magnesium is needed for nerve and muscle function, energy production. Helps with sleep and muscle aches also.
In smaller amount, phosphorus, potassium and zinc are in your beans.
How Do I Prepare Green Beans?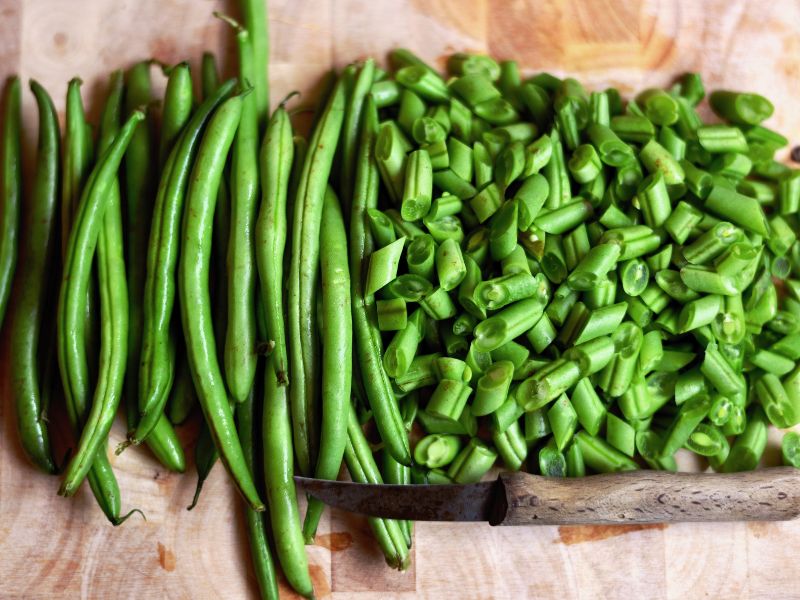 Prepping your green beans is dependent on how you buy them to begin with. Often you will find your beans already topped and tailed, which is fine, but also means that they won't quite be as fresh. Those chopped ends can go brown and scummy, so it's definitely best to buy the whole bean and chop yourself where possible.
It's also CHEAPER to buy them as they come without them being pre-trimmed. This takes time and Man power and is an unnecessary extra cost.
Always go for vibrant green beans that are fresh and crisp for best results.
Chop both ends off your bean with a chopping knife. You should try and bunch quite a few together with the ends equal on the side you're chopping to negate extra waste. Chop only the very end off as you do not want to waste any bean.
Wash your beans thoroughly!
Now you will want to wash those beans THOROUGHLY with cold water in a colander. We say thoroughly because most beans are flown in from far off countries where many chemicals are used to stop the animals nibbling and to keep them fresh. In fact, beans can be one of the most heavily pesticided of all the vegetables, so wash very carefully to remove any nasty residue.
To be extra certain, it's possible you can also leave your beans to soak for 10 minutes (no longer, as you do not want nutrients to leach out) in a bowl of water with half a cup of white vinegar. This is said to neutralise most chemical residue from all fruits and vegetables.
Can I Use Other Nuts With This Dish Instead Of Chestnuts?
We have used chestnuts in this air-fired, green bean recipe. You can, however, substitute these for any other nuts of your choice, or leave the nuts off completely.
Other best nuts to compliment beans are shaved almonds, hazelnuts and cashew nuts.
Other ways to cook this dish if you don't have an air-fryer
Not everyone owns an air-fryer, we know that. But, it doesn't mean you cannot enjoy these delicious green beans with chestnuts, garlic and lemon cooked in other ways.
You can make this delicious side by oven roasting, stir-frying, boiling or steaming too, But, you will need to adjust cooking times, of course.
Out of the other cooking methods we have suggested, we recommend roasting the most because you will get some browning.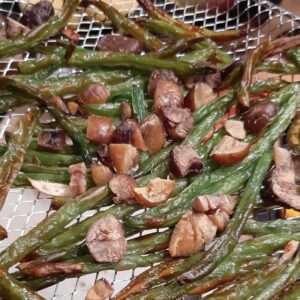 Air-Fried Green Beans With Chestnuts, Garlic & Lemon
Equipment
Air-fryer (or oven)

Bowl

Tin foil
Ingredients
200

g

green beans

2-3

cloves

crushed garlic

1

tablespoon

lemon juice

⅔

rd

cup vacuum packed

cooked chestnuts

2

tablespoons

vegetable stock

Olive or coconut oil to taste

Salt

Pepper
Instructions
Trim and thoroughly wash your green beans and add to a bowl.

Chop your chestnuts into about 4-6 pieces per chestnut and toss in with your beans.

Vacuum packed. pre-cooked chestnuts work best fort his as they have more flavour and won't dry out so easily.

Drizzle your beans and chestnuts with 1 tablespoon of olive oil, your crushed garlic and a couple of tablespoons of vegetable stock. Add a little seasoning to taste, then mix together.

On one of your air-fryers wire tray (you may need two trays, depending on the size of your fryer) cover with tin foil. You don't need to fold your foil over the edges, but you do need to slightly turn it up at the edges to stop any fluids from dripping out.

Now carefully put your bean mix onto the tin foil and spread out as much as possible so the beans aren't directly on top of each other. Be sure to add the juices too!

Bake in your air-fryer on a high shelf at 185 C for roughly 15 minutes.

Meanwhile, squeeze your lemon until you have around 1 tablespoon of juice.

Add your lemon juice AFTER you have removed your beans from air-fryer. o  not cook the lemon juice on the beans as it will go bitter. Always add fresh lemon juice at the end of cooking.
Video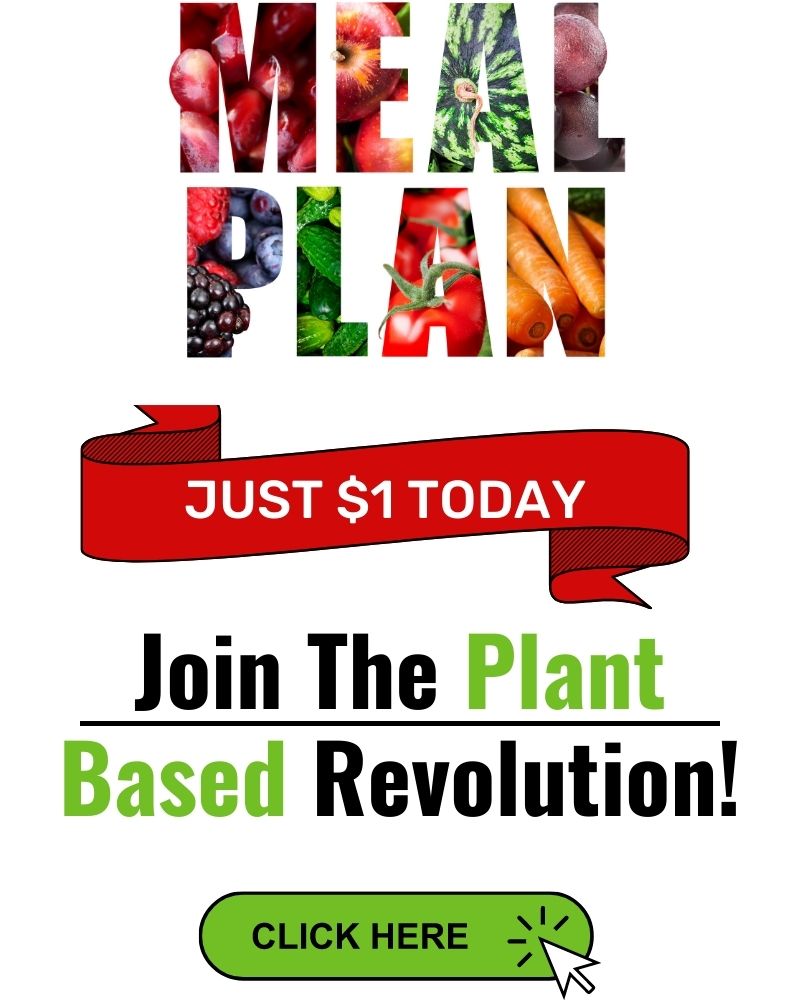 Thanks for visiting ZestForever today!
We always like to bring you healthy recipes that everybody will love, plant based or not.
Please share this recipe with your friends via your social media channels and help us bring about a better world.