If you're wondering what can I feed my child on a plant based diet, then you're not alone.
It can be daunting for parents to know the in's and out's of a child's plant based nutrition. You're going to have all sorts of questions about protein, calcium, healthy fats, vitamins and minerals. Fact is, a growing child needs all of these so you are right to be concerned and ask questions.
But, fear not. Many parents are now turning to the plant based lifestyle and would like to get their kids on board too. Or at least introduce them to more plant foods if nothing else. Adding more fibrous and nutrient dense foods into your little one's diet can surely only be a good thing, right?
Is A Plant Based Diet Safe For Kids?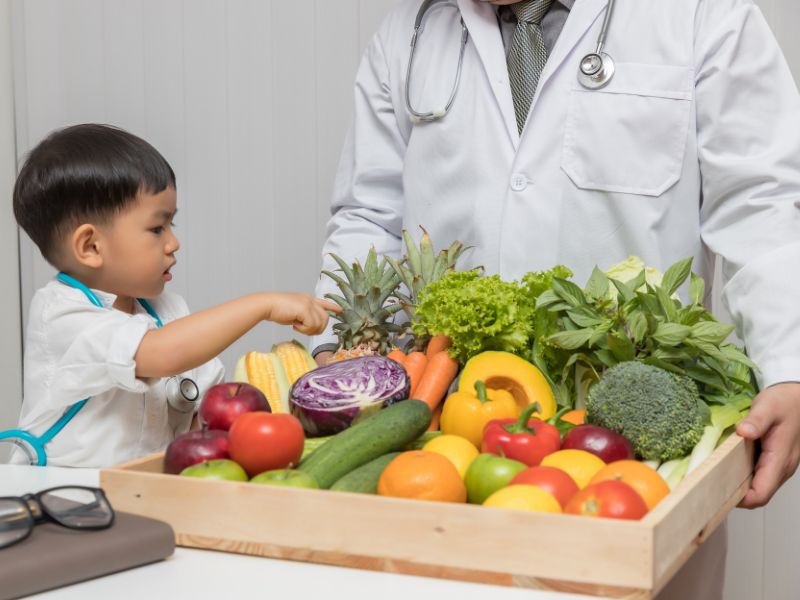 Swapping out sugar and junk foods for fruits, vegetables and legumes isn't going to harm your child, that's for sure. It will, in fact, help their bodies and brains thrive in a world where most fast food is devoid of anything nutritious and instead may be positively harmful.
You will most likely see a positive impact in your child when you start feeding them more plant based foods.
This could be any of the following:-
Plant foods contain all the building blocks for growth and development such as proteins, healthy fats, complex carbohydrates, vitamins and minerals.
Better mood with less tantrums and crying fits due to healthy, gut bacteria. This is called the gut-brain connection.
Lowers risk of diabetes. High fibre, low refined sugar diets lesson risks of this disease, even in children.
Balanced energy due to eating more complex carbohydrates. This also equates to less tantrums from sugar spikes.
Higher immunity, due to nutrient dense plant foods being more alkaline. This helps to promote a strong immune system as opposed to weakening it, as is in the case of eating refined carbs and sugar.
Healthy digestive system and less constipation problems due to higher amounts of fibre in plant foods.
Does My Child Need Supplements On A Plant Based Diet?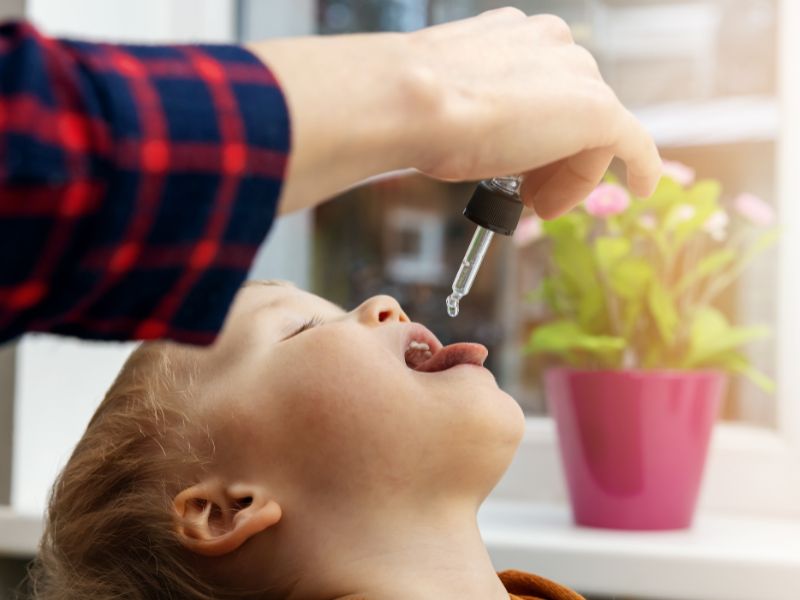 Plant based diets can offer most of the nutrition a growing child needs. However, it is recommended officially that a child on a vegan or plant based diet should supplements B12, Vitamin D and potentially DHA.
DHA is an omega 3 fatty acid specifically found in oily fish and the plankton that they feed on. Plant based diets usually lack this vital, brain friendly nutrient because of the omission of oily fish and the lack of seaweeds in the diet in general.
Children may benefit, therefore, from extra DHA, considering their brains are still growing and learning.
DHA is also vital for mood if mood disorders are present.
Getting enough protein rich foods into your growing kids
Children are growing fast and need lots of amino acids to do this. Be sure to get protein rich foods into them everyday, but keep them VARIED. Good sources of complete plant proteins are:-
HEMP – In the form of seeds and milk.
SOY – Always go for organic, minimally processed soy to avoid GMO. This can come in the form of tofu, seitan and milks. Steer clear of processed soy products where possible.
QUINOA – Use quinoa in place of rice or other side dishes. You can also use this highly nutritious seed as a quinoa breakfast bowl for the King of breakfasts. Quinoa flour is a great, gluten free replacement for baking too.
BUCKWHEAT – Use buckwheat flour to make pancakes, high protein waffles, biscuits, cookies, cakes and muffins. Use buckwheat grouts in homemade granolas or as a high protein alternative to rice dishes.
AMARANTH – This seed can be used floured in baking, or use the whole seed as a porridge in the morning. It takes some cooking down, so best prepared in advance.
Plant Based Meal Examples For Kids
A lot of parents struggle with meals that kids will eat on the plant based lifestyle, but we can show you a few breakfast, lunch, dinner and snack ideas that most kids will like.
Be sure to mix and match foods and try to keep their diet as varied as possible with lots of different colours and food groups.
The meal plan we have put together here contains all the macronutrients for a complete meal.
BREAKFAST IDEAS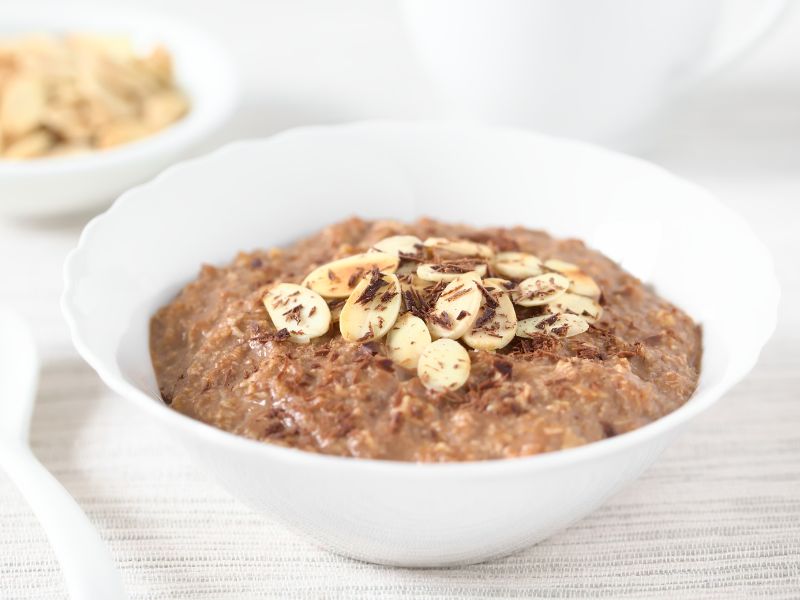 PEANUT BUTTER OATMEAL – made from hemp or soy plant milk, 1 TBSP smooth peanut butter (go for the 100% peanuts variety without oils and added sugars), mashed banana mixed in.
MIXED FRUIT SALAD – with banana, 1 TBSP hemp seeds OR homemade granola.
WHOLEMEAL TOAST – with sugar/oil free nut butter and sliced banana.
HOMEMADE GRANOLA – made from oats, toasted buckwheat grouts, nuts, seeds, maple syrup for extra sweetness. Make a big batch of this in advance by toasting your buckwheat and oats with maple in the oven and add your chopped dried fruits, nuts and seeds afterwards to retain their raw goodness.
QUINOA BREAKFAST BOWL – made with quinoa flakes, plant milk, banana or other fruits.
BUCKWHEAT WAFFLES – Batter made from 1/2 cup buckwheat flour, 1 cup plant milk, 1 TBSP maple syrup, cinnamon, pinch baking powder and bicarbonate of soda whizzed up in blender and cooked in a waffle iron.
BUCKWHEAT OR OAT PANCAKES – Batter made from 1/4 cup buckwheat or homemade oat flour, 1 cup plant milk, 1 ripe banana, pinch cinnamon, baking powder, bicarbonate of soda whizzed in blender until batter consistency. Fry in non stick pan and serve with homemade blueberry sauce made by microwaving on full power some frozen blueberries for 90 seconds or until BUBBLING and sticky.
TOFU SCRAMBLE – Mash your tofu with a potato masher into a scrambled egg consistency. You don't need to over mash, go easy to keep texture. Fry in a non-stick pan with a pinch of turmeric for "eggy" colour and some seasonings. For a veggie version, fry some vegetables such as onions and bell peppers first, then add tofu a few minutes before the end to finish off. Serve alone or with toast or baked beans.
HOMEMADE BAKED BEANS – Make some delicious, homemade BBQ beans and serve with toast or tofu scramble.
CHICKPEA OMELETTE – Make your batter from 1 part chickpea flour (sometimes called gram flour) to 2 parts water. Whizz in a blender until completely smooth with some seasonings of salt and pepper to taste. Heat a dash of coconut oil in a non stick pan and fry gently until done well enough to turn. Fry on other side until fully cooked. Another version of this is to make a Spanish omelette by adding pre-cooked, sliced potatoes and fried onions into the mix after you have blended. Save some for lunch boxes as this is delicious cold too!
FRENCH TOAST – Make french toast "eggy" bread from dipping bread in a mix of chickpea flour and water in a 1:2 ratio. Find full recipe here.
LUNCH IDEAS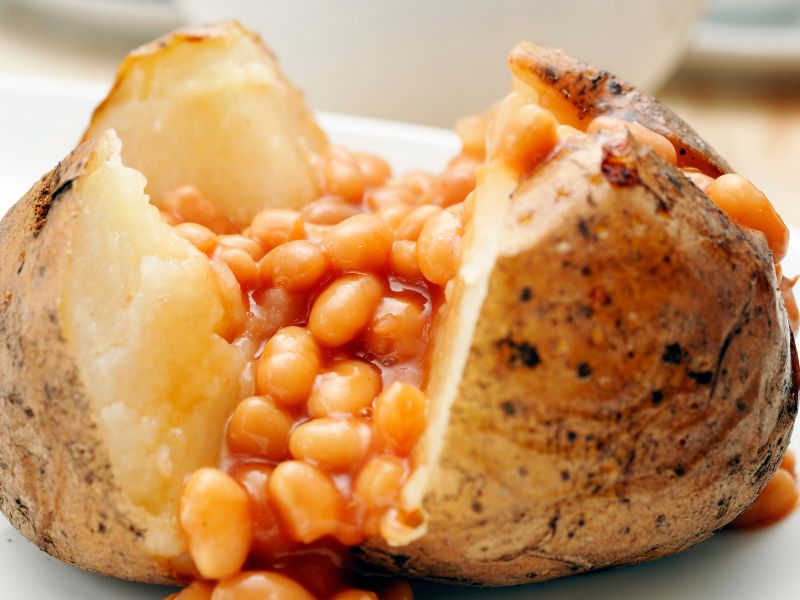 You can rehash most of the breakfast ideas for lunch, especially on non school days. A lot of the breakfast ideas are also great cold in a lunchbox.
PEANUT BUTTER-JELLY SANDWICH – Made from wholemeal bread, 100% peanut butter with no added oils or sugars and easy, homemade, sugar free jam.
CHICKPEA OMELETTE – Eaten cold as per recipe in breakfast section.
GRANOLA-FRUIT POTS – Use same homemade granola from breakfast section.
TORTILLA WRAPS – Corn tortilla wraps with hummus, avocado and crunchy veggies.
HUMMUS-CARROT SANDWICH – Wholewheat bread with hummus and grated carrot, seasoning. The grated carrot keeps this really juicy!
OLIVES
CRISPY TOFU CHUNKS – Air fry small squares of tofu in seasonings of choice for a high protein snack.
HOMEMADE FLAPJACKS – Made from oats, mashed banana, maple syrup and dried fruits.
HOMEMADE HEALTHY COOKIES – Check out some healthier recipes here.
HOMEMADE BANANA BREAD – Check out out our filling and high fibre, whole foods plant based banana bread recipe.
BAKED POTATOES – with baked beans, homemade coleslaw or mild chili.
HIPPOACRTES STYLE SOUP – This delicious soup is perfect for the kids because it is not spicy, yet still delicious. It's also super healthy and immune boosting, so great when they are sick.
DINNER IDEAS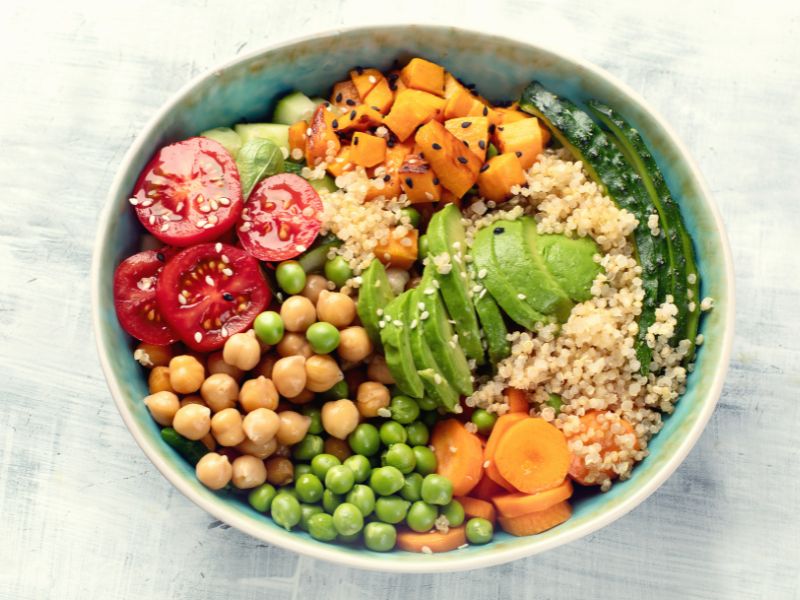 Make extras at dinner to save for lunchboxes or breakfast. The plant based diet is versatile enough to be able to do this.
These dinner ideas should be good for all the family too, we have just given you a list of some more blander options for children's taste buds.
VEGGIE AND BEAN STEWS – Make delicious veggie stews and soups in your Instant Pot or Slow Cooker from an array of legumes such as lentils, beans, chickpeas and peas, sweet and white potatoes, vegetables, herbs and spices.
TERIYAKI TOFU – Make sticky, teriyaki tofu for a sweeter, child friendly protein element to your dish and serve with brown rice and steamed or stir fried veggies.
SPANISH BUTTERBEAN STEW – This 5 ingredient, butterbean and Swiss chard dish has a mild flavour and is a quick and easy, 20 minute meal for all the family.
GROUND MINCE STEW – Slow cooked stew made from dried soya mince in gravy with veggies and spelt and buckwheat dumplings. This is Winter comfort food at its finest!

YELLOW SPLIT PEA SOUP

– This heart soup is made from high protein, yellow split peas, carrots and sweet potatoes. Best served with some chunky toasted bread and vegan butter. Full recipe here.
HOMEMADE BURGERS – served with chunky fries or sweet potato chips and a crunchy slaw.
HOMEMADE PIZZA – Make your own pizzas and have fun with the toppings to please the kids, such as this Ultimate Veggie Pizza.
SPAGHETTI BOLOGNESE – Make a sauce from green or brown lentils, chopped walnuts, tomatoes and italian herbs and serve with corn spaghetti.
BUDDHA BOWLS – Made from a mix of legumes, chickpeas, roasted veggies, quinoa, brown rice, avocado, nuts and seeds. Make tahini dressing to pour over for example.
SNACK IDEAS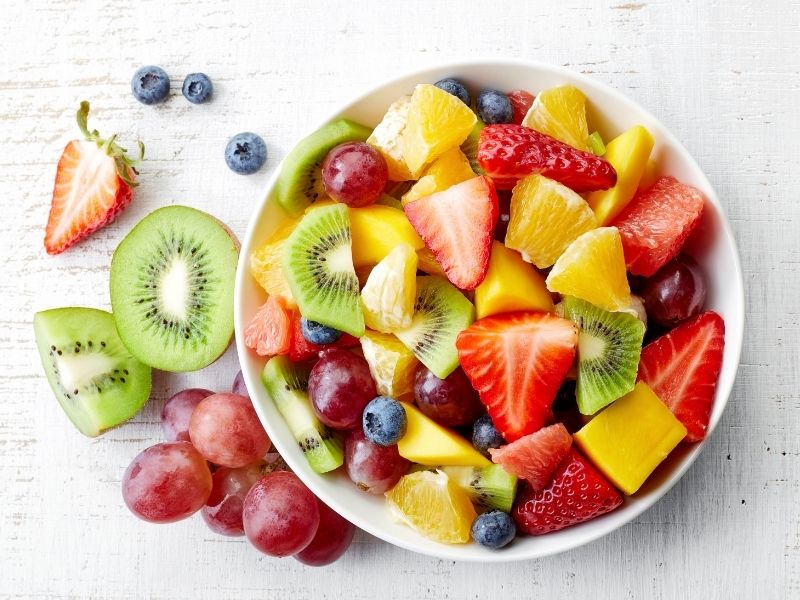 Olives
Vegetable sticks with hummus
Tortilla chips with guacamole
Homemade vegetable chips
Air fried tofu chunks
Roasted chickpeas
Fresh fruit
Dried fruit
Nuts and seeds
Celery with peanut butter
Apple with nut butter
Homemade hot chocolate made from oat milk and carob powder
Frothy chocolate milkshake made from frozen banana, plant milk and carob powder.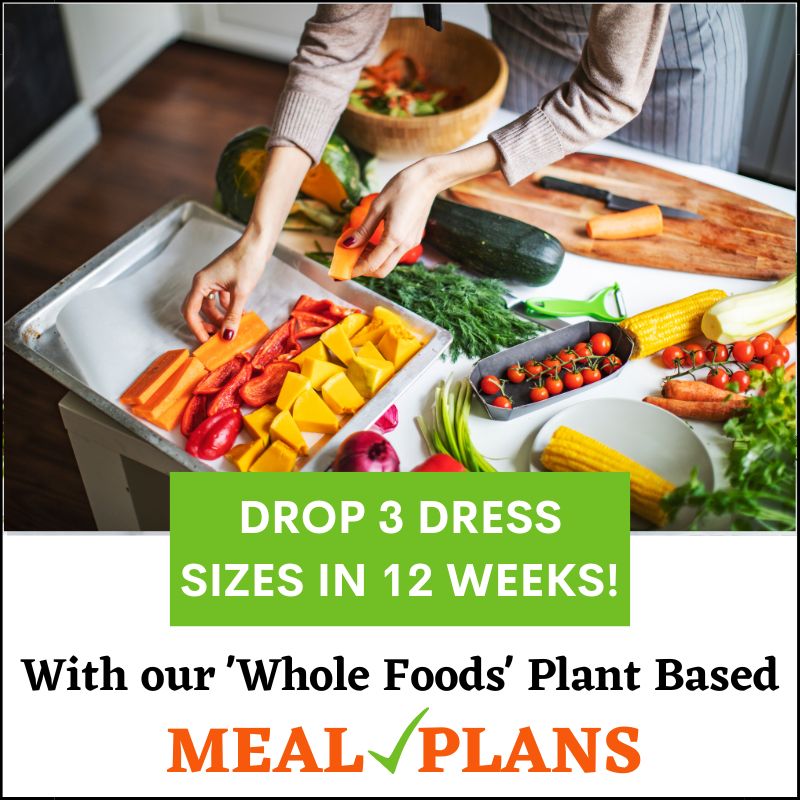 We hope we have given you some insights into the type of delicious plant based alternatives that you can feed your children. All of our examples are designed to be healthy and complete meals to keep your kids in adequate nutrition without the need for animal products.
Please share this article with your friends and spread the plant based word. Let's help get our kids healthy and happy with the plant based diet.
Thanks for visiting ZestForever today!