Who doesn't love a love a slice of freshly cooked, warm banana bread? Or, any other healthy plant based dessert for that matter?
But a healthy, plant based banana bread recipe can be a thing of beauty when put together with the right spices, creating that comforting aroma in your kitchen – the heart of your house.
And why should you miss out on comfort food just because you are dieting or watching your calorie intake? This delicious, low fat banana bread recipe still hits the spot, even though it can be made without oils, butters or margarines of any kind. Trust us, it does not need it!
The clever use of spices can make up for lack of fats in food, to the point that you don't even notice they're missing.
This banana bread is just as filling and satiating as any high fat version, especially when served with a nice cup of tea or coffee.
The great thing about this healthy banana bread recipe is that you can amend it however you like. This particular recipe is made with dark chocolate chips and walnuts, but you can use any add-ins that you prefer.
The perfect textured banana bread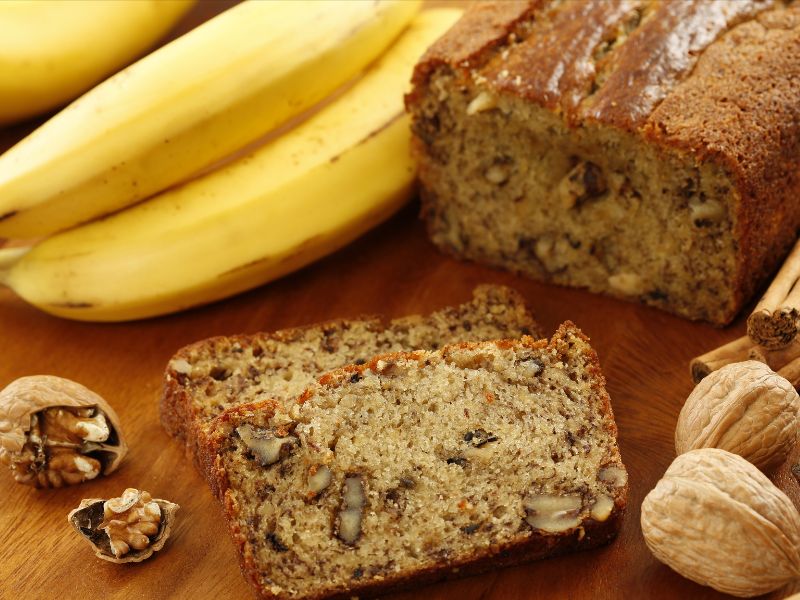 If you like crunchy textures in your banana bread, then you should add in a 1/2 cup of one of the following ingredients. Sometimes these are best for a sprinkling on top so that the oven roasts them, thus giving them a unique taste and crunchiness.
Be aware though that adding too many nuts and seeds will up the fat content, so steer clear of them completely if you wish this recipe to be mostly fat free. However, it's worth noting that as the fats are in their 'whole' and natural form, then this is healthier than a refined fat and also suitable for a whole plant foods eating plan.
Sunflower seeds
Pumpkin seeds
Chopped pecans
Chopped hazelnuts
Chopped almonds
Chopped walnuts
You should also add roughly 3/4 of a cup of one of more of the following for extra sweetness and other health benefits:-
Sultanas
Raisins
Currants
Dried chopped dates
Chopped dried figs
Chopped dark chocolate (but only about 50 grams)
1 x cup of fresh blueberries
Freeze dried raspberries
High Protein Banana Bread
The thing I love about this banana bread is the fact that it is pretty high protein, due to the wholewheat and buckwheat flour (and also the extra nuts and seeds if using). As it does contain a fair amount of protein, it means it's good enough to make a slice for breakfast a sustaining and healthy choice.
It's also pretty high on the fibre front too, due to the flax seeds, bananas and whole meal flours, making it a low GI, filling start to the day.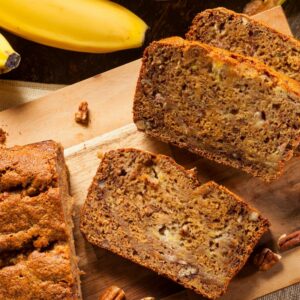 Low Fat Banana Bread - EASY, Whole Foods Plant Based Recipe
Equipment
Loaf tin

Tin foil or parchment paper

Large mixing bowl

Wooden spoon

Fork
Ingredients
2

tablespoons

ground flax mixed with 5 x tablespoons of water. Mix the two together to make a flax egg. Leave to stand for at least 10 minutes until it goes gloopy

like an egg.

2

large (or 3 small)

ripe mashed bananas

the riper the banana, the better as it will add more sweetness and a stronger banana taste to the cake.

⅔

cup

brown sugar (or alternatively for a lower sugar version 1/2 a cup of brown sugar and a couple of teaspoons of xylitol sweetener.

½

cup

apple sauce

you can make this easily by stewing chopped up Bramley apples in a little water for a couple of minutes in a saucepan. Then simple mash to a pulp. You will probably need roughly half a medium apple to make 1/2 of a cup of sauce.

1

cup

buckwheat flour

1

cup

wholewheat flour

¼

cup

nut milk

any kind

1

tsp

baking powder

½

tsp

salt

Spices of your choice; either 1/2 teaspoon of nutmeg

1 teaspoon of cinnamon, or 1 teaspoon of mixed spice. OR a mix of all of them.

Other added ingredients of your choice

see list above, but for the sake of this recipe we will be using 50 grams of chopped up dark chocolate, and 1/2 cup of chopped walnuts as a topping.
Instructions
Heat oven to 350 F or 180 celsius.

Prepare your flax egg in a small bowl and leave aside whilst you prepare the rest of your ingredients.

In a bigger bowl, mash your bananas well and mix with your pre-prepared apple sauce.

Add your sugar, milk substitute and flax egg and mix well.

Add your flours, baking powder, dark chocolate chips or chunks salt and spices of your choice and mix gently to combine. DO NOT over mix, you want to keep some air in there.

Add the mix to your prepared loaf tin (or cake tin if you would like a round cake).

Use a tin either lined in tin foil or parchment paper to prevent sticking (parchment paper is your best option, and should ideally be greased slightly so it comes away from the bread easily after cooking).

This is especially important with fat free bakes, as there will be no oils helping to prevent sticking.

Scatter your chopped up walnuts over the top and press in slightly with a spoon so they don't instantly fall off once your loaf is cooked.

Place in your pre-heated oven and cook for roughly 50-60 mins depending on the size of the tin you have used. If it is a pretty small, deep tin then the loaf may take longer to cook, but your average bread tin will be about 50 minutes.

Prick deeply with a sharp knife or cocktail stick to check if it's done. But only do this towards the end of your cooking time as you don't want to lose all your hard earned rise. The knife, or stick, should come out clean.

Take out of tin and leave to cool slightly on a wire rack before attempting to remove you tin foil or parchment paper, otherwise you will get burned fingers.

Either eat warm, or leave to cool. Slice only when needed and enjoy with a cuppa!

Store wrapped in tin foil in an airtight container (Sore mine in the fridge if you like it cold).
Video
Thanks for reading this post from ZestForever today!
Please like and share the love to your friends on social media. Let's spread the word for a more plant based world!