Autumn is in the air, and comfort foods are well and truly in order. Comfort foods such as warm soups and scrumptious apple tray bakes. This beefless, ground mince stew with spelt and buckwheat meatballs are absolutely perfect.
We have used soya mince crumbles in this stew because they come out with these best texture for this childhood meal that your Mum used to make (especially if you're from the UK). The soy mince in this recipe comes from Holland and Barratt.
You can use other types of vegan mincemeat alternatives but we cannot guarantee the same results. If you cannot use soya mince, then you should go for something dried and with a similar texture to beef mince for best results. Similar textures as meat replacements really help you to make authentic tasting dishes that even non vegans will enjoy.
Alternatives to Vegan Ground Beef
Alternatively, you can go without the beef completely and add button mushrooms instead, but we prefer the ground beef for authenticity. However, the mushrooms are good if you really don't want to use the plant based beef mince.
Other plant based meat replacements could be soy chunks, pea and fava chunks OR any meat alternative you like. You can buy these either dry, fresh or frozen from most supermarkets or health stores so you should find something for you.
What can I serve ground mince stew with?
This stew is quite versatile and can be served with extra veggies such as cabbage, broccoli and green beans. You may also like to add some extra roast or mashed potatoes if you're really hungry.
You can also serve this stew with some crusty bread or rolls to mop up the gravy that will be left at the bottom of your plate.
If you're not a fan of dumplings, feel free to leave them out, but they do complete this meal.
Dumplings Without Suet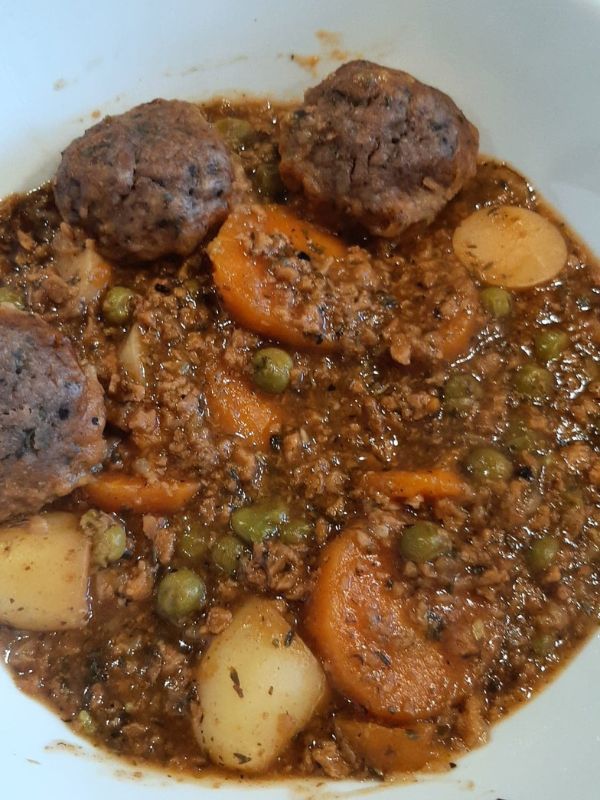 Your Gran may well have used vegetable or animal suet when making traditional dumplings, but these days we prefer not to use this kind of saturated fat.
We've made our plant based dumplings from buckwheat and wholegrain spelt flour, flax egg, herbs, spices, nutritional yeast (optional) and a little coconut oil. Fell free to use another oil if you prefer, as most will work in here. We just like the coconutty taste, and it's only a tiny amount so these dumplings are HEALTHY!
Vegetables For Meatless, Ground Beef Stew and Dumplings
Our veggies for this stew are the classic carrots, potatoes, green peas and onions with plenty of garlic.
You can also add swede, turnip or any other root veg. Root vegetables go best with this mince stew and dumplings stew, especially as the colder nights draw in. Who doesn't want to come home to a delicious, hearty stew with carbohydrate rich dumplings (we're talking healthy, complex carbs here)? Really satisfying.
How do I Cook this Stew?
We have used a slow cooker here, but this mince meat stew is equally as good cooked on the hob or in the oven.
You will need to adjust cooking times if you use something other than your slow cooker. The oven will take roughly 1 hour 15 minutes and the hob roughly 1 hour. You will need to keep an eye on this yourself and test for the tenderness of your vegetables.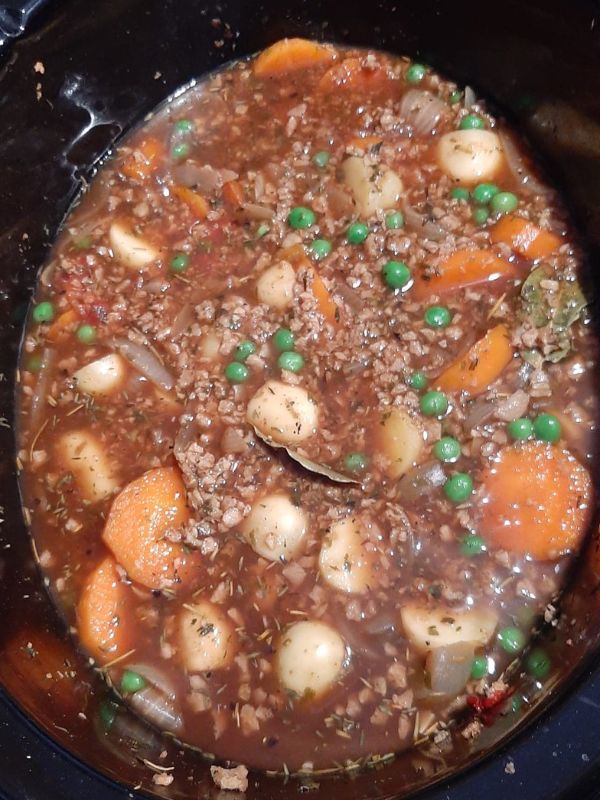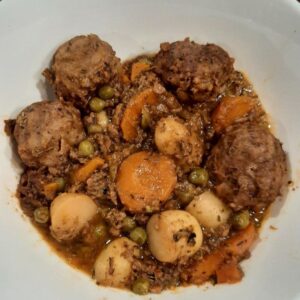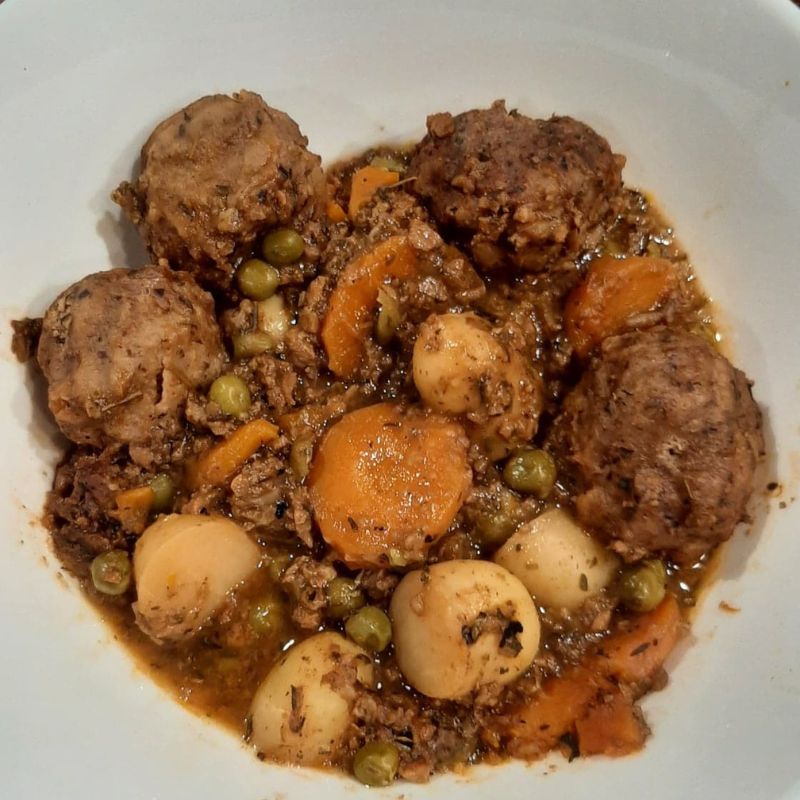 Beefless, Ground Mince & Veggie Stew with spelt & Buckwheat Dumplings
Equipment
Large slow cooker (preferable)

Or large saucepan or oven proof dish

Chopping board

Knives

Jug

Kettle for hot water
Ingredients
For the stew
1.5

cups

dried soy mince

or vegan mince of choice (make sure it has good texture as you don't want it to break down too much. Soy mince is hardier)

2

medium onions, sliced

5

medium carrots, sliced

500

g

scrubbed new potatoes

1.5

cups

frozen, green peas

Roughly 1.5

litres

vegetable stock made per instructions

4-5

cloves

garlic

crushed

3

tbsp

tomato paste

2

tsp

marmite or another yeast extract

2

tbsp

cornflour or arrowroot

2

tbsp

parsley

1.5

tbsp

thyme

1

tbsp

rosemary

1

tbsp

oregano

5-6

bay leaves

2

tsp

paprika

Salt and pepper
For the dumplings
1

cup

wholegrain spelt flour

1

cup

buckwheat flour

6

tbsp

plant milk of choice

make sure it is no added sugar milk!

1.5

tbsp

Olive oil

OR oil of choice

2

tsp

baking powder

1

heaped tbsp flax meal mixed with 5 tbsp water

1

tbsp

nutritional yeast

1

tsp

thyme

1

tsp

parsley

1

tsp

salt

1

tsp

pepper
Instructions
For the stew
If using a slow cooker, turn it on now to be heating up. If using an oven then you will ned to pre-heat at about 180C.

In a large frying pan add a dash of water, fry your sliced onions and carrots for around 7 minutes to get a bit of colour. You can use oil here if you like, but we prefer to keep this dish as whole foods plant based as possible and oil makes no difference to the end taste.

You may need to keep adding more hot water, so make sure you have a boiled kettle at hand. Allow for some sticking, then add water so that you get some caramelisation. Do not add cold water as you will lower the temperature of your pan, thus hindering cooking time.

Add your crushed garlic and fry for a further few minutes before adding your herbs and spices (bar the bay leaves) to the pan. Allow to stick slightly then add a dash more water, scrubbing the bottom of the pan with a fish slice as you go for more colour.

Do not over-do this process. We are just doing this for some extra flavour.

Now add the contents of your pan to your slow cooker (or whatever cooking method you are using), along with your soy mince, frozen peas, stock (you may not need all your stock, just enough to cover, you can add more later if you need to), potatoes, tomato paste, yeast extract and bay leaves.

If your soy mince says 'pre-soak', do not do this as this is not needed in a slow cooker, oven or stove top. Be careful when stirring your stew after you have added your mincemeat because it is delicate and you do not want to mulch it down to nothing.

Put the lid on and leave to slow cook for roughly 5 hours, stirring gently every so often. You will be adding your dumplings about 2 hours before the end of cooking time.

Meanwhile get your dumplings ready.
For the dumplings
Make a flax egg by mixing your ground flax with your water and leaving to sit for 10 minutes until it goes gloopy.

Add your dry ingredients to a bowl and your wet to another, Stir both, then add together and stir to form a stiff dough.

You will now have to get your hands in there and form 12 dumplings. Roll the mixture between your hand into ball shapes, then place on large plate.

After your stew has been slow cooing for 3 hours, you should now mix your cornflour with a tiny bit of water and thicken your stew. At this point you should check flavours and herbs and amend to taste. You should also get your stew to desired consistency.

Now place your dumplings gently on top of your stew, leaving space between each. Do not submerse completely. You want then half in and half out, floating on top of your stew. This way you will get a crispy top and a soft bottom on them.

If using the oven for your stew, you should put them in at the beginning, for the hob too.

Put the lid back on and carry on cooking for another 2 hours.

Once ready you may need to gently take your dumplings out and place them on a warm plate so you can stir your stew again and check consistency and flavour.

Serve with vegetables and possibly a crusty roll.
Video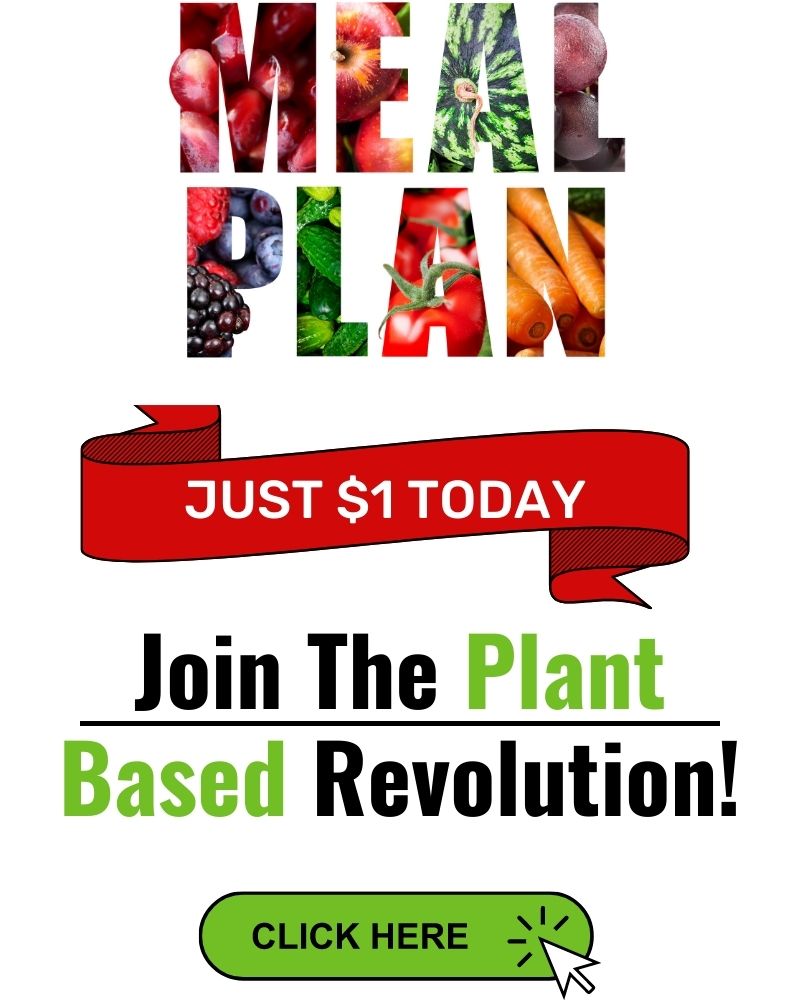 We hope you enjoy this recipe.
Please like and share this post with your friends via social media. We would LOVE you for that!
Why not check out our amazing, family friendly MEAL PLANS for just $1???
Let's share the love for a more plant based world!