Are you a cookie fan?
If so, we cannot stress to you enough how absolutely delicious these scrumptious and chewy, chocolate chip cookies are.
Oh, you will NOT regret for a second making these, and they will be gone fast. One is never enough once you sink your teeth into these bad boys. They're a real treat.
However, we of course like to make all our desserts and sweet treats as good for you as possible. Nothing is 100%, but we try and go as healthy as we can without compromising on taste and flavour.
Are these cookies healthier?
These easy, chocolate chip cookies are one of those bakes that we have made a wee bit healthier. And, lo and behold, we discovered that the wholegrain spelt flour, 85% cacao, dark chocolate and coconut/brown sugar additions made NO DIFFERENCE to the deliciousness of these popular cookies.
What a great discovery. Not everything needs to be packed full of refined sugars and white carbs to be tasty, and we found this out when we made this recipe.
Please be aware that these cookies may be 'healthier', but they are not completely healthy. You should always use portion control with high sugar and fat foods such as these. 
Wholegrain Spelt Flour Benefits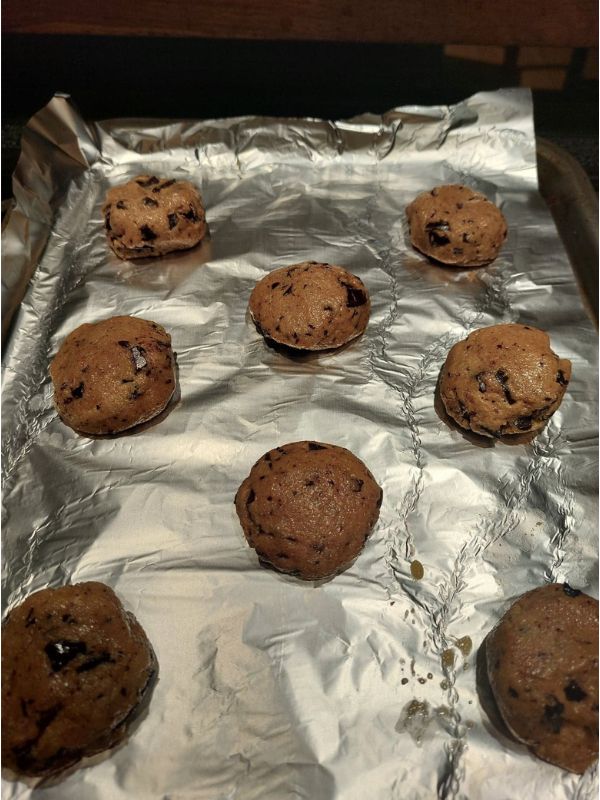 You can probably substitute any flour for this recipe, as long as it's some kind of wheat or distant wheat cousin (like spelt). We cannot guarantee the same results if you use something else but, by all means go ahead and try it.
Anyway, the wholegrain spelt works perfectly. Uncannily perfectly in fact. You could even say that the texture and chewiness of the spelt makes these chewy, chocolate chip cookies better than ever.
If you've never used spelt flour before then it's high time you tried it out in your baking. You're missing out otherwise! Plus, it's way more nutritious that most other flours.
Is spelt flour healthier?
In short, spelt flour is more nutritious than whole wheat flour and has a higher antioxidant capacity. This means it has the ability to help remove the free radicals associated with the aging process. Antioxidant rich foods in general help to destroy free radicals and should be eaten regularly.
Wholegrain spelt is high fibre
High protein (more than whole wheat flour)
Zinc
Magnesium
Iron
Manganese
Niacin
Phosphorus
Dark Chocolate Benefits
We have used 85% cacao solids, organic dark chocolate in these chewy cookies because it is so much lower in sugar. Regular chocolate is usually about 50% sugar and very bad for the body.
You do not need sweet chocolate in these cookies because they are already sweet enough with the brown sugar. Trust us, you really will not notice.
You'll also find that the dark variety of chocolate has a myriad of health benefits. It' is so rich in minerals, including:
Flavenols
Antioxidants
Magnesium
Copper
Phosphorus
Iron
The antioxidants and phenols in dark chocolate can enhance your mood.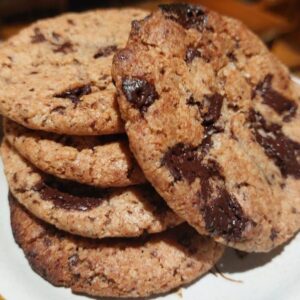 Simple & Seriously Chewy Chocolate Chip Cookies (Healthier)
These cookies are perfect with your afternoon cuppa!
Equipment
2 baking trays

Bowl

Wire wrack

Tin foil or parchment paper
Ingredients
1

cup

brown sugar or coconut sugar

1 ⅔

cup

wholegrain spelt flour

or spelt, white or brown flour

½

cup

vegan butter

2

tbsp

plant milk

any kind

1

tsp

vanilla paste or essence

optional

1

tbsp

corn starch

1

tsp

baking powder

160

g

of dark chocolate

85% cacao solids is good. You can use chocolate chips OR you can easily chop your chocolate up using a chopping board and a large chopping knife (be careful)
Instructions
Set your oven to 180C/ 350F or gas mark 4

In two large baking pans (bake 2 batches separately) line with tin foil or parchment paper.

In a medium sized bowl whisk you butter and sugar until fluffy. Ideally, use an electric whisk for this as you will get a fluffier result. If you have no electric whisk, then you can do this by hand with a metal fork (bear in mind this will take about 10 minutes with a fork).

Once you have your fluffy mix, add your vanilla if using, along with your plant milk and whisk again to incorporate.

Now add your sifted spelt flour and baking powder along with your cornflour and combine.

Gently stir in your chocolate.

Now divide your dough into 16 portions. Roll each portion into a ball. Place onto your baking sheets and flatten slightly. You will need to space these apart with at least an inch between each one as they will flatten much more during the baking process.

Ideally, you should make these cookies in 2 batches of 8. This so that there is nothing else taking the heat away. Roll your first batch of 8 cookie dough balls first, then add to the oven to bake whilst getting on with rolling your second batch.

Bake for 11 to 15 minutes. We think 12 minutes is the optimal time for chewy cookies, but go for a bit longer if your prefer a crunchy cookie. Both taste fantastic, but chewy has the edge.

Be very careful not to overbake these! They never look firm when you first take them out the oven; they will firm up as they cool.

Once out the oven. leave to cool and firm up for 10-15 minutes.

After this, place on a wire wrack for rest of cooling time then store in an air-tight container. They are best served straight from the fridge as this makes them chewier.
Video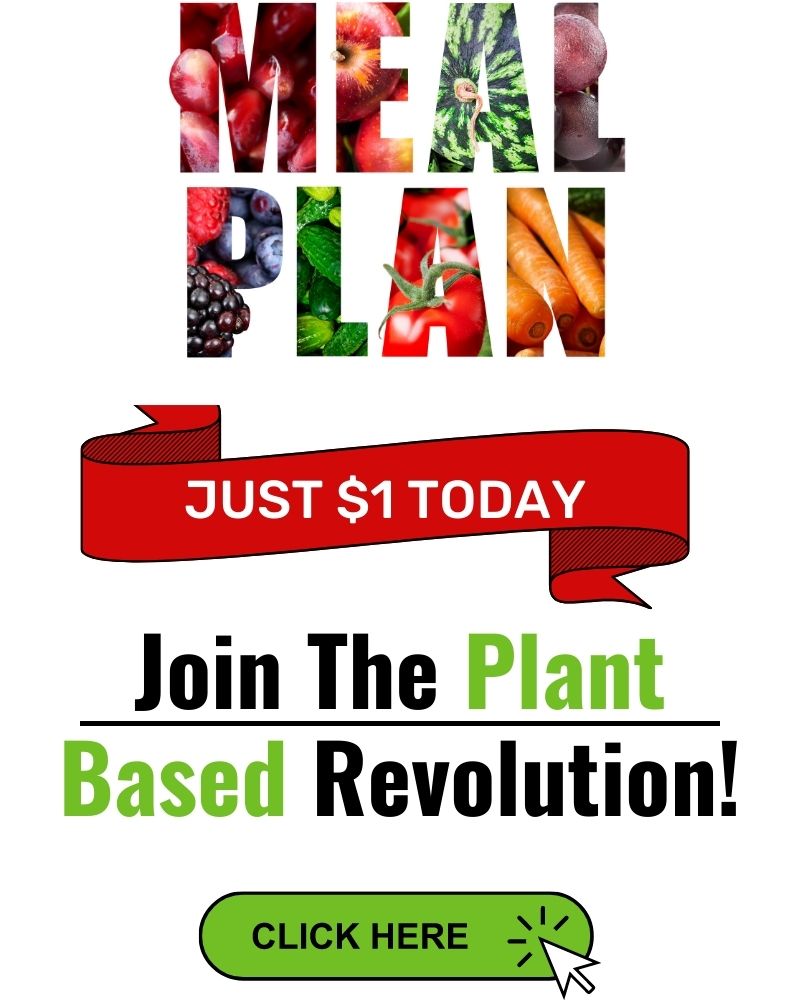 Thanks for enjoying this recipe from ZestForever!
As always, we would love it if you were to share this post with your friends. We're pretty certain that they would love chewy chocolate chip cookies too!
Let's spread the word for a more plant based world!