The best kind of soups and stews are filling, delicious and full of nutrition. And, this hearty, yellow split pea, sweet potato and carrot soup ticks all those boxes and much MORE!
Our delicious soup can be made chunky, semi chunky or smooth, depending on how you like your soups. However, we've tried and tested this and the very best way to serve this yellow split pea soup is semi chunky.
This is because yellow split peas have a fantastic texture and you want to be able to feel the benefit of this when you serve it up.
Benefits Of Yellow split Peas
There is lots of nutrition and protein in this EASY, yellow split pea soup recipe. For example:-
Protein
In just 1/2 a cup of yellow split peas you've got 8g of protein, which is the same as one egg.
Vitamins
Split peas are high in B vitamins such as:-
B1 – important for giving the body energy.
B5- helps to break down fats, which is why this soup is a great weight loss food.
B9 – important in the metabolism of protein and your DNA.
Best of all, all the amazing vitamins in your split pea soup work together, such is the power of the plant based diet.
Minerals
Phosphorus – a mineral found in teeth and bones. Important for energy production.
Magnesium – plays a role in protein synthesis, muscles, nerves, bones, blood sugar and is heart friendly.
Copper – essential in helping the body produce energy, creating neurotransmitters, gene expression and immunity.
Manganese – helps with the metabolism of cholesterol, glucose, carbs and amino acids. Also helps bones, sleep and reproduction.
Phytonutrients – found in all legumes, phytonutrients are high in antioxidants. Antioxidant rich foods help protect against free radicals and are very anti aging for the whole body.
Fiber
As split peas are a great source of soluble fiber, they help lower cholesterol and regulate blood sugar. High fiber foods are great for weight loss as they make you feel fuller for longer.
Is yellow pea soup healthy?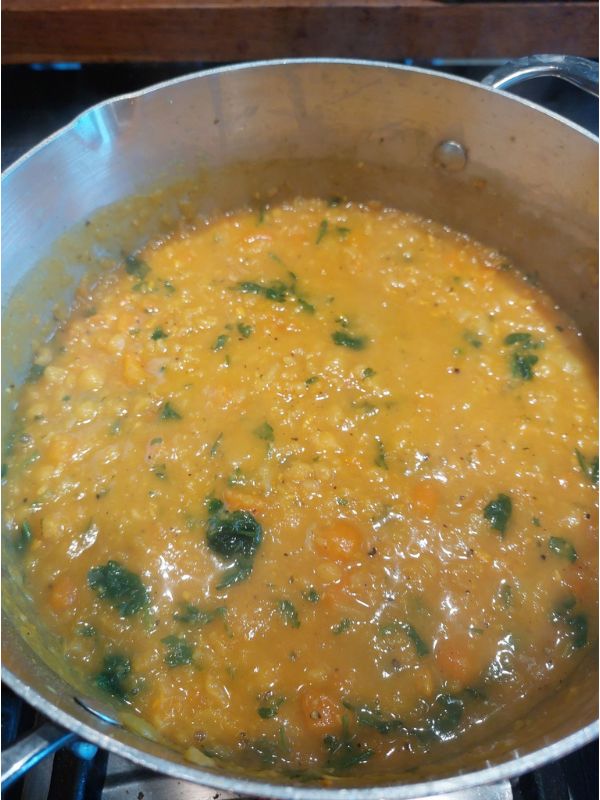 As you can see, there are many great reasons to make this super simple and highly nutritious soup a part of your diet. They are so healthy and this dish is also whole foods plant based. You need no oil!
Soups like this yellow split pea one are also very versatile. You can make this is big batches and eat it for days. You can also freeze it for a later date.
As this soup is so high in protein and slow burn carbohydrates, it means it is very filling. You can eat this for lunch OR dinner and be very satisfied.
To Serve
You can eat this soup on its own, as it has all the calories you need to keep your going if you have a larger portion. OR, serve with a some crusty bread or a roll and plant based butter to soak up the juices. It will be equally yummy either way.
If you serve with wholegrain or sourdough bread then you will be keeping this dish low GI and healthier still.
We have also served this will a big bunch of parsley stirred in at the end for extra flavour. Parsley is also a GREEN SUPERFOOD and has a myriad of health benefits, such as high levels of vitamins K, C and lots of antioxidants.
Try to add some fresh parsley to your meals as often as possible to feel it's amazing benefits on your body.
Why not have one of our delicious, apple-sultana tray cakes for your dessert!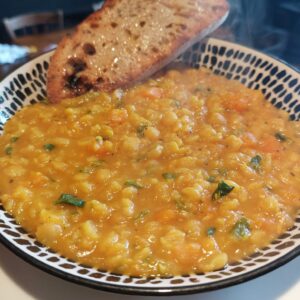 Hearty, Yellow Split Pea, Sweet Potato & Carrot Soup
This soup is high protein and filling enough to eat as a complete main meal.
Equipment
Large saucepan

Chopping board

Sharp chopping knives
Ingredients
500

g

pack of dried

yellow split peas

1

medium sized sweet potato

1

large white onion

4-5

medium carrots

1-2

cups

fresh

chopped parsley

2

tbsp

vegetable boullion powder

1-2

tsp

turmeric powder

1

tsp

paprika

Black pepper to taste

Roughly 1lt water
To serve
Chopped parsley

Crusty roll/bread
Instructions
Start of by getting your split peas off to cook by boiling them in fresh, salted water. Make sure they are well covered by water the whole time. You will need to cook these for a bout half an hour OR to packet instructions. You should stop boiling about 10 minutes before they are ready so they are slightly al dente.

Your split peas will need about 35 minutes to cook, so wait 15 minutes before you begin the next steps.

Dice your onion quite chunkily and add to a large saucepan. Fry in a little water for about 5 minutes to soften. You do not need any oils for this soup, but feel free to fry your onion in oil if you prefer (it makes no difference to the taste anyway).

Get your kettle on to boil with filtered water, ready to add to your soup.

In the meantime, chop up your carrots and sweet potato into smallish cubes and add to the saucepan with your onions. Fry for a further few minutes. Add your bouillon powder OR mix it in with your water first. In which case don't add it yet, wait until you add the water part of the recipe.

Now add the hot water and bring to a simmer (you will need roughly enough water to cover for now). Let simmer for about 10 minutes before adding your almost cooked yellow, split peas.

You will now need to cover and simmer again on a very low heat until everything is tender. Make sure sure the water is covering your ingredients by about 1/2 an inch the whole time. This will give you the best texture soup at the end. Be sure to keep adding more hot water if you need to as it will evaporate a little.

Taste test to make sure that everything is soft.

Now it's time to get your split pea soup to the texture you like. Half mashed is best and we do this with a potato masher. Crush your soup up with the masher whilst it's still in the pot. You want to leave texture, so don't go too far. BE VERY CAREFUL not to burn yourself whilst mashing into the soup as it will splash. Mash very gently.

Alternately, you can add half to a food processor and whizz until smooth, then add back to the soup.

Once mashed, add your turmeric, paprika, black pepper and half of your chopped parsley. Stir well.

Serve with a delicious crusty roll and extra fresh parsley on the top.
Video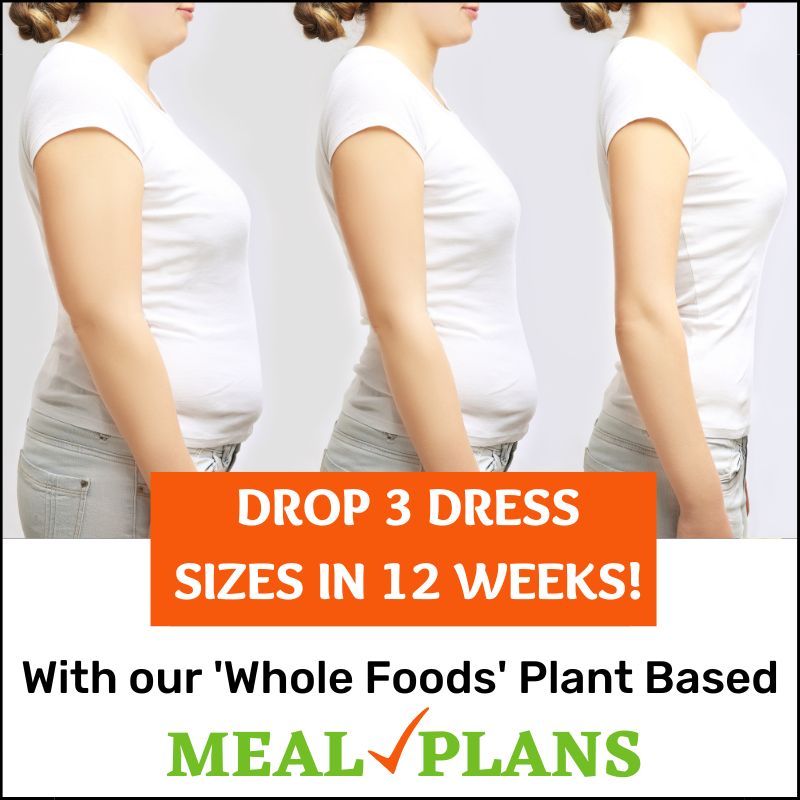 Thanks for visiting ZestForever today!
We hope you enjoy our delicious recipes as much as we do.
Please be nice and SHARE wit your friends.
Let's spread the plant based word for a more plant based world!