Do you crave a delicious pasta dish, but feel it's just not the same now you are eating a plant based diet?
If so, then this roasted butternut squash-veggie pasta with homemade parmesan is for YOU! my friend.
You won't feel like you're missing out with this pasta dish. It's the PERFECT comfort food come Summer or Winter.
You can make this vegetable pasta dish healthier if you use wholegrain pasta. This will lower the meal's glycemic index and also add lots more fibre to help keep your digestive system running smoothly.
Different types of pasta you can use in this dish
These days you will find an absolute abundance of pasta in your local supermarket. Long gone are the days when the only thing available was white, refined pasta. You can now get pasta made out of pretty much all the pulses and grains available. These include:-
Wholewheat
Spelt
Brown rice
Corn
Mung beans
Chickpeas
Red lentils
Soy
Buckwheat
Quinoa
Whole grain pastas are higher in protein
As you can see, there is so much to choose from that you can avoid anything you don't like or have an allergy to and find something to suit.
The great thing about using non-refined pastas is the fact they are always way HIGHER in protein, naturally. This is good for people eating a healthy, plant based diet due to the fact that you can eat your pasta with a simple tomato, white or vegetable sauce. And, you don't need to worry about the protein element of the meal as it's already covered in the pasta itself.
The highest protein pastas to use are:-
Buckwheat
Lentil
Soy
Chickpea
Mung bean
Quinoa
These pastas are higher protein because they come from a pulse or a seed. Pulses and seeds are usually higher in nutrients and antioxidants than those that come from grains. So, bear this in mind when choosing your pastas for most dishes.
Gluten free options
You will find that all that pastas under the 'higher protein' list are naturally gluten free too! You may also find that they cause less bloating ang gastrointestinal issues than the gluten options.
Is There A Vegetable Pasta?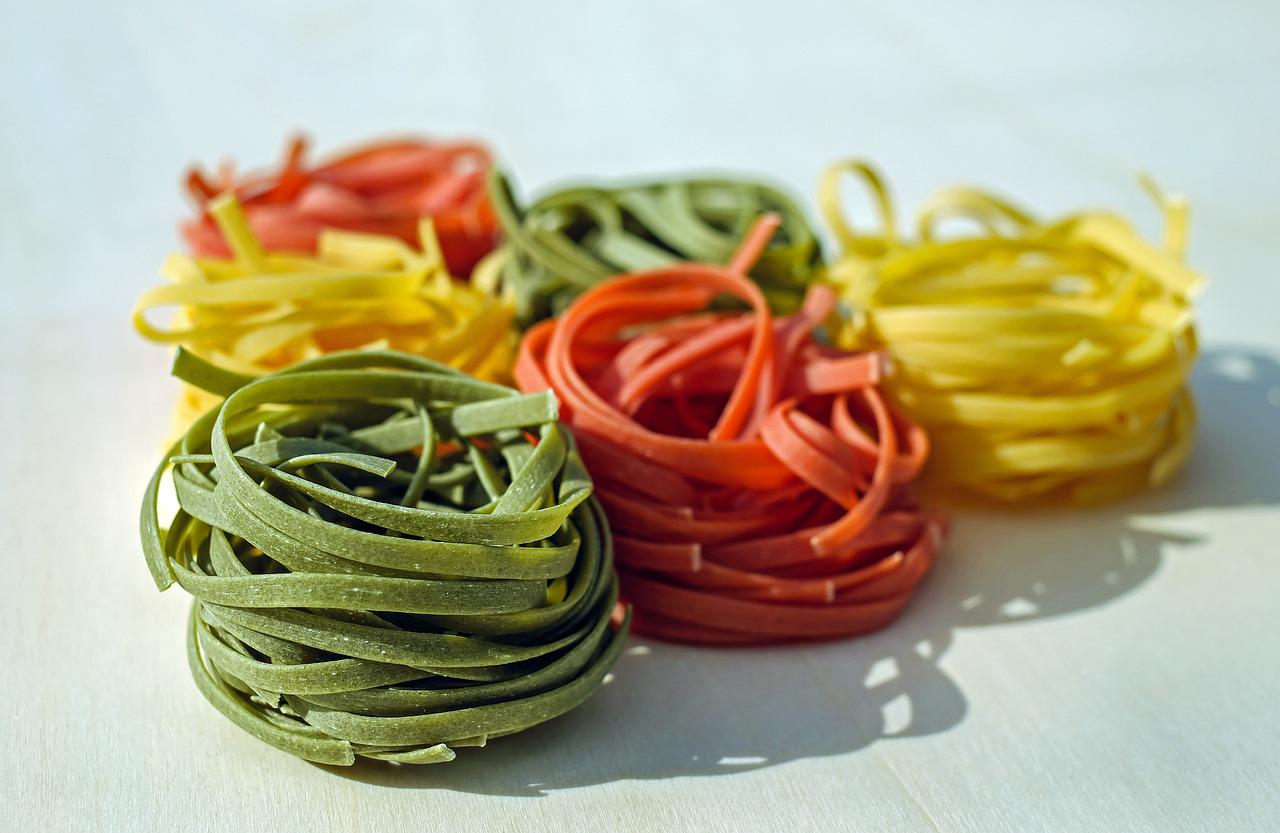 Sometimes you may wish to go for the lower carb option, especially if you need to watch your calories or need lower carb options for medical reasons.
In this case you can actually make your own pasta very easily in a spiraliser from courgette (zucchini). This will give you another vegetable, but also a very low carbohydrate and calorie meal.
You can also sometimes find veggie pastas in your local health food shop. There's even a zero carb pasta available, but it probably won't fill you up for long which is obviously a drawback.
What Food Goes With Pasta?
I you're looking for a side to go with your pasta dishes, then a crispy, light salad will usually be the perfect accompaniment. Green leaves, cucumber and tomato is a classic salad that goes really well with a vegan bolognese type sauce.
You can even have a side of lightly steamed veggies or spinach.
Easy Homemade Parmesan
You can add any vegan cheese to this butternut squash-veggie pasta dish. There are many available in the supermarkets and you can buy your own parmesan.
However, we have made this super simple version of parmesan from all whole food ingredients.
Eating more whole plant foods is a healthier way to eat on the plant based diet. This way you are steering clear of unhealthy oils, refined sugars and chemicals of all kinds. You're eating food in its whole and natural form which is how the body was designed to eat.
This homemade parmesan is made of just TWO INGREDIENTS, so definitely natural!
Best Pasta For This Dish
You can use any pasta of your choice, but as this dish has lots of big veggie chunks we have use a robust pasta. We used organic, wholegrain pasta tubes as they won't go mushy or break up. You will find that the best, robust pastas are wheat and corn.
This dish also goes well with spaghetti too!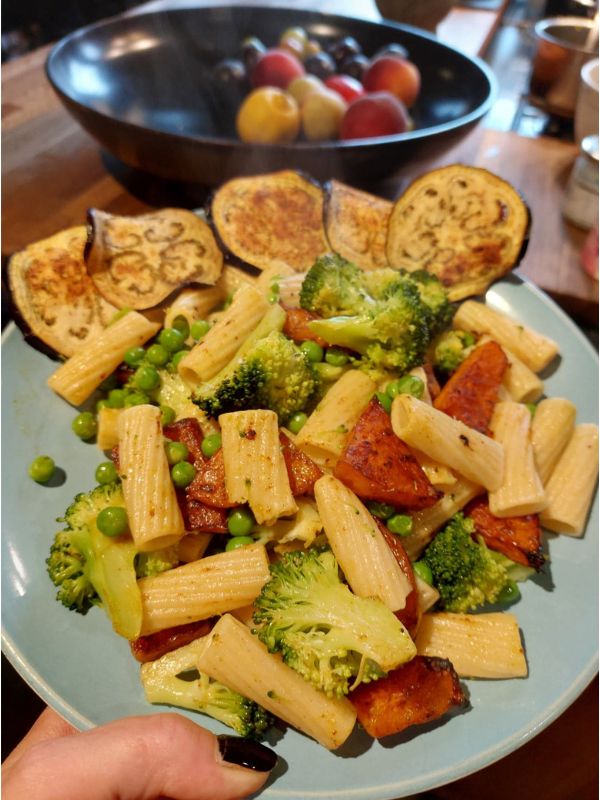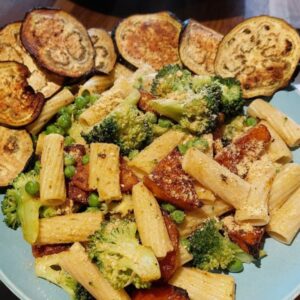 Roasted Butternut Squash-Veggie Pasta with Homemade Parmesan
Equipment
Salad

Large mixing bowl

Large baking tray

Chopping board

Knives

Saucepans

Spice or coffee grinder for homemade parmesan (optional)
Ingredients
120

g

pasta of choice

A sturdy pasta or spaghetti works best.

½

medium sized butternut squash

1

head broccoli

1.5

cups

green peas

1

tbsp

coconut oil

If you would like this dish to be WFPB then bake only in stock and balsamic.

1

tsp

paprika

1

tsp

turmeric

1

tsp

garlic powder

drizzle balsamic vinegar

½

cup

of veggie stock or water

salt and pepper
For homemade parmesan (optional)
2

tbsp

nutritional yeast

2

tbsp

sesame seeds

½

tsp

garlic powder

salt and pepper
Instructions
Turn your oven to 180C

Add your oil to a large pan and let it melt in the oven.

Meanwhile, peel and chop your butternut squash into inch cubes.

Toss into your oil with your spices, seasonings, stock and a good splash of balsamic vinegar. Return to the oven until roasted and sticky for about 40 minutes. You will want to toss your squash half way through. At this point you may wish to add as splash more vegetable stock, oil or water to prevent sticking.

After about 20 minutes of your squash roasting, get your pasta on to boil. We have used a wholegrain, robust wheat pasta pasta in this dish.

You can now make your homemade parmesan if using (see instructions below).

You can also begin to get your peas on to boil in enough water to cover and with a pinch of salt.

Chop your broccoli into bite-size pieces and either boil or steam lightly. Don't over boil as broccoli is best with a bite to, especially it in this roasted butternut squash-veggie pasta dish.

Prepare any sides or salads (optional)

When your squash, peas and broccoli is cooked you can begin to assemble. Put everything in a large bowl (not your parmesan) and mix. Add a good glug of olive oil to make it less dry if that's what you prefer.

Serve with your parmesan and other sides.
Homemade parmesan
Put all ingredients into a spice or coffee grinder and whizz into a powder.

Use what you need and store in your refrigerator for up to 4 weeks.
Video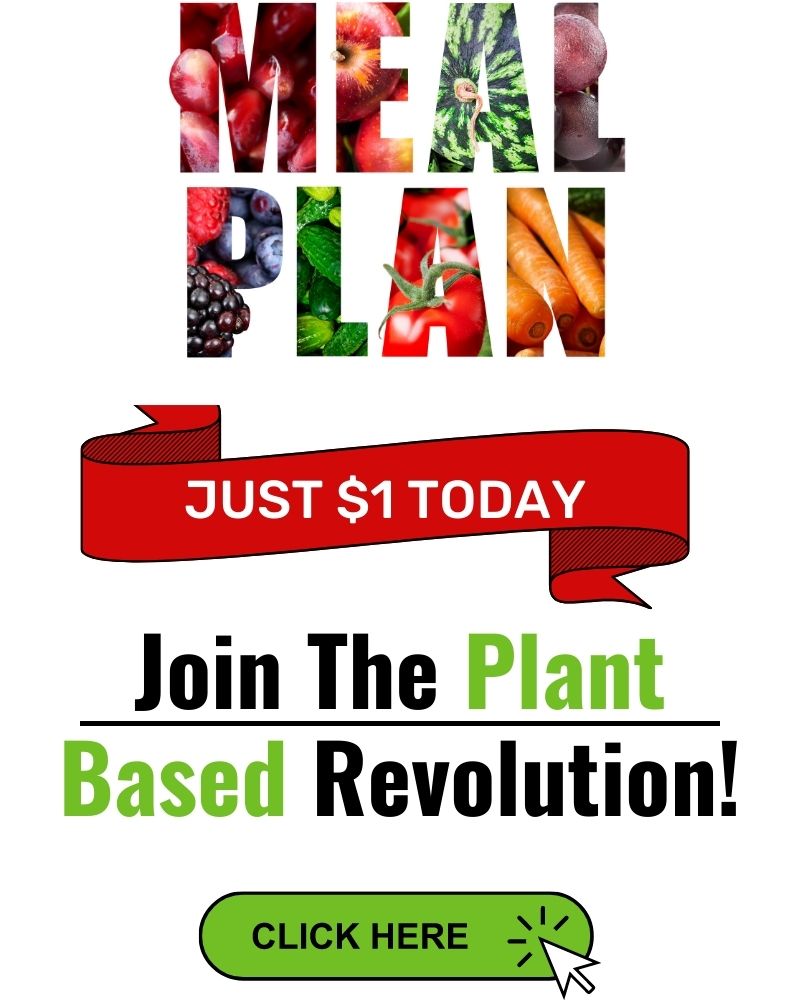 Thanks for visiting ZestForever today!
As usual, we would love for you to share our delicious recipes with your friends on your social media.
Help us to help others begin the amazing and healthful plant based diet for themselves and our beautiful planet.