I don't know about you, but when I decided to go 100% plant based based I had one bugbear. And, that was finding the perfect plant based spaghetti bolognese sauce recipe.
Being as spaghetti bolognese was one of my favorite dishes, finding a suitable substitute that satisfied my cravings adequately was top of my list of plant based "experiments".
I tried all manner of different sauces, but nothing gave me that meaty bite that I craved. Lentil and crushed walnuts came close, but it was what it was, and I couldn't convince my non meat eating family with it. I also found that I didn't really want to go down the road of too many processed soy products too, even though they came way closer to being like a 'real' bolognese sauce texture than lentils and walnuts.
But there are some amazing new plant based mince products out there that I never knew existed. If soy is not used, then they are usually made of pea protein which has a great texture and taste and work really well as a meat substitute.
What's so good about Plant Based Mince?
If you buy a from a quality brand, you're not getting a long list of added chemicals, additives, and all the other rubbish you find in most processed foods. This way you can eat as cleanly as possible without compromising on taste and texture.
They taste better than soy products, and soak up the flavours of your spices more readily.
Pea protein mince has a better bite and texture than your average soy mince.
It is super high protein, coming in at 45g of plant based protein per serving!
You can use this plant based mince as a substitute to any mince based meal, including stews and Shepherd's pies (both of which taste great with this).
Tips for making healthy plant based spaghetti bolognese:-
Use lots of fresh garlic
Use lots of fresh, minced garlic for both flavour and health reasons. Garlic is a POWERFUL, antioxidant rich herb (though technically it comes under the bracket of a botanical vegetable) that is anti microbial and anti fungal, along with many other health benefits.
The garlic you will use in this recipe will be cooked, which will destroy some of the potential benefits, unfortunately. But, feel free to add more fresh, crushed garlic towards the end of cooking time to up the nutrition value.
Saute vegetables in water
You do not need to use oil in this recipe, as it makes no difference to taste or the end result in general. Not adding extra fats makes this delicious bolognese whole foods plant based, oil free, very low fat, and low calorie, so perfect if you're watching your waistline.
You can just as easily fry your onions, carrots and celery in a little hot water the same as you would oil. In fact, cooking in water works better as it brings out the natural sweetness and flavour of the veggies, and caramalises the onion.
Never be afraid to experiment cooking with water, rather than the oil we are all led to believe is the only way to fry anything.
Low calorie
This flavourful meal is very low fat and low calorie if you cook it as per the below instructions. This then means you can have a guilt-free dessert!
Check out these amazing and super healthy, whole foods plant based desserts and take your pick of our ultimate favorites that you can eat and still stay healthy.
The fava and pea chunks are very low fat, high fiber and high protein, so they fill you up for a long time with very few calories (only 100 per serving). If you eat with portion control when it comes to your spaghetti, then this meal will be perfectly balanced.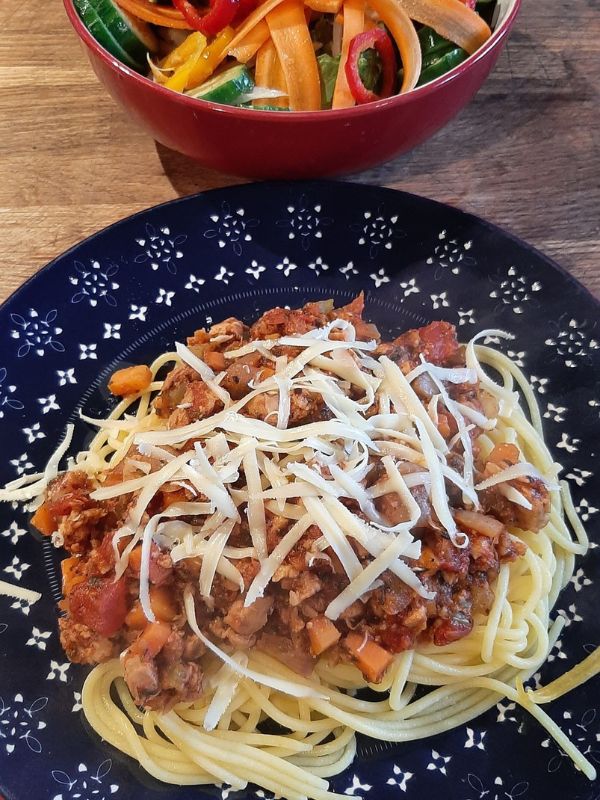 Herbs and spices
Don't ever be afraid of herbs and spices. All herbs and spices have medicinal properties, so don't skimp on them. Not only do they make food way more tasty, but they also add a substantial nutritional boost if you use them in negligible amounts.
We use a lot of herb and spice flavourings in this recipe, because plant based protein chunks need flavour added. They soak up the flavours from the herbs and spices to make them both interesting and tasty. This is why this plant based mince is so versatile, because you can make so many different dishes with it and change the flavours to suit the dish you're making.
Spaghetti/pasta
Keep this dish healthy and high fiber by not using your average refined pasta. Go for wholegrain, buckwheat, chickpea, brown rice or maize derived spaghetti (or any pasta of your choice). These healthier pasta's can be gluten free, higher in fiber, minerals and protein. Using these will make the dish way healthier than your average spag bol.
Side Salad
Always serve you plant based spaghetti bolognese sauce with a huge side salad for extra fiber and nutrients. You'll find that a crisp salad pairs deliciously with this kind of pasta dish. It's also a super easy way to make sure you get your daily quota of vegetables in one hit.
For a crispy, well-rounded salad use some dark green leaves such as spinach sliced Swiss chard, pak choy, baby kale, lamb's lettuce and rocket. Top with colourful veggies such as bell pepper, grated carrot, beetroot, red onion, finely chopped cauliflower and broccoli. Or, use literally ANYTHING you have to hand. Everything tastes great with a good salad dressing!
The best dressing for this kind of salad is an oil-free lemon juice, balsamic vinegar, apple cider vinegar, salt and pepper. This is very simple, and you can apply it to all your salads to add extra flavour and pizazz.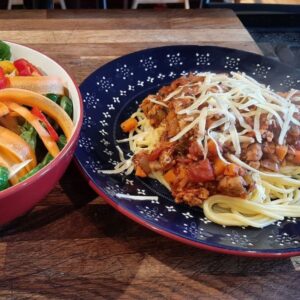 Plant Based Spaghetti Bolognese Sauce Recipe
high protein, low fat, plant based, vegan
Equipment
Large, non-stick frying pan

Large saucepan
Ingredients
1

packet packet of pea mincemeat

You can use any other plant based mince, but this one is the tastiest in our opinion

1

medium

white onion

2

medium carrots chopped finely

2

sticks of celery chopped finely

6-8

cloves

of fresh

garlic crushed

2

tbsp

of tomato paste

1

tbsp

of vegan Worcestershire sauce

2 x 400

g

tins of chopped

plum tomatoes

2

tsp

of vegetable bouillon powder

(or 1 vegetable stock cube)

2

tbsp

dried oregano

1.5

tbsp

of dried or fresh basil

(if using fresh, then add at the end of cooking before serving)

1

tsp

dried thyme

2

tsp

paprika powder

salt and pepper to taste

1.5

cups

hot water

This is a rough estimate

Pasta of choice to serve
Vegan parmesan (optional)
1

heaped tbsp

nutritional yeast

1

tbsp

sesame seeds OR walnuts

pinch

salt

pinch

garlic or onion powder
Instructions
First soak your pea plant based mince as per instructions

Meanwhile, in a large, non-stick frying pan, heat a little water

Chop and dice your onions, carrots and celery and fry for about 10 minutes until softened. Add dashes of more hot water as needed to prevent everything from drying out

Add all your spices, bouillon and garlic and dry fry for 1 minute

Add your drained mincemeat and fry everything over for a further 5 minutes, adding tiny splashes of water as you go to prevent too much sticking. It's ok to get a bit of a crisp on your mince as it adds to texture.

Add your tinned tomatoes, tomato paste, and 1 cup of water

Bring to simmer. Add more water if you need to, to obtain desired consistency for a bolognese sauce

Cover and simmer on very low heat until all your veggies are fully cooked (about 10 minutes). Make sure to keep stirring at intervals

In the meantime, prepare your pasta and salad ready to go

Stir in chopped fresh basil (if using fresh). Serve you bolognese sauce with your pasta. Add a little vegan grated cheese or parmezan to finish.
Vegan parmesan
Put all ingredients into a spice or coffee grinder and whizz to a powder.

Use what you need and store any leftovers in an air-tight container in the fridge for up t 4 weeks.
Video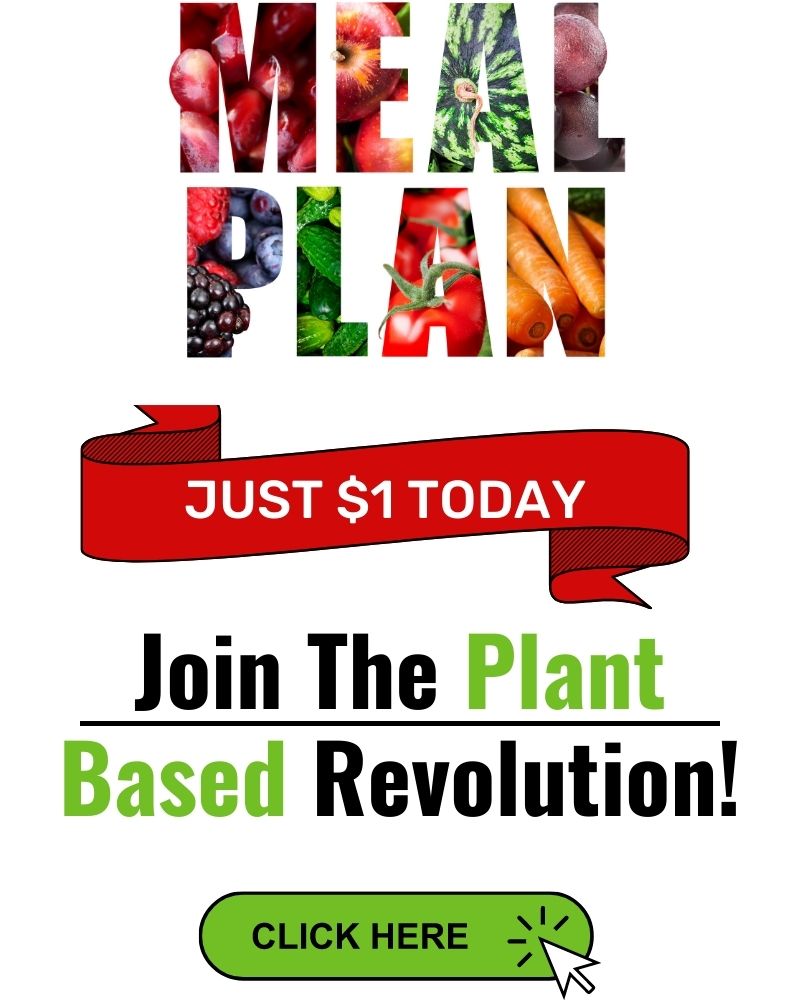 CONCLUSION
Plant based pea mince is a great way to get some good quality protein in your life. This is especially important if you are into fitness, weight training, or simply because you find it tough to get enough protein into your diet.
For more great recipes, meal plans, and complete shopping lists to help set you up for success with your plant based lifestyle, please check out our dietitian approved meal plans.
With our meal plans you will learn lots of new, exciting recipes that we know you and your family will enjoy for a lifetime.
As you like pasta, why not check out our roasted butternut squash pasta too?