In this post you will discover the best apple cider vinegar brands containing the Mother. Plus,  why you should be using this wonderful tonic every day, and its amazing benefits on health.
Apple cider vinegar can vary wildly in quality, so to be sure you get the best bang for your buck. Here we have written you a full guide to help you out.
What Is Apple Cider Vinegar?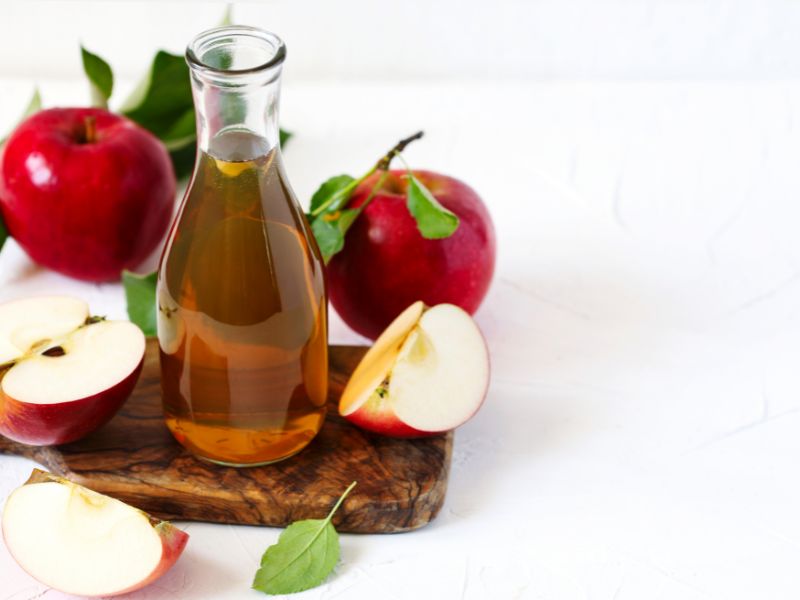 Apple cider vinegar has been used to aid health for centuries and certainly stands the test of time. It's made from a very simple process of crushing fresh apples, squeezing out their juice, then adding some yeast and bacteria. After which, it is then left to begin its fermentation process in which the sugars turn into alcohol.
But, even though it may sound very much like it is, this is not an alcoholic beverage by the time it finishes the second fermentation process which turns the alcohol into vinegar.
What Is The 'Mother' In Apple Cider Vinegar?
It is the 'Mother' in apple cider vinegar that gives the vinegar all its beneficial effects, therefore you should always take care to buy brands that are unpasturised, unrefined and unfiltered. Most labels will tell you this anyway.
You can usually be sure with quality brands that quality is the case. It is the cloudy sediment at the bottom of the bottle that is the colony of good bacteria known as the 'Mother', and is something that is very similar to the Scoby used in Kombutcha or Kefir.
Apple Cider Vinegar Benefits
1. DETOXIFICATION
Apple cider vinegar is a great detoxifier, especially of the liver. This in turn will help your whole body to function better as a result.
Good health starts with good detoxification, it's as simple as that, and AVC can help keep your lymphatic system healthy (your body's waste disposal unit).
Keeping your body detoxifying adequately is vital to your over-all health and wellbeing. Toxins that aren't, or can't, be eliminated from the body are often stored in your fat cells and can be one of the many contributors of weight gain.
Consuming apple cider vinegar often, along with lots of other known detoxifying foods, will help to keep your detoxification systems firing on all cylinders.
2. HELPS PROTECT YOU FROM HARMFUL BACTERIA
Apple cider vinegar's main active compound of acetic acid is responsible for helping to reduce harmful pathogens that may enter the body. These include, E Coli, or other potentially harmful bacteria, and may even help stop them from spreading, doing damage and potentially making you sick.
3. MAY HELP STRENGTHEN YOUR BONES
Osteoporosis is a very serious disease of our time that affects up to 4 times more women than men. It is also much more prevalent in women over the age of 50. This is usually due to the Estrogen decline in women after the menopause. It's the Estrogen that helps to keep the bones strong and healthy in the first place!
Menopause is a vital time to keep muscle mass and bone density high by doing weight bearing exercise, eating a healthy diet which lots of high calcium plant foods, and maybe using apple cider vinegar to help strengthen your skeletal system. All this in turn helps your body to actually absorb the calcium it needs from your food to help make you bones stronger.
4. ANTI AGING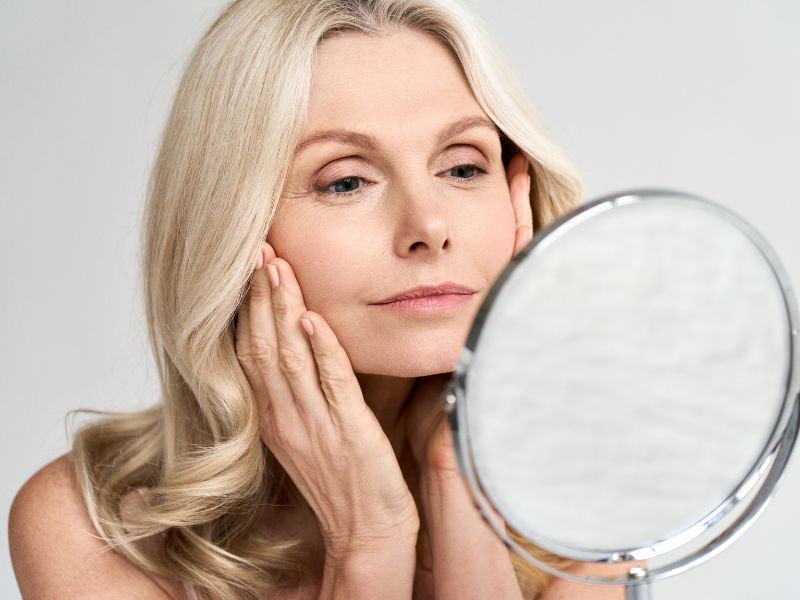 Apple cider vinegar can act as a powerful antioxidant to help keep you young and beautiful. Antioxidants help to slow down the aging process by neutralising the free radical damage done to our bodies from environmental toxins.
Such toxins include pollution, cigarette smoke, chemical sprays and fertilisers, cleaning products, pesticides and chemicals in food, alcohol. Plus the myriad of other damaging toxins that we come into contact with on a daily basis.
This all ties in with apple cider vinegar being a detoxifier as well because it can also help to eliminate these toxins after they have been neutralised. All these processes help to keep your skin clear, your brain sharp, and your body younger on both the inside and out.
5. CAN HELP LOWER BLOOD SUGAR
Most people with the modern diet eat far too much sugar. It's just a fact that the demon white stuff is hidden in so many of our foods that it's hard to keep track of how much we are actually taking in. But apple cider vinegar has been shown in studies to improve the insulin sensitivity of those with type 2 diabetes by 19-34% whilst eating a high carbohydrate meal.
Let's not forget that lower blood sugar is good for ALL of us, not just diabetics. If we don't keep our blood sugar under control then we may end up on the slippery slope to diseases such as obesity, metabolic syndrome, certain cancers, heart disease and of course type 2 diabetes.
So, by association, apple cider vinegar when taken daily could also help lower your chances of all of these too. Studies done so far in rats have supported this, though studies in actual humans have yet to be conducted.
6. AIDS WEIGHT LOSS
That special little compound in apple cider vinegar called acetic acid (which is a short chain fatty acid) is the compound that has been found in studies on rats to reduce fat gain whilst eating a high fat diet. This study has never been done in humans, but it can't harm to give it a try considering that it has so many other benefits anyway.
7. BOOSTS FULLNESS
Apple cider vinegar's acetic acid seems to have an effect on fullness and satiety levels too, meaning less urges to snack on unhealthy foods. AVC has also been found to suppress body fat mass and increase your expenditure of energy. This means it may help you to lose weight in that respect as well.
To get the best effects from the satiety and fullness that apple cider vinegar brings, it's best to drink a large glass of warm water with 1-2 tablespoons of apple cider vinegar and a squeeze of lemon before a meal. The volume alone helps you to eat less and the effects of the vinegar will only serve to boost the effects further.
It's also good to consume this drink first thing in the morning because it helps cleanse your system and get your skin glowing for the day. If you find it unpalatable without any kind of sweetness then you can add some raw honey or another natural sweetener. But, it's best to try get used to it without the added sweeteners to avoid sugar overload.
How To Make An Apple Cider Vinegar Drink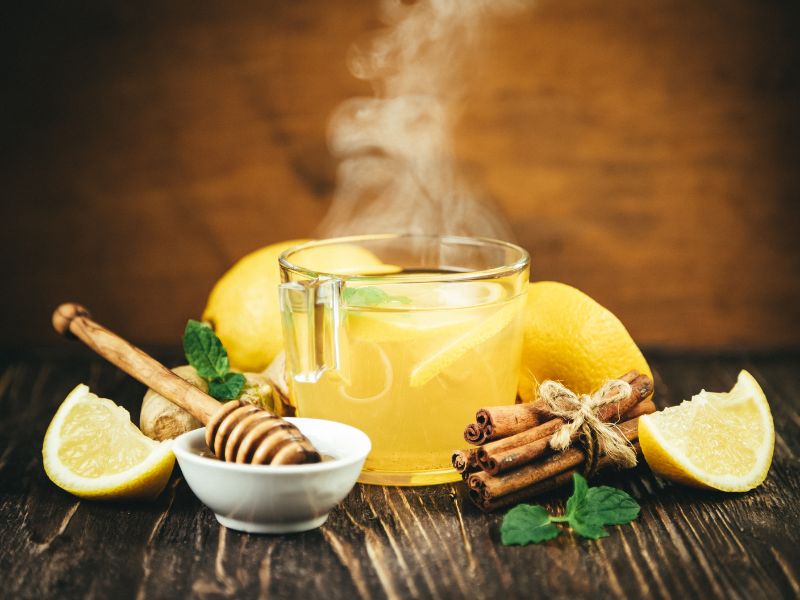 (from the Author) 'Here's a little recipe for an apple cider vinegar hot toddy that's a great winter warmer and is something that I first tried on a little inner city farm in London on a cold wintery day. It really gave me a boost, so I never forgot the recipe.
I just decided to add my own twist with the apple cider vinegar to make it even healthier. Try it, you will be amazed!'
Ingredients
1-2 tablespoons of apple cider vinegar with the 'mother'.
1 teaspoon of raw honey
1 cinnamon bark stick
Couple of slices of fresh ginger
5-6 cloves
Squeeze of lemon juice
Method
Put all ingredients into a glass or mug and add 1/4 cold water.
Mix. Then add hot water on top. Adding cold water first helps prevent any damage or killing of nutrients in the honey and vinegar which may not fare well having boiling water put straight onto them.
Mix with your cinnamon stick and enjoy.
TIP: You can reuse the cinnamon stick a few times before it loses its potency.
How To Use Apple Cider Vinegar
If you don't fancy adding your apple cider vinegar to a drink, there are other ways you can incorporate it into your diet. Some where you won't even be able to taste it as well.
These include:-
A SALAD DRESSING – Make a tasty salad dressing from apple cider vinegar, lemon or lime juice, healthy sweetener, olive oil, balsamic vinegar and some seasonings of your choice. Whisk together and throw over raw salads and veggies. Voila! Super healthy and delicious meals.
CAN BE USED IN ALL KINDS OF BAKING – Check out these many recipes here – you will be surprised.
GREAT ON CHIPS – If you're British of course!
As you can see, there are lots of ways you can get this wonderful, healthful vinegar into your life. If you really can't stand it, or if you think you won't be able to consume enough of it to feel the benefits, then there is always the option of taking it in capsule form.
Yes, you can actually buy ACV capsules and tablets of which we have listed below to show you what is available.
Top 5 High Quality Apple Cider Vinegar Brands 

Probably the best known apple cider vinegar brand in the world! Braggs was founded in 1912 and has been going strong ever since by creating all sorts of healthful products, along with their famous cider vinegar. It is purely organic, raw, unfiltered, unpasturised, and just bursting with live enzymes and potassium, both of which help to support healthy digestion and immunity.
We love this brand as it always seems to have trusted and rave reviews, among them are the following:-
Bragg's Apple Cider Vinegar Amazon reviews say:-
Seems to ease my arthritic joint pain when taken at 2 tablespoons daily.
Great for acid reflux – works better than pharmaceutical drugs.
Curbs appetite for hours, so great for weight loss.
Helps keep me energised for the day when taken with raw honey and cinnamon.
Tastes palatable.
Love the fact that it doesn't need to be refrigerated.
Calms my stomach and helps me to digest my food.
I lost 10lbs using this stuff, and am now ripped again.
The link we have used on this product is from a seller who has lots of good reviews. We noticed that some sellers had bad reviews and were even accused of selling a fake watered down product. But this one seems to be the real deal judging by what buyers have to say.
It goes to show that you really do need to research before you buy any food product!
2. Biona – Apple Cider Vinegar With The Mother
This organic Biona product is non heat treated and unpasturised to protect its valuable nutrients and enzymes. It contains no added sugars and is made from cold pressed organic apples aged in wooden casks, giving you a very robust taste of both fruity and tangy. Delicious, especially in salad dressings.
Customer reviews say:-
I use it every day in fresh orange juice and it makes me feel great.
Superb flavour compared to others on the market.
Nice taste; almost like cider.
Great product and quick delivery (in the UK anyway).
Great packaging.
Nice smell.
3. Kent Apple Cider Vinegar – 1 litre (only available in the UK)

I had to put this one on the list as I am a girl from Kent myself and thought I should pay homage to my roots. And being as Kent is known as the garden of England, I believe it must produce some amazing tasting products too.
This apple cider vinegar promises to be made from pure apple juice with no leftovers such as peels and cores. It is age matured to give it its own delicious and distinctive flavour, which they actually say tastes like 'the garden of England'.
It is raw, unpasturised and contains the 'mother', which as we know, is its healthiest bit.
Reviewer's of this product had this to say:-
Well packaged and quick delivery.
The best apple cider vinegar product I have tried so far.
A great UK product that is just as good as Braggs.
Good depth of flavour.
Lovely bottle, and a great aroma of apples when you open the lid.
Very cloudy – which is a sign of quality in an apple cider vinegar.
Unfortunately, not a great lid.
4. New Nordic – Apple Cider Vinegar High Strength Supplement 60 X 720mg Tablets
Serving Suggestion – 2-3 tablets with a glass of water.


This New Nordic supplement seems to be specifically aimed at weight loss and digestion due to its ability to help break down fats. The tablets are manufactured in Sweden and contain a mix of not just apple cider vinegar, but also globe artichoke, choline and dandelion extracts – all of which are known liver detoxifiers.
Artichoke also helps you to break down and digest fats. Obviously is a good thing if you are looking to shed a few excess pounds alongside a healthy diet. And the choline helps to aid normal fat metabolism.
Reviewers of this product had this to say about it:-
Worked to help relieve nausea.
Better sleep.
Helped to suppress my appetite.
Improved my vitality and digestion.
Not sure about the taste, but it worked anyway.
Relief from bloating and queasiness.
5. Now – Apple Cider Vinegar Capsules 180 Capsules of 450mg each
These capsules are non GMO, nut free, wheat free, soy free and gluten free. They are perfect for those times when you just either don't fancy drinking your vinegar, or for travelling.
It's simple and much easier to pop a pill and with this company you are assured quality products that contain nothing nasty, just pure apple cider vinegar powder.
Serving size is 2 capsules a day which will give you a hit of 900mg of apple cider vinegar (equivalent to almost 20ml of pure apple cider vinegar liquid).
Reviews for this Product say:

–
Capsules are coated and easy to swallow.
Strong vinegar smell to the actual capsules, but it does not linger after you have taken them.
Helped ease my mild stomach ache.
Good source of minerals.
Helped relieve the pain and stiffness of osteoarthritis in my hands.
Couldn't live without it now as it has helped my joint pain so much.
A staple part of my 82lb weight loss!
Helped my digestion.
Helped my candida.
Helps my acid reflux.
Great replacement for the liquid.
We hope you have found some apple cider vinegar supplements on this list to suit you and your needs.
If you do decide to give apple cider vinegar a try for whatever reason, then we would love to hear about your results.
Please post any relevant questions or information in the comments thread below and we will get back to you as soon as we can.
Remember that you cannot transform your health, lose weight, or cure any disease from just one thing alone. Foods such as apple cider vinegar should be used alongside the foundation of a general healthy lifestyle, healthy diet and regular exercise. In which case they can then work as an added boost and assurance.
Thanks for stopping by and supporting this ZestForever today!