If you don't know much about quinoa, then you'll be pleased to learn that it is in fact one of the most nutritious superfoods on the planet.
This amazing seed offers a full spectrum of amino acids, fibre, nutrients, and omega 3 fatty acids. These are just some of the great reasons as to why you should be eating this glorious little seed as much as you possibly can. And, one way to do that is through these delicious health, quinoa breakfast recipes.
What Is Quinoa?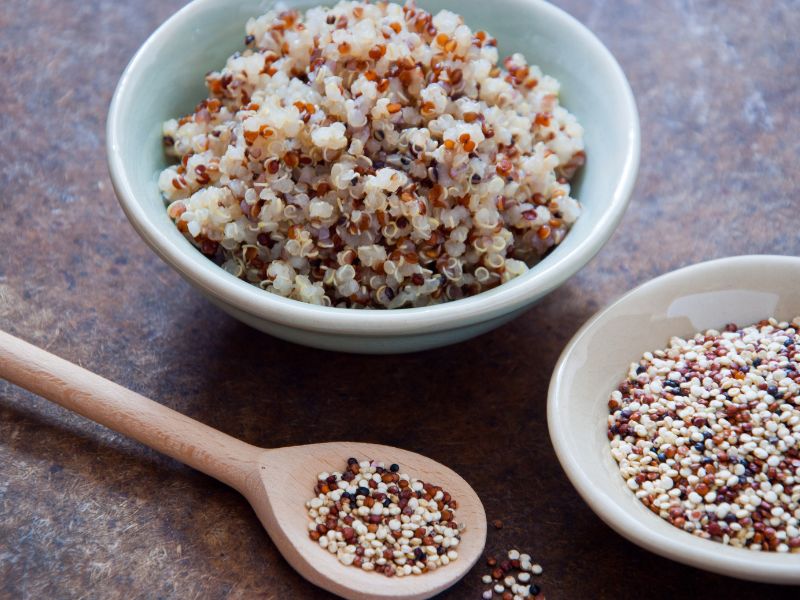 This super seed is a perfect plant based food offering ALL 9 essential amino acids in sufficient amounts to be useful in the body. Amino acids are the building blocks of protein that is a macronutrient vital to keeping muscle mass high and helping the synthesis of hormones and neurotransmitters.
Amino acids are categorised into 3 groups: non essential (meaning the body can produce its own). Conditionally essential (meaning the body can produce its own unless specific circumstances stop the production, such as in the case of certain illnesses or stress). And, essential (meaning they must be put into the body through either diet or supplementation).
As this ancient seed contains considerable amounts of all the essential amino acids (something that can only be found in very few other sources in the in the plant world), it stands to reason that this is why it is known as such a healthy food.
Where does quinoa originate from?
There are actually around 120 different types of quinoa. Pretty mind blowing considering you only really see three different types for commercial use that are the red, black and white variety. The most common being the white.
A part of the Amaranth family, quinoa originated in the Andean mountains of South America and was a very important crop for the Inca empire. It has since tripled in price now that it is so popular the world over.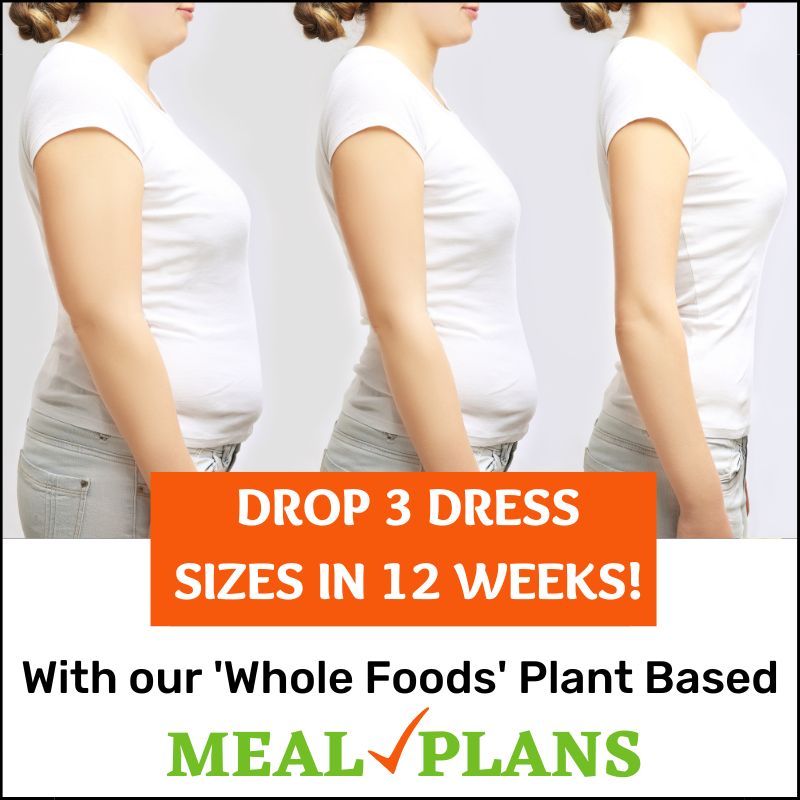 Benefits Of Quinoa
HIGHLY NUTRITIOUS
A 'WHOLE FOOD' – Meaning it contains all the components for a complete meal alone.
GLUTEN FREE – So, great for those with intolerances.
HIGH FIBER – Fibre keeps you full, helps keep blood sugar stable, and helps to stop you snacking (all things great for weight loss).
HIGH IN MAGNESIUM
HIGH IN PHOSPHORUS
SOURCE OF B VITAMINS
CONTAINS OMEGA 3 FATTY ACIDS
CONTAINS THE FLAVENOLS QUERCETIN AND KAEMPFEROL
HIGH IN IRON
LOW GI – So, great for diabetics or anybody with blood sugar problems.
HIGH IN ANTIOXIDANTS – Important for scavenging free radicals in the body and ANT AGING!
A GREAT PROTEIN FOR VEGANS
FANTASTIC FOOD FOR BUILDING MUSCLE
How Do I Use Quinoa?
The great thing about this versatile seed is it can be used at quite literally ANY meal both savoury and sweet for breakfast, lunch, dinner or even dessert. There's not many foods you can say that about!
Examples on how to use quinoa
An alternative to rice, pasta, potatoes or any other carb you may wish to eat, depending on the dish. As quinoa most closely resembles rice, it makes sense to use it more as a rice alternative with maybe a delicious, veggie curry or a chili con carne.
Use as a protein source in itself alongside some balsamic roasted vegetables or a mixed salad.
Grind up and used as a flour in cakes, breads, healthy cookies, or anything else you would normally use flour in. You should halve quinoa flour with your normal flour as it's pretty heavy to use on its own and will not rise without some kind of raising agent. You can easily make your own flours at home instead of paying 10 times more to have it pre-ground.
As a pudding or porridge.
As a great soft food for your toddler or kids.
Make a healthy quinoa breakfast such as the examples below as it's a great start to your day.
What colour quinoa tastes the best?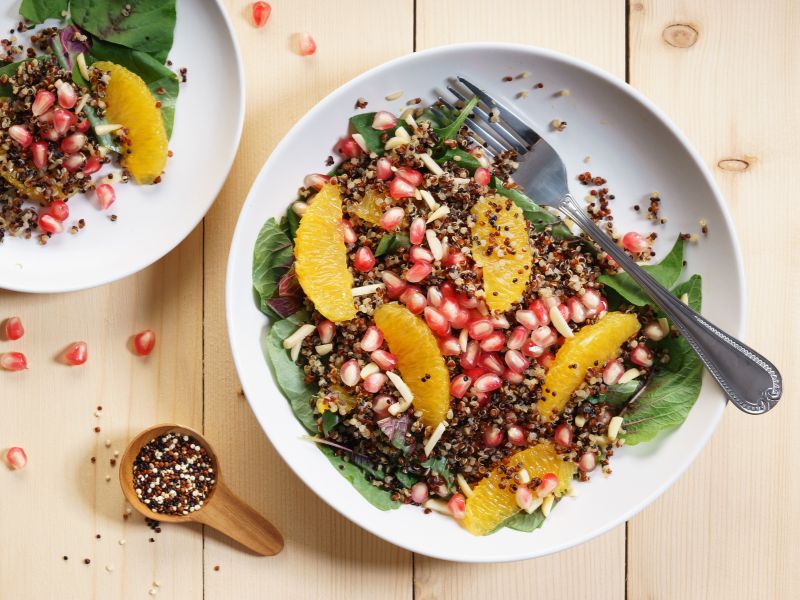 White quinoa is the most readily available and can be used in any dish both sweet and savoury. It tastes creamier and cooks up fluffier than the others, which is why it is best for deserts or sweet dishes and definitely better for quinoa porridge.
White quinoa is the best to use in dishes that you would normally use rice in, as its flavour will not overpower the dish. It will also soak up other flavours and juices.
Red quinoa is hardier and can stand up to more cooking and mixing. It has a nuttier flavour and holds its shape and texture well, making it the best for complimenting salad dishes. The red doesn't seem to soak up the juices of a dish like you would want it to if you had a curry for instance, so maybe don't use if for that purpose.
Black quinoa is similar to red and has an earthy flavour. Again, we wouldn't use it for dishes that you would like more 'soak' with.
Tri coloured quinoa is a mix of all 3, and because it contains the white you can get away with using it as a rice substitute. Not so great in sweet dishes due to the more earthy flavours of the red and black.
How To Cook Quinoa
Cooking quinoa is just as simple as cooking any other grain or pasta, so no technical kitchen skills needed here!
Wash thoroughly before use to be sure to be rid of all impurities.
Add to a pan and cover with the same amount of water again, so half and half. White quinoa tends to double in size, so bear this in mind when thinking about portions. If you prefer your quinoa on the softer side then it will two third its size.
Add a generous pinch of salt. Or even cook in stock for a better flavour.
If you're going to be using your quinoa for a sweet dish then just boil in water alone. OR even in some kind of nut milk for creaminess.
Boil gently for 10-15 minutes until your liquid has absorbed. You may need to add more as you go if it is not soft enough for your liking.
Healthy Quinoa Breakfast Recipes – Our Top 5 Favourites
If you're wondering " is it good to eat quinoa for breakfast" then the answer is YES. Quinoa has everything you could possibly need to give you a great start to the day and is an example of a whole foods, plant based breakfast.
Make a quinoa breakfast porridge as a great start to the day. You can add so many different flavours, fruits, nuts, seeds, or anything else you fancy. These quinoa breakfast recipes all start off with the same base, so first be sure to cook your WHITE quinoa the following way.
The recipes below serve two people so you can amend them accordingly. Or even make up a batch and refrigerate for the next day to save time. This way you can alternate your toppings etc to keep things fresh and to stop you getting bored.
Remember, it's great to save time in the mornings so you can get your busy day started as soon as possible. That's why we always recommend batching everything you cook, bake or make for breakfast. This includes these delicious quinoa bowls and homemade granolas.
Cooking white quinoa for ALL breakfast bowls:-
This method will semi cook the quinoa leaving some extra cooking times with your milk and other ingredients in the actual recipes. All based on a two person serving. You can use quinoa flakes too, but you will have to adjust your cooking times as per pack instructions.
Ingredients:-
1/2 cup of dry white quinoa
1 cup of water
Method:-
Rinse the quinoa thoroughly in a sieve to get rid of all impurities.
Add to saucepan.
Bring to the boil.
Simmer for 10 minutes.
If the white quinoa hasn't soaked up all the water, then drain and rinse. The aim is to not fully cook the quinoa as you want to finish off your cooking in nut milk as per the recipes below.
1. Cinnamon, Apple and Chia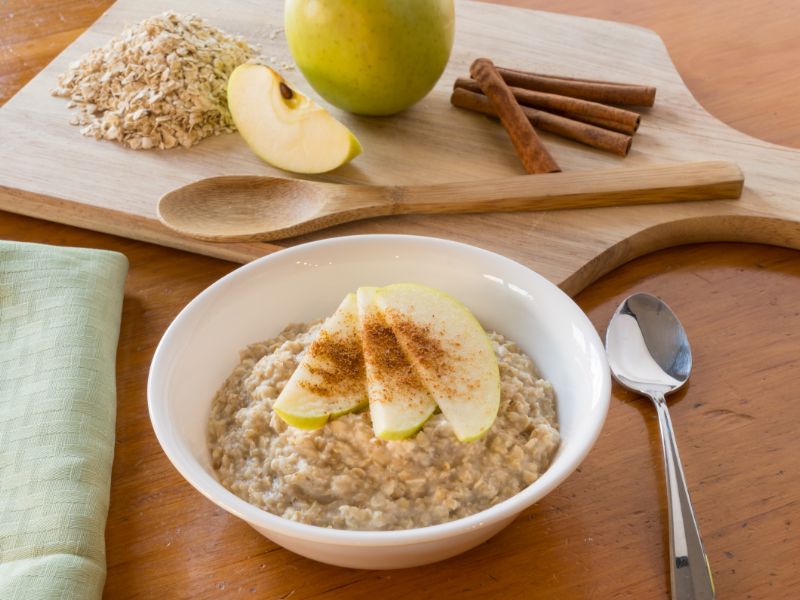 This one is a comforting winter warmer, plus spices are a fat burner!
Cinnamon will help keep your blood sugar stable and also lower the GI of the whole meal. And the chia is a high fibre, nutrient dense, omega 3 seed to help set you up for the day.
Ingredients:-
1 Cup of pre semi cooked Quinoa
1 Cup of milk (soy, oat, hemp, rice, coconut or almond are all great)
2 Sweet apples chopped small or grated with skins
1 Teaspoon of ground cinnamon
1 Tablespoon of Chia seeds
Vanilla extract to taste
Maple syrup, agave or date paste for drizzling on top if you like it sweeter.
Method:-
Add your nut milk to the quinoa, bring to the boil then simmer for a couple of minutes.
Add chopped apples, cinnamon, vanilla and chia seeds and simmer for a further couple of minutes until the quinoa is the texture you require. If you prefer a runnier porridge, add more milk. If firmer, add less milk or simmer for longer.
Drizzle with a sweetener of your choice and enjoy.
2. Summer Strawberry Coconut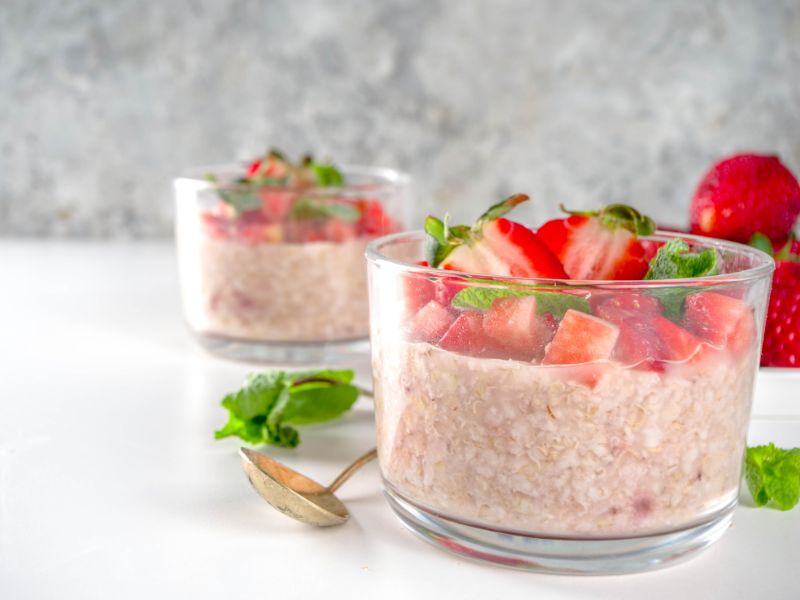 This one is scrummy just for the sake of being scrummy, and reminds me of my year spent in Southern Spain where strawberries where dirt cheap, tasty and available everywhere.
Back then it was strawberry porridge with traditional oats that I made for my breakfast most days, but these days I like this healthier quinoa version too.
The coconut chips give it an added Je Ne Sais Quoi that just makes it taste summery and delightful.
Ingredients:-
1 Cup of pre semi cooked Quinoa
1 Cup of coconut milk
6-8 large chopped ripe and sweet strawberries
2 teaspoons of coconut sugar. (xylitol is great for a low sugar version)
Toasted coconut chips
Method:-
Simmer your quinoa and coconut sugar in the milk for 5 minutes until almost ready to go.
Add your chopped strawberries and warm through quickly. Don't over cook!
Sprinkle with toasted coconut chips.
Enjoy on the balcony in the morning sunshine.
3. Banana Sultana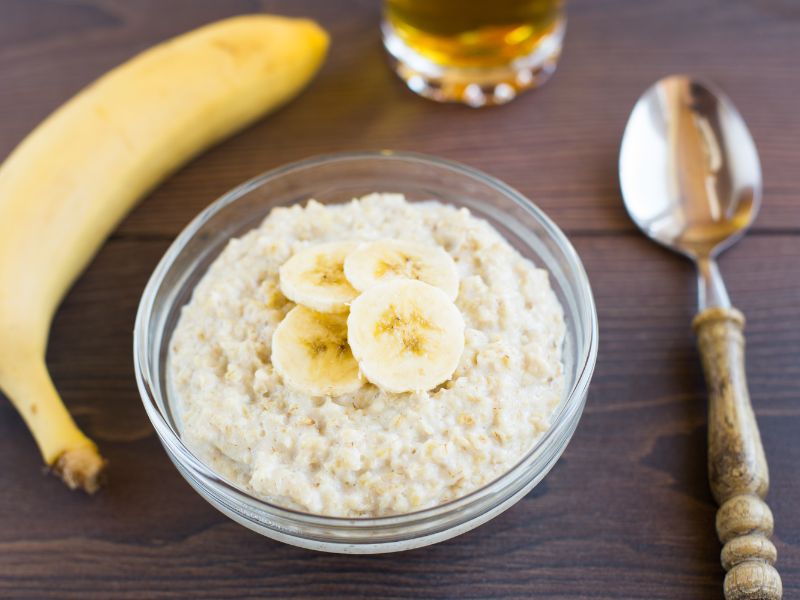 Sultanas are not only super sweet and delicious, but they are also a proven fat burning fruit that are super high in anti aging antioxidants.
The Nutmeg is great for digestion, and is yet another powerhouse of antioxidants, so be GENEROUS with it.
Ingredients:-
1 Cup of pre semi cooked Quinoa
1 Cup of milk of your choice
1 Large very ripe banana, or 2 small, both mushed with a fork
Handful of sultanas
Nutmeg
Method:-
Cook your quinoa in nut milk for a couple of minutes. Oat milk is particularly good in this one.
Add mushed banana, sultanas, and nutmeg to taste.
Simmer for a few more minutes until desired texture and consistency is acquired.
Eat on a cold winters day.
4. Double Chocolate Heaven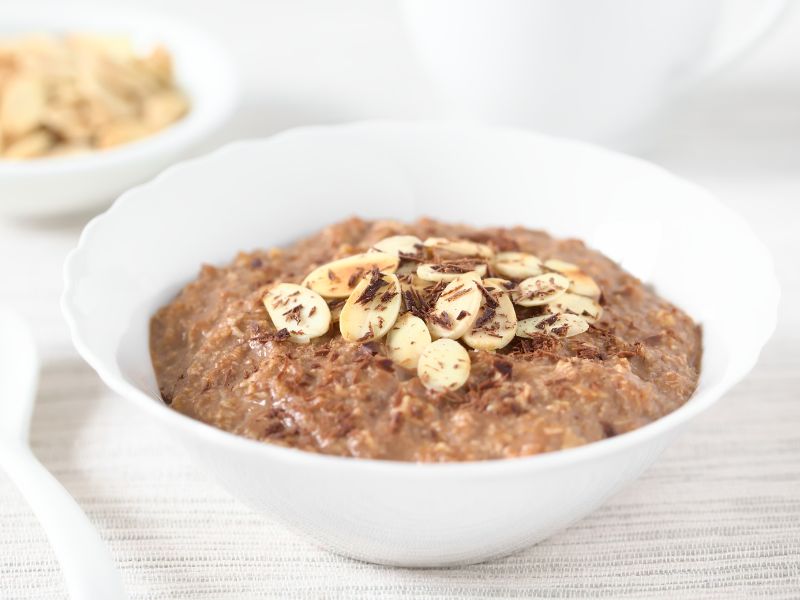 If you're a chocoholic and need any old excuse to eat it for breakfast, lunch and dinner then look no further. Cacao (and dark chocolate) have so many antioxidants and health benefits that it is actually a health food. And a million miles away from the sugary candy type of stuff that most people eat at that!
The flavenols in the cacao bean and dark chocolate help sharpen your brain and boost cognitive function. So, what better food could you eat to set you up for the day than this chocolatey porridge?
Ingredients:-
1 Cup of pre semi cooked quinoa
1 Cup almond milk
1 Large mashed ripe banana
1 Tablespoon spoon of good quality cacao powder
Vanilla paste or essence to taste
1 Tablespoon of maple syrup or agave nectar
Fresh raspberries to serve
Few squares of grated, or roughly chopped dark chocolate to serve
Coconut yogurt (optional)
Method:-
Add your quinoa to cold nut milk and bring to the boil. Simmer for a few minutes.
Add your mashed banana, cacao powder, vanilla and sweetener and cook until required texture is acquired. Should be a further few minutes.
Serve and add fresh raspberries, grated chocolate and coconut yogurt if using.
Enjoy any time of the day.
5. Blueberry Beauty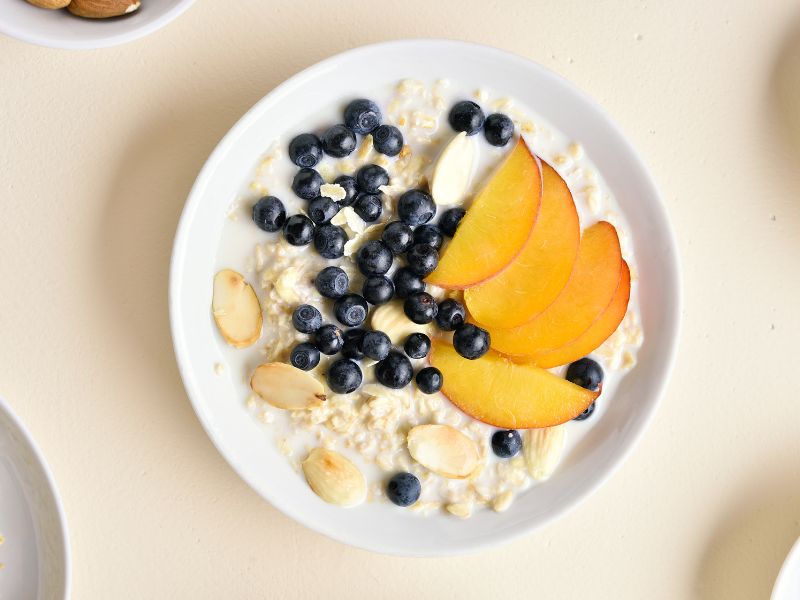 Blueberries are PACKED full of skin boosting, anti aging antioxidants, are low GI (so good for fat burning), and can also help boost memory and brain power.
Just try to keep your blueberry cooking to a minimum as not to destroy any of those wonderful nutrients.
Ingredients:-
1 Cup of pre semi cooked quinoa
1 Cup of nut milk of choice
1 cup of fresh or frozen blueberries
1 tablespoon of chia seeds
Handful of chopped fresh walnuts to serve
Handful of fresh blueberries to serve
Sweetener of choice
Method:-
Bring quinoa to the boil with the nut milk, sweetener and chia seeds and simmer for 5 minutes.
Add your fresh or frozen blueberries and heat through, mashing a few up with a fork as you go so the whole thing turns a deep purple colour.
Serve with a sprinkling of fresh chopped walnuts and some further fresh blueberries.
CONCLUSION
Quinoa is an amazing food and well worth incorporating into your diet as much as you can.
These breakfasts are just one easy way to eat this amino acid rich superfood.
Thanks for visiting ZestForever today! You're support is always welcome and we would love to invite you to share the plant based love to your friends by sharing these recipes.
Let's bring about a plant based REVOLUTION!