Sometimes all you want is a bowl of crunchy granola with cold milk, right? Or, even on top of a delicious, homemade chocolate ice-cream. There's something about the crunch, sweetness and coolness of this popular breakfast that makes it a comfort food crave to.
Of course, we like to make ours as WHOLE foods and as HEALTHY as humanly possible without compromising on taste. Our homemade, RAW granola with antioxidant rich superfoods will hit every spot and is way tastier and fresher than any shop bought granola you could buy for a fraction of the price.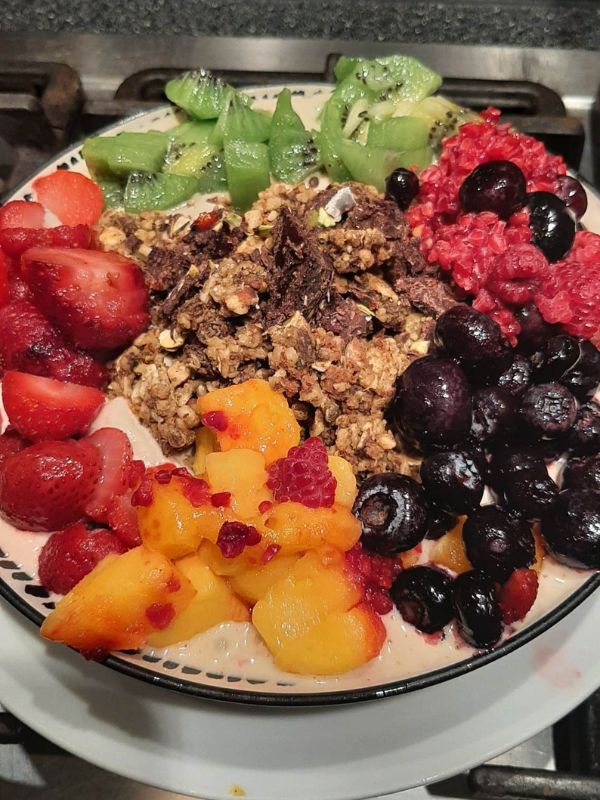 Is Homemade Granola Healthy?
Yes, homemade granola can be extremely healthy and a great start to the day, providing you watch the ingredients you use. Most shop bought granolas will be loaded with cheap and refined sugars. And, there is a common misconception that granola is a healthy breakfast, but this is most certainly not the case with most pre packaged versions.
Be sure to check your labels scrupulously if you don't want to be eating something with as much sugar to rival a chocolate cake!
Benefits of making granola at home:-
No added refined sugars
Complete control over what's going in your food
Money saving
No added refined oils
Much fresher flavour
You can add only the ingredients YOU prefer
No bulking agents or anti caking agents
Highly customisable
Healthy fats from freshly chopped, non rancid nuts
Lots of antioxidants
High fibre
Fully RAW!
As you can see, the benefits of making your own homemade, raw granola are many. And, one of the main benefits is the fact that you can throw it all together in less than 5 minutes, so it's not even time consuming.
Best Ingredients For Homemade Granola
The choice is yours when it comes to your granola ingredients. You should try and go for a mix of different chopped fruits, nuts and seeds to keep your granola balanced and not too high in fruit sugars.
Be sure to check all fruits and nuts for added salt, sugars and oils if you want to keep your granola as whole foods plant based as possible.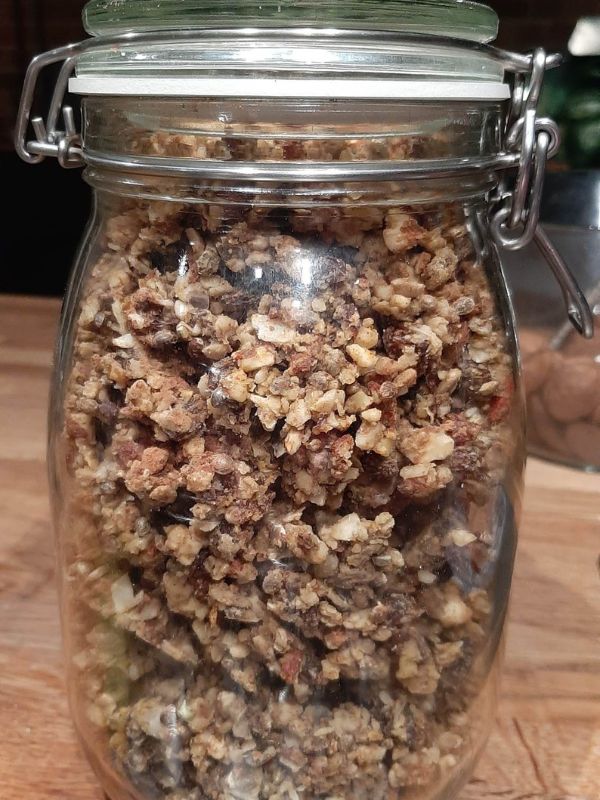 Good Granola Ingredients Include:-
Almonds
Walnuts
Brazil nuts
Pistachios
Pecans
Hazelnuts
Sunflower seeds
Pumpkin seeds
Chia seeds
Flax seeds
Poppy seeds
Hemp seeds with shells
Goji berries
Golden berries
Raisins
Sultanas
Dates
Figs
Apricots
Flakes coconut
Whole foods protein powder to bind (optional), Flavoured is best, such as vanilla, peanut butter or chocolate.
Sweetener such as stevia, xylitol, agave, maple or brown rice syrup (optional, depending on how sweet you like your granola)
You can also use raw oats or rolled jumbo oats, buckwheat grouts or any other grain you like. This recipe is however, grain free.
The ingredients on this list are all interchangeable, or you may wish to add something that isn't already on here. Either way, they all taste amazing when processed together with the other ingredients and is a perfect way to get lots of healthy fats into the family's diet.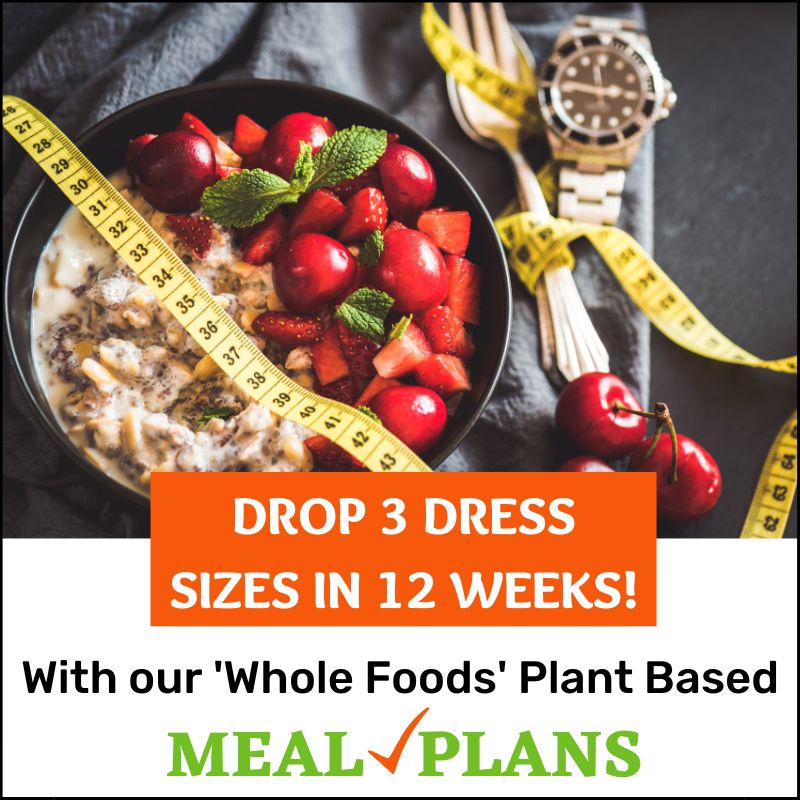 The role of flavoured protein powder
You do not by any means need to use protein powder in this granola if you don't want to. However, adding just half a cup of your favourite, flavoured protein blend to your homemade granola really does make it even tastier.
Yes, the protein powder is a game changer in your granola because not only does it add a delicious other taste element, but also adds more protein to make your breakfast more filling and satiating.
Buying high quality, whole foods protein supplements is the only way we would recommend using this in your granola, otherwise we would say leave it out. Whole foods protein powders often come with lots of other added superfoods and greens; or you should at least pick one that does. This way you are also getting green nutrition into your meal too, which definitely helps set you up for the day.
What Can I Serve With Homemade Granola?
There are many ways you can eat your granola, and we love them all. Examples include:-
With ice-cold plant milk
Add lots of fresh berries and fruit to the top with you milk for extra fresh fruits into your diet.
Yoghurt
On top of you blender nice-cream bowl
Alone as a snack or trail mix
As a dessert or topping for a dessert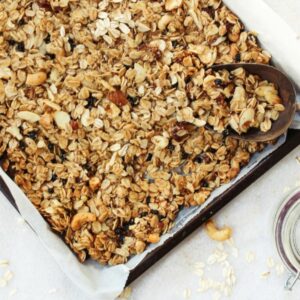 Homemade, RAW Power Granola With Protein Powder
This granola is gluten free and oat free. It is naturally full of antioxidants and healthy fats.
Equipment
Spices

Dehydrator OR oven on very low

Food processor
Ingredients
2

cups

coconut flakes

1

cup

walnuts

1

cup

almonds

1

cup

sultanas or raisins

1

cup

hemp hearts

½

cup

Brazil nuts

½

cup

goji berries

½

cup

pumpkin seeds

½

cup

sunflower seeds

½

cup

cacao nibs

½

cup

whole foods protein powder

(optional). You do not need to use protein powder in this recipe. It does make it more delicious and helps it to stick together in clumps, but it's not needed. If you do not use protein powder then you will not need any water and you will not even have to dehydrate. Just use it as it is.

Drizzle sweetener syrup

Agave, maple or brown rice syrup work well.

Spices

You may wish to add cinnamon, ginger or pumpkin spice to this granola. OR carb or cacao powder for chocolate flavour.

½

cup

water
Instructions
Add all ingredients except water and syrup to a food processor and bind together until well ground. Be sure to leave quite a lot of texture. Do not over process!

Slowly add your syrup and water whilst keeping your machine pulsing. You need it to stick together and start forming a dough type texture. Again, be very careful not to over do this part and keep your eye on it. It should not take long at all to break down. You do not want a mush.

Now spread flat onto 2 dehydrator trays. If using your over you will need some large, flat oven trays.

Dehydrate for about 8 hours on 42C (108F). If using oven, put on very lowest setting possible and dehydrate for however long it takes to become crunchy. Shouldn't take more than a couple of hours.

Once your granola is crunchy, leave to cool before breaking up with fingers. Store in an air-tight container for up to 4 weeks.
Video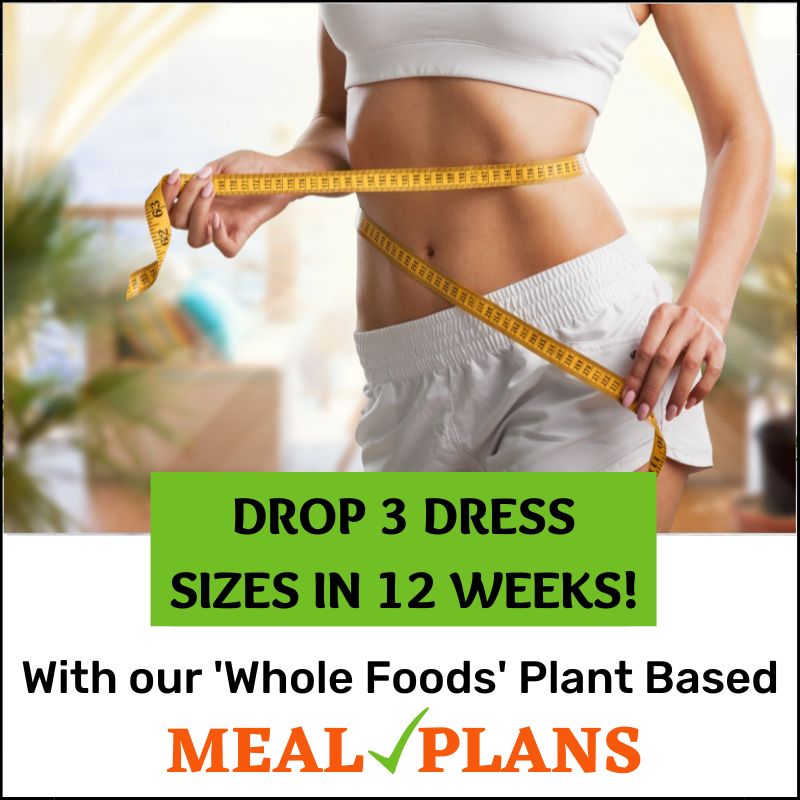 Thanks for visiting ZestForever today!
Your support is always so welcomed. We would be psyched if you were to share this delicious recipe with your friends via your social media channels.
Together, let's bring about a plant based revolution!