Hippocrates was a Greek physician and healer who lived over 2,400 and is considered one of the most outstanding figures of Natural Medicine ever known.
Traditionally referred to as 'The Father of Medicine', Hippocrates healed his patients with food. Hence the reason why one of his most well-known quotes is "Before healing a Man, ask him if he is wiling to give up that which makes him sick". This, among many other famous quotes, has made him an inspirational figure the world over whom is still spoken of today.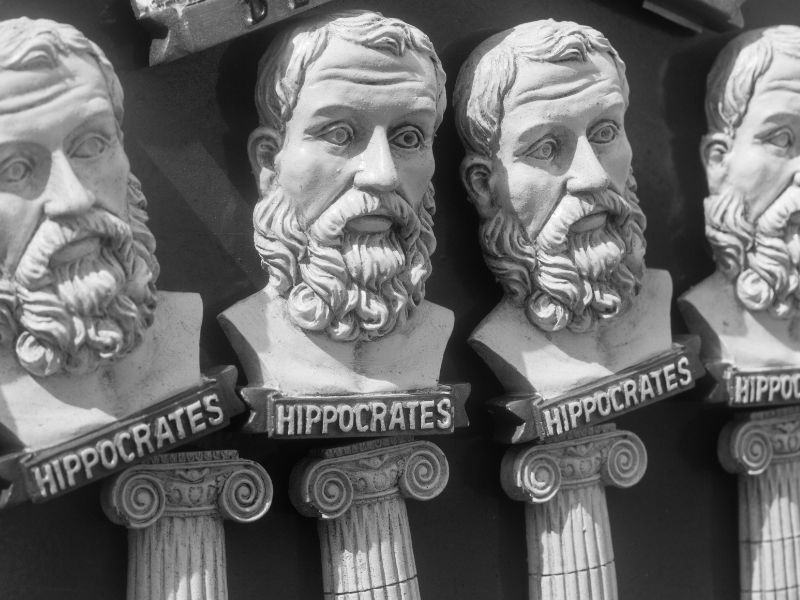 This Hippocrates style soup for natural healing is based on a soup that is the foundation of the Gerson diet. It contains no salt, but a little low salt vegetable bouillon may be permitted if you're not strictly trying to heal and just want to eat a delicious and healthy soup.
Back in Hippocrates time there were no potatoes or tomatoes in Europe, so they would not have been in the Traditional soup recipes. But, we like the addition to make this soup more filling and wholesome, and we're sure the great Man himself would agree if he were here.
Is Hippocrates Soup Good For You?
This soup contains lots of green vegetables and allium plants such as onions, garlic and leeks. Other key ingredients include cabbage, celery, potatoes and parsley – all health promoting vegetables.
Allium Plants
Allium family plants contain sulfur in the form of orgonosulfer compounds that are said to have some pretty amazing benefits. Preliminary research suggest that they can:-
Help lower blood pressure and cholesterol.
Help prevent chronic health condition such as some cancers.
Reduce cardiovascular disease risk.
Cabbage
Cabbage is a wonder vegetable that has many benefits to human health.
The many health benefits of cabbage include:-
Fighting inflammation in general.
Improves digestion.
Is heart friendly.
Helps lower blood pressure.
Helps lower bad cholesterol levels.
Promotes bone health.
May help reduce risk of cancer.
Parsley
Parsley, both curly and flat leaf, has a myriad of health benefits and has been used as part of natural medicine for thousands of years.
The many health benefits of parsley include:-
A high vitamin K content to help support blood clotting and bone health.
A rich source of vitamin C and other antioxidants.
A rich source of vitamin A.
Helps reduce heart disease.
Is anti cancer.
Can reduce the risk of stroke.
Celery
Celery is a delicious vegetable that helps to add a salty taste to food when on a low salt diet. It also has many other benefits and is the reason it is added to the Hippocrates style soup.
The many health benefits of celery include:-
A high source of anti aging, antioxidants to help the body to fight free radical damage.
Helps reduce inflammation.
Supports digestion.
Has a low glycemic index.
Is highly alkalizing.
Rich in minerals and vitamins.
Weight Loss Soup!
This soup is very low calorie and comes in at around 160 calories per serving. This alone makes it fantastic for a calorie controlled or weight loss diet. Who remembers the Cabbage Soup Diet? Well, here is the same premise.
All the greens in this soup are high fibre to keep you fuller for longer. The ultimate aim if you want to lose weight and not go hungry!
The greens in this Hippocrates soup will also help detoxify your body. Eliminating deep seated toxins that may be stored in fat cells is another weight loss trick and this soup may help in that process.
You can bulk up this soup with some legumes to make it a more hearty meal. Legumes in themselves are a great weight loss food because they are high fibre, nutritious, and come in very low on the glycemic index scale.
Use this soup along with our amazing 2/3rds raw, 1/3rd cooked diet plan and lose weight healthily and effectively.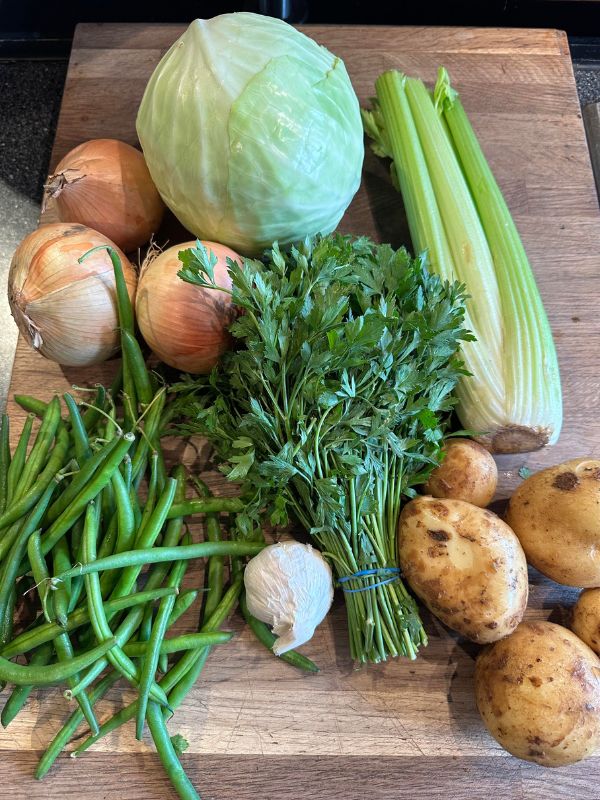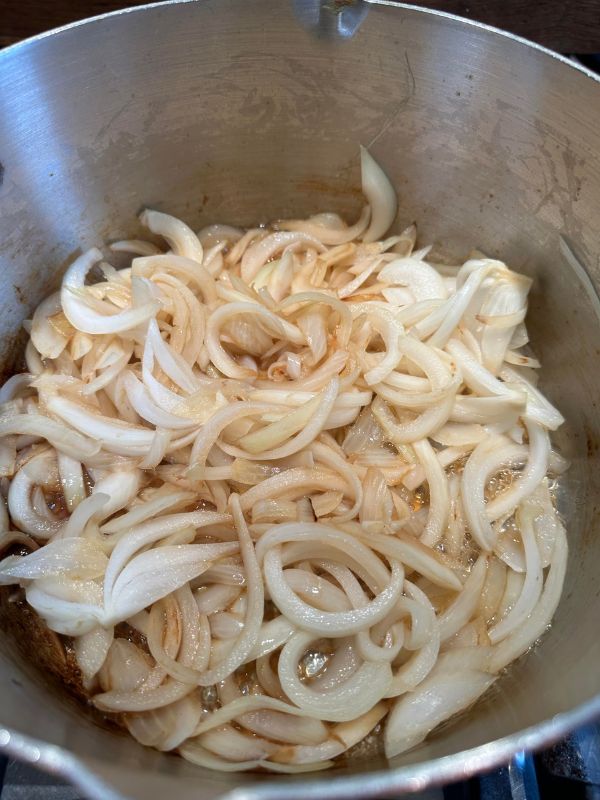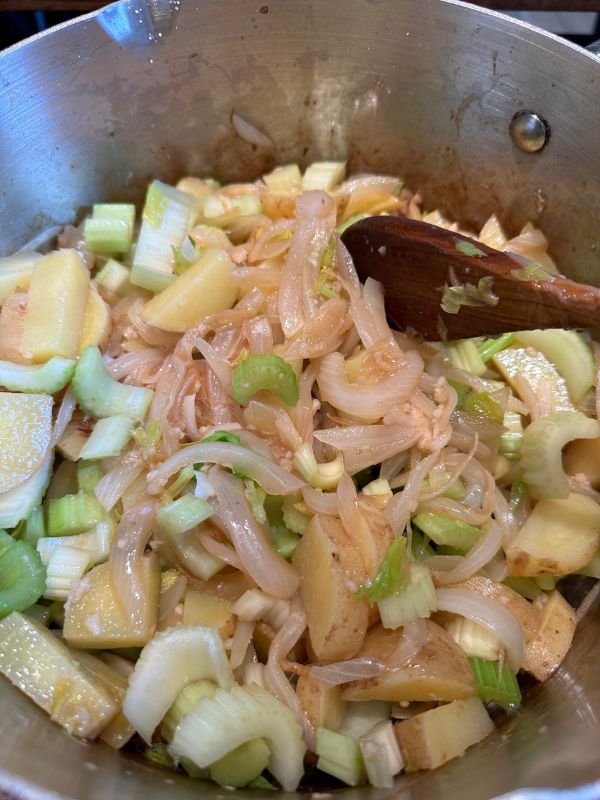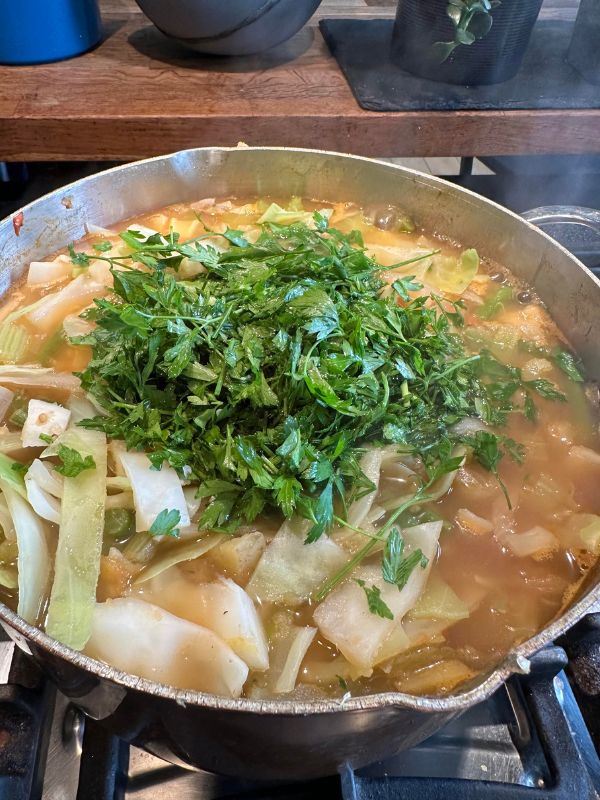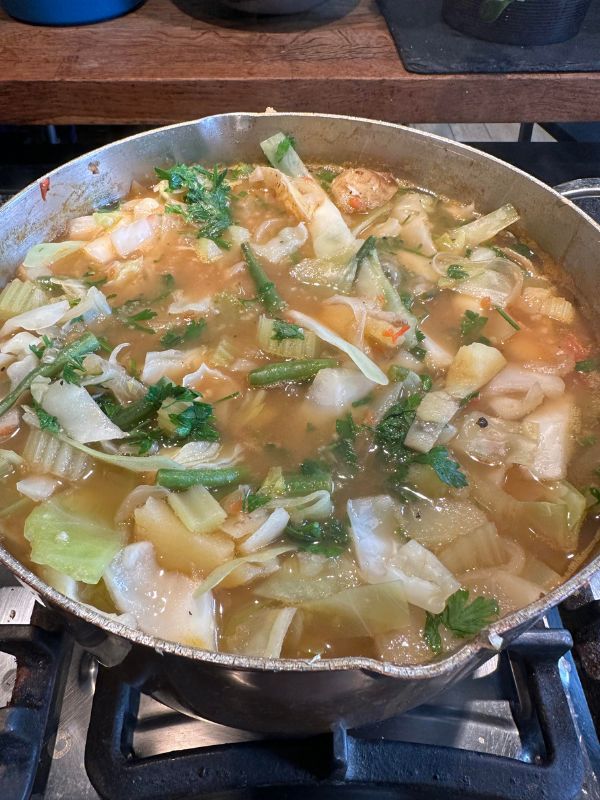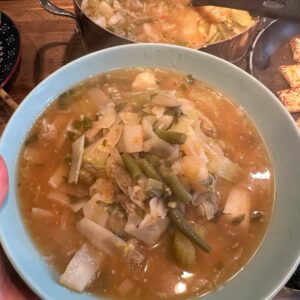 Hippocrates Style Soup For Natural Healing
This delicious soup needs no spices apart from what is already in the actual recipe. Spices may hinder some of the health benefits. Eat this soup as a main meal by adding some legumes, or as a light lunch or snack.
Equipment
Large saucepan

Chopping knife

Chopping board

Wooden spoon

Blender (optional)
Ingredients
1

head cabbage

Just a plain, green cabbage is best. If you can't get hold of one of these then feel free to use a Savoy cabbage or even white cabbage. But, greener colours are healthier!

6

sticks celery

5

medium sized potatoes

Scrubbed, with skins on. Do not peel these potatoes as it's best to keep them a whole food. To be sure they are pesticide free, buy organic where possible.

3

leeks

Take off the green, fibrous ends, slit in half lengthways, slice finely and wash thoroughly to get rid of any dirt lurking in there.

3

medium onions

White or yellow onions are best.

200

g

green beans

Wash thoroughly or go for organic as green beans are heavily pestisided.

4

tomatoes

1

cup

parsley

Curly or flat are equally as good.

6

cloves

fresh garlic

Water or low salt vegetable bouillon to cover

Water is ideal for a no salt version of this soup which is ultimately healthier. If you need a slight salty taste then go for a low salt stock cube. The addition of celery and tomatoes, two naturally high sodium foods, will help the taste without the need for extra sodium.
Instructions
Thinly slice your onions and leeks and fry in a large saucepan with a little water to caramelise. Be sure to keep adding a little hot water as you go to prevent sticking, but allow for a little sticking before you add more water to get the browning going. Add your garlic during the middle of this process.

In the meantime, chop your potatoes into 2cm cubes, your celery into 1cm slices and your beans into 3cm pieces. Cut your cabbage into thick slices and then again to shorten the slices. Keep it pretty chunky so it doesn't break down to nothing. Blitz your tomatoes in your blender after removing any stalks or eyes. Add to the pan along with enough water or stock to completely cover with an extra inch on top.

Bring to the boil then turn down to a slight simmer. Cover and let simmer until all veggies are soft. Your potatoes may break up, but this will add to the thickness of your soup, so this is not a problem. Your veggies may take 20-30 minutes to become completely soft. Once your potatoes are soft then the rest of your vegetables should be too.

Add your very finely chopped, fresh parsley about 5 minutes before the end of cooking time.

You can now either blitz your soup if you prefer it smooth, or eat it as it is with the delicious chunks for texture.

Serve with a crusty roll or on its own as a complete meal.
Video
Notes
To make this soup more filling as a complete meal, feel free to add some legumes.
This soup keeps in your refrigerator for up to 3 days, or frozen for up to 2 weeks.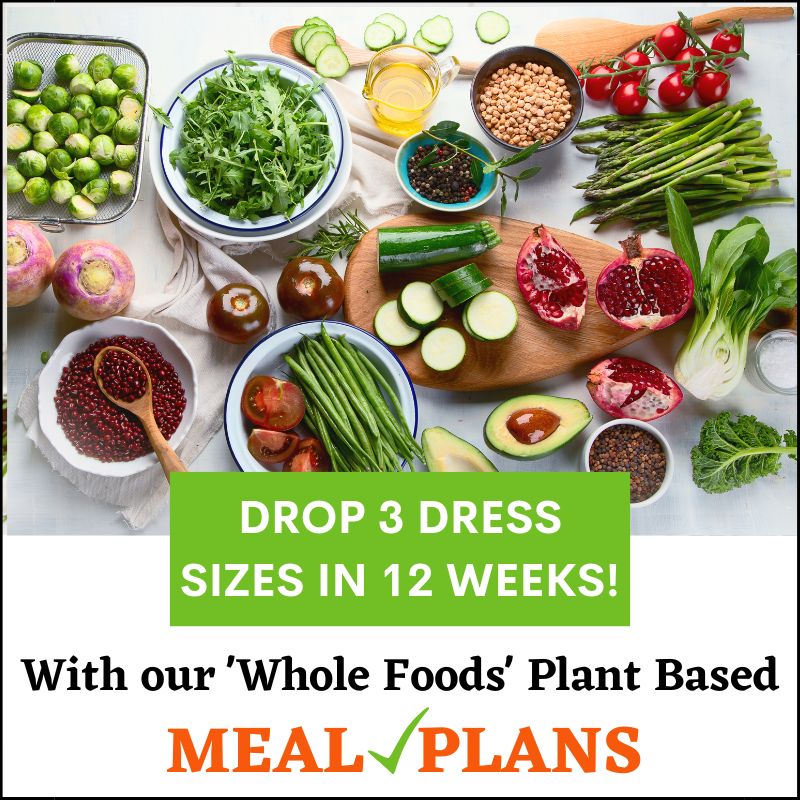 Thanks for visiting ZestForever today!
We hope to inspire and encourage you to eat a whole foods plant based diet for your own health and the health of our beautiful planet.
Please share this healing recipe to your friends via your social media to share the plant based LOVE!
Let's bring about a plant based revolution!