We're trying to cut down our oil and salt intake here at ZestForever and this has led to many experiments with oil and salt free cooking in our kitchen.
This endeavour has led us to believe wholeheartedly that it's actually way easier than we ever imagined it would be to omit these two common, yet unhealthy ingredients.
This week we made these absolutely delicious homemade BBQ baked beans and they went down a storm with everyone. What we're saying here is that they WORKED!
What Beans Should I Use For Homemade Baked Beans?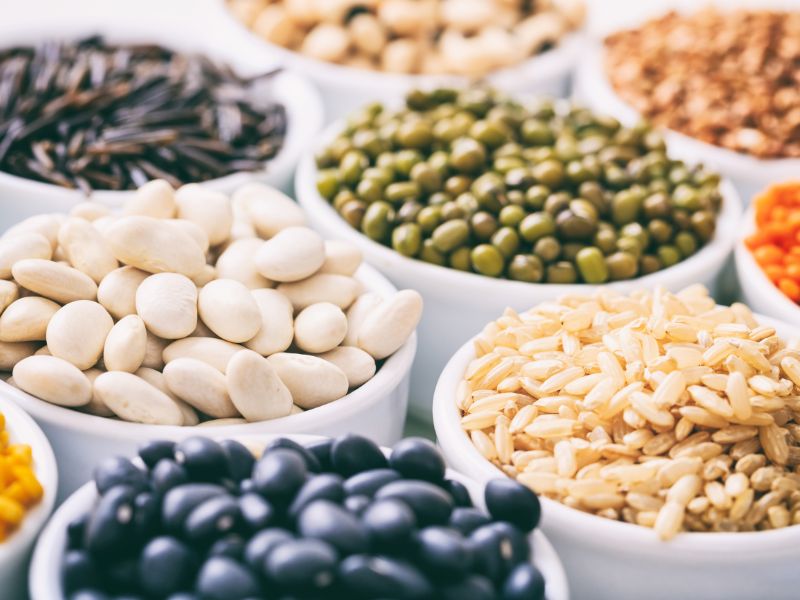 The classic bean to use for baked beans (especially the supermarket variety) is the Haricot beans (sometimes known as the Navy bean).
However, we had trouble sourcing these so we substituted with Pinto beans and were very pleased with the results. You can most definitely feel free to use the Haricot beans for this recipe if you prefer to do so, but the Pinto did work well because they're bigger and meatier.
Our guess is that most creamy beans will work with homemade baked beans. Other workable ones may include butter beans, kidney beans or cannellini beans, but feel free to experiment
How Do I Cook Without Salt?
You may ordinarily think that beans, especially, need SALT. We totally understand that and would have said the same thing not long ago. However, during our salt free journey to making delicious salt free meals we have found that to absolutely be not the case, in most instances, when you get your spices right.
The secret to salt free cooking seems to be in the spicing. Basically, you will need to use more and  MORE to get that flavour in there.
You should also invest in a great, salt free seasoning as there are some really good ones out there that you will find satisfy your cravings. If nothing else, it's still worth buying lower sodium alternatives to your normal table salt.
Or only salt your food after cooking and not with the cooking. This way you can actually check whether the dish really does need extra salt, rather than just adding it in.
Don't we need some salt?
In essence, yes, we need some sodium in our bodies as it is needed for functions such as nerve impulse conduction, contracting and relaxing muscles and to maintain the balance of water and minerals. It's estimated that we need 500 mg of sodium daily for these vital functions.
But, did you know that we can easily get this required amount of sodium for our food from a whole foods plant based diet? Yes, there is sodium in most plant foods, including fruits and veggies, so you never need to fear you're not getting enough. In fact, Mother Nature already provides what we need if we eat enough calorie in an array of plant foods.
Pinto Beans Benefits
The reason why we have used the creamy pinto bean in our homemade BBQ baked beans is because they are highly nutritious. They are:-
Loaded with thiamine, iron, magnesium, phosphorus and potassium.
Super high fibre.
High in protein, therefore very sustaining and low glycemic.
High in anti aging antioxidants, polyphenols and flavonoids.
Great for blood sugar control, due to the their low glycemic index.
Great for weight loss, due to high fibre, low GI qualities.
Inexpensive and easy to prepare.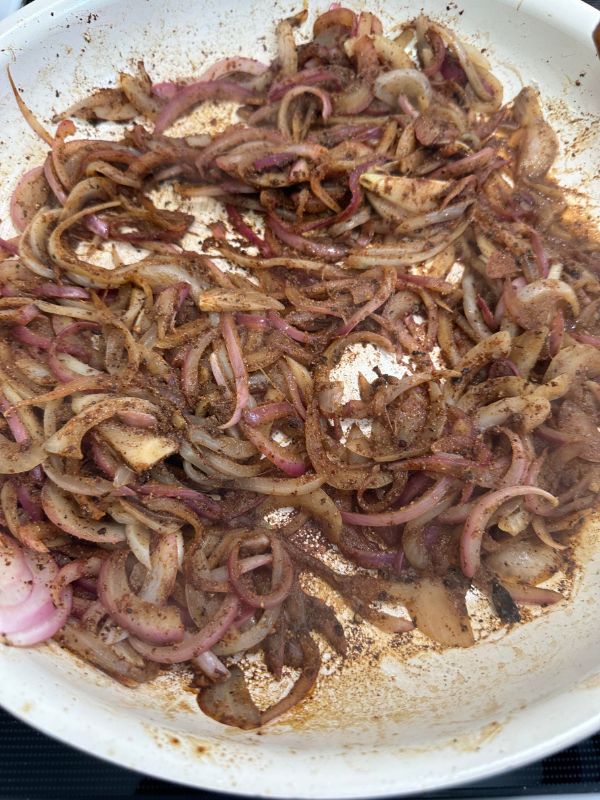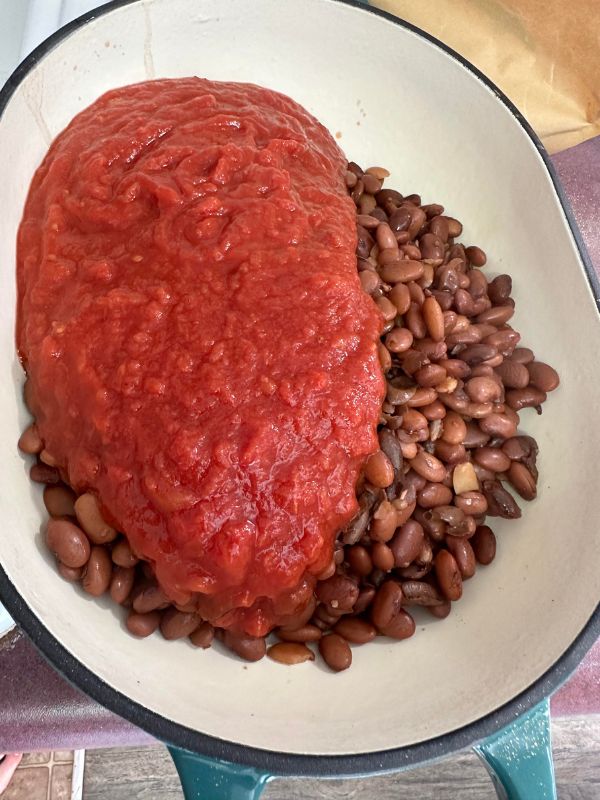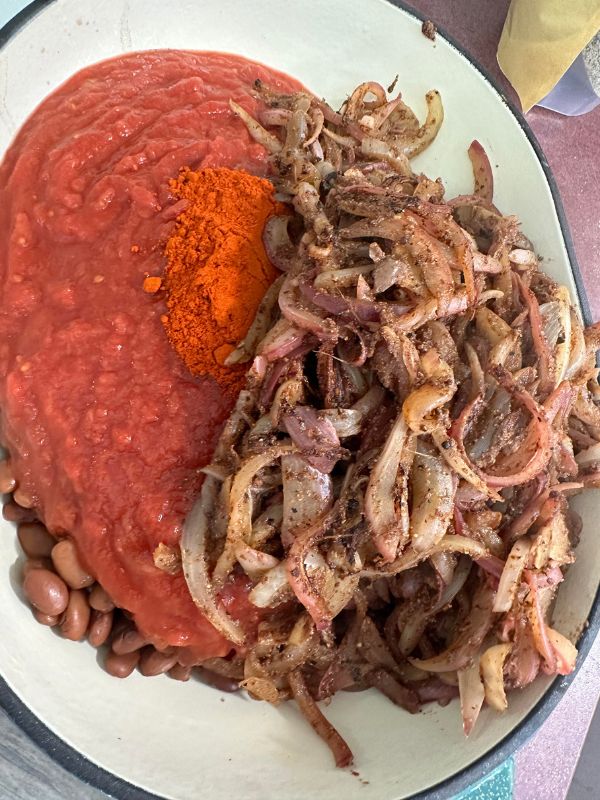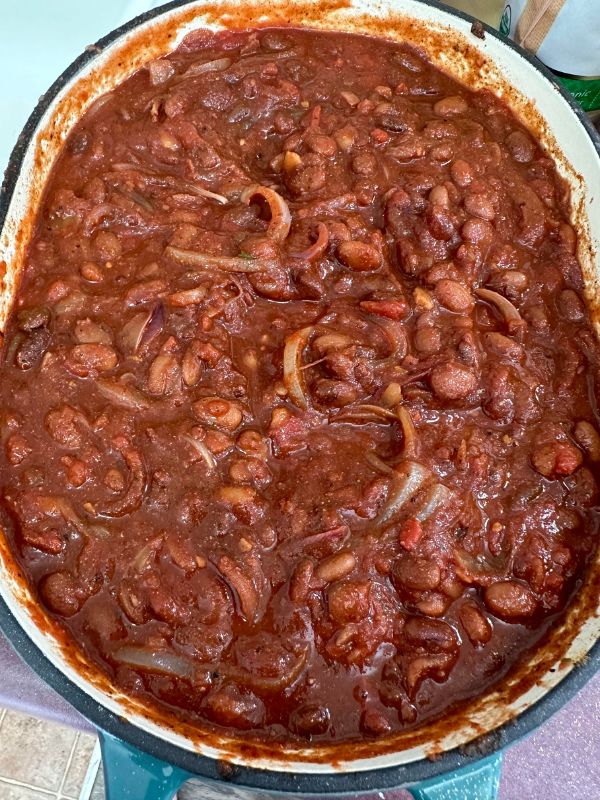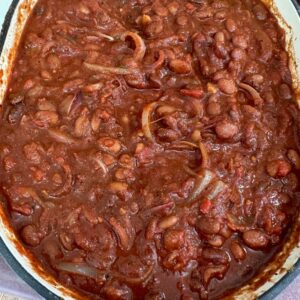 Homemade,BBQ Baked Pinto Beans - Oil & Salt FREE!
These homemade BBQ beans are a great topping for a baked potato, pasta, rice or as a side dish to take to a BBQ in the Summer.
Equipment
Oven proof braising pan

Chopping board

Chopping knife

Non stick frying pan
Ingredients
2.5

cups

dried pinto beans

Other creamy beans such as canellinni, butterbean, chickpeas or Navy beans also work well.

2

large

white onions

4

400g

cans chopped tomatoes

3

tablespoons

tomato paste

1.5

cups

hot water

4

tsp

coconut sugar

2

tablespoons

vegetable bouillon

2

tablespoons

BBQ spice blend

2-3

tsp

paprika

5

cloves

garlic OR 3 tsp roasted garlic powder

2

tsp

black pepper
Instructions
Soak your pinto beans in cold water over night or according to packet instructions. Boil without salt until soft. This may take quite a while, even a couple of hours, depending on the beans. Alternatively, cook in your pressure cooker for 35 minutes. Make sure your beans are fully softened before using.

Pre heat your oven to 180 C (360 F).

Add your pinto beans to a large, braising or oven proof pan. You can also cook these beans on the stove top in a good, non stick pan but you will be able to adjust cooking time to around 20 minutes only. However, cooking slowly in the oven will intensify the flavours more.

Thinly slice and fry your onions in a non stick pan with a little hot water added when needed to caramelise. Try to get a good colour on them for flavour and keep adding more splashes of water as you go until completely softened and golden. You do not need to add oil in this process and in fact, they caramelise better without oil. Add your garlic and fry for a further few minutes.

Meanwhile, get some hot, filtered water on to boil.

Add your onions, water and all other ingredients to your pinto beans and mix well. Before putting into the oven be sure to check your flavours to see if you have the right level of sweetness and BBQ. You want these to taste like authentic BBQ beans. Add more seasonings if required!

Oven cook slowly for around 1 hour until everything is bubbling and delicious. Serve with a baked potato, on toast, with brown rice or as a side dish.
Video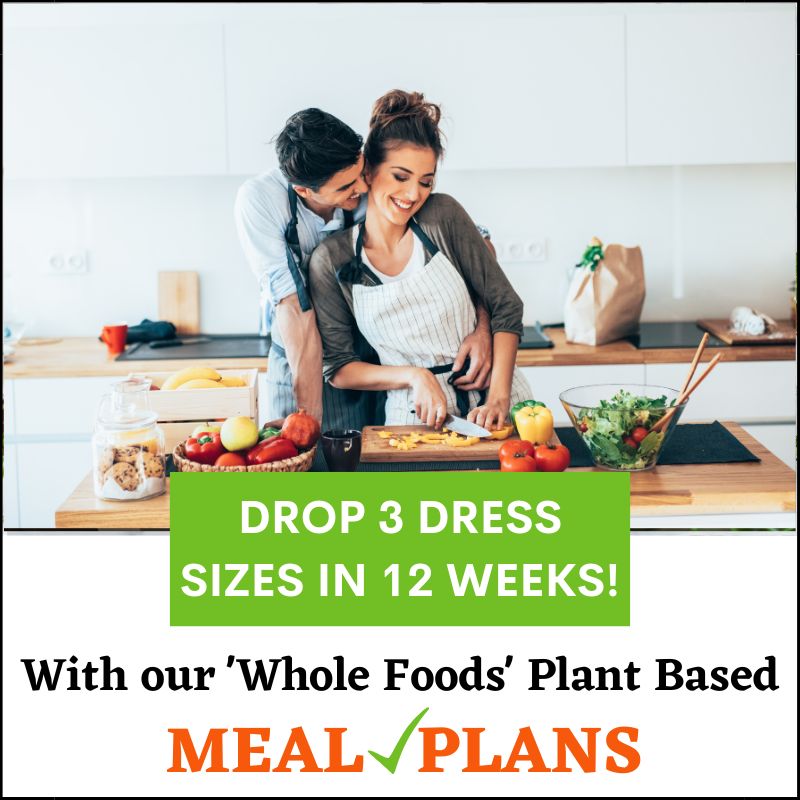 Thanks for visiting ZestForever today!
We hope you like our delicious, plant based recipes as much as e do. Please feel free to share this article with your friends via your social media channels.
Let's bring about a plant based revolution!