Are you thinking of turning to a plant based lifestyle and wondering where to start? It can indeed be overwhelming when it hits you just how much you may need to change not just your lifestyle, but your whole conditioning around food in general, and this easy guide will help you with the process.
This 1 week plant based diet meal plan for beginners is a budget friendly guide that will give you tips on combining plant foods together to be sure you are getting ALL the nutrients and amino acids you need to keep you fit, healthy, and thriving like never before. You will also find examples of properly put together meals that you can mix and match to your taste.
Why eat a Plant Based Diet?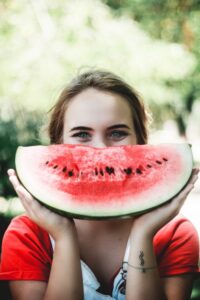 The plant based diet, when done correctly, really can be the healthiest diet on the planet, and the science is stacking up more and more as to how healthy plant foods can be. We are now in the middle of a plant based explosion, which is great news because all the major supermarkets and most restaurants are getting on board like never before and offering plant versions of EVERYTHING from milks, cheeses, meat substitutes, and everything in between.
There's never been an easier time to adopt this lifestyle, it's exciting, fresh, and most importantly, planet friendly. And you shouldn't believe that changing to this new way of eating will break the bank as there are are also many inexpensive plant based foods to choose that also happen to be superfoods too, so, double bang for your buck! Now you really don't have any reason to not just go for it and reap all of the below amazing benefits.
Some of the possible health benefits of a plant based diet include:-
BEAUTIFUL GLOWING SKIN – Taking in all those plant phytonutrients and antioxidants will give you the most amazing skin of your life, and put a sparkle in your eyes that no amount of cream, lotions or botox could ever do.
ENERGY AND ZEST FOR LIFE – Eating lots of nutrient dense plants will not only make you feel lighter, but also give you an energy and confidence boost too, therefore putting you in a much better place to achieve all your dreams and desires. (Yes, honestly, food really can be this powerful)
LESS INFLAMMATION –  Find out here why a healthy plant based diet helps reduce the chronic inflammation triggered by more acidic foods, such as junk foods, trans fats, sugar, and most animal products (especially when they are turned into junk foods). Anti inflammatory plant foods also help recovery time after exercise and is one of the reasons shy there are no so many plant based athletes.
WEIGHT LOSS – You will also naturally come to your ideal weight over time because you just won't have as many sugar or junk food cravings. This is all down to your body being fed properly with highly nutritious foods, which in turn helps to control cravings.
HORMONAL BALANCE – I seriously didn't realise how much animal hormones were affecting my own hormones before I went plant based, but it stands to complete reason now. You will more than likely (as I did) feel that your hormones are more evened out on the whole plant food diet, therefore you are naturally less likely to suffer PMS and other hormonal problems when you adopt this lifestyle.
LESS STRESS – Due partly to hormonal balance and partly to eating lots of low GI healthy foods, all of which keep your blood sugar stable, thus leaving you much more equipped to deal with stressful situations should they arise. You simply won't feel as affected by life's ups and downs as you were before, as you will will feel generally calmer and more in control. Oh, the bliss!
LESS BRAIN FOG AND BETTER MEMORY – You may not even realise how fogged up your head is until suddenly it isn't. Less inflammation and more antioxidants clear your mind, give you clarity, and boost your memory power. Well, for me this was one of the biggest things I noticed when I cut down sugar and started eating more powerful plant foods.
Don't take my word for all of this, please check out more plant based studies and see for yourself how all of these benefits are possible when you eat plant based the healthy way.
Your Plant Based Grocery List
NUTS (walnuts, Brazil nuts, cashews)
SEEDS (pumpkin, sesame, sunflower, chia, hemp)
GROUND FLAX
PULSES OF ALL KINDS (kidney beans, lentils and chickpeas for meal plan)
FRUITS (berries, apples, mango, bananas, oranges, peaches, lemons, limes)
VEGETABLES (broad beans, broccoli, butternut squash, frozen garden peas, onions – red and white, spinach, carrots,bell peppers)
BUCKWHEAT GROUTS
SOY OR TAMARI SAUCE
SALAD LEAVES
TEMPEH, TOFU, AND SEITAN (tofu only for meal plan)

GREEN SUPERFOOD SHOTS

* (optional, but such make a big difference to every aspect of health and vitality)
QUINOA
AVOCADOS
COCONUT OIL
OLIVE OIL
NATURAL SWEETENERS IN MODERATION (agave nectar, maple syrup, xylitol, stevia, date paste)
HOMEMADE GRANOLA'S (see my high protein recipe)
NUTRITIONAL YEAST
SWEET POTATOES
SUGAR FREE NUT BUTTERS (almond and peanut)
TAHINI
FILTERED OR SPRING WATER
VEGETABLE JUICES
PROTEIN POWDERS*
SOURDOUGH, RYE AND SPELT BREADS
NUT MILKS OF ALL KINDS (Mix them up!)
COCONUT YOGURT
VEGAN CHEESES
SWEETCORN
LENTIL SOUP
OATS
VEGAN PESTO
BUCKWHEAT PASTA
BROWN BASMATI OR PILAU RICE
NO ADDED SUGAR DRIED FRUITS (Dates, apricots, gogi berries, sultanas, raisins)
OAT CAKES
DARK CHOCOLATE (At least 70% cacao content)
GARLIC
SPICES (ginger, chili, cumin, paprika, cinnamon)
Foods to take out of the diet
ANIMAL PRODUCTS
JUNK FOODS
TRANS FATS
REFINED SUGARS
SOFT/FIZZY DRINKS
The importance of protein
It is very important to ensure an adequate supply of plant based proteins, which is the reason why the simple plant based menu below has lots of quinoa dishes (quinoa is the most nutritionally 'complete' plant based protein of all), along with plenty of nuts, seeds and pulses.
There are some soy products here, but I don't like to use them as the main source of protein due to soy being estrogenic and possibly having adverse affects on certain people. You will need to find out for yourself whether soy affects you adversely. However, I do think it is a good quality, highly bio-available source of protein when used in moderation, and preferably you should buy organic whole soy (but, definitely not isolated as in the form of soy protein powders).
Protein and Weight Loss
I am placing emphasis on protein as it will be harder to meet your needs on a plant based diet than a meat and dairy based diet. And a good supply of protein is a definite must if you are doing a lot of exercise, are trying to lose weight, OR want to shed fat and build muscle. When I first went plant based I made the mistake in my naivety of not getting enough protein and started to lose some muscle tone – even though I was exercising like a trojan at the time.
This can be easily rectified by a good quality plant based protein powder, and making sure you have an understanding of the amino acids in plant foods and also how to combine them into your meals. The below meal plan will set you on the right path, and also help you to understand protein values more easily.
How much Protein do I need?
This depends on how much you weigh, your lifestyle and your exercise regime, but as a general rule you will need between 0.8 – 2.0 grams a day per kilo of body weight. You may need the higher end of this scale if you are either weight training, doing intense exercise, or for weight loss purposes.
You will see from the meal plans that in order to meet this higher target on a plant based diet, you may need to add in a protein powder every day (or at least every other day). There are so many different powders on the market, but they are definitely not all created equal, so buying good quality at an affordable price is something you will need to consider if it's for long term use.
For help on this, please read these tried and tested reviews on the best plant based protein powders of 2020 where I have sourced out the highest quality, most affordable protein powders available. Even I was in awe of some of the awesome blends that are now on the market. Some of them are a one-stop shop with everything you could possibly need in a powder such as added green superfoods, nutrients, probiotics and digestive enzymes. And best of all they have already been put together with a perfect amino acid profile!
Your 1 Week Diet Plan
I have roughly estimated protein and calorie amounts for the dishes in this plan, but this may vary according to cooking methods and brands etc. You can easily work out how much protein you are eating by looking at labels and knowing your targets.
MONDAY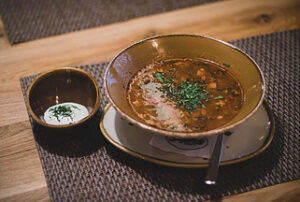 BREAKFAST:- 1 tablespoon of peanut butter, 1 slice of wholegrain toast/sourdough. Piece of fruit. CALORIES 300/ PROTEIN 10g
LUNCH:- Homemade, or shop bought bowl of lentil soup, 2 x oatcakes with 2tsps almond butter. Small tub plain soy or coconut yogurt. CALORIES 550/ PROTEIN 30g
DINNER:- Vegetable fried rice: Stir fry in soy sauce – coconut oil, chilli, ginger, garlic, onion, broccoli florets, bell pepper, sweetcorn, green peas, or broad beans, and diced courgette, with a potion of brown rice. Top with sliced spring onions. DESSERT: Couple of squares of dark chocolate. CALORIES 600/ PROTEIN 15-20g.
SNACKS
Green smoothie:- 1X Banana, handful spinach, nut milk, tbsp ground flax, 2x medjool dates. CALORIES 300 / PROTEIN 7g
Protein Shake (make up mix so you have 30g protein). CALORIES 200/PROTEIN 30g
TUESDAY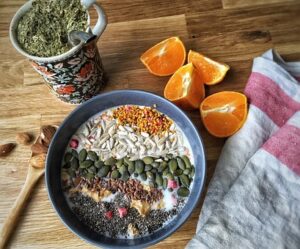 BREAKFAST:- 40g jumbo oats, berries, 1 tablespoon of pumpkin seeds, nut milk. CALORIES 300/ PROTEIN 15g
LUNCH:- 1 medium baked sweet potato with half a can of sugar free baked beans. CALORIES 350/ PROTEIN 17g
DINNER:- Mixed bean chili, serve with 100g cooked quinoa, topped with half a chopped avocado and a squeeze of lime. Serve with LOTS of steamed broccoli. DESSERT: Handful of goji berries. CALORIES 700/ PROTEIN 35g. MAKE ENOUGH FOR LUNCH TOMORROW.
SNACKS
Green smoothie:- 1X Banana, handful spinach, nut milk, tbsp ground flax, 2x medjool dates. CALORIES 300 / PROTEIN 7g
Protein Shake (make up mix so you have 30g protein). CALORIES 200/PROTEIN 30g
WEDNESDAY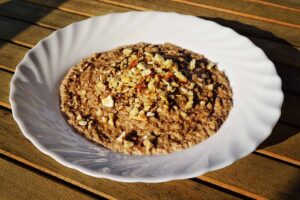 BREAKFAST:- White quinoa cooked in nut milk with toppings of fresh fruit, 1 tablespoon of pumpkin seeds OR  topped with sultanas/raisins, 6 walnut halves, and cinnamon. CALORIES 300/PROTEIN 18g
LUNCH:- Oven baked spicy potato wedges with portion of bean chili from yesterday. Guacamole (optional). CALORIES 450 – 600/ PROTEIN 15g
DINNER:- Tofu & chickpea curry, 110g brown pilau rice and sautéed spinach (or add spinach to curry). DESSERT: 2 squares dark chocolate CALORIES 500/PROTEIN 25g
SNACKS
Small pot soy yogurt, sprinkle of cinnamon, handful of goji berries, and a shot of green superfood powder. CALORIES 200/PROTEIN 22g
Green smoothie:- 1x Banana, handful spinach, nut milk, tbsp ground flax, 2x medjool dates. CALORIES 300 / PROTEIN 7g
THURSDAY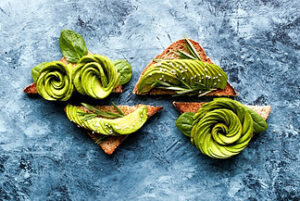 BREAKFAST:- Large slice of granary/sourdough toast topped with 2 teaspoons of tahini, half a smashed avocado, topped with grated carrot and a squeeze of lemon juice, salt, pepper. Piece of fruit. CALORIE 400/PROTEIN 15g
LUNCH:- Big bag mixed salad, small tin of sweetcorn, half a can of chickpeas(you can roast these with spices first if you wish), apple cider vinegar, drizzle of extra virgin olive oil, handful of pine nuts, OR walnuts, a few raisins or sultanas. Piece of fruit. CALORIES 500/ PROTEIN 30g
DINNER:- Tofu OR cashew nut stir-fry:  200g tofu/ handful of cashews (you can buy either in a block or already marinated pieces) stir-fried in coconut oil, with ginger, garlic and chili, mixed veggies, soy sauce and 110g of cooked brown rice (or half a packet of pre cooked rice), OR portion of tri coloured quinoa. DESSERT: 2 squares dark chocolate. CALORIES 650/ PROTEIN 30g
SNACKS
Green smoothie:- 1x Banana, handful spinach, nut milk, tbsp ground flax, 2x medjool dates. CALORIES 300 / PROTEIN 7g
Protein Shake (make up mix so you have 30g protein). CALORIES 100/PROTEIN 30g
FRIDAY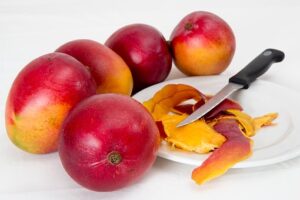 BREAKFAST:- 40g jumbo oats porridge, with nut milk, tablespoon of chopped walnuts, cinnamon, sweetener (optional), and half a pink grapefruit. CALORIES 400/ PROTEIN 15g
LUNCH:- 1 large slice sourdough, half a can sugar free baked beans, or chili beans. Piece of fruit. CALORIES 450/PROTEIN 15g
DINNER:- Cook 60g (dried weight) brown pasta or buckwheat/ spelt pasta, ¼ butternut squash roasted in coconut oil and herbs/spices, steamed green peas and broccoli. Mix with 1 x tablespoon pesto OR virgin olive oil. DESSERT: Mango slices with coconut yogurt CALORIES 750/PROTEIN 25g
SNACKS
Protein Shake (make up mix so you have 30g protein). CALORIES 200/PROTEIN 30g
Small bowl of Homemade popcorn (3 cups per serving, popped in coconut oil). CALORIES 120, PROTEIN 5g
SATURDAY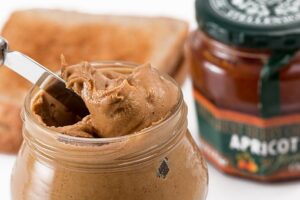 BREAKFAST:- 1 slice Granary/sourdough toast, 1 tablespoon of almond butter, sliced banana, pinch of cinnamon. CALORIES 320/PROTEIN 10g
LUNCH:- Bean chili, medium baked sweet potato, piece of fruit. CALORIES 500/ PROTEIN 15g
DINNER:- Plant based lentil Dal, and 110g brown basmati rice OR quinoa, side broccoli. DESSERT: 2 squares dark chocolate (make enough dal for another portion at weekend). CALORIES 550/ PROTEIN 20g
SNACKS
Green smoothie:- 1x Banana, handful spinach, nut milk, tbsp ground flax, 2x medjool dates. CALORIES 300 / PROTEIN 7g
Protein Shake (make up mix so you have 30g protein). CALORIES 200/PROTEIN 30g
SUNDAY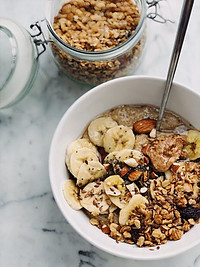 BREAKFAST:- 40g Homemade granola of oats, buckwheat grouts, dried fruits, nuts, and coconut oil, nut milk. (lightly toasted together in oven) Make a big batch as it lasts a while. CALORIES 350/ PROTEIN 15g
LUNCH:- Homemade, or shop bought bowl of lentil soup, 1 x pot soy yogurt, swirl of agave nectar or maple syrup. CALORIES 370/ PROTEIN 30g
DINNER:- Roasted vegetable medley eg. parsnips, carrot, leeks, beetroot, peppers, onions, chickpeas, butternut squash, roasted with herbs and spices, little coconut oil, balsamic vinegar, veg stock. Served with a portion of quinoa. DESSERT: Pineapple chunks CALORIES 700/ PROTEIN 20g
SNACKS
3 x oatcakes with humus and carrot sticks. CALORIES 200/PROTEIN 6g
Green smoothie:- 1x Banana, handful spinach, nut milk, tbsp ground flax, 2x medjool dates. CALORIES 300 / PROTEIN 7g
I hope this week's worth of food plans gives you a taster of how delicious and simple a plant based diet can be. You may also wish to check out my protein rich, lower carb snacks for more variation, and these amazing one pot plant based recipes.
Need more in-depth dietitian approved meal plans? We have just launched our first  4 week meal plan that has a plethora of amazing meals that will keep you and you're family satisfied. Plus, you will learn lots of new and tasty recipes that you will make for a lifetime. Check it out here –>>4 Week Meal Plan for BUSY People<<– 
If you need any extra help or advice, or have any questions about the plant based diet then please drop me a line in the comments section and I would be only to happy to help. 
Why not join up?
Please feel free to join our plant based tribe below for regular updates and more plant based eating tips and guides. Have a great day!