The word superfood loosely means a food that is 'super' compared to other foods and highly concentrated with the live nutrients and enzymes that your body requires for energy, disease prevention and detoxification.
In this post, we will go into detail about the best green superfood powders of 2022 from real time reviews, their specific benefits, why you should use them, and also help you to decide the best one for your specific needs.
Green Superfood Powder Benefits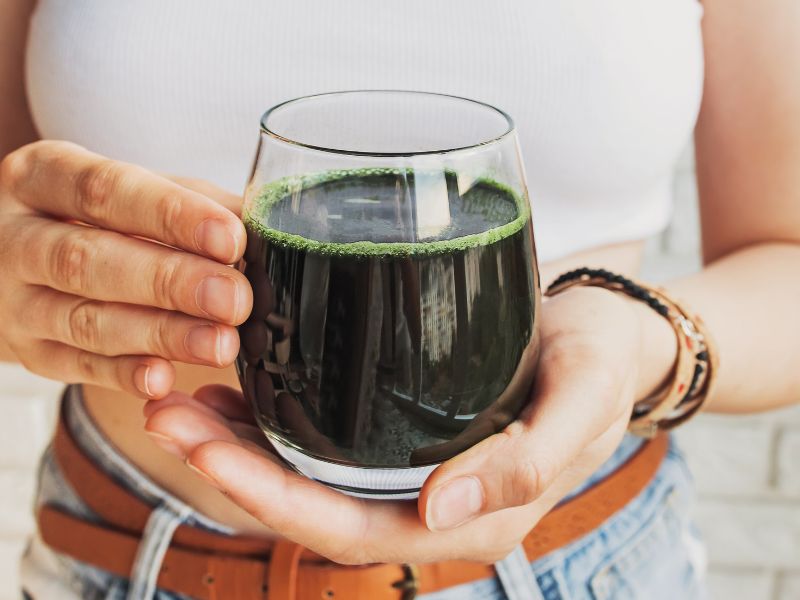 Living a life full of energy, zest and vitality shouldn't be just a pipe dream. It's something that you 100% deserve.
Keeping your body in its highest possible state of health and detoxification can help you achieve this. This is where green superfoods (such as those on this list) can play a role, alongside a highly plant based diet and regular exercise, of course.
The amazing benefits of adding some green powder concentrates to your morning smoothie are as follows:
ANTI AGING
One of the most powerful, potential superfood powder benefits is its ability to help slow down the aging process. And, we're not just talking about more youthful skin on the outside, but more crucially, anti aging on the inside too.
Eating green superfoods, alongside a high antioxidant rich diet, can help play a role in mopping up some of the free radical damage. This can be caused by everyday life through environmental pollution, sun rays, tobacco, alcohol, chemicals in food, sugar, trans fats, exhaust fumes, fertilizers and pesticides.
Yes, we are all being hit by lots of chemical nasties, and a healthy diet can help negate some of the damage that may be caused by this.
Make sure you're getting enough antioxidants
The problem is, it's not always possible to get enough antioxidants into your diet to keep you in top health. Our fresh foods can be under par in the nutrient stakes due to over farming, heat treatment from cooking, and also pesticide, insecticide and fertiliser use.
It's a good idea to be doubly sure you are getting a good high dose of antioxidants every day by taking a whole food supplement. This is especially important if you're not getting at least 7-10 portions of fresh fruit and vegetables a day.
A great way to boost fruit and veg intake is with raw, green, super food powders such as chlorella, spirulina, wheatgrass, barley grass, and other chlorophyll rich seaweeds and algaes like those you will find on this list.
Is Green Superfood Powder Good For You?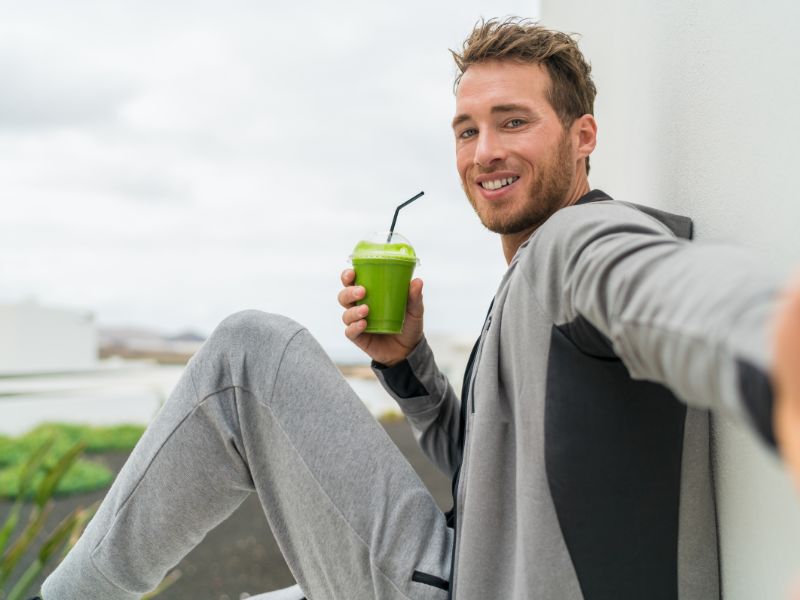 The short answer to this is, YES!
All the different types of green superfoods have different nutritional profiles, and therefore different benefits.
In general, if you go for a blend, then you will more than likely be covering all the below benefits and beyond. You will need to be taking the optimal dose as per instructions on a daily basis for the best results.
An example of a great blend is Dr. Schulze Green Food Powder. This one has lots of seaweeds and algaes, plus fruits and other enzymes to make it a whole food in itself. This is one of many on the Market and also one of the best due to its nutritional profile and astounding benefits.
Benefits of green superfood powder
DETOXIFICATION –

Many green superfoods are known detoxifiers, due to their high levels of antioxidants. These may help rid the body of toxins and heavy metals that it can have a hard time eliminating. Toxic overload can eventually lead to illness and other problems if not kept in check.
ANTI INFLAMMATORY – Being highly alkaline and full of phytochemicals, green superfoods may help alleviate chronic inflammation.

CAN HELP LOWER BAD CHOLESTEROL –

Alongside a healthy diet and exercise plan, the antioxidants and phytochemicals in certain green superfood powders can help hormones, cells, and nerves to help lower cholesterol.

IMMUNITY –

The high antioxidant levels of green superfood powders can help to neutralise the free radicals that damage your cells and compromise your immune system.
GREAT FOR THE KIDS – Some green powders like wheat and barley grass taste pretty mild and are still full of awesome health benefits, making them an easy nutrient bomb for kids.
BETTER SLEEP
ENERGY, ENERGY, AND MORE ENERGY!
Which Green Superfood Should I Choose?
There are just so many different supplements on the market that it can get a little confusing. Always go for products that are organic, ethically sourced and grown in nutrient rich soil. Or, if they are a seaweed or algae then they should come from uncontaminated water. This way you can be sure you are getting a quality product that will be highly nutritious. So, read labels!
Look for USDA or equivalent approved products to be sure that they meet high requirements and standards. Buying an inferior product is not cost effective in the long term. It just won't have the same nutrient content and you won't get the results you're looking for.
Does Green Superfood Powder Work?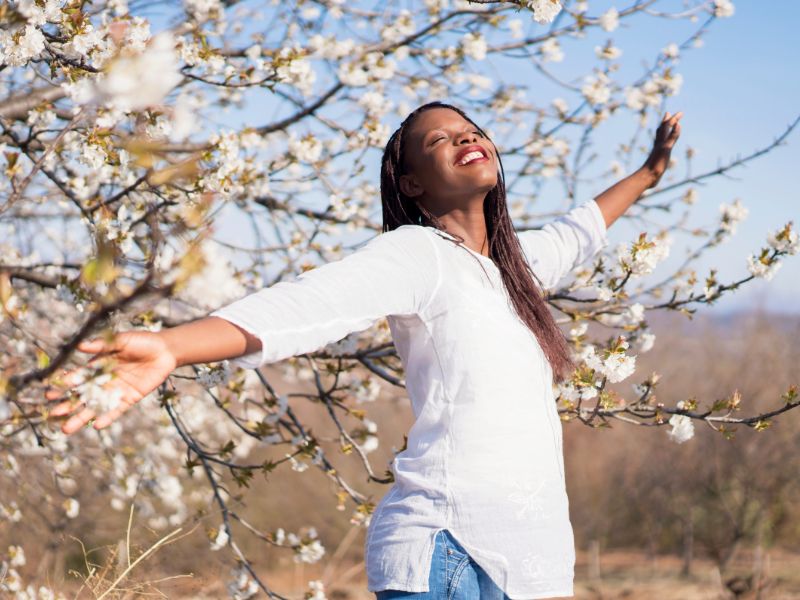 Good quality superfood can give you a lift and a boost that you can physically feel. Knock back a shot of high quality powder every day and you will start to see your skin glowing fast.
One of the major outside benefits you will see form highly alkaline, green superfood powder is the way it makes you glow fast, especially alongside a plant based diet.
It's a good idea to either rotate or alternate your superfood powders because they all have different nutritional profiles and it's good to keep things varied. Either do that, or buy a blend which are also good as they often come with other enzymes and nutrients to help aid nutrient absorption.
The benefits of turmeric alongside green superfood
To boost absorption even further, take your superfoods either after a meal, or with a little fat (maybe a handful of nuts or seeds). The reason for this being that some nutrients in your greens are fat soluble, therefore a little fat will help them become more bio-available in the body.
You could potentially take them with a spoonful of my easy to make turmeric paste that contains a mix of turmeric, black pepper, coconut and olive oils.
Taking these two together can act as a powerful anti inflammatory combination that may also help boost your immune system, especially during the winter months.
Buyer's Guide to choosing a product that is right for you
Below is a list of the best available green super food powders on the market today in terms of purity and nutrition. We say this with confidence as we have spent time sourcing out, trying and testing many of them.
Everything on this list is of the highest quality and ethically sourced. The only reason some of these products don't have a 5 STAR rating is purely because some customers are judging on taste rather than quality.
When it comes to green superfoods, they are probably not going to taste great. But, they are not meant to be a treat for you, rather a treat for your well-deserving body. So, close your eyes and knock em' back, we say!
RECOVERY: If you are recovering from an illness or operation, then you may want to go for a blend rather than a single powder to give you a broader spectrum of nutrients. Look out for immune boosting properties (although ALL of the high quality powders on this list will contain these).
EXTRA PROTEIN: If you are sick, you may also need extra protein or meal replacements along with your superfood. You can get all your greens and protein in the one powder. If you think this is something you would like more information on, then please visit our Protein Powder Review's Page to find the best products out there.
TASTE: If you don't like the strong tastes that tend to be prevalent in most superfood powders, then look out for the seaweed and algaes in products as these are the worst tasting offenders. You could always try to disguise the taste in a juice; or just down it quickly in a shot.

PRICE:

If superfood is something you are going to be using long term (we highly recommend that you do), you will want to take price into consideration. Generally, you get what you pay for with these products, but the single powders at the bottom half of this list are usually cheaper. You could always buy a couple of the singles in bulk and alternate them for a broader spectrum of nutrients. However, the blends do have other added extras such as probiotics and enzymes to make them well worth the investment.
DO YOUR HOMEWORK: If you really want to tailor a powder to your needs, then be sure to read carefully the bullet point lists about the best features of each product to see which best applies to you. But, as they are all fantastic and natural food products, most of them are good for everybody and anybody.
Possible green powder side effects
If you have a fast pulse rate or palpitations then you should avoid any of the powders that contain seaweed and algaes as they can make heighten your pulse rate.
Don't take green superfood powders if you have hyperthyroidism. Or, check with your Doctor first. Many contain iodine!
Many seaweeds are high in vitamin K which may interact with certain blood thinning drugs. So check with your doctor first.
High potassium levels in some seaweeds may affect people with kidney problems. Instead go for the grasses and leaves such as barley grass, wheatgrass and moringa and you should be fine. If in doubt, again, consult your doctor.
THE SUPERFOOD BLENDS
Dr. Schulze's Green Superfood Plus
WEIGHT – 396 GRAMS
SERVINGS PER CONTAINER – 26

We've started this list with one of the best organic greens powder available on the market, and here's why I say this: I have personally been using (and so have other members of my family) Dr. Schulze's superfood plus for a couple of years and I always go back to it time and time again, especially when I need a pick-me-up.
If you come over weary and tired in the afternoon, a shot of this green beauty perks you up within 20 minutes – especially good with a hangover.
You can even take this superfood before an occasion where you want to look your best because. It makes your skin noticeably glow, and puts a sparkle in your eyes. As I use this powder all the time, I know that it really is capable of doing this. It can give you the kind of glow that really only comes from an inside job (make-up can only take you so far), especially if you use it regularly.
But that's just aesthetics. Let's get to the other truly astounding benefits of this antioxidant rich food. It is a blend of 10 nutrient rich superfoods. The one we love the most that is not in any other of these other blends is the purple dulse seaweed.
Seaweeds are great at balancing hormones. Plus, the B-vitamins in this product make it a great one for sufferers of PMS or menopausal symptoms.
Also, great for anybody wanting to boost their health and immunity.
(If you don't have specific needs, you can take half the recommended dose and still get the benefits)
REVIEWS FOR THIS PRODUCT:

4 STARS**** 
Looking through the long list of customer reviews on Amazon about this product has backed up our own findings about just how well it works.
Reviews such as "outstanding product", " I have less joint pain now I'm taking this superfood", "I have more lustrous hair", and "noticeable difference in energy and vitality" were just some of the positive comments found.
It must be stressed that the ONLY reason this green superfood has 4 and not 5 stars is because of its taste. Something this healthy and with nothing artificial added is never going to taste great, therefore you should either mix it into a smoothie or down it fast with some juice.
Whatever you need to do, just try take it as the results are so worth it. This powder is purely about nutrition, nothing else. It doesn't actually taste that bad once you get used to it.
This number one green juice powder is also perfect for:-
GREAT SKIN – Crammed full of powerful antioxidants, you can physically see and feel the effects on skin. These effects are enhanced by long-term use.
ANTIOXIDANTS AND PHYTONUTRIENTS – That can help protect cells from free-radical damage.
MAY AID RECOVERY FROM ILLNESS – Not for nothing is this called a SUPERFOOD! It is just loaded with immune boosting, life-giving, raw nutrition specially processed in a way to give it the highest bio-availability in the body. It stands to reason that all these nutrients will be great for giving you a boost when you're sick.

HIGH B-VITS –

 This green superfood powder is very high in the energy producing B vitamins that are crucial to the proper functioning of the central nervous system. This means superfood may well help women who suffer hormonal issues.
IMMUNE BOOSTER – Contains all the nutrients needed for strong immunity.
ANTI DIABETIES-  The high levels of natural B6 in this supplement help with glycogen metabolism to help keep blood sugar at a normal level, alongside a low sugar diet.
WEIGHT LOSS – Such an intense shot of low GI nutrition can help stop you from snacking and craving sugary snacks.
FATIGUE – As mentioned earlier, this powder gives you a boost of energy pretty fast due to its high B vitamin content. Don't take before bed!
Raw Reserve Organic Super Food
WEIGHT – 240 GRAMS
SERVINGS PER CONTAINER – 30

Amazing Grass, organic green superfood uses only the highest quality and premium ingredients that it is possible to source, and is the reason we love this company SO much. You know that whenever you are using their products you are doing something good for your body.
All Amazing Grass products are sourced naturally from either the earth, sea or fresh waters. They are some of the finest, healthful foods that mother nature has to offer.
What is also great about this green powder is the fact that each and every serving contains 25 billion live bacteria for a gut friendly hit of probiotics.
REVIEWS FOR THIS PRODUCT: 4 STAR****
These super greens powder reviews are mainly from customers giving feedback about great taste and texture. Also, about it "being helpful for sleep and stomach problems due to its probiotics", "tastes great with pineapple juice", "noticeably improved energy", "works best when taken 2-3 times daily", and "a great way to kick a bug or illness to the curb fast".
Other Raw Reserve Superfood benefits include:-
HERBAL SUPPORT – This powder also contains a blend of maca, ginger, burdock root, dandelion, cayenne and aloe vera. These may boost your boost your detoxification process, support your liver and aid proper digestion, alongside a healthy diet, of course.
IMPRESSIVE NUTRITIONAL PROFILE – The greens in this product are a mix of the most powerful and nutrient dense antioxidants available. These include spirulina, chlorella, barley grass, alfalfa, wheat grasses, nettle, kale, kelp, bladderwrack, rockweed, sea lettuce, dulse and alaria. If you want to boost your health into the stratosphere, then you should be knocking back a shot of this life giving juice every day.
25 BILLION E3LIVE PROBIOTICS – to help stimulate the microflora in your gut and support immune health.
DIGESTIVE ENZYMES – Added digestive enzymes may help aid in the absorption of all those wonderful nutrients in the first place, and also help the digestion process along its way. After-all, you are what you absorb, not what you eat.

POSSIBLE WEIGHT LOSS –

 The added fibre in this awesome super food will help keep you full. Fibre is  shown in studies to keep blood sugar stable (especially good for in diabetics) and stop those dreaded sugar cravings. A shot of this powder during the mid-afternoon slump will stop you reaching for the cookie jar.
ANTI AGING – The high levels of antioxidants from so many different sources literally covers ALL bases. This makes this powder a powerful detoxifyer that will help mop up those nasty, aging free radicals.

2.5 SERVINGS OF RAW GREENS PER 1 SERVING.

USDA ORGANIC
Garden Of Life – Perfect Green Raw Superfood
WEIGHT – 240 GRAMS
SERVINGS PER CONTAINER – 30


This perfect superfood has 6X MORE concentrated nutrients than other whole leaf grass powder supplements, making it a truly powerful antioxidant. This superfood supplement can really help to eliminate those deep seated toxins from your body.
'Garden of Life' are certified organic farmers from the US. All of their produce is sustainably grown, which of course should always be an absolute must in a product these days.
REVIEWS FOR THIS PRODUCT:

4 STAR****
The product in itself should probably have a 5 star rating due to its sheer quality. Some reviewers have said it is too expensive and the price has gone up recently, which we think has dropped it to 4 stars.
Having said that, Garden of Life products offer some of the best available superfoods, and you have to pay for that we guess. But you should feel the difference in how well high quality products work as they are usually more concentrated.
Other benefits of this product include:-
100% RAW INGREDIENTS – The main green juices in this product are barley grass, wheat grass, alfalfa, oat and kamut grass. It also contains after that a long list of other fruits and vegetables including apple, beets, broccoli, carrot, tomato, spinach, kale, pineapple, strawberry and cherry.
SPROUTS – Sprouted flax, quinoa, amaranth, buckwheat, beans, lentils and seeds all produce enzymes that aid digestion and absorption.
DETOXIFICATION – The powerful concentration of raw greens in this product may help boost your body's detoxification systems.
IMMUNITY – The high nutrient content of these raw greens and fruits are like taking a natural multivitamin and may help boost your immune system.

WEIGHT LOSS –

Raw greens can help with blood sugar control due to their high fibre and nutrition. Great for those who would like to boost their metabolism into fat burning mode.

NON GMO

USDA ORGANIC
Garden Of Life – Perfect Raw Energizer Food Powder
WEIGHT – 282 GRAMS
SERVINGS PER CONTAINER – 30


This Garden of Life product is SPECIFICALLY designed to give you energy and contains a blend of all the best known energy promoting foods. Its high concentration of nutrients gives you that instant 'hit' you are craving when you feel tired and run down. It would also be great for giving you that boost of energy you need before a workout or training session.
This particular powder has a unique blend of ingredients such as cordyceps mushroom, maca, baobab and yerba mate.
REVIEWS FOR THIS PRODUCT:

5 STAR*****
It's not for no reason that this product has 5 star reviews. Garden of life are a long trusted brand that always deliver on quality. With the organic raw superfoods in this green powder, it's easy to see they have yet again delivered on all fronts.
Reviewer's of this product say that it gives them "immediate energy", "is soothing on the stomach, even for those with severe gut problems", and "mixes easily with juices or smoothies".
This Energizer Powder also boasts these other benefits:-
NUTRIENT DENSE – like a liquid multivitamin due to its vast array of raw fruits, vegetables and sprouts. Its unique energy blend comprises of organic baobab, pomegranate, yerba mate extract, maca root and cordyceps (mycelium). Its antioxidant blend comprises of organic parsley, amla cherry, strawberry, beetroot, broccoli, tomato, blackberry, blueberry, kale, cabbage, Brussel sprouts AND MORE.(you will find a full list of the ingredients in this product if you click the link below).
SPROUTS – Sprouted flax seed, quinoa, amaranth, buckwheat, millet, chia seed, beans and seeds produce digestive enzymes to aid absorption and digestion.

PROBIOTICS –

1.5 billion probiotics make this powder gentle on the stomach and easily digestible.

GUAYAKI YERBA MATE –

Specific for energy, focus and learning.
PERUVIAN MACA – For both energy production and helping to balance out the hormonal system.
CORDYCEPS MUSHROOM – Has been used for centuries to obtain energy.
POMEGRANATE – Used by athletes for energy production.

AFRICAN BAOBAB –

is high in magnesium, which plays a role in energy production on a cellular level.

WEIGHT MANAGEMENT –

 This is a great low GI snack between meals. Especially great with a handful of nuts or seeds, as their fat aids the absorption of the fat soluble nutrients.
BLOOD SUGAR CONTROL – So, great for weight loss.
ANTIOXIDANTS – This green superfood's super high antioxidant content can help boost the immune system, scavenge aging free radicals, and ultimately may help slow down the aging process. Check out how antioxidants help neutralise free radical damage.

DETOXIFICATION

GLUTEN FREE
USDA ORGANIC
SUGAR FREE
Garden Of Life – Super Greens Perfect Food
WEIGHT – 600 GRAMS
SERVINGS – 60


This extra large tub of greens will last you 2 months if you have the full recommended serving size. Sometimes you'll find you won't need this amount to gain the benefits, so it will more than likely last longer.
It has been packed full with 45 of the finest quality, phytonutrient dense green superfoods. It also boasts having a higher concentration than other green superfood brands.
This green food powder has 10 different freeze dried probiotic strains to boost your gut flora, plus help eliminate bloating, gas and similar IBS related issues.
The relevance of freeze dried means that the integrity of the probiotic remains intact, even after exposure to air. It will only be activated by exposure to moisture. I.e. when you put it in your smoothie or juice.
REVIEWS FOR THIS PRODUCT: 4.5 STARS*****
This product rightfully has a lot a rave reviews, due to it being such an intense hit of nutrients. It stands to reason that your body will react positively to them.
Reviewers had more energy ALL DAY LONG and less, or no afternoon slumps or sleepiness.
Also a great one for the weight watchers, as this powder may help you to actually eat less if taken before a meal. This is due to your body being already satisfied with the nutrients. You can try it anyway 😉
It does, however, taste pretty strong and grassy. In the green powder world this is a good thing because it shows purity, concentration, and a lack of fillers and other taste masking artificial sugars and flavours.
Other benefits of this RAWsome green powder include:-
200% OF YOUR RDA OF VITAMIN A – good for bone health, immunity, skin health, vision and cognitive function.
PROTEIN AND MINERAL BLEND – Contains the detoxifying algae's spirulina, chlorella and kelp.
FERMENTED FOODS – Contains fermented barley, oat, wheat and alfalfa grasses. All of which are potent in the enzymes that can promote healthy gut flora, digestion, and aid the absorption of its other vitamins and minerals.
SPROUTS – of millet, amaranth, quinoa, buckwheat, lentils, aduki beans. Plus, chia, pumpkin, sesame and sunflower seeds for more raw activated enzymes.
VEGETABLE JUICE BLEND – Full of antioxidant rich vegetables such as alfalfa, broccoli, carrot, beetroot, parsley, kale and many more (see link below for a full list).

WEIGHT LOSS –

its super high nutrient content helps to stop food cravings. This is supposedly because the body is getting lots of the nutrition already it needs already from the powder.

VEGAN
THE SINGLE POWDERS
Amazing Grass – Organic Wheat Grass Powder
***GREAT VALUE PRODUCT***
WEIGHT – 800 GRAMS
SERVINGS PER CONTAINER – 100
1 SCOOP = 10 SHOTS OF TRAY GROWN WHEAT GRASS


Amazing Grass are one of my our time favourite brands. They are a family run business from a small farm in Kansas and they truly care about their products environmental and health benefits.
Their nutrient rich greens are totally natural, organic, and offer a whole array of health benefits.
Most impressively, these greens are highly nutrient dense and actually contain 100% of your RDA of vitamin K – a vital nutrient in the synthesis of protein and blood clotting.
REVIEWS FOR THIS PRODUCT:

5 STAR
*****
The most rave reviews about this product are improved sleep, energy and brighter glowing skin.
Add wheat grass to your favourite smoothie or juice. Or, simply drink it straight up in a shot with water.
As vitamin K is fat soluble, it would be helpful to have some fats already in your stomach from a previous meal (or just take a handful of healthy nuts or seeds with it) to up the absorption of the K. Doing this will also give you the added bonus of making it a more substantial energy boosting snack.
This wheat grass powder also:-
HELPS BOOSTS THE IMMUNE SYSTEM – due to its high levels of vitamins and minerals.
IS COMPLETELY RAW – Raw foods have not been heat treated, so therefore have all their wonderful nutrients and live enzymes fully in tact.
DETOXIFIES – Green super foods may help to remove toxins from the body, alongside other detox foods in your diet.
HELPS DIGESTION – Good to take after or before a meal to help with the digestive process.
IS HIGHLY ALKALINISING
NON GMO PROJECT VERIFIED
GLUTEN FREE
SUGAR FREE
USDA ORGANIC
Now Foods – Certified Barley Grass Juice
WEIGHT – 113g
SERVINGS PER CONTAINER – 19
SERVING SIZE – 2 LEVEL TEASPOONS


Barley grass has very high levels of the powerful antioxidant SOD (superoxide dismutase). In fact, it is known to have the highest natural levels of this, and is the reason why it is one of the healthiest of all the green superfoods.
Just look at all the information from this NCBI study on the myriad of benefits from this super healthful plant and you will be blown away.
These antioxidants will help protect your cells from free radical damage, making it highly anti aging too and something well worth investing in. Barley grass also contains very high amounts of nutrients. Just one serving contains a whopping 200% of your daily requirements of iron, therefore, superb for those at risk of Anaemia.
Barley grass is mild tasting and can be added to smoothies, breakfast cereals, even into recipes and cooking (although heat treatment may destroy some of the benefits).
Or, it can simply be taken as a long drink in juice or water or taken as a shot. You can either take 1 x tablespoon at a time or  1/2 a tablespoon 2 x daily.
REVIEWS ON THIS PRODUCT:

3 1/2 STARS*****
Most customers are very happy with this product and say they can feel the difference in their energy levels after taking it.
It also mixes well into smoothies and tastes like 'real' barley grass juice. This is a good sign as it means it must of been freeze dried whilst still really fresh to hold in all that precious nutrition.
Why you should take barley grass:-
IMMUNITY – Seriously high amounts of nutrients mean this powder is great for boosting your immune system.
HIGH IN CHLOROPHYLL – A powerful antioxidant that can help fight free radical damage in the body.
WEIGHT LOSS AID – Due to its high fibre content and low GI rating, this powder can help keep blood sugar stable. Stable blood sugar means less cravings for junk foods.
HIGH IN OXYGEN – which helps to support cell regeneration.
CAN HELP REPAIRS DNA DAMAGE – Due to it being high in oxygen and nutrients, barley grass can play a role in anti aging, not only on the inside, but on the skin itself.
MAY HELP PROTECT SKIN FROM DAMAGE – Can help repair and prevent the damage done to skin from outside causes such as exhaust fumes, fog, UV ray and extreme cold.
HELPS PREVENT OSTEOPOROSIS – Great for bone health due to high levels of phosphorus, calcium and copper. Remember, this will help most if taken alongside a healthy diet and weight-bearing exercise plan.
GREAT FOR KIDS – Barley grass is a great supplement to give to your children. Not just for ALL the reasons above, but because it is also mild tasting, so therefore child friendly. Plus, the high levels of calcium (a whopping 11 times MORE than milk) make it fantastic for kiddies bones.
RAW VEGAN
NON GMO
KOSHER
GLUTEN FREE
USDA APPROVED/GMP/3RD PARTY TESTED
Klamath – Blue-Green Algae Powder
80 GRAMS (1/2 teaspoon per serve)
SERVINGS PER CONTAINER – 80


This wild grown blue-green algae flourishes of its own accord in the perfect environment of the upper Klamath Lake located in Oregon USA. It was used regularly by the ancient Aztecs for power and energy and is now used worldwide today for the same reasons.
One of the most purest and nutritionally complete, organic foods known to man, this superfood is perfectly balanced by Mother Nature and has a unique microscopic soft cell which allows this wonderfully healthful product to be easily digested and absorbed into the body.
Use half a teaspoon of this powder daily to feel the benefits. Add to either smoothies, juices or plain water. Use preferably after a meal so the fats and other nutrients from your food help to aid digestion and absorption.
Caution: do not use this product (or any other green superfoods for that matter) in the evening as it is stimulating and may affect sleep. Usually best after breakfast or lunch.
Blue-green algae is also great for:-
CARDIOVASCULAR HEALTH – It has been shown in studies that blue-green algae can help to improve blood lipid profiles and lower bad cholesterol levels. Again, alongside a healthy diet and exercise for best results.

ANTI-INFLAMMATORY 

NON-ALCOHOLIC FATTY LIVER DISORDER – As well as helping prevent heart disease, respected studies show algae may also help non-alcoholic fatty liver disorder. This is due to its GLA (gamma linolenic acid), plant sterols and phycocyanin.
ENERGY – Can improve energy levels vastly, making it a great supplement for sports people or those in a training program. May also reduce recovery times due to their anti inflammatory abilities.

ANTIOXIDANT –

All green algae's are high in the antioxidant chlorophyll. This in itself has a whole array of its own potential benefits, such as wound healing, improving digestion, weight control and blood building.
DETOXIFICATION – probably one of the things algae are most famous for are their detoxification abilities. Keeping the body detoxifying efficiently is a cornerstone of good health.
Aduna – Green Superleaf Moringa Powder
WEIGHT – 100 GRAMS
SERVINGS PER POUCH – 21


Moringa is an antioxidant rich plant native to North India that has been used for thousands of years to offer high value nutrition to the native people.
High in calcium, iron and fibre, this green leaf offers more nutrition than kale. If you like the taste then it is truly versatile and can be added to many savoury or sweet dishes such as soups, stews, oatmeal and smoothies.
If you don't like the taste you can simply shoot it in a little water and reap the same benefits.
REVIEWS FOR THIS PRODUCT: 4 1/2 STAR****
Reviewer's of this product commented on having "more energy", the "affordability", "great slimming aid", "tastes fine", "perfect as described" and many more good comments.
Other proven benefits of moringa leaf powder include:-
ANTIOXIDANT – Moringa leaf is especially high in quercetin (good for high blood pressure). And, its chlorogenic acid can help keep blood sugar stable after a meal, making it it another great choice for diabetics alongside their low sugar diet.

ANTI-INFLAMMATORY –

Moringa contains high levels of isothiocyanates which are anti-inflammatory compounds. Keeping chronic inflammation to a minimum may help in the protection of inflammatory and age related diseases.
CARDIOVASCULAR HEALTH – Can have similar cholesterol lowering effects as flax, oats and raw almonds.

GREAT POST WORKOUT/RECOVERY –

 A moringa smoothie post workout will help lower the inflammation associated with aching muscles and joints after a hard workout or exercise session.
DETOXIFICATION – Moringa has high levels of antioxidants and chlorophyll to really help to keep your detoxification organs firing on all cylinders.
WEIGHT LOSS – High fibre foods like moringa will fill you up and help keep your blood sugar stable. This means you will be less likely to crave carbs and snack in-between meals.
ANAEMIA – Moringa is high in bio-available iron. This means it will be helpful to those with low iron levels, or those at risk of low iron levels.
BETTER QUALITY BREAST MILK – Studies have shown moringa powder to increase breast milk production. Its beta-carotene content (which converts to vitamin A in the body) makes the breast milk highly nutritious for babies.
GUT HEALTH – Moringa stimulates beneficial bacteria in your gut, so great news for IBS sufferers.
COMPLETE PROTEIN – Moringa contains ALL the essential amino acids, making it a good supplement on a plant based or vegan diet.
Sari Foods – Pure Organic Spirulina Powder
WEIGHT- 454 GRAMS
SERVINGS PER BAG – 45


As an algae that grows naturally on lakes, this organic spirulina is purely environmentally friendly.
Interestingly, gram for gram, it is the most nutrient dense, single food on the planet. Its nutritional profile is pretty mind blowing stuff as it contains high protein levels alongside iron, copper, B-vitamins, phytonutrients, chlorophyll, antioxidants, and also a good array of those vital omega 3,6 and 9 fatty acids.
Weight Loss:
Another exciting piece of info we found whilst scouring the reviews on this product was the fact that quite a few customers have commented on how satiating this particular spirulina is. It fills you up and keeps you going for hours (especially when added to a smoothie). All of this at only 40 calories a serving!
REVIEWS FOR THIS PRODUCT:

4.5 STARS*****
Reviews of this product were: "higher energy levels", "better quality sleep", "stronger nails", "clearer skin", "disappearance of acne", and "feeling much more alert than usual".
Spirulina is also great for:-
WEIGHT LOSS –

 As stated above, many reviewers commented on how satiating this product is.
NUTRIENT DENSE – Crammed full of nutrients, particularly vitamin A and B12.
ANTIOXIDANT AND ANTI-INFLAMMATORY – It's spirulina's main antioxidant compound phycocyanin that gives it its intense blue-green colour that is responsible for helping neutralising free radicals in your body.
IMPROVES ALLERGIC RHINITIS – It has been shown undoubtedly that spirulina can help reduce symptoms such as sneezing, itching and nasal congestion.
DETOXIFICATION – One of the main reason spirulina is used in natural therapies is to help with the detoxification of heavy metals and other toxins in the body. (Important: If you have known heavy metal toxicity, then never try to detoxify from this yourself as you will need the guidance of a specialist).
CAN HELP CLEAR UP ACNE – According to some reviewers, spirulina really helped clear up their skin problems.
KOSHER
HALAL
NON GMO
GLUTEN FREE
USDA ORGANIC
CONCLUSION
Would you like to know more about the power of plants and just how much a plant based diet can transform your life? You will find it a whole lot easier than you may think, especially now that the vegan and plant based lifestyle has become more mainstream than ever.
Discover how I did this myself to help heal my own body and mind in my post 'Compete Guide to Plant Based Eating'.
Thanks for visiting ZestForever today!
We love to have your ongoing support and would be grateful if you would share our content to your social platforms.
Let's make the world a healthier, better place for all~!