Crazy times right now huh? I guess none of us know how to react to the sudden and massive changes that we are more than likely going to have to make over the next few months, even beyond. So many questions are running though our minds at a million miles an hour, and we just don't have a clue what to think or expect.
It can sure get pretty scary if you start to over think things, so I urge you not to do that and instead focus upon keeping as healthy as possible by making use of these healthy quarantine and isolation meal ideas for plant based eaters.
There's no reason why we can't eat as healthily as possible using what we have to hand. I've been lucky enough so far to have access to fresh fruit and vegetables and from what I've heard so do many others, but I'm guessing this could change at any time (let's hope not).
Hone your kitchen skills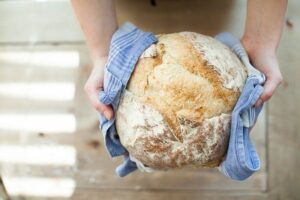 The fact that the future seems uncertain at the moment means it's a great time to learn new skills with food prep such as freezing, fermenting, drying, preserving, and making jams from fresh fruits. If you're going to be stuck home anyway, then you probably have the extra time on your hands.
Homemade breads are something a lot of people are trying out at the moment due to lack of loaves on supermarket shelves. This means now is a great time to make your own bread, and you don't even need a machine with these 13 simple homemade recipes.
I've decided not to go too deep and technical in this post as my aim is to always bring you fast and easy plant based recipes, so I will share with you all the tips I know to keep your food as tasty and highly nutritious as possible.
Store cupboard staples
If you can, then try to stock up on the following items (when I say stock up, I by no means mean stockpile as this messes up the food chain even more) as they will all keep long-term, so won't go to waste in the long run.
Dried herbs and spices of all kinds will come in very handy for flavouring foods such as soups, stews, curries and chilis.
Canned or tinned goods such as crushed tomatoes, baked beans, lentils, pulses of all kinds, soups, coconut milk, fruits, sweetcorn, peas, potatoes, and all other vegetables.
Jarred goods such as fermented vegetables, sauces, coconut oil, fruit jams, peanut butter, marmite, yeast extract.
Bottled sauces such as ketchups, vegan mayonnaise, vegan Worcestershire sauce, apple cider vinegar, balsamic vinegar, maple syrup.
Dried goods such as gravy powders, nutritional yeast, vegetable bouillon, pastas, lentils, pulses, brown rice, flours, buckwheat flakes, oats, oatmeal, breakfast cereals, granolas, millet, amaranth, quinoa, dried fruits, nuts, seeds, protein powders.
Packets of instant rice, quinoa, mixed grains.
Frozen foods such as fruits and veggies.
Green superfood powders such as wheatgrass, barley grass, spirulina, Dr. Schulze's superfood, chlorella, moringa. All of these are freeze-dried from the freshly harvested plant, and can be an amazing source of nutrition and antioxidants when you can't get many fresh greens.
Tips for getting the nutrition you need on lockdown
Buy fresh produce when you can – Eat some when it's at its freshest, and then freeze what's left. Fruits that freeze well are berries, pre-sliced bananas, de-pipped and peeled avocados, oranges, nectarines, pineapples and mostly any fruit will freeze. Be sure to WASH thoroughly everything before you freeze it. Frozen fruits are ideal for putting straight into the blender to make nutritious smoothies.
Freezing vegetables – You can easily freeze leftover veg, but some are better off blanched first then frozen as this will help them to keep their texture better. Check out how to do this in this helpful post.
Get your antioxidants –  This will help keep you strong and well. If fresh produce is not available, then you can get good nutrition from dried herbs and spices; and freeze dried superfood powders that come in the form of green veggies, beetroot, dried fruit powders, baobab, camu camu (a great source of vitamin C), mushroom powders, and all sorts of dried products may be available. Eat LOTS of garlic! – Use lots of potentially anti viral garlic by adding it into at least one meal a day. Try to add it at the very end of cooking time to keep all of its active compounds in tact – this is very important!
Eat raw! Eating lots of raw foods in the form of fruits and vegetables will help keep their vitamin and mineral content from being destroyed in the cooking process. Try to have a couple of portions of fresh fruit, a green superfood powder shot/green juice, and a small salad daily along with your other meals.
15 Nutritious Quarantine & Isolation Meal Ideas
1. One pot vegetable and chickpea curry
This veggie and chickpea curry is perfect for using up any vegetables that you may have. Yes, the recipe states specific ingredients, but in times of need you can very easily replace these with what you have in your larder or what's available in your area.
If you have lots of dried spices and a can of chickpeas then you can knock this tasty and nutritious family favorite up in a flash. And best of all, you can really serve this with any grains you like such as rice, quina, millet, spelt, amaranth are all great to soak up a curry's juices.
You could also cook this dish in your slow cooker in a larger batch, then simply portion out and freeze what you don't eat. Curry keeps well for up to 3 days (maybe longer) in your refrigerator due to it's preserving spices. It also tastes better after a day or two, as by then the spices have had a chance to infuse into the vegetables.
An easy chickpea curry made in one pot! This delicious vegetable curry is packed with vegetables, is super flavorful, is easy to make and freezes well too!
2. Mac and cheese
Another simple store cupboard meal, and a great comfort food to boot. This family favorite is high protein and a great one for the kids. The dish uses creamy cashews, coconut milk and nutritional yeast to make a delicious cheesy tasting sauce that could fool anybody into thinking they were eating the real thing.
You can eat this alone, or better still with a green salad for more nutrition.
Look no further, this is by far the best vegan mac and cheese recipe, it is so reminiscent of my mom's mac and cheese recipe. This vegan macaroni and cheese recipe is so creamy and flavorful. It is delicious served with Cauliflower Nuggets and Vegan Coleslaw.
3. Red lentil and vegetable stew
A great winter warmer, this red lentil stew will warm your cockles on a cold day, and is not only bursting with root veggies but also a good dose of anti inflammatory turmeric.
Not only that, but all of the ingredients in this dish are very budget friendly and can be bought at low cost when times are hard. Be sure to load up on the turmeric and the garlic to make this even more of a healthy, immune boosting meal.
Sharon Palmer This savory, completely plant-based (vegan), gluten-free Red Lentil Stew with Root Vegetables is a bright, sunny shade of orange-the perfect way to cheer up the cloudiest of days. Its hearty flavor and texture makes it ideal to pair with a simple salad or sandwich half.
4. One pan mexican quinoa
This dish is high protein due to the black beans and the complete amino acid profile quinoa. Best of all, it can be made out of ALL store cupboard ingredients with no fresh produce required if you can't get hold of it.
You can swap out any fresh herbs for dried, but if you can't get hold of an avocado then you may have to leave it out. Fortunately, you can buy frozen avocados, or you can freeze your own in advance. If you do this, it is best to de-seed and skin them first, then freeze them in a freezer bag or plastic container.
Wonderfully light, healthy and nutritious. And it's so easy to make – even the quinoa is cooked right in the pan! Despite my daily 3-mile runs, all the morning donuts have finally caught up with me. So Jason and I made a pact to lighten up our diet before our Cabo trip in 6 weeks.
5. Lentils and spinach
If you can get hold of fresh spinach for this dish, then great. If not, frozen will work just as well in this spicy and highly nutritious meal.
Red lentils are an amazing source of protein, iron, folate and health promoting polyphenols; and all those spices are an amazing source of the antioxidants that you may be missing out on from lack of fresh fruits and vegetables.
This North African lentil stew features a flavorful base of onions, garlic, tomatoes and herbs to which a generous amount of lentils and spinach are added and cooked through. An easy one-pot meal for cold days! You know how they say you can't judge a book by its cover?
6. Hash brown casserole
Something very different here, vegan hash brown casserole made with root veggies, nutritional yeast, cashew nuts and white beans. Sounds like a strange combination, but this has all the elements for a complete and nutritious meal without the need for anything else. If you do want something else with it then I personally would go for baked beans, as that is always my go to side with a bubble and squeak and this is very similar.
Again, I reckon this would work well with other root veggies such as parsnip, turnip, sweet potato and squash.
This oil and dairy-free version of the traditional American hash brown casserole came out delicious and hearty-healthy. With potatoes, onions, red bell peppers, Creamy Vegan Cheese Sauce, and smoked paprika, there is no skimping on taste. No artery-clogging butter and eggs either!
7. Sweet potato tortilla soup
If you can get hold of fresh ingredients then this could be the dish for you. Sweet potato is super high in vitamin A, immune boosting vitamin C, magnesium and B vits, and also is a great veg to stock up on as it keeps well for a long time.
Make sweet potatoes one of your store cupboard staples if you can, as they are versatile and will give you and your family lots of nutrition.
The veggies in this soup could easily be swapped out for what you have available to you in your area, and will make a great lunch or dinner. Perfect for batch cooking and freezing.
By Shannon @ Yup, it's Vegan During the winter months, you can almost always find sweet potatoes waiting in my pantry. I love them steamed, boiled, roasted, baked, cooked on the stovetop… any which way. Recently I discovered their power to transform the summery, garden-fresh flavor of tortilla soup into a cozy, winter-friendly sweet potato tortilla soup.
8. One pot vegan mushroom stroganoff
Here's another simple, tasty lockdown meal that you can knock up from mostly store cupboard ingredients. You will however need fresh mushrooms, but other than that the rest of the ingredients are non-perishable.
Mushrooms give a meaty element to any dish, and the garlic and onions are fantastic anti viral foods that can help to keep you and your family healthy alongside a diet rich in whole plant foods.
With Autumn is just days away….. and winter is fast approaching!!! This incredibly simple one-pot vegan mushroom stroganoff will be the perfect dinner to warm you up on the cold evenings that are on their way. The best part is it only uses these 8 ingredients that you can easily source from any supermarket.
9. Yellow split pea soup
The two basic ingredients in this soup are yellow split peas and onion, therefore it's really easy and keeps very well in your freezer too.
Split peas (and peas in general) are wholly underestimated and nutritional powerhouses packed with protein, fiber and magnesium. They are also help keep blood sugar stable way more than other carbs such as potatoes or rice, which in turn can help with weight control when eaten in conjunction with a healthy diet.
A delicious, simple vegetarian split pea soup made from an impossibly short list of ingredients. Seriously, just five! Many of you were enthusiastic about the lentil soup recipe I posted a few weeks back. Today's split pea soup recipe is similar in spirit. It's a delicious, healthy, textured soup made from an impossibly short list of ingredients.
10. Vegan minestrone soup
If you can get hold of fresh veggies in abundance, then this soup is a perfect family sized lunch or dinner just bursting with vitamins, fiber and minerals.
You don't need to use the traditional pasta in this dish, as it gives you options to use so many other more healthy grains such as lentils, amaranth, spelt, quinoa, barley, corn and bulgur – even oats can be used! All of these grains have the added benefit of being high in plant based proteins, which makes this a more nutritionally complete meal in one.
The beauty of this kind of dish really is it's versatility, as you can use ANY seasonal veggies and any kind of grain, so you should be able to knock this up any time of year.
This hearty vegan minestrone soup is packed with seasonal vegetables, beans, lentils and whole grains. Perfect comforting vegan winter soup full of flavor and nutrients! This winter vegan Minestrone soup is a great example of how to combine vegetables, proteins and carbs in a single bowl.
11. Vegan spaghetti bolognese
Comfort food at its very finest! Spaghetti bolognese is something that I eat almost on a weekly basis as it is so easy to freeze in portions.
And this recipe is by far the closest tasting to the real deal due to its brown lentils and walnuts, both of which give it that meaty texture that you crave in a spag bol. Walnuts are also a great source of healthy fats and antioxidants; whilst brown lentils are jammed full of protein, iron and folate.
To make this meal even healthier, you could use a chickpea, lentil, buckwheat or quinoa pasta – all of which will up the amino acids in this dish.
Sharon Palmer You can make the most amazing, savory, nutritious bolognese without any meat! Yes, that's right! Just cook up an easy, healthy pasta sauce with lentils, walnuts, and tomato products, which provide just the right amount of pizzazz to pasta recipes, such as this hearty, plant-based (vegan) Lentil Walnut Bolognese with Spaghetti dish.
12. Turmeric rice, beans and greens
You can literally make this whole meal out of store cupboard ingredients if need be, it really is that simple. But, it will be equally as good if you can get the fresh produce too.
This dish is SO healthy due to it's anti viral garlic, anti inflammatory turmeric powder, and nutrient rich onion and spinach. Turmeric in itself should be eaten in abundance due to the fact that it has so many health benefits from its active compound curcumin.
This one-pot turmeric rice, beans & greens is as nourishing as it is easy to make! Add your favorite toppings for a plant-powered meal.
13. Homemade wholewheat bread
I know some people are having trouble getting hold of simple items like bread, so why not have a go at making your own?
This homemade bread literally couldn't be more simple, as it only contains a couple of ingredients and LOADS of fiber. Wholewheat flour is also way more nutritious than white flour, due to the fact that the whole of the grain is used including the germ and bran, both of which are high in B vitamins and magnesium.
The addition of flax seed ups the fiber even more, and also adds a good hit of omega 3 fatty acids.
If you don't bake your own bread, you will impress your self. It is so so simple and incredible, that you will begin making your own bread. And not only, you will also be skipping on the store-bought bread preservatives.
14. Chickpea flat bread (socca)
Another easy peasy bread that takes only minutes to prepare, this vegan socca flatbread is simply made of chickpea flour (otherwise known as gram flour), a little olive oil, salt and water – it seriously is that simple!
Chickpeas are super high in protein, therefore you don't need to think about another protein element to go with this snack. You could use it either for dipping, or as an accompaniment to a curry, spag bol or chili.
Socca is a wonderfully quick and easy flatbread recipe made with chickpea flour and cooked in a skillet until golden and crispy along the edges. It's bakes up dense, yet tender, and can be easily customized with herbs & spices! You may already be familiar with the Savory Chickpea Pancake which is another way to use chickpea flour.
15. Onion and flaxseed bread
Another easy and tasty gluten free bread that will please all the family, this vegan flatbread contains just two ingredients and nothing else.
Flax is high in fiber, protein and healthy fats, and will keep your tummy happy. Serve this bread with any toppings you like, or dip into your favorite hummus like you would a pitta bread.
Vegan flax bread recipe made from just flaxseeds and onions. This homemade gluten free onion bread recipe is eggless, grain free and quick to make. It's so simple to create a flax onion bread that is good for you and loaded with protein, fibre and healthy omega fats.
16. High Protein Tofu Fried Brown Rice
This tofu fried rice is a great choice because it's super high protein and mild enough in flavour for all the family to enjoy.
The veggies of sweetcorn and peas can easily come from frozen or canned and it will be just as delicious. And, the good thing about tofu is you can chop it into portions and freeze in batches.
The rest requires minimal fresh ingredients which can also be substituted if need be.
CONCLUSION
I hope you have seen something you fancy trying in this post today. My aim was to show you that there are lots of healthy, cheap and easy dishes out there that can be made mostly from store cupboard ingredients that your whole family will enjoy.
It's usually possible to stay healthy no matter what you have available if you know how to use ingredients wisely. You may want to check out these store cupboard staple snack ideas too, for some healthy alternatives to shop bought treats.
For more recipes, tips and guides on everything plant based, please feel free to join up below↓↓↓ and never miss a post from Zestforever again.
Thanks for reading!