Most of us like to snack right? I know I do, especially as I like to eat little and often and hate being hungry. But, what you snack on is of vital importance because most people when they do snack, do so unhealthily. When you think about it, most snacks are set up to be unhealthy in the first place. Just think crisps, chips, sweets, cakes, biscuits – all tasty, but ultimately very unhealthy.
In this post I have sourced out healthy plant based snack ideas that are also portable enough for you to take to work, school, or anywhere else you need to go in your busy day.
What makes a good snack?
Ideally, you want to put thought into your snacks if you wish to make the most of of them, and also to prevent you gaining weight of course.
A good snack should fill a hole when needed and keep you satiated until your next main meal. This means a mix of protein and complex carbohydrates combined to keep the GI low (GI is short for glycemic index, and is a scale that shows how fast a food's sugars are released into the bloodstream).
The lower the GI value of a food, the healthier the meal or snack will be as it will give you a slow burn of energy which will keep you fuller for longer.
Healthy snacks should also be free from all refined sugars and oils, and also not be processed or have added unnatural colours, flavours or preservatives.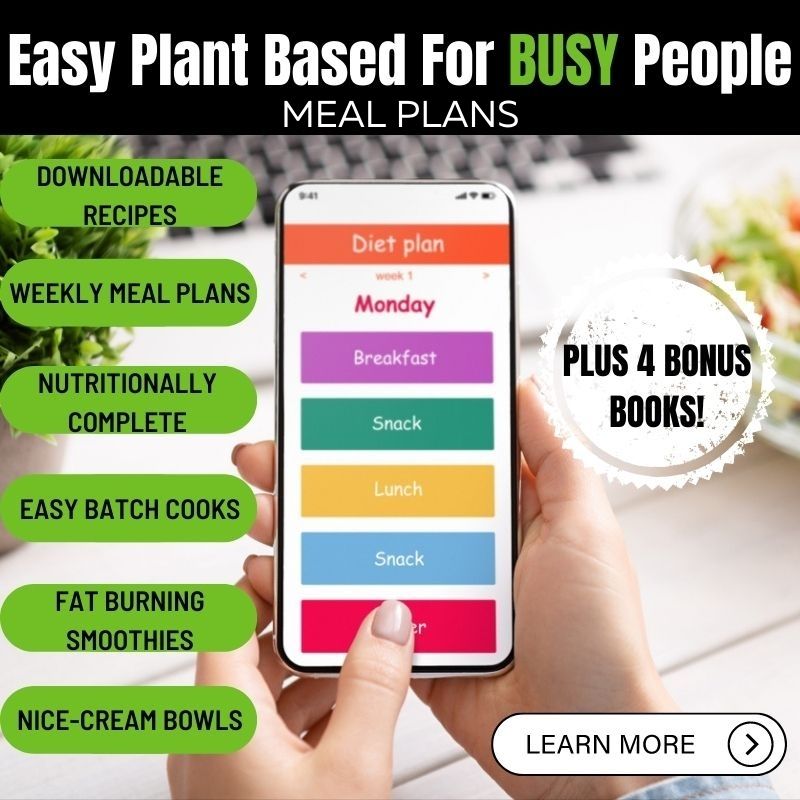 Preparation is key
The vital key to keeping your snacks as healthy as possible and avoiding temptation, is to always prepare them in advance. For instance, you could take some time at the weekend to prepare or bake you snacks for the week ahead.
I often make my own oatcakes, protein bars, flapjacks, and healthy peanut butter cookies on a Sunday ready for the week. Fortunately, most of the snacks on this list (not all) last up to one week in your fridge or an air-tight container.
Low GI Snack Examples:-
These snack examples have all the elements of protein, complex carbohydrates and fats to keep you full and satiated.
Oatcakes and sugar-free peanut butter
Dried fruit and unsalted, raw nuts or seeds
Homemade flapjacks made with oats, fruit, nut butters and seeds
Homemade easy and healthy banana cake
Very dark chocolate (85% is high cacao and low sugar)
Protein/energy balls and bars
Homemade brownies made from ingredients such as almond meal, cacao and dates
Edamame beans
Roasted chickpeas
Wholegrain, homemade chocolate covered rice cakes with nuts and seeds
Green smoothies/ juices/protein shakes
Dry fried tofu pieces with ginger and tamari
Homemade popcorn
Certain homemade breads are tasty on their own and much healthier than supermarket versions.
Healthy Plant Based Snack Ideas
1. Two ingredient energy bars
If you want simplicity, then you can't get easier than this no-bake energy bar recipe. Comprised literally of prunes and oats or granola, this is also a super healthy and refined sugar-free snack.
I'm not going to lie, I always had a bad image of prunes when I was younger due to their reputation as a kind of medicine to keep you regular. But, I recently gave them another chance and found they are pretty delicious – they are just a dried plum after all, so what's not to like?
Prunes are also an amazing superfood and fat burning dried fruit rolled into one; they are high in fiber and also boast more antioxidants than a blueberry, who knew?
2. Beetroot falafel
Just look at the colour of these beauties! You can see that these falafel's are just bursting with nutrition and plant based goodness.
The great thing about a falafel is they are easily transportable, and can be either a great snack or a lunch. They are also high in protein, so will keep you fuller for longer.
Beetroot is another known superfood that is high in vitamin C, iron, potassium, manganese and B vits, and it's also used by athletes to boost energy levels during duration sports.
3. Tomato and basil lentil chips
Red lentils are high protein and very healthy, and the spices in these chips are full of antioxidants making them very different indeed from your average chip.
Make a big old batch of these and either eat them alone or with a dip of your choice. I'm thinking hummus or guacamole would both taste amazing here and add to the health benefits.
https://www.nestandglow.com/healthy-recipes/tomato-basil-lentil-chips
4. Raw coconut cupcakes
These could be classed as a healthy snack due to the fact that they are refined sugar free, plus they are also low carb and keto.
Coconut in itself is full of healthy fats and is very satiating, so one of these when you fancy something sweet will fill a hole, and won't spike your blood sugar while it's doing so either. Always eat high fat treats in moderation though, especially if you don't wish to gain weight.
5. Garlic roasted chickpeas
A tasty, easy and cheap snack, chickpeas never cease to amaze me. They are also low fat and high protein, so everything you want in the perfect afternoon or evening treat to keep you satisfied and to bust that crunch craving.
This recipe calls for spices such as garlic, curry powder and chili, but honestly, you can just make them completely plain if you like and they still taste just good.
Another thing about a roasted chickpea is you can cook it to the level of crunchiness that you desire. If you like them more chewy, then don't cook for as long; if you like them really crunchy then keep on cooking. Remember that if you don't cook them until they are really crunchy, then they don't really keep as well due to the remaining moisture.
6. Sweet potato, quinoa and cinnamon bites
Sweet potato, quinoa, and warming spices make these bites the perfect protein rich snack. Sweet potato is high in the antioxidants and complex carbohydrates that will satiate you until your next meal.
These are both sweet and savoury rolled into one, so should satisfy all your primal urges. Again, a couple of these would make a complete meal for either lunch or breakfast too, so make a batch up and eat them throughout the week as a fast and easy snack or meal.
https://www.nestandglow.com/healthy-recipes/sweet-potato-quinoa-cinnamon-bites
7. Pea guacamole
Peas are one of my absolute plant based food favorites as they just have everything going for them. They are very cheap (if you buy the frozen or tinned kind), easy to prepare, can be a side to literally every meal, AND being technically a legume they are very high in protein.
Green peas are high in vitamin K, A, C, iron, folate, manganese and thiamin, and amazingly they also help with blood sugar control, making them a great diet food.
This simple pea guacamole will be great to use as a dip for healthy and raw veggies of all kinds.
8. Baked parmezan zucchini (courgette)
Zucchini is very low calories as it's high in water, so this is a great low carb snack for weight watchers.
This recipe calls for parmezan, but you could easily swap this for a vegan version; or even easier, you could use nutritional yeast flakes.
Not only are these a great snack on their own but they would also make a good side dish to a main meal, or even a low calorie substitute for fries.
9. Gluten free goldfish
These yummy little biscuits are a great one for the kids (you can make them any shape you like of course, and with any kind of cutter). Also, a perfect guilt-free snack for when you are watching your favorite T.V. show in the evening.
These great snacks are fat free, and because they are made of chickpea flour and nutritional yeast they are super high in protein too. It's really worth going to the effort of making your own snacks like this, as shop bought versions will always be very unhealthy.
Homemade Gluten-Free + Vegan Goldfish (Allergy-Free, Grain-Free)
10. Lemon tofu cutlets
Oh boy, these are really tasty and effective and have just the texture you crave.
The secret to getting a great texture with tofu is in the freezing of it first. I found this out by accident not long ago when I had some tofu in the fridge about to go off. I froze it and have subsequently used it, and the difference in texture is totally amazing. Needless to say, I freeze all my tofu now!
Tofu is also one of the best plant based sources of protein as it is a complete protein. Other examples of plant foods that contain full amino acid profiles are:-
All soy products
Quinoa
Buckwheat
Amaranth
Hemp
11. No bake breakfast bars
Almonds, dates and oats make up the bulk of this recipe, and also happen to be perfect breakfast or snack ingredients. You have the high protein content of the nuts, and then the low GI carbs in the oats and dates.
Dates are a known superfood, and have the added benefits of being high in iron, magnesium, vitamin B6 and potassium. They are also very high in antioxidants, and are great for bone health due to their high amounts of plant based calcium.
Feel free to swap out the honey in this recipe for maple syrup, or some other plant based alternative.
12. Baked vegetable chips
You can't look at these and not want to indulge… can you?
Making your own vegetable crisps has the added advantage of YOU being in control of how much oil and salt you add. The problem with most shop bought chips (or crisps as we call them here in the UK) is they are usually laden with calories, fat and salt. But when you make your own you can slash these ingredients without compromising on flavour, then chomp away until your heart is content.
Use any root veggies you like; they all work well as long as you slice them thin enough.
13. Roasted edamame (soy beans)
The simplest of all the snacks on this list, comprising of just 2 ingredients: edamame beans and salt.
Edamame beans are packed full of complete plant based protein, are low calorie (if you don't add fat), and are very satiating due to them being low GI, making them perfect snack to fill you up until dinner.
14. Cheesy popcorn
Homemade popcorn is the best because you get to control the fat content. Most shop bought popcorn is smothered in fat and sugar and not at all healthy, but popcorn can indeed be a healthy treat if you make your own.
It's pretty easy too, and takes only a couple of minutes, PLUS it's 10 times cheaper at least!!
You can add whatever topping you like to your popcorn, depending on whether you're a sweet or savory type, but this delicious nutritional yeast recipe gives it a lovely cheesy taste; and adds extra protein and nutrients to boot.
15. Cinnamon apples
These delicious cinnamon apples can be eaten alone as a snack; or also with waffles, ice-cream, on top of your favorite breakfast cereal, or even in a fruit pie.
Personally, I'd make a big batch up and keep it in the refrigerator to eat as and when I fancied. I'm a big apple fan myself, but you can do similar things with pineapple, pears, plums, peaches, nectarines and apricots. And some fruits release so much natural sugar that you don't need to add any extra from maple syrup.
16. Decadent Double Chocolate Muffins
These double chocolate muffins are refined oil free and contain under 1.5 teaspoons of sugar per portion. Most shop bough chocolate muffins come in at a whopping 600 calories each! Mostly from unhealthy, refined oils and sugars.
With these muffins, you don't compromise on taste, yet get all the health benefits of the antioxidant rich, high cacao content chocolate at a meager 165 calories!

CONCLUSION
Healthy snacks can be an important part of your every day diet, especially if you like to eat little and often. Keeping your snacks as whole food as possible by not using refined sugars, carbs or oils will also help to keep your BMI down and keep you full.
If you liked these healthy snacks, then why not try my selection of the healthiest brownies. They are perfect for any occasion, low sugar, and low in refined oils without compromising on taste.
Thank you for reading this post from Zestforever today. For more awesome post, recipes, tips and guides please join up below↓↓↓ and never miss a post from us again.