If you're looking for some easy hacks to help burn off the pounds with minimum effort then apple cider vinegar diet can do exactly that: it's easy to do, inexpensive, and can work quite effectively alongside a healthy diet plan and exercise to boost metabolism and give you a fat burning edge
Apple cider vinegar has been around for centuries, and used for quite literally all manner of things from killing viruses to a shine tonic for hair. There's no doubt it's versatile, and recent studies are proving some great facts about apple cider vinegar (ACV) mainly in regards to how it aids weight loss.
What exactly is Apple Cider Vinegar?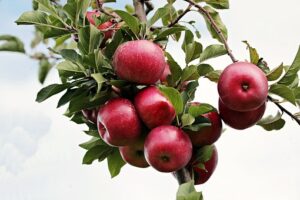 Well, it is literally vinegar derived from apples – that's it! It is made by crushing cider apples, squeezing out the liquid, then adding bacteria and yeast to the juice which triggers the fermentation process. It is this fermentation process that turns the sugar's from the apple juice into alcohol. There is then a secondary fermentation process where an acetic acid-forming bacterium will convert that alcohol into vinegar.
This is a process that can be done in your own home with just a few ingredients (if you're inclined to making homemade things); or as apple cider vinegar is relatively cheap to buy it may be a good idea to purchase a trusted brand product and try it out first to see if you like it.
How much weight can I lose drinking apple cider vinegar?
Apple cider vinegar works on different levels as a weight loss aid, and can very simply be added into your diet. I have mine every morning before breakfast with a half a pint of warm water and a squeeze of lemon and it really helps to even out my blood sugar AND makes my skin glow for the day ahead.
How much weight you will lose depends on other various factors such as your diet in general, and of course the amount of exercise you do. I doubt very much that apple cider vinegar alone (with no healthy eating and exercise plan) will make you lose weight, but it will help you maintain a healthy weight. Before we go any further let's take a look at how some of the latest research and evidence adds up when it comes to apple cider vinegar and fat burning.
1. IT BOOSTS FULLNESS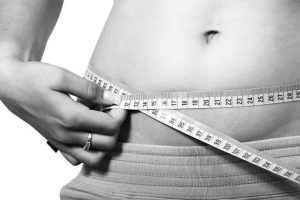 It is the compound 'acetic acid' found in apple cider vinegar that is said to have the weight loss benefits. This study on mice from found that apple cider vinegar suppresses body fat mass and increases energy expenditure, therefore resulting in weight loss.
A similar study involving 155 obese patients discovered that over 12 weeks those in the group that consumed 15-30 ml (1-2 tablespoons) of apple cider vinegar had lower body weight, lower body fat, and fewer inches on their waist than those who didn't. This was without making any other changes to their lifestyle or diet.
2.CALORIE REDUCTION
And more good news, yet another study from PubMed found that in a 12-week period the participants taking between 12-30 ml (1-2 tablespoons) of apple cider vinegar before a high carbohydrate meal had feelings of satiety, and this led to an overall reduction of 200-275 calorie intake over the rest of the day.
You can imagine how this adds up over the weeks and months. In fact, those taking a 15 ml dosage 1 x daily before a high GI meal lost 2.6 lbs (1.2 kg) over the 12-week period; and those taking a double dose of 30 ml 1 x daily before a high GI meal lost 3.7 lbs (1.7 kg).
Can I drink apple cider vinegar everyday?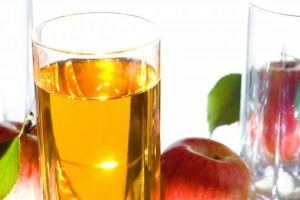 Yes, apple cider vinegar isn't acidic like most other vinegar's, and is in fact, very alkaline. Try it with your main, or highest GI meal of the day for best results. Ideally your highest GI meal should be at breakfast or lunch when you will need the energy for the day ahead.
These effects of satiety can even help you eat less food for the rest of the day, but eating high protein meals will also help with this – especially in the evening when your body needs less energy.
Satisfaction and weight loss
Satisfaction and fullness were the two key points of the study, and these are the two most important components to long term weight loss. Nothing is worse than eating a paltry 'diet meal' and still feeling hungry afterwards. This not only hinders your weight loss efforts making you more likely to cave to junk foods, but it also makes your life miserable. So satisfaction is most definitely key!
Long Term Benefits
Anything that you can easily slip into your diet every day with minimum effort to give you a extra fat burning edge is well worth the time right? You may not lose huge amounts of weight on apple cider vinegar alone in the short term, but just look at the long term benefits of daily AVC not just for weight loss, but also many other great reasons.
LOW GI MEALS
Lowering a meal's GI really is the cornerstone to losing weight – and I'm talking dangerous belly fat specifically. GI (or glycemic index) is the rate in which a food's sugar hits the bloodstream. The higher a food's GI, the quicker the sugars are released (high GI foods are considered fast sugars, and include all refined grains, sugars and syrups), and fast released sugars are BAD in terms of weight loss and also health in general.
Excess sugar is stored as fat!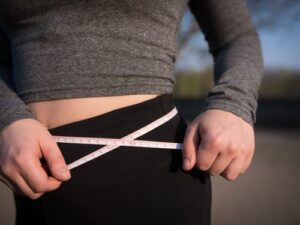 When sugar is released quickly into the blood as in the case of high GI foods, it prompts the body to have a rapid and hard insulin response in order to clear them from the bloodstream. This sugar is then sent into the liver and muscles where it is metabolised then either used for energy, or stored as fat.
The problem is these fast sugars don't all get used for energy (unless you're about to run a marathon or do something that involves vast amounts of energy) and so they are stored as fat. And worse still, they are stored as the dangerous abdominal fat that is much more of a health risk in terms of diabetes, heart disease, metabolic syndrome, and even cancer.
This is where having the GI of your meal lessened by apple cider vinegar can be of benefit not only in terms of weight loss, but also for the general health benefits of keeping blood sugar stable.
How to use apple cider vinegar for weight loss
Firstly, there are many ways you can add apple cider vinegar to your diet, it's pretty versatile and can easily be added to your meals in various ways such as in a fresh salad or dressing. But if you are using it for weight loss purposes like the participants in the study, then I suggest you do what they did and have 15-30 ml in water with a squeeze of lemon and maybe a little raw honey before your highest carb meal of the day.
Or, you could take 15 ml twice a day; one before breakfast and one before lunch if this fits in better with your lifestyle. Either way you should take up to 30 ml a day – but no more than that in case of potential stomach issues.
Weight Maintenance
If you're just going for weight maintenance, then you could just try adding apple cider vinegar to your everyday diet in other ways, such as:-
In a salad dressing.

In a hot drink with lemon, honey, cinnamon sticks, sliced fresh ginger and cloves (great for colds, but also a tasty drink just on a cold winters day).

Replace with your usual vinegar on fish and chips (yes, I'm British).

Can be added to soups and stews.
Other ways of weight management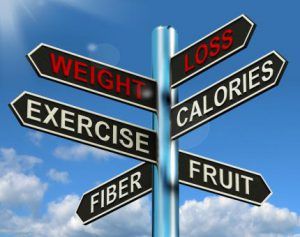 Do not rely on apple cider vinegar alone; be sure to boost your fat burning efforts even more by incorporating these other tasty fat torching foods into your diet. Using lots of different methods of boosting metabolism will have a cumulative effect, therefore making it easy for you to stay trim without having to bat an eyelid. 
Other Benefits of Apple Cider Vinegar
1. DIABETES
Apple cider vinegar improves insulin sensitivity, and can significantly lower blood sugar levels and insulin response. Two tablespoons taken before bed can reduce your fasting blood sugars by 4%, making this vinegar useful for diabetics, pre-diabetes, and everybody in general.
We can all benefit from stable blood sugar, indeed it is vital if we are to avoid many potential health issues in the long term. And let's not forget that stable blood sugar also helps keep you slim!
Important Note: You may need to consult your doctor before using apple cider vinegar if you are on other blood sugar lowering medications.
2. LOWERS CHOLESTEROL
The biggest killer of our time is now cardiovascular disease, and both heart disease and stroke come under this term. Studies in rats have shown that apple cider vinegar may help negate some of the risk factors that are pre-cursers to cardiovascular disease. This is because ACV may help lower triglyceride levels and blood pressure, plus help protect LDL particles from becoming oxidised (oxidation is a crucial step in the heart disease process).
3. KILLS BACTERIA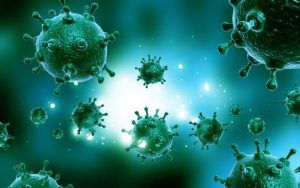 Apple cider vinegar has been used for thousands of years in the treatment of wound healing, disinfecting, treating fungal infections, warts, lice and ear infections. Its compound acetic acid can kill pathogens including bacteria, and can prevent them from multiplying to harmful levels – although not all of these uses have been tested scientifically as of yet.
4. PROBIOTIC
Raw, unpasturised apple cider vinegar like other fermented foods acts as a probiotic for the gut and contains trace minerals, pectin, beneficial bacteria and enzymes.
Keeping the gut in balance by eating lots of probiotic and prebiotic foods helps to keep your immune system strong, your weight under control, hormones balanced. Yes, everything starts in your gut, so it's crucial to keep it ticking over nicely.
Important Note:  As with most things in life, you really must source out good quality products if you want to reap the most benefits. When it comes to AVC you should purchase Organic Apple Cider Vinegar with the 'MOTHER'. I know this may sound strange but this term simply means unfiltered, unrefined and unpasturised. Please check out these Amazon Reviews on best apple cider vinegar brands for the most effective on the market.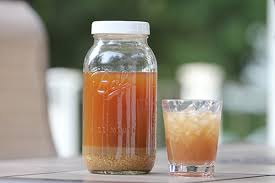 The 'Mother' in apple cider vinegar is the colony of beneficial bacteria that is similar to a kombucha 'scoby'. This bacteria helps produce the vinegar through its secondary fermentation process. Apple cider vinegar that already contains the Mother will usually be labelled as such on the packaging, though some small farm bands don't do this in which case you should find out first.
Extra Weight Loss Tips
For long term weight loss and management I believe it is far better to make a number of different weight control tactics a habit. Don't rely on any one thing; there is so much more you can do to get your body in to its best shape ever, these include:-
Adding lots of other fat burning plant based foods into your diet. These can help to boost your metabolism and also fill you up so you can lose fat faster than without them. 

Getting good quality physical exercise at least 3-4 times a week. A mix of cardio, such as running, jogging, cycling and swimming, with a resistance training session such as weight lifting or gym work, HITT training, power walking' or climbing. Exercise keep your muscle mass high, which helps to keep your body in fat burning mode permanently. It all counts towards that extra continual calorie burning on a daily basis that adds up over time.
Eating a 

diet high in plant foods

will ensure you are getting a lot of antioxidants, nutrients and fiber – all of which fill you up and stop you craving the bad stuff. Plant foods are also highly alkaline, anti inflammatory AND anti aging.
CONCLUSION
Apple cider vinegar may help you lose excess weight when used alongside a weight loss and fitness plan. Nothing makes up for a bad diet and lack of movement so bear this in mind and you should start seeing improvements in your body shape.
I would love to hear your thoughts or success stories using apple cider vinegar for weight loss, or even any other beneficial side effects you know of. I'm sure others would be interested to know also. Please feel free to post your comments and feedback in the section below. Thanks for stopping by!
Join Up!
Before you go, why not join up below↓↓↓ for all the latest tips, tricks, meal plans and so much MORE on plant based eating, fitness and weight loss straight to your inbox. It's always a great idea to learn as much as you can in this area if you want to keep motivated and slim for life, so little reminders and tips are often a useful pat of this.