If you're eating a whole foods plant based diet and missing a good chocolate brownie, then we have just the ticket for you.
This best ever 'fudgy' vegan chocolate brownies recipe is not only one of the best versions we have ever tried, but it's also oil free. This means you can eat these brownies guilt free, especially if you use only very dark chocolate chips inside.
Finding a good brownie recipe is like finding the Holy Grail, especially if you're plant based and want to keep it healthy with minimal refined sugars and oils. Granted, you may say a brownie isn't supposed to be healthy, but why not have it all?
We like to healthanise everything, including your favourite junk foods. We spend a lot of hours in the kitchen trying and testing our recipes until we find the best versions possible of our favourite foods, whist still keeping them good for you, like they should be. It is a fine balance and we think we've nailed it with this one.
What's In A Plant Based Brownie?
To make the best, whole foods plant based brownies you need to swap out all your usual ingredients of refined flours, fats (oils) and refined sugars for their healthier counterparts.
Here's how we did it:-
We use oat flour instead of refined, white flour which can be made in minutes in your blender. This is a cheap and super easy way to swap out unhealthy, refined flours for wholegrain ones that are also high in nutrition and gluten free. Other flours that can potentially be used are buckwheat, quinoa and amaranth flours, all of which are seeds and not grains. OR you can use whole wheat, spelt or rye if you don't mind eating gluten.
Very ripe bananas
Although there is a minimal amount of brown sugar in this recipe, the sweetness mainly comes from the very ripe, mashed bananas. Mashed banana, when very ripe, is a great way to sweeten your bakes without using refined sugars, or they allow you to use minimal sugars.
High cacao chocolate
Instead of milk chocolate chunks, we like to use at least 70% cacao solids chocolate to keep the sugar content down and to add more antioxidants. Organic cacao beans are always best to use as the un-organic versions can be notoriously sprayed with pesticides and other chemical nasties, In fact, it is said that cacao beans specifically are sprayed with more chemicals more than any other farming product.
Whole fats
For the fats in these fudgy, vegan chocolate brownies we have used smooth peanut butter. Ne sure to only use peanut butter with 100% peanuts. No oils or added sugars! Healthy peanut butter should only contain peanuts and maybe a little salt, though preferably not.
You don't specifically need to use peanut butter, instead use almond, cashew, hazelnut or tahini butters if you prefer.
Cacao/carob powder
Lastly, we have used carob powder in this particular recipe to keep the caffeine content down.
Cacao actually contains caffeine and can act as a stimulant, so as we have already used dark chocolate in our chocolate chunks, we use carob so as to not over-kill the caffeine. You may wish to be wary of caffeine content of dark chocolate if you are sensitive to caffeine or you're going to be eating your brownies at night. Dark chocolate can definitely affect sleep if you're sensitive.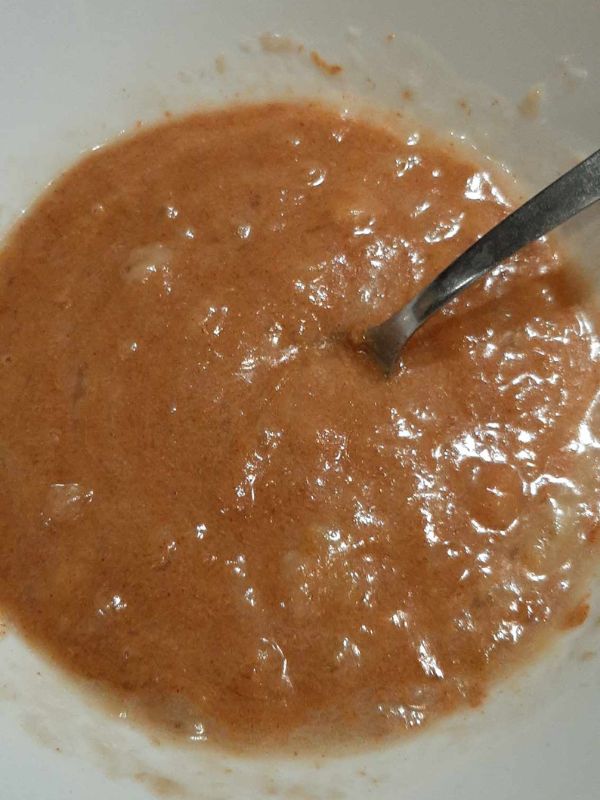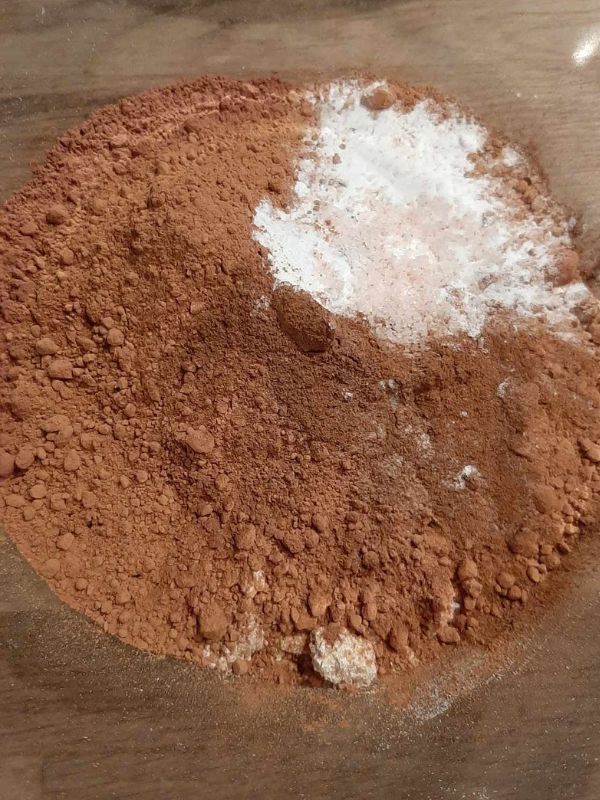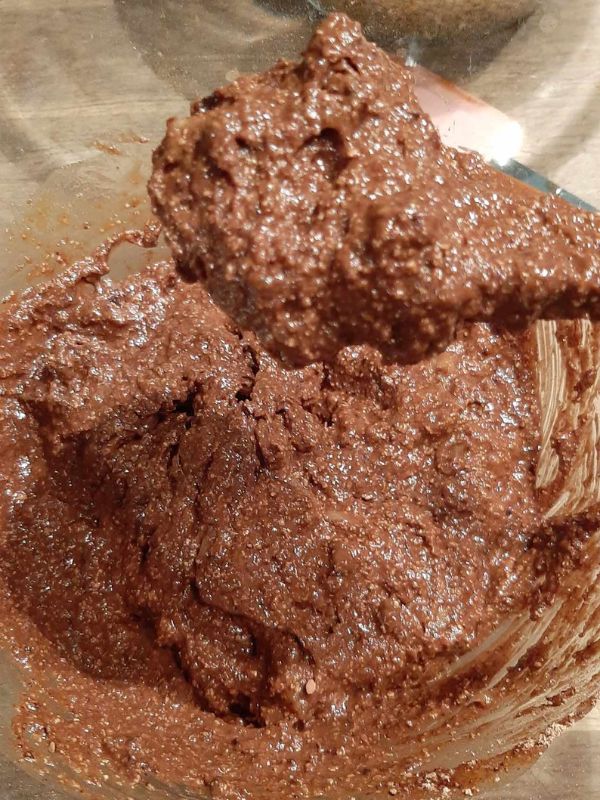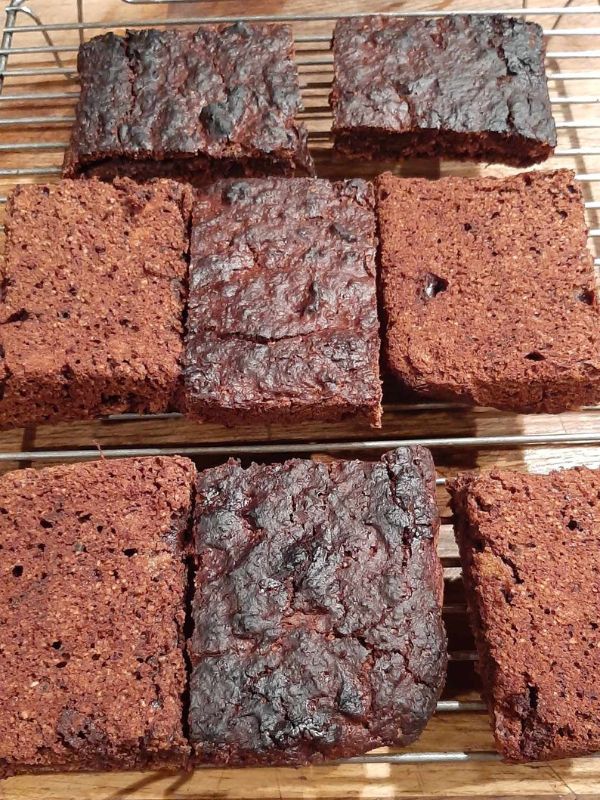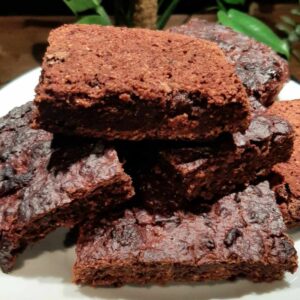 The BEST 'Fudgy' Vegan Chocolate Brownies Recipe! (Oil Free)
Delicious, fudgy and chewy brownies that are healthy enough to eat for an on the run breakfast or a substantial snack.
Equipment
2 mixing bowls

High speed blender

6" by 9" baking tray

Wooden spoon
Ingredients
1

cup

oat flour

You can use other wholegrain flours here such as buckwheat, spelt or rye.

⅓

cup

smooth peanut butter

Use any nut butter here such as almond, cashew, hazelnut, tahini or walnut butter.

½

cup

cacao or carob powder

Carob powder is caffeine free.

¼

cup

maple syrup

Substitute with agave, brown rice syrup or date paste.

2

tbsp

brown sugar

Substitute with coconut sugar or ordinary sugar.

1

cup

mashed

very ripe banana

100

g

chopped dark chocolate

Go for organic where possible of at least 70% cacao solids.

1

tsp

coffee granules dissolved in 2 tbsp hot water

Use decaffeinated coffee where possible.

1

heaped tsp cinnamon powder

1

heaped tsp baking powder
Instructions
Heat your oven on 180 C (356 F).

Make your oat flour by blending 1 cup of oats in your high speed blender until smooth. This will take about 30 seconds to do.

Once you have done this you will need to measure it again to be sure you still have one cup equivalent because sometimes the process of flouring can make the quantity lower.

In a mixing bowl, add all your dry ingredients of flour, cacao powder, brown sugar, chocolate chips, cinnamon and baking powder.

Mix well until combined evenly and set aside.

Boil your kettle and mix a couple of tablespoons of the hot water with your coffee granules in a separate cup until dissolved. Leave aside to cool slightly.

On a chopping board, mash your banana with a fork until smooth. 1 cup of mashed banana is usually about 2 medium sized bananas worth.

Put into a separate bowl to your dry mix.

Add your coffee mixture and maple syrup to your mashed banana and stir well.

Now combine both your dry and wet mixes together with a wooden spoon until well mixed. Do not beat this mixture hard, just gently combine.

Have a lined baking tin ready. 6" by 9" inches is a good size to use. Line with either tin foil or parchment paper.

Pour or scrape your brownie mix into your lined tin and spread out evenly.

Bake for between 20-25 minutes, depending on how gooey you like your brownies.

Leave to cool slightly. Now turn them onto a wire wrack to thoroughly cool before slicing into about 8 pieces.

Store in an air-tight container in your refrigerator for up to 7 days (we're sure they won't last that long!)
Video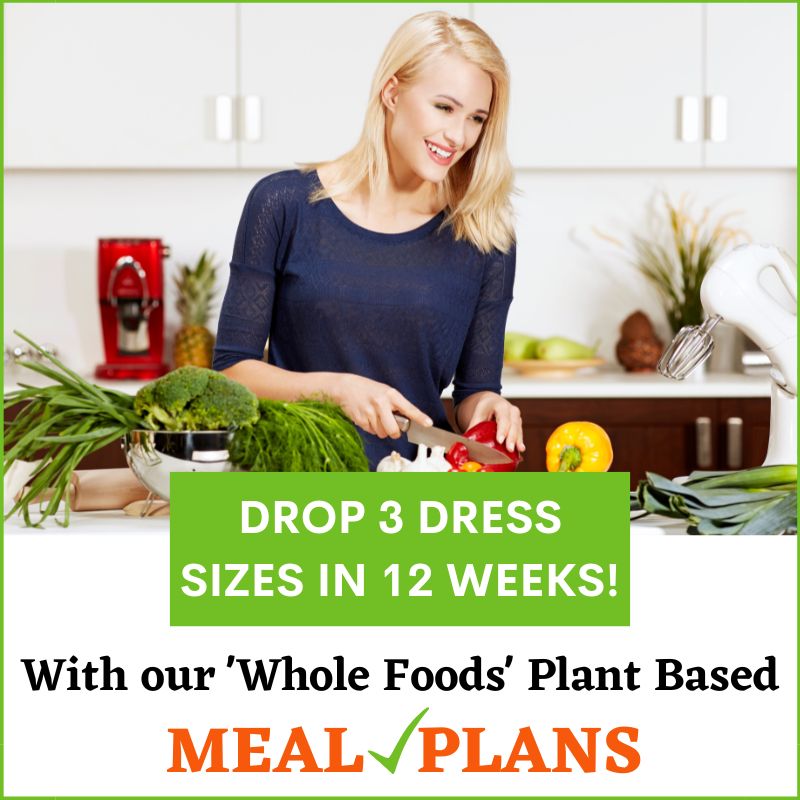 Thank you for visiting ZestForever today!
We love bringing you new delicious, family friendly and healthy recipes to try in the aim of proving that nutritious food doesn't have to be boring.
If you liked this recipe, please share it with your friends via your social media channels.
Let's spread the plant based word and bring about a plant based revolution!