The plant based diet, awesome as it is, can often leave you scratching your head for new and exciting ideas for meals, and breakfast is no exception. You want a healthy and nutritious start to the day, something that will fill you up until lunch and give you lots of energy right?
Well, they do say breakfast is the most important meal of the day. This is exactly why you should always make an effort to make it great. These 7 tasty plant based diet breakfast ideas and recipes should not disappoint.
What are the plant based diet benefits?
There's many reasons why the whole foods plant based diet is so popular right now, the biggest being the absolute amazing well-being and health it can bring when done correctly. This means with proper attention to correct food combining and an understanding of plant based macronutrients.
Both of these things are very important if you are to stay healthy on your plant based or vegan diet. Get them wrong and you could be storing up trouble down the road. This is especially if you're swapping your usual animal products for high refined carb and sugary foods.
Benefits Of A Nutritious Breakfast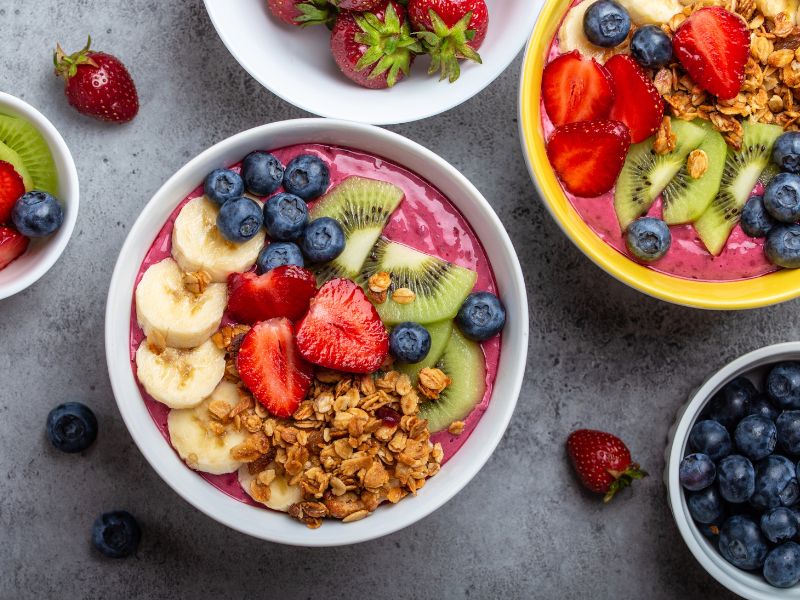 A nutritious breakfast (like those on this list) will help negate any of the problems you may have in this respect as they are all high protein, high fibre and low sugar.
These 3 together will make your breakfast low GI to give you a slow burn of energy throughout your morning, hopefully quashing any mid-morning sugar cravings that may drive you to the biscuit tin with your elevenses.
Breakfasts that boost metabolism
The breakfasts on this list are made from high protein, high fibre, known fat burning foods which help to boost your metabolism and get your body into fat burning mode. To do this you MUST steer clear of all refined carbs and sugars from your meals and stick to only high protein, high fibre and wholegrain foods.
Eating these foods, and especially eating the right kind of breakfast, plays a crucial role in helping to keep your blood sugar stable throughout the whole day. Stable blood sugar means less sugar spikes and troughs, less snacking and LESS weigh gain.
Not only that, but you will also be burning belly fat specifically. This is the most dangerous kind to be holding onto long term as it can be the pre-curser to certain diseases, so keeping it to a minimum through diet and exercise is an absolute must.
Your 7 Easy Breakfast Breakfast Ideas
You don't necessarily have to have a different breakfast every day of the week, but by the same token it's good to mix things up for a broader spectrum of nutrients and also to stop boredom from setting in. Most of these are pretty simple to make and should take no more than 10-15 minutes; some much less.
1. HIGH PROTEIN BUCKWHEAT GRANOLA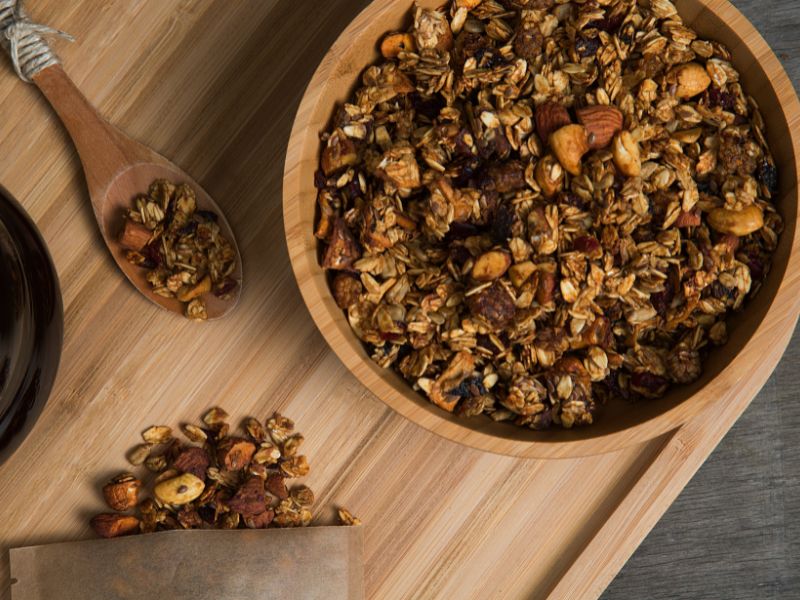 This delicious granola is something we always have prepared in a mason jar in the corner of the kitchen. Once you've made it, it lasts for weeks, probably months. It's one of the fastest breakfasts to prepare as all you need to do is add a dash of plant milk, coconut yogurt and fresh chopped fruit.
And it's SO versatile because you can use whatever is in your cupboard, as long as you use the main base of buckwheat grouts and oats. You can keep topping mine up with extra fat burning, dried fruits, nuts, seeds and whatever you fancy, so I never get to the bottom of it.
Ingredients:-
2 x cups of dried buckwheat grouts (it's important you use these for the protein element).
3 x cups of jumbo oats.
2 x cups of chopped mixed nuts. Make sure they are raw and unsalted and contain a mix of walnuts/pecans, Brazil nuts, hazelnuts and almonds. Pistachio nuts go well in this too.
Couple of large handfuls of mixed seeds including raw pumpkin, hemp and sunflower seeds.
A large knob of coconut oil (optional, but makes it SO tasty).
2 x cups of chopped dried fruits. Be sure to use in your mix only no added sugar fruits, preferably raw and organic. Fruits full of nutrition and fat burning properties are prunes, unsulphured apricots, goji berries, dates, apple rings and raisins.
Method:-
Pre-heat oven to 200 C.
Take two large baking trays and add your coconut oil to one and melt.
Add your buckwheat grouts to the pan with the oil and your jumbo oats to the dry pan.
Bake both in the oven until turning golden (about 20 minutes). Make sure you shake up half way through.
Leave to cool, then mix in your chopped nuts, dried fruits and seeds. It's important to ONLY cook the oats and buckwheat grouts to get that nice nutty taste. The rest of your delicate ingredients should be kept raw to keep nutrients as in tact as possible. Trust us, you won't know the difference anyway.
Store in an airtight container to keep it as crunchy as possible.
Serve with nut milk/coconut yogurt, mixed berries and cinnamon. Cinnamon has it's own amazing fat burning properties, which is why we love to add to breakfasts as much as we can.
2. SMASHED AVOCADO ON SOURDOUGH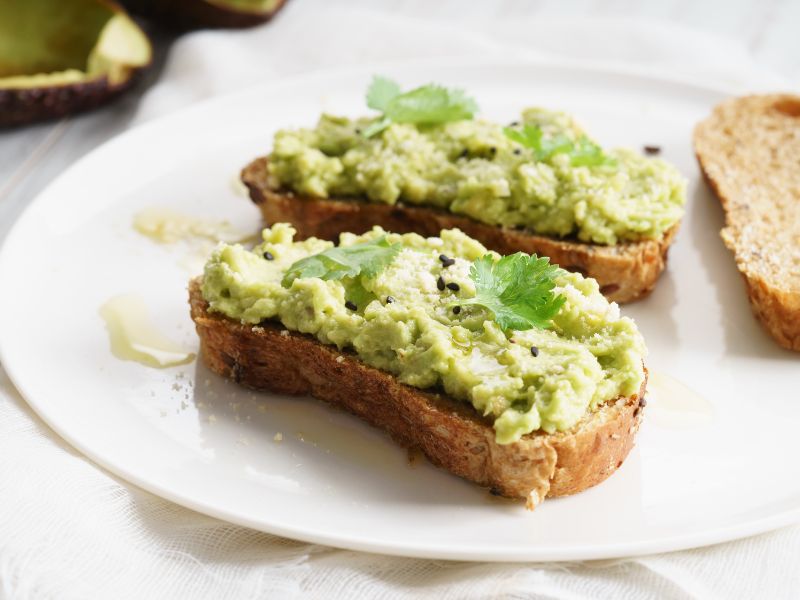 A Hipster classic, but oh so good. Creamy, low GI avocado is really satiating and will keep you really full for hours. The tahini gives you a hit of the calcium, which can often be missing on the plant based diet if attention isn't paid to eating high calcium foods.
Ingredients:-
Wholegrain or spelt sourdough bread.
Tahini.
1/2 a very ripe avocado.
Squeeze of lemon juice.
Grated carrot (optional).
Method:-
Toast 1 large, or 2 small slices of your favourite sourdough. Always go for wholegrain or spelt version where possible as they are higher fibre and lower GI. If you can't get hold of sourdough, then use granary bread.
Spread with a couple of teaspoons of tahini spread.
Finish with half a large smashed avocado and a twist of lemon juice. Don't be stingy with the avocado here if you really need a satiating breakfast, or especially you're doing a manual job.
If you can get your head around eating raw carrot with your breakfast, then the addition of grated carrot on top of this also works really well. However, you may want to save that for a lunch or brunch dish. If you do add the carrot, then you should also rub a garlic clove over your toast before you add toppings. Then also add a twist of lemon on top of you carrot – it makes all the difference!
3. HIGH PROTEIN CHOCOLATE PUDDING
If you like all things chocolate, then you'll be in heaven with this one! This smooth chocolate pudding is very low carb, and tastes amazing if you make it just right and with a good, protein powder base.
You can eat this when you want to keep your body in fat burning mode right up until lunchtime, which is why you can only use a low GI sugar substitute if you want more sweetness.
Ingredients:-
30g of total protein powder (you need the total protein in the powder to come to 25-30g no matter how much powder in weight you need to use). TIP: It's a good idea to use a high quality protein blend for this job, preferably with already added natural sweeteners.
Around 50ml of sugar-free plant milk – any kind.
1 x tablespoon of cacao or carob powder.
1/2 a medium ripe avocado.
Xylitol, stevia, or another healthy sweetener alternative (not syrups) to taste.
Method:-
Put your plant milk into a powerful blender first in order to stop the other ingredients from sticking to the bottom.
Add everything else on top, then mix to a smooth very thick paste.
The trick is to add just enough milk as to not make it too runny. It's best to add less in the beginning and slowly add more as you need it. You're going for a pudding texture, not a milkshake (though, if you prefer a milkshake then be our guest, but we always think the thick pudding version seems to fill you up for longer).
4. QUINOA PORRIDGE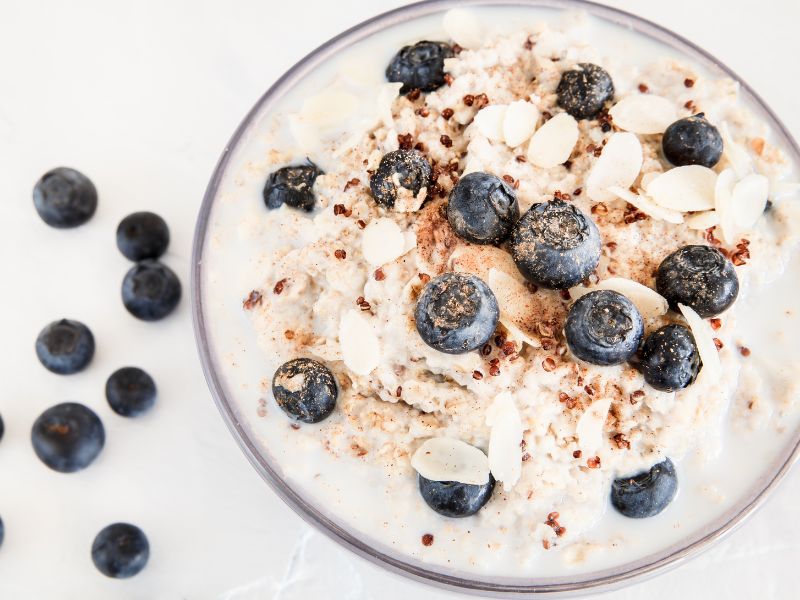 Quinoa porridge one is such a fantastic start to the day, due to the fact that quinoa is one of the few plant foods to contain a complete amino acid profile. This means it doesn't need to be combined with other plant sources of protein to get the full spectrum of amino acids that are vital to plant based eaters.
Please read more about plant based protein and food combining if you are unaware of how this works.
But back to quinoa. This little seed is high in protein, is a low GI carbohydrate, and contains healthy omega 3 fatty acids. That's a powerful concoction that makes for a wholesome breakfast. Not only that, but it is so versatile. Once you make the base, you can pretty much flavour it how you wish.
For the purpose of this post, we will give you our cinnamon, sultana and banana version. But, you can also add blueberries, strawberries and even cacao with dark chocolate chips for an awesome chocolate treat.
Ingredients:-
(serves 2-3)
1 x cup of dried white quinoa (quinoa flakes are fine too. It depends on the texture you prefer).
2 x cups of plant milk (maybe more).
2 x very ripe bananas mashed up.
Handful of sultanas.
1 x teaspoon of cinnamon.
Method:-
Wash your quinoa and cook in the plant milk until tender. This should be when all the moisture is soaked up, but you may need to add more as all quinoa seems to be different in my experience. Also, the flakes tend to cook a LOT quicker, therefore may need more moisture. You can add water as well as plant milk if you don't want it too creamy.
The finished quinoa should be in a runnier oatmeal/porridge type texture that makes it nice to eat. You would cook it much drier if you were using it for a rice substitute for instance.
Add the rest of your ingredients and heat through.
Serve with some more milk if you like; or even a spoonful of coconut yogurt.
5. PEANUT BUTTER & BANANA SOURDOUGH
We're on the sourdough again, but it is delicious and filling so that's why. This easy and quick breakfast hardly takes any explaining, but it's great when you need something fast, or even something you can run out the door with.
Ingredients:-
Wholegrain or spelt sourdough.
Sugar-free peanut or almond butter.
1x banana.
Method:-
Toast your sourdough (or some other wholegrain bread of your choice).
Spread with a generous portion of sugar-free peanut or almond butter.
Top with a sliced banana and you're good to go!
6. TOFU SCRAMBLE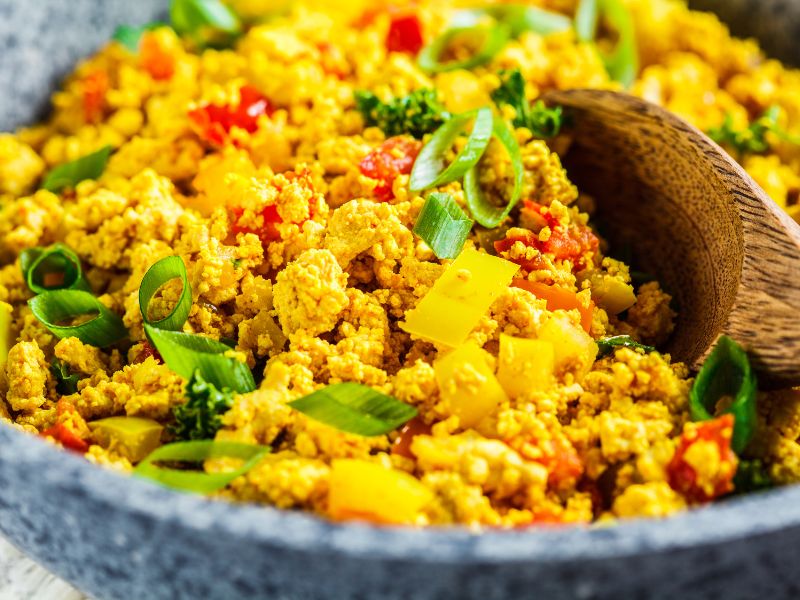 This is a super high protein breakfast that also contains 2-3 portions of your daily vegetables all in one. You can use any veggies you like, but I find the best ones are those which you would usually use in an omelette such as onions, spinach, peppers, courgettes and peas.
To make this dish more filling, you can also add some toast, or even potatoes if you have time to cook them (probably easier to keep some leftover cooked spuds from your dinner from the night before). But, if you would like to keep it really low carb for weight loss reasons then you can leave them out.
Ingredients:-
(serves 2)
Block of ready prepared tofu (they usually come in around 300g blocks). The smoked tofu may be nicer if you like that smoky taste.
Veggie mix (onions, peppers, courgettes, peas, spinach, cooked sliced potato if using). About 2-3 cups worth.
Herbs and spices of your choice (I like garlic, a pinch of cumin and paprika, plus salt and pepper to taste).
Glug of olive or coconut oil.
Method:-
Soften in a frying pan chopped onions, peppers, courgettes, peas and potato if using in a little hot olive or coconut oil.
Take your block of tofu and either crumble off in random sizes with your fingers, or chop roughly on a chopping board into about half inch pieces.
Add to the pan and cook for about 5 minutes. You may prefer your tofu to get some crust, so you can cook for longer if you do.
Add your handful of spinach for the last minute of cooking (make sure your spinach is very dry first).
Serve on toast to make it heartier.
7. STRAWBERRY, CHIA, BUCKWHEAT AND OATS
This is a higher protein take on plain oats, and what's even better is the fact that buckwheat is a complete protein source, making it very handy on a plant based diet. Plus, the chia and pumpkin seeds add some healthy EFA's to the mix. T
You don't necessarily need to use strawberries, as this dish works perfectly well with fresh or frozen blueberries too. Just be sure to mush a few of them up in order to 'pop' them open and release their juices to turn your porridge a deep stunning shade of purple incidentally.
Ingredients:-
(serves 2)
1 x cup of rolled or jumbo oats.
2/3rds of a cup of flaked buckwheat (or you could use flaked quinoa or millet).
Enough nut milk to achieve desired consistency. This will be different depending on the type of ingredients you choose, but oat and rice milk both taste great in porridge as they are naturally quite sweet.
1 x cup of blueberries or chopped strawberries.
1 x tablespoon of chia seeds.
1 x tablespoon of pumpkin seeds.
Method:-
Mix the oats and buckwheat flakes with the plant milk and heat in a saucepan until tender (should take no more than 3-5 minutes). You may need to add more milk or water to get desired consistency of porridge.
Add your fruit and chia seeds at the very end of cooking time as not to damage their nutrients too much with the heat.
Serve sprinkled with pumpkin seeds and a little more plant milk if preferred.
For extra sweetness, you may wish to add a drizzle of maple syrup, or some other healthier sweetener.
CONCLUSION
Eating a good wholesome breakfast like those on the list above is a great start to any day whether you're plant based or not, not only for you body and energy levels, but also your mind too. They all contain healthy fats that will help keep your brain and memory sharp for the day ahead. So, great if you're learning, at school, or in a high level of thinking job.
For plant based recipes for lunch and dinner too, please refer to this one week meal plan that has been put together to contain the perfect ratios of fat, protein and carbohydrates to keep you thriving and healthy on your plant based diet.
There is also a grocery list attached to make it super simple!