This post has been reviewed by our dietitian Celine Maetti
Have you decided to try the latest eating trend and go plant based or vegan? Well, I believe this planet friendly lifestyle is here to stay, especially considering the fact that some of the biggest fast food giants and supermarkets out there are now investing a lot of money into plant based products and advertising. This inevitably means lots of folks in need of advice about putting a nutritionally complete meal together, and is where I hope that this article can be of help to you.
I have devised this 7 day plant based diet meal plan guide for beginner's to give you some idea of how to be sure you're getting all your plant based macronutrients of protein, fats and carbs in the correct ratios to stay completely healthy and to also boost your immunity, energy, and vitality levels to new heights.
What can I eat on a plant based diet?
After all, the promise of better health, more energy, clarity and boosted immunity are usually the main reasons behind taking the plunge into plant based eating, but all this can only be achieved when it is done correctly and this cannot be stressed enough! If you don't take the time to understand the nutritional side of this diet then you may end up missing out on vital nutrients and therefore not gain all the amazing aforementioned benefits.
A plant based diet should ultimately consist of lost of legumes, nuts, seeds, tempeh, wholegrains, plant milks, fresh/dried fruits, vegetables, salads, and mycoproteins in moderation. I have just skimmed the surface here, and you will probably find your local supermarket selling lots of other weird and wonderful delights now the demand is higher than ever, so do take advantage of this.
Benefits of going plant based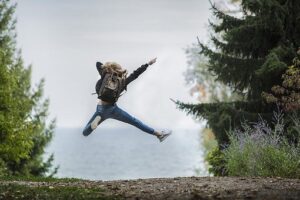 The eating of lots of anti inflammatory plant foods can indeed have its benefits, and you should start to feel the difference pretty quickly if you do it in a healthy way. Don't forget, there are actually lots of junk foods still technically considered plant based, and these include trans fats, refined sugars and refined carbohydrates – ALL of which are found in most junk foods including chips, fries and crisps, which are just basically unhealthy versions of potatoes.
That's why a whole food plant based diet is a completely different animal (excuse the pun) and ideally you would need to be eating from this healthy plant food shopping list 90% of the time, saving just 10% for the more unhealthy stuff if you really do feel like it. If you can stick to the 90/10 rule, then you will for sure start to feel some (if not all) of the benefits on the list below pretty quickly.
Clearer skin
Boosted immunity
Less brain fog
More energy
More drive and ambition
More confidence
Weight loss
Detoxification
Higher physical fitness levels
Les aches and pains in general (especially after exercise)
A happier outlook on life
Less affected by stress
Supplements you may need
If you are thinking of going completely plant based long term, then there may be certain supplements you may need to stay in optimal health. These include:-
Vitamin B12, which is mostly found in animal products and only in small amounts in some plant based foods such as fortified milks and other foods, and the mud on unwashed vegetables (negligable).
Vitamin D, which is not found in many foods apart from fish, eggs and seafood, and of course SUNSHINE (if you're lucky enough to get some on your bare skin for at least 20 minutes a day).
Omega 3 DHA, which is only found in negligable amounts in oily fish and seaweed. Some plant foods contain DHA, but it isn't very absorbable and is still only found in very small amounts. Plants mainly contain ALA omega 3. If you eat lots of seaweed then you should be ok, but most people don't!
Clearing junk foods from your cupboards
Before you begin, it helps if possible to clear the rubbish and junk foods from your cupboards ready to replace with your healthier foods. This way you will mentally be ready to take on your new challenge without any temptations in the way. If this is not possible, and you have a family that aren't willing to do this thing with you, then bag yourself your own cupboard for all your goodies (though, I do suggest you at least try and convince them to give it a go as it will make your life easier).
I find that if I know it's there, I want it, if not, I don't – it's as simple as that, and you may find yourself to be the same way when you start out. Old habits can die hard which is why it's SO important to remove temptation first.
Equipment you may need
You can usually get on really well eating plant based without the need for any special equipment, apart from what you would normally keep in your kitchen. Certain kitchenware I have found helpful to have (though not absolutely necessary) are as follows:-
A good quality blender – You will most definitely need one of these going forward as they are just so handy, and preferably a powerful one such as the Nutri Bullet or Nutri Ninja for making green smoothies, protein shakes, grain flours, and quick vegan ice-creams. Check out some great blenders here on Amazon.
Food processor – For knocking up plant based bean burgers, humus and gaucamole.
Juicer – A great way to get a quick hit of nutrition into your body. Best used for mostly vegetables to keep sugar load down, with maybe a little fruit for sweetness.
Dehydrator – This one is more for those into raw food eating, which you may well get into down the line. You can make tasty raw recipes with one of these, including raw breads, brownies, pizza bases, crispy vegetables, and dried fruits. The possibilities are endless, and the added advantage is dehydrated food can keep for weeks if not months.
Your Plant Based Diet Grocery List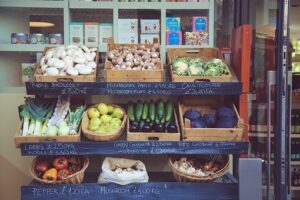 This list is specific to your 7 day diet plan below and not a complete list of ALL plant based foods in general. If you decide to carry on with this lifestyle, after you have seen how simple and easy it can actually be, then you can find a fuller list of healthy plant foods here.
As you can see the list is quite long, but many of these items will actually last way beyond the 7 days of this plan so it's good to stock up. You will probably find that you already have a lot of these foods in your kitchen cupboards already anyways.
You may also need to check the snacks at the bottom for extra items that you may wish to add to this list.
Buckwheat grouts
Buckwheat pasta (or spelt)
Brown rice – basmati is best.
Oatcakes
White quinoa
Humus
No added sugar mixed dries fruits for your granola. Go for a selection of dates, unsulphered apricots, raisins, goji berries, dried figs.
Mixed unsalted and unroasted nuts – Brazil, almonds, walnuts, pecans, cashew nuts.
Pumpkin seeds
Sunflower seeds
Sugar free baked beans. Or canned chilli beans if you can't get hold of the other.
2 x cans of chickpeas
4 X cans of chopped tomatoes
2 x cans of kidney beans
Nutritional yeast
Vegetable bouillon or stick cubes.
Coconut milk
Oat milk
Vegan cheese
Vegan butter (optional)
Coconut oil
Olive oil
Potatoes – White and sweet (large ones for baking)
Cauliflower
Onions
Spring onions
Leeks (optional for roasted veggies)
Broccoli
Spinach
Carrots
Tomatoes
Green salad leaves
Rocket
White or red cabbage
Fennel
Butternut squash
Garlic
Bell peppers
Courgette
Beansprouts
Mushrooms
Mange tout
Cumin
Smoked paprika
Rosemary
Mustard seeds
Curry powder
Oregano
Fresh basil
Chilli flakes
Fresh coriander (cilantro)
Ginger
Assorted fruits (including berries)
Lemons
Bananas
Apples
Apple cider vinegar
Balsamic vinegar
Tamari or soy sauce
3-4 avocados
Block of tofu
Wholegrain sourdough loaf OR granary loaf.
Wholewheat bagels
Tahini
Sugar free peanut butter/ and OR almond butter.
Fresh lentil soup
Mycoprotein (or some other high protein vegan burgers from the freezer section).
Pre- made nut roast (or you can make your own).
Plant based mince meat
70% cacao chocolate
Cacao or carob powder
Plant based protein powder (see this list of the best).
Xylitol or stevia sweetener
Dairy free ice-cream
Your 7 Day Plant Based Vegan Meal Plan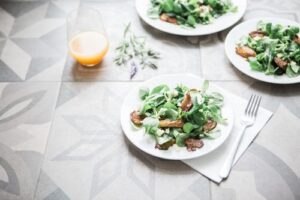 Your ultimate goal over the next 7 days is to gain an understanding of the kinds of foods you should be eating in abundance on the plant based diet; plus, learning how to combine your macronutrients together, and how to combine different types of proteins to get a fuller amino acid profile.
Unfortunately, most plant proteins aren't complete or as bio-available in the body as animal proteins, therefore you will need a little knowledge on this if you plan to be fully plant based long term. Please read here how to obtain a compete amino acid profile for an easy to understand breakdown of plant proteins and how to combine them together.
Please note:- It is always advisable to eat your biggest meal of the day at lunch time when possible. This menu already has pretty filling lunches but you may wish to swap the larger evening meals with these when you can – though I do understand it is sometimes easier and more convenient to take a sandwich to work.
Eating the majority of your calories in the day-time is a good idea for the simple reason that this is when you will need your energy, especially if you plan on going to the gym after work.
To make this plan generic to everybody wishing to try out the plant based diet it makes sense you should eat your usual portion sizes if you're happy with your weight and don't need to lose or gain. Also, aim to eat 1-3 of the snacks every day; or even add them onto meals if you wish to make them more filling.
MONDAY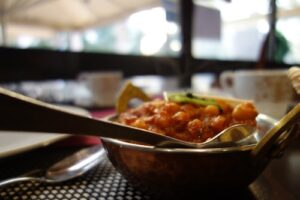 BREAKFAST
High Protein Buckwheat Granola with mixed raw nuts, dried apricots, dried figs and seeds, served with sugar free plant milk or coconut yogurt.
LUNCH
1/2 can of sugar free baked beans, with nutritional yeast flakes mixed in for a cheesy flavour and extra B vitamins. Or if you don't like baked beans you can use vegan coleslaw. Large jacket potato, vegan butter, and handful of grated cheese. Piece of fruit.
DINNER
Tofu, chickpea, and cauliflower curry with brown rice and steamed spinach. See recipe.
1-3 Snacks or deserts from list throughout the day.
TUESDAY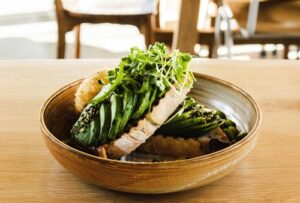 BREAKFAST
Large slice of wholegrain sourdough toast or wholemeal bagel, 1 tablespoon of tahini, ½ smashed avocado, squeeze of lemon juice. 1x Banana
LUNCH
Large bowl of lentil soup (homemade or shop bought), 2-3 oatcakes spread with almond or peanut butter. Plus, 2-3 large dates or dried apricots for afters.
DINNER
Mycoprotein burger, and sweet potato fries oven cooked in coconut oil. Side of slaw made form sliced apple, cabbage and fennel tossed in apple cider vinegar, lemon juice, salt and pepper . Couple of squares of 70% cacao solids dark chocolate.
1-3 snacks or deserts from the list throughout day.
WEDNESDAY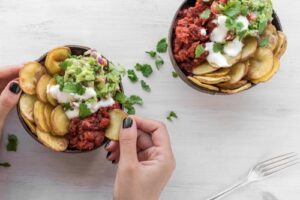 BREAKFAST
Protein chocolate pudding made with ½ avocado, 25g plant protein protein powder, cacao or carob powder, plant milk and sugar free sweetener.
METHOD:-
Measure 25 grams of plant based protein powder (you need the powder to make up to 25g total protein).
Add to blender along with 1/2 avocado, tablespoon of carob, plus sweetener to taste (xylitol or stevia is best).
Add enough nut milk to just make it turn into a very thick pudding consistency. You may have to add only a little at a time to get it just right; or if you like a thinner milkshake texture then that's fine, but it doesn't seem to fill you up for as long the thinner you make it.
Be sure to add your protein powder on top of all the other ingredients, and not first, otherwise it will stick at the bottom and become harder to mix.
LUNCH
Cheese and onion, or cheese and tomato toastie/sandwich with granary or sourdough bread; plus side salad with lots of green leaves and olives. Handful of almonds.
DINNER
Dark chocolate chili (Make enough for tomorrow's lunch).
METHOD:-
Fry 1 large onion, 4 cloves of garlic, and chopped chilies to taste until tender.
Add 2 teaspoons of cumin powder, 1 teaspoon of vegetable bouillon, and 2 teaspoons of smoked paprika. Fry for a further minute.
Add 2 tins of chopped tomatoes, 2 tins of drained kidney beans, plus 4-5 squares of dark chocolate (sounds strange, but it's the piece de resistance, trust me!).
Add hot water to desired consistency then cook out for a further 15 minutes.
Serve with wholegrain rice, chopped avocado (or guacamole), spring onions and steamed broccoli.
1-3 Snacks or deserts from list throughout the day.
THURSDAY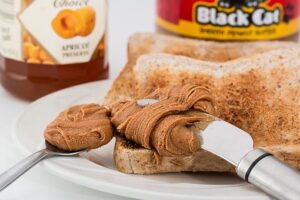 BREAKFAST
Large slice of toasted granary sourdough or bagel, topped with 1 tablespoon of sugar free peanut butter and 1 sliced banana.
LUNCH
Large baked sweet potato spread with vegan butter (optional), or sweet potato wedges cooked in coconut oil, topped with yesterday's leftover chili and chopped avocado on top. Handful of baked tortilla chips (optional).
DINNER
Roasted veggies with chickpeas on a bed of quinoa. (make enough for tomorrow's lunch).
METHOD – Roast chopped assorted veggies of carrots, potato, squash, onions, leeks, courgette, canned chickpeas, and bell peppers in olive or coconut oil; add herbs and spices of your choice (paprika, garlic, rosemary, and chilli flakes are all great) and a splash of balsamic vinegar. Serve on a bed of boiled white quinoa.
TIP:- A few minutes before the end of cooking time place a few handfuls of kale or Swiss chard leaves over the top of the veg and put back in the oven to 'just' tenderise. This adds a few nutritious greens to the mix.
1-3 Snacks or deserts from list throughout the day.
FRIDAY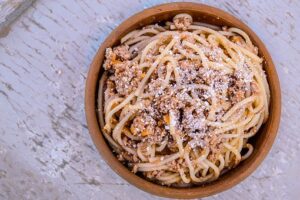 BREAKFAST
High protein granola, fresh berries, chopped apple, with sugar-free plant milk or coconut yogurt.
LUNCH
Roasted veggies, chickpeas, and quinoa from last night's dinner (can be served cold so easy to take to work). Sprinkle with a small handful of raw pumpkin or sunflower seeds. Fresh fruit.
DINNER
Spaghetti bolognese made with meat-free mince (or another high protein alternative), buckwheat or spelt pasta, vegan cheese (optional), mixed green salad.
METHOD:-
Fry 1 large onion and a finely chopped carrot in a little olive oil.
Half-way through, add 3 cloves of chopped garlic and cook until tender.
Add plant based mince-meat and fry until browned.
Add 2 tsps of dried or fresh oregano, 1 tsp paprika, 1 tsp vegetable bouillon powder, and 2 cans of chopped tomatoes and cook for a further 15 minutes. You may need to add some hot water to your desired consistency.
Add a handful of freshly chopped basil just before you take the bolognese off the heat, and serve with buckwheat or wholegrain pasta plus a handful of vegan cheese (optional).
1-3 Snacks or deserts from list throughout the day.
SATURDAY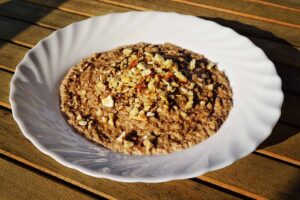 BREAKFAST
Quinoa porridge made with oat milk, cinnamon, sultanas and chopped apple. Or pick one from these delicious quinoa bowl recipes.
LUNCH
2X brown sliced bread sandwich of humus, grated carrot and rocket leaves. Banana, avocado and oat milk smoothie.
DINNER
Vegetable fried rice, with soybeans and cashew nuts.
METHOD:-
Stir-fry mixed vegetables such as slice carrot, courgette, beansprouts, onions, mushrooms, mange tout, bell peppers, broccoli, soybeans, or broad beans in coconut oil, tamari or soy sauce, chilli, garlic and ginger.
Add cooked wholegrain rice a couple of minutes before the end, then sprinkle with a handful of chopped cashew nuts and serve.
1-3 Snacks from list throughout the day.
SUNDAY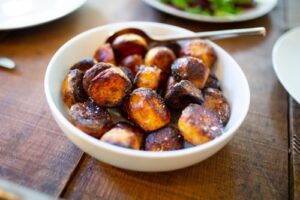 BREAKFAST
Tofu scramble with peppers, onion and spinach. Toast and vegan butter.
METHOD:-
Fry chopped peppers and onion in a little olive oil until tender.
Crumble half a block of tofu into the pan with your fingers and cook for a further few minutes until a little crispy or browned.
Season with a little salt and pepper.
LUNCH
SUNDAY ROAST (can be swapped with tonight's dinner if it's more convenient). Nut roast, roast potatoes baked in coconut or olive oil, steamed mixed vegetables, then topped with vegetarian gravy. Vegan ice-cream.
DINNER
Brown bread, hummus, grated carrot and rocket sandwich. Or vegan cheese on toast.
1-3 Snacks or deserts from list throughout the day.
SNACKS AND DESERTS
If you're in any kind of training, doing lots of exercise, or just don't feel you have enough food from the diet plan alone, then feel free to supplement this diet with one or two more of the snacks and deserts below (these can be incorporated into your actual meals also). Go for high protein snacks (or plant based protein shakes) if you're very active or trying to lose weight.
Choose one or two from this list daily if you feel you need it.
Green smoothie – of banana, spinach, heaped tsp ground flax seeds, 2 dates.
Couple of squares of dark chocolate at least 70% cacao solids.
Handful of goji berries
Blueberry Ice-cream – Frozen blueberries blended with coconut yogurt and nut milk to desired ice-cream consistency. Just add milk to your blender very slowly so you don't make it too runny. You can also do the same thing with sliced and frozen very ripe bananas.
Green superfood powder shots – should be drunk daily as an extra assurance of nutrition.
Plant based protein shakes.
Mango or pineapple chunks, coconut yogurt, grated lime zest.
Fresh coconut
2 oatcakes with humus and tahini, or nut butter.
Homemade trail mix – Made from raw nuts, seeds, dried fruits and coconut flakes.
Roasted kale chips – Flatten out your washed and dried kale on a couple of big roasting trays, sprinkle with a little seasoning of your choice (optional) and cook on your oven's lowest setting until crisped and thoroughly dried out. You can also prepare these in a dehydrator if you own one.
Toasted tamari pumpkin seeds – Heat a frying pan or skillet to high heat and add a good splash of tamari or soy sauce, keep heat high then add a big handful of pumpkin seeds. Keep on the move with a wooden spoon for a couple of minutes until they are browned and a bit sticky. Serve either hot or cold.
Ginger and tamari fried tofu pieces – Cut your tofu into 1/2 inch cubes. Add a good splash of tamari or soy sauce to a hot pan, then fry your tofu pieces with a sprinkle of ground ginger until crisp and golden on all sides. The is s a super HIGH PROTEIN snack!
Roasted spicy chickpeas – Rinse and dry a can of chickpeas in a clean dish towel. Add to a roasting pan with spices (cumin, garlic salt, and paprika are a good combo), then roast in a medium heat oven until dried out and crunchy. Usually takes around 40 minutes, but you can roast them to your own taste.
Protein balls/bars – (pick from these delicious recipes).
CONCLUSION
Preparation is key, so be sure to buy all your ingredients before you start. Depending on your current diet, this plan may give you some detoxification symptoms such as headaches, skin breakouts, bad breath and irritability as your body starts to clear itself out and adapt to new foods.
You may also feel some bloating from the eating of more fiber and other foods that your body may not be used to. All these should pass; though sometimes it can take a couple of months for your body to fully adjust. Be sure to listen to your body, and let IT tell you when it is full or whether or not to carry on eating a certain food.
Thank you for reading and supporting this website. Please feel free to let me know how you get on in the comments section below as I would love to hear from you. I reply to everybody in person if I can.
Don't forget to sign up below↓ for more plant based tips, news and ideas – and feel free to like and share this article with your friends if you feel it would be of benefit to them. Good luck, and have an awesome day 🙂