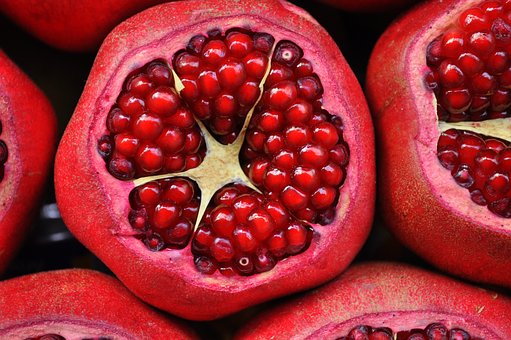 Pomegranates are a delicious fruit and their seeds resemble little red jewels, they look and taste great when used in the cooking certain exotic dishes, or sprinkled onto salads. They have a whopping 100+ phytochemicals, and have been used medicinally for thousands of years.
Read on for pomegranate health benefits -16 quick and interesting facts, and see what a powerful super food they are when it comes to boosting health and vitality, AND for keeping wrinkles at bay!
1. ANTIOXIDANTS
Antioxidants in general are fundamental to good health, and need to be consumed in abundance if you want to feel simply amazing from the inside out, and let's face it – who doesn't?
Well, as luck would have it, pomegranates are choc full of the antioxidants that are so good for health, in fact their true antioxidant value is 3 times HIGHER than that of even green tea and red wine. This is due to the phenols that give them their stunning bright red colour.
Antioxidant rich foods of all kinds should be added to your diet daily for a full array of phytochemicals, antioxidants and nutrients. Please read this list of 'Top 21 Antioxidant Foods' and incorporate as many as you can into your life.
2. ANTI-INFLAMMATORY
Chronic inflammation is often the root cause of many diseases and illnesses as it induces oxidative stress. This inflammation can be due to a poor diet full of highly acidic foods, AND a combination of other environmental factors that may also accelerate the aging process.
Anti-inflammatory foods like those found in abundance on the 'Plant Bases Diet' can help make the body more alkaline, and this includes pomegranates. Their high antioxidant content can help prevent the damage caused by oxidative stress through chronic inflammation.
3. ENDURANCE DURING EXERCISE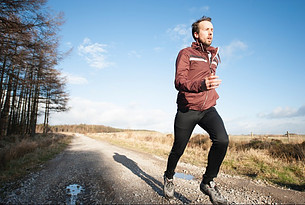 Pomegranates should most definitely have the same reputation as beetroot juice when it comes to ability to boost physical performance.
Due to their super high antioxidant capacity they can help reduce muscle soreness during AND after exercise, plus fasten recovery time and reduce that oh so bad oxidative stress that is induced in the body during exercise.
4. ANTI AGING
Pomegranates are a super slick anti aging food – again down to those powerful antioxidants that lie within the phenols in its ruby red colour.
In fact, you have probably seen pomegranate extract being highlighted as the active ingredient in some anti aging creams. This is because those fabulous antioxidants can help delay the signs of aging, reduce wrinkles, AND give your skin a youthful, beautiful glow.
5. SUPER HIGH IN VITAMIN C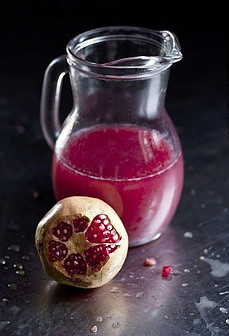 Just one Pomegranate contains over 40% of your daily vitamin C requirements. Vitamin C is a water-soluble antioxidant that is needed in the body for a strong immune system, repair of connective tissue and blood vessels, skin anti aging, and cardiovascular health, among many other things.
It is always good to get your vitamin C from natural sources as this will boost bio availability in the body – the body absorbs nutrients better from whole food products left their natural state.
Where possible, squeeze your own!
If you are drinking pre-made fruit juice's to get your vitamin C then you will need to be sure that you either squeeze the fruit yourself, or make sure they are buying ONLY freshly squeezed and cold pressed products. This is because much of a juice's vitamin C content will be lost in the pasteurization process which most supermarket juice's have been through.
If you want higher levels of vitamin C and cannot get enough through diet alone then I suggest a natural vitamin C supplement that is derived straight from a food source and is NOT synthetic. For more about this please check out 'Vitamin C supplements'.
6. ARTHRITIS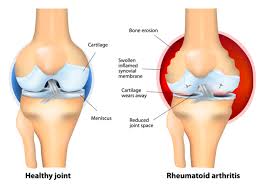 The flavenols in pomegranates can help block the inflammation that contributes to cartilage damage and osteoarthritis. Studies are currently underway about the effects it may also have on other kinds of arthritis and joint inflammation, which means adding pomegranate to your diet may help aid motility.
7. HIGH NUTRIENT CONTENT
A great source of nourishing nutrients: pomegranates help keep you healthy from the inside out, and are high in not only vitamin C but also vitamin K and vitamin E (another antioxidant vitamin), folate and potassium.
8. ALZHEIMER'S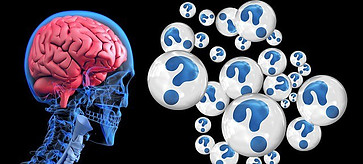 As the pomegranate is so high in powerful antioxidants it is believed that this may help stall the progress of Alzheimer's disease, and even help preserve your memory in the first place.
This, along with other antioxidant super foods such as turmeric could be a double whammy of protection for this debilitating illness. Try making your own 'homemade turmeric paste' for the relief and possible protection of a whole array of diseases.
9. LOWERS RISK OF HEART DISEASE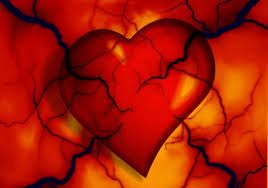 As one of the biggest killers of our times heart disease takes center stage: but daily pomegranate juice can help protect both the heart and arteries. Some studies show that it can help improve blood flow to the heart and stop arteries from becoming thick and stiff, which is a precursor to heart disease.
Eat pomegranates as a preventative:
Also, the pomegranates high antioxidant content can help bad cholesterol from accumulating in the first place, so it's probably best (especially if you have family history) to get in there early and start drinking it now!
10. ANTI VIRAL
As well as high amounts of vitamin C, pomegranates also contain the immune boosting antioxidant vitamin E, and these work in harmony together to help ward off and fight infections and illnesses.
11. CANCER PREVENTION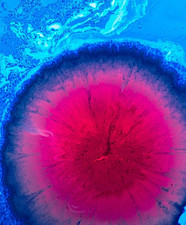 Recent research (though still in the preliminary stages) has discovered that pomegranate may hinder the growth of prostate cancer. Multiple studies are now being done to investigate this further, but results so far are encouraging.
If you at high risk of prostate or breast cancer, then adding pomegranate to your diet as much as possible can only be of help considering the evidence so far. Pomegranate juice may also help fight pre existing cancer cells.
12. ANEMIA
Pomegranates encourage healthy blood flow in the body, and will also offer iron to the blood – thus reducing the anemia symptoms of tiredness, weakness, and dizziness, whilst boosting energy levels.
13. DIABETES
Although pomegranates are high in fruit sugars, they are not 'free sugars' as they are attached to its unique phenolic antioxidants. At 6oz of juice per day, studies have shown that pomegranate juice did not raise blood glucose levels in type 2 diabetics.
Pomegranates when consumed in moderation can help to lower blood sugar, and have been used a long time by ayurvedic practitioners to help treat diabetes – but obviously alongside a healthy low sugar diet as well.
14. DIGESTION
Pomegranates can help digestion by relieving and reducing the inflammation of the gut caused by crohn's, ulcerative colitis, and other inflammatory bowel diseases.
However, it is recommended by most doctors to steer clear of pomegranate if you are already suffering from a bout of diarrhea.
15. FERTILITY
As pomegranates powerful antioxidant content has such a high impact on oxidative stress (which lowers fertility in women and can cause sperm dysfunction in men), it makes it a great aid for boosting fertility.
It also boost testosterone in both men and women which heightens sex drive, and makes chances of conceiving even higher.
16. DENTAL PLAQUE
Due once again to its anti-viral and anti-bacterial properties, pomegranate can reduce the inflammation caused by dental plaque, and also offer protection against some other oral diseases.
TO CONCLUDE – POMEGRANATE HEALTH BENEFITS:
Be sure to always either eat the fresh pomegranate whole, OR buy only the pure juice with 'No Added Sugars'. Be sure to read labels as there are lots of 'juice drinks' on the market that only contain a very small percentage of actual pomegranate juice, they are NOT the same, and will actually be harmful to health due to excess refined sugars, flavourings and additives.
Eating the whole fruit is a delicious way to get more pomegranate into your life, either alone as a snack, or added to meals and salads.