If you're asking "what is tahini paste" then you have come to the right place and in this post you will find out all it's amazing health benefits, plus 5 great ways to use it too.
Tahini will be of great benefit to you on your plant based eating plan due to the fact it is crammed full of the specific nutrition a plant based eater requires. I personally, always make a point of having at least 2 or 3 portions a week of this tasty seed based paste as it makes such a great addition to so many meals and snacks.
You would usually buy tahini in a jar (a bit like you would nut butters, as it is very similar) and it can be used in a very similar way too.
What is tahini made from?
Tahini is basically made from one main ingredient, which is ground down sesame seeds. You can usually buy light or dark versions, the difference being the light is made from hulled sesame seeds to make a creamier tasting version, and the dark is made form unhulled seeds giving it a nuttier taste.
I always go for the unhulled versions, as this makes the paste more of a 'whole' food, which naturally means it will have more nutrition and fiber, therefore making it more healthful.
Tahini Nutritional Profile
One tablespoon of tahini has the following nutritional profile:-
FAT – 8 grams
PROTEIN – 3 grams
CARBOHYDRATES – 3 grams
CALORIES – 89
FIBER – 2 grams
COPPER – 27% of RDA
SELENIUM – 9% RDA
PHOSPHORUS – 9% RDA
CALCIUM – 5% RDA
IRON – 7% RDA
ZINC – 6% RDA
Sesame seed health benefits
Sesame seeds are usually cheap and abundant and they also contain a myriad of benefits that most people are unaware of. Honestly, if you knew how nutritious this little seed really is you would probably make an effort to include it in your diet more often. These wonderful benefits include:-
HIGH FIBER – About 12 grams per 100 grams to be precise. Fiber is vital for keeping the digestive tract healthy by dragging impurities from your system and keeping your body detoxified.
HIGH IN PLANT BASED PROTEIN – Sesame seeds are a great protein provider and come in at about 18 grams per 100 grams.
BONE HEALTH – Due to their high amounts of calcium, sesame seeds can be fantastic for helping keeping bones and teeth strong. 30 grams of unhulled sesame seeds provides 22% of your daily calcium needs, which is why they are such a great addition to a plant based diet. However, the calcium is in the hull, so unhulled do not have the same effect!
HIGH IN B-VITAMINS – Sesame seeds, both hulled and unhulled, are high in many B-vits which are needed for energy, brain function, regulation of the central nervous system, appetite, digestion, eyesight, and the growth of your red blood cells.
BLOOD CELL FORMATION – Sesame seeds are high in iron and copper, both of which are needed for producing the red blood cells that contain hemoglobin (a protein that carries oxygen from your lungs around you body).
HELPS STABILISE BLOOD SUGAR – Due to their high protein and fat content sesame seeds help to keep your blood sugar stable, which in turn means LESS cravings for refined carbohydrates, sugars and junk foods in general. So great on a weight loss diet in moderation.
ANTIOXIDANT RICH – Sesame seeds are high in those amazing anti aging antioxidants (particularly vitamin E) that we all know, love and need in order to stay looking good on the outside, and of course more importantly, on the inside. Antioxidant rich foods in general help to neutralise aging free radical damage in the body.
MAY HELP SUPPORT IMMUNITY – Due to their high amount of nutrients crucial to your immune system which include vitamins B6 and E, plus the other nutrients selenium, iron, copper and zinc.
MOOD BOOSTER – The high selenium content of sesame seeds makes them a potential mood booster alongside a healthy diet and exercise plan. But boosting mood also needs a variety of other factors that involve a healthy diet in general with lots of living plant based foods.
How to use Tahini Paste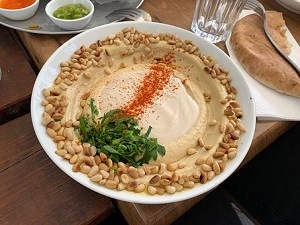 If you possibly can, it's always good to go for the dark tahini as it's higher in nutrition; and better still if it's organic and raw too!
Many people have never discovered the delights of this amazing seed, mostly due to not having any idea how to use it. But since changing my diet to highly plant based, I have discovered lots of interesting ways to add it to my diet on a regular basis just for the intense nutritional bomb it delivers on all fronts.
As it's similar to a nut butter it means you can use it in the same ways also, though be aware it does have a different taste.
Examples of how to use tahini
1. AS A SPREAD
Spread your tahini on toast, crumpets, rice cakes, oatcakes or sourdough and you have the makings of a filling snack, breakfast or lunch. One of my favorite go-to lunches is a slice of spelt sourdough toast spread with tahini, sliced avocado, grated carrot, a squeeze of lemon juice, and salt and pepper to taste. Really filling, low GI, and has the added bonus of having lots of high fiber, nutritious, raw ingredients in it.
Another discovery I made recently was how well it goes with something sweet like a no added sugar jam – this makes for a good snack with an oatcake or two, whilst also satisfying a sugar craving.
2. ADD TO SMOOTHIES
Just like you would add any other nut butter to your favorite smoothie, you can also do the same with tahini. It just makes a smoothie taste much creamier and more filling – plus, gives it a great boost of whole and healthy fats, extra protein, and an intense hit of nutrition to boot.
3. MAKE EXTRA CREAMY NUT MILK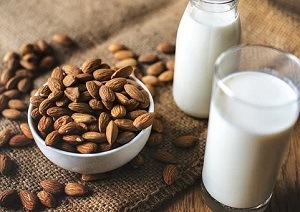 It's so simple to make your own nut milk, and even after all my years of being a plant based eater I have never bothered doing it myself until literally last week, believing that it was a bind and more hassle than it's worth. But, I was very wrong. I found a great, easy and simple recipe online, tried it out, and found it to be completely delicious and nothing like the stuff you buy in the supermarket. Mind completely blown!
Here's this quick recipe I found for a creamy nut milk using either almonds or cashew nuts; all the same except I added my own twist of tahini and it really worked!:-
METHOD
Soak 200 grams of almonds or cashew nuts overnight (I haven't tried with any other kind yet). Start out by putting hot tap water on them to get them going. They will ideally swell up to about double their size, which will be easier on your blender.
For every cup of soaked cashews you will need about 3 cups of water, depending on how thick and creamy you want you milk.
Add your nuts and filtered or spring water to a good quality blender, and add a couple of dates for a tiny bit of sweetness (optional).
Wizz up for 30 seconds.
Strain with either a sieve or muslin cloth. A muslin cloth will do a better job at getting any bits out, but I have yet to invest in one yet.
Finally, add a tablespoon of tahini paste and give one more quick blast in the blender.
Bottle and refrigerate for up to 5 days.
4. AS A SAUCE
There's an amazing sauce that we make a lot in my house to add to all sorts of dishes. It goes especially well with roasted vegetables and quinoa and completes the dish nicely. But, I'm sure you could use it for any other purpose you desire; even a salad dressing if you make it thinner. It has the following ingredients that are all extremely healthy in their own right too:-
INGREDIENTS
Tamari or soy sauce
Lemon juice
Tahini paste
Mapel syrup, date paste, or agave nectar
Raw garlic
Fresh ginger
Salt and pepper to taste
METHOD
Using a pestle and mortar, grind 2 cloves of garlic with a thumb size piece of fresh grated ginger and a little salt to a paste.
Add the juice of half a lemon, 1 large tablespoon of tamari or soy sauce, 2 tablespoons of tahini, 1-2 tablespoons of your chosen sweetener to taste and grind into a thick sauce. You may need to add a little olive oil or lemon juice to get it to your desired consistency, or amend the other ingredients slightly to your own taste buds. But end result should be tangy and delicious!
5. HUMMUS 
Perhaps one of tahini's most famous uses is in the Greek dish hummus. Another delicious, high protein, cheap and easy snack in itself due to the fact it is made from nutritious chickpeas that are just SO versatile.
It's really very easy and much more tasty to make your own hummus when you know how. You just need a food processor and that's it! This is my favorite recipe that I use for dipping vegetable crudites and poppadoms.
INGREDIENTS
1 x can or jar of pre-cooked chickpeas (feel free to make your own if you prefer).
2-3 tablespoons of the juice your chickpeas come in – do not throw this away!
Half a fresh lemon
1 x tablespoon of tahini paste
1-2 cloves of garlic depending on how garlicky you like your hummus
Salt and pepper to taste
A pinch of paprika to top with
METHOD
Basically, add all your ingredients to a food processor and wizz on a high setting to desired consistency. I like to keep mine a little lumpy for texture, but if you like it smooth then just keep wizzing.
You may need to add more water, garlic, lemon, salt or pepper to get the taste you like. It's trial and error to get it how you like it, so start off with less and add as you go.
Stores in an airtight container in the fridge for up to 3 days.
CONCLUSION
Tahini is for sure a healthy addition to ANY diet, be it plant based or not. We could all do with the extra fiber, healthy, whole food fats, and the other specific nutrients it contains in our diets. For more information on the plant based diet, plus health tips, recipes and guides please don't forget to sign up below ↓↓↓
Thanks for visiting Zestforever today!