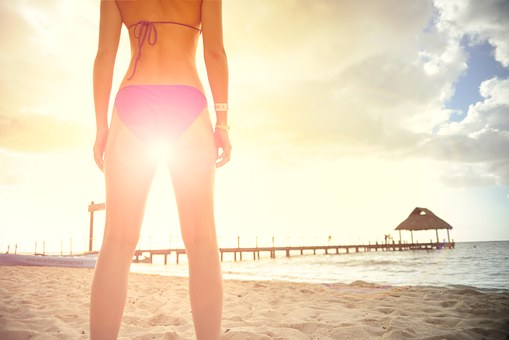 Are you plagued with those unsightly bumps on your bottom and thighs? I know how that feels and it's not nice as it can ruin your confidence and self esteem, AND make beach holidays a nightmare.
In this post I will show you how to banish cellulite for good, with tried and tested, and effective methods to help you to get rid of cellulite fast on thighs, legs, bottom and anywhere else it may be plaguing you with its unwanted presence.
Cellulite affects up to 90% of women, and also to a lesser extent men, and it's something we would all love to know the cure for. Well, there's no 'instant fix' that's for sure, but if you use some of the methods in this post then you can pretty quickly see results.
Your cellulite busting action plan –
I have devised a plan of action for you that's been tried and tested on myself with amazing results.
Cellulite is basically just harmless deposits of fat that have pushed their way through the connective tissue beneath the skin, leaving unsightly lumps that mainly affect thighs, legs and bottom; but sometimes any area of the body.
Getting rid of cellulite for good may involve hitting it from a few different angles, and as with most things worth doing in life will take a little time and effort.
FACTORS ASSOCIATED WITH CELLULITE: 
1. HORMONES AND AGE
Many different hormones can play a role in the production of cellulite, but age is also a risk factor. This is because the reduction of estrogen in the approach to menopause decreases the flow of blood to the connective tissue under the skin, and this plays a role in the formation of cellulite.
2. WATER
Staying fully hydrated is very important when it comes to cellulite, so this means lots of pure filtered water/herbal teas. Keeping hydrated is not only essential for every system in your body, but it will also plump up the skin (in a good way) all over the body, therefore making cellulite much less visible.
Proper hydration will also make fine lines and wrinkles on your face seem much less visible, almost like a much cheaper version of BOTOX!
3. DIET
I know, you knew I was going to say it, but your diet plays such a massive role in cellulite prevention that I have to mention it. Cutting down on dairy for a start would be helpful, as it is full of hormones such as estrogen and as we already have a ton our own hormones to deal with, taking on more can cause cause cellulite to form on your legs and bottom.
Eating a highly alkaline plant based diet will do wonders not only for cellulite and detoxification, but also for every other aspect of your health.
Eating an unhealthy diet full of saturated fats, sugar and salt will absolutely NOT do you any favours in the cellulite department either. Instead you should try to add as many as possible of these top cellulite busting foods every day, which. These will help eliminate cellulite for good:-
Chillies and cayenne; or anything that is hot!

Oily fish such as salmon, mackerel, trout; or if you can't eat fish then try

omega 3 supplements

Sunflower Seeds

Fruits – mainly blueberries, oranges, watermelon, grapefruit, bananas, apricots, apples, and lemons

Vegetables – mainly asparagus, broccoli, garlic, beansprouts, cucumber, celery, fennel, beetroot, and cabbage

Wholegrains, such as wholegrain bread, pasta, spelt, buckwheat, quinoa, millet and rye

Cacao 

(yes I mean chocolate, but the dark stuff with over 70% cacao solids so there is not too much added sugar). 

Green, Nettle, and Dandelion teas in abundance.

Extra Virgin Olive and coconut oils.

Apple Cider Vinegar (with the mother).

'ACV and weight loss benefits'

.
It would also help you immensely to incorporate some fat burning foods into your diet. The foods on this fat burning foods list will help to flush those toxins out of your system in no time. These foods are easily incorporated into your everyday diet and will be another angle with which you can hit that cellulite with.
4. EXERCISE
This is another biggy to consider on your cellulite busting mission. Having strong muscles and definition will go a long way to hiding those lumpy, bumpy areas. Squats for example, are a great exercise for reducing the appearance of cellulite on the bottom and thigh area, but ANY exercise is good as it will get your lymphatic drainage system working, thus flushing out toxins and reducing cellulite.
5. DRY SKIN BRUSHING
Skin brushing is a highly effective way of boosting lymph drainage, which in turn will release stored up toxins and help break down cellulite. It also buffs off dead and dry skin cells, tightens skin, promotes cell renewal, and boosts circulation, giving you an all round glow.
How to do it –
Invest in a good body brush with natural firm bristles and use it every day, right before you get in the shower ideally. Start at your feet and brush in firm, upward and swift strokes towards your heart, then continue to do the rest of your body – always stroking towards the heart (this is the best way for circulation).
Make sure the room (or you) aren't steamy or wet, as the idea is for you and the brush to both be completely dry.
6. ESSENTIAL OILS FOR CELLULITE
The best oil by far for cellulite, both orally (for its fat burning qualities) and externally, is the good old inexpensive coconut oil. You can either use it alone, or as a carrier oil for other anti cellulite essential oils such as cinnamon, cypress, grapefruit, and lemon.
7. DETOXIFICATION
Another angle to hit cellulite is through helping your detoxification systems to do their job properly, and adding in certain detoxification foods into your diet can help with this.  
8. MASSAGE
Massage can be REALLY good for helping reduce cellulite (though this can be temporary, so be sure to do it frequently for long term results). Use your coconut oil and really give problem areas a vigorous massage with the fingertips for at least 5 minutes – this really helps to get things moving.
GET RID OF CELLULITE FAST:
FANTASTIC COCONUT OIL AND COFFEE SCRUB
This scrub is cheap, easy to make, and HIGHLY EFFECTIVE alongside the massage. You simple need to mix 1/4 cup of coffee grounds (the caffeine in coffee is great for cellulite), 3 tbsp of white or brown sugar, and 2-3 tbsp of melted but not too hot, coconut oil.
Mix this together to form a paste, then apply to troubled ares during a shower. (Stand away from the water as you don't want it wash straight off as it needs to be massaged in for a couple of minutes).
Applying all of the above should get you seeing the results you desire in the quickest time possible. The more effort you put in the better the results – this is especially true when it comes to diet and exercise.
If you have any other ideas for getting rid of cellulite then I would love to hear them. Please post below in the comments thread. Thank you.