Are bananas good for you? YES, they most certainly are! And, in this post we will discuss 10 little known facts about the humble banana that will have you rushing to the fruit bowl in an instant.
Bananas naturally come conveniently packaged and are at their most nutrient dense when eaten raw and straight out of their skin.
This carb rich fruit is also wonderfully versatile. They taste delicious either fresh, dried or cooked and turned into sweet and savoury dishes.
Ripeness Spectrum Of Bananas
As you've probably noticed, bananas come in different degrees of ripeness. On one end of the spectrum you have the un-ripened, firm green banana. On the other end they can be very ripe with brown spots, they type that are great in your smoothie bowl.
Interestingly, these two are poles apart, both nutritionally and sugar content wise. And, as they both have different pros and cons nutritionally speaking, it's important to know the difference.
PROS AND CONS OF A RIPE BANANA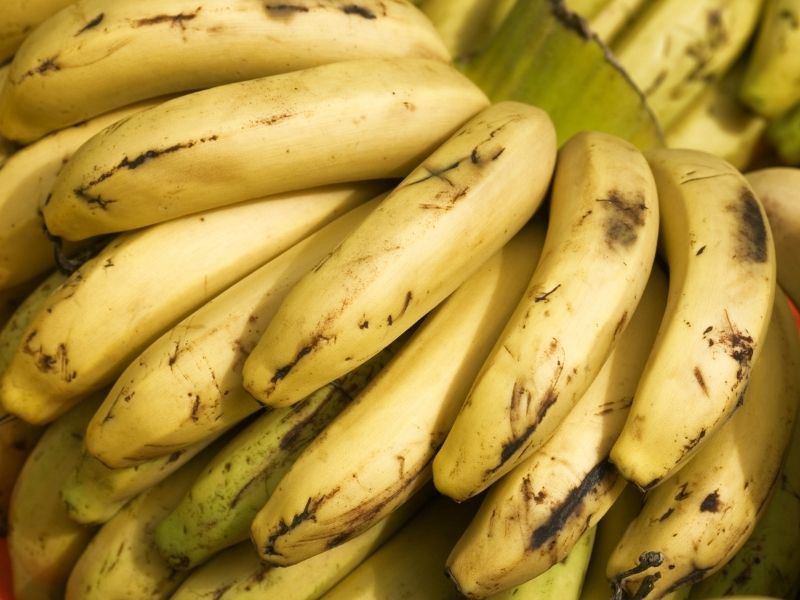 Ripe bananas are easier to digest, due to the fact that the banana's starches have turned into simple sugars.

The more bananas ripen, the higher they become in antioxidants. Antioxidant rich foods are vital for the health of the body and anti aging.

A very ripe banana is not suitable for diabetics. The riper the

banana, the higher the GI. GI is short for glycemic index. This is a number associated with how fast a food's sugars hit the bloodstream. The GI system rates on a scale of 1-100 and anything under 50 is considered low GI. Really ripe bananas come in at around 60, unripe around 30 and the average banana 51. Check out these other low GI foods to add to your diet to help keep your blood sugar stable also.
The ripe banana is not as good for weight loss, due to it being higher GI.
PROS AND CONS OF AN UNRIPE BANANA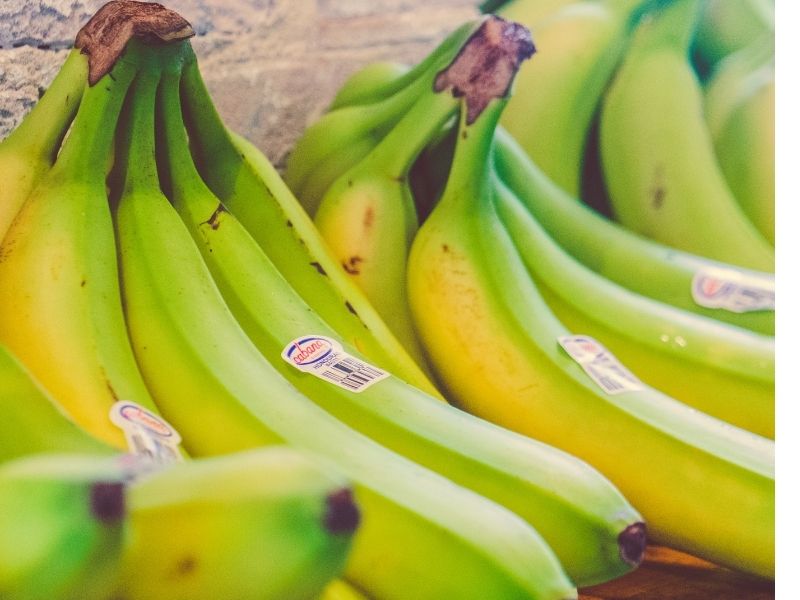 An unripe banana's low resistant starch content makes them low GI, meaning they're good for diabetics or anyone on a

low sugar diet.

Probiotic bacteria – Unripe bananas contain a healthy bacterium that is very good for the colon.

Unripe bananas help you to absorb other nutrients more effectively, especially calcium.

In conclusion to this, unless you have specific needs you should generally go for the medium ripened, yellow bananas as you will get some of the nutritional benefits of both.
Are Bananas Good For You? 10 Banana Facts
1. INSTANT ENERGY  
One medium banana contains around 90 calories and will give you both a mental AND physical boost. This is due to its low GI, sustained energy release, making it a perfect pudding, between meal snack or pre/post workout snack.
You can even use the versatile banana as snack to fuel yourself between longer, harder workouts as they are easily transportable.
Eat them with a little protein such as peanut butter for more sustained energy.
2. HIGH FIBER
Banana's are a great source of soluble and insoluble fibre and will give you a feeling of fullness very quickly.
This inexpensive, plant based food is great to have at breakfast as a nutritious start to the day. Just slice them onto your cereal, add to oatmeal, homemade healthy granola, quinoa porridge or mash onto toast with some sugar free peanut butter for added protein. Doing this will keep you full up until lunch.
3. BRILLIANT SOURCE OF POTASSIUM 
Probably the thing bananas are most famous for is their high potassium content. And, for good reason as one banana contains at least 20% of your RDA of this mineral.
Potassium is needed for heart health as it regulates both the heartbeat and blood pressure. It's also needed for keeping the brain sharp and alert. A great, cheap and healthy snack for students who need to revise.
4. A NUTRITIONAL POWERHOUSE 
Bananas are a nutritional powerhouse of vitamin B6, manganese, vitamin C, potassium, magnesium and folate. They are also packed with the fibre that helps keep your system 'cleaned out' and your digestion firing on all cylinders. Eating them with other fibre rich foods will really enhance this effect.
Getting enough fibre into your diet is crucial to health. It also normalises bowels, lowers cholesterol, keep you full, helping with weight control, and generally helps you to live longer.
5. GOOD FOR TUMMY
Because of their pectin content, bananas are great for easing stomach problems such as diarrhea.
They also help to soothe an upset stomach and replace any potassium and electrolytes that may be lost due to a bout of sickness or a bug.
Bananas are perfect added to a healthy breakfast, along with other fruits, nuts and seeds. They will work well with all these things to make a tasty and nutritious meal. OR who's ever had sliced banana and hot custard for pudding? That's a treat I remember well from my childhood.
6. HELPS ANEMIA 
Banana's are high in iron, and so are a good choice for those suffering from Anemia. As with all food products, many of the nutrients have a higher availability in the body when they are in their natural whole form. This allows them more readily absorbed.
Our body is designed to eat and digest natural, whole foods. So, the closer we can keep to that way of eating, the better we will feel.
7. GUT FRIENDLY 
The pectin and resistant starch in an unripe banana has a prebiotic effect. It can therefore increase healthy gut bacteria, in turn helping to reduce bloating, ease IBS and alleviate other digestive disorders.
A healthy gut equals a healthy immune system. Recent research has found that the gut has a 'brain' of its own and therefore can help control our mood and mental state. So, eat lots of gut friendly foods, as well as banana for the best results.
8. HELPS CONTROL BLOOD SUGAR 
Blood sugar control is more so the case in an unripe banana. This is due to their fibre called pectin, and also their resistant starch content. Both of these help to moderate blood sugar levels, making them an excellent choice for diabetics; or anybody with blood sugar issues.
Keeping your blood sugar on an even keel is the cornerstone of great health. It will not only help keep you within a healthy BMI range , but can lower your chance of many other diseases.
Many modern day diseases can be caused by eating too much sugar and high GI foods. Keeping them to a minimum can literally save your life!
Eating a diet full of low GI foods, along with high protein, low sugar foods in general will help to keep you within a healthy BMI.
9. ANTI AGING 
As with all other fruits and vegetables, bananas contain good amounts of antioxidants. In fact, they actually contain the potent antioxidants dopamine and catechins -both of which offer a reduced chance of heart disease and other degenerative diseases. Especially when eaten alongside other healthy plant based foods and regular exercise.
Antioxidant rich foods will also help neutralise the free radical damage done from environmental toxins. These will ultimately help keep you youthful looking. But, more importantly, will help to slow aging on the inside too, including the oxidation of your grey matter itself.
10. MOOD BOOSTER
Due to their high levels of tryptophan (which converts to serotonin in the body) bananas can make you happy and help alleviate mild depression or low mood. Only alongside other dietary changes and moderate exercise it must be stressed.
For true depression, you must always visit your Doctor.
Serotonin is the 'happy hormone' that we all need in adequate levels in order to feel good, and even get ourselves out of bed in the morning.  
Banana Smoothie & Nice-Cream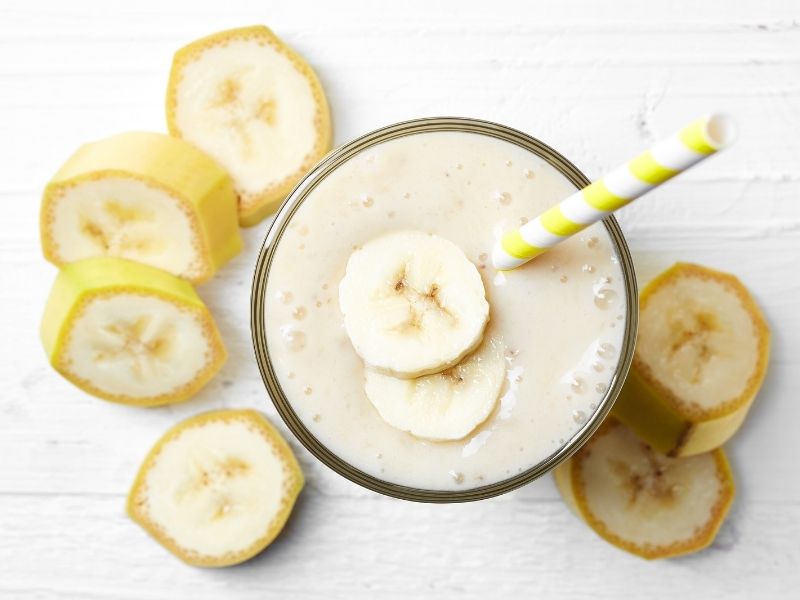 My absolute favourite way to use a banana is to slice and freeze in a container ready to be added to smoothies (this works best with quite ripe bananas).
Make a smoothie with a quality plant protein powder as a great post workout. The frozen banana gives it a frothy cold milkshake effect, its sugars help to put glycogen back into the muscles and the protein helps to repair and rebuild. 
Yo can also use you frozen bananas to make the most delicious and healthy nice-cream bowls.  Trust us, you'll never miss sugary, shop-bought ice-cream again once you've mastered the art of a great smoothie bowl.
Two Minute Ice-cream
Another easy, tasty and super healthy treat for all the family is 2 minute banana ice-cream in your blender. ONLY use sliced, frozen very ripe bananas for this.
METHOD
Simply blend frozen banana in your high speed blender with a little nut milk or coconut cream until smooth. Adding frozen blueberries, raspberries or strawberries works well too if you prefer a fruity ice-cream.
You will have to keep adding a little milk at a time until you can get it just right. You want it to just about turn in the blender, but not beyond that or it will be too runny and you'll end up with a smoothie (which is equally delicious of course).
Be sure you use SLICED, frozen banana, otherwise you will more than likely bust your blender up. A mistake I have made in the past on more than one occasion.
Thanks for taking the time to stop by and learn about bananas. I hope you enjoyed the post, and I would love to hear from you with any comments or questions related to anything in this article. Please post in the comments section and have an awesome day!