Do you like quick and easy breakfasts that you can just grab and run with that are still super HEALTHY and utterly delicious?
If so, then you will be astounded by our chocolate covered protein bar recipe with spirulina. This fabulous greens bar tastes absolutely amazing, yet also contains energising greens, fruits, nuts and antioxidant rich cacao powder.
You really couldn't ask for more in this healthy protein bar recipe. It's 100% plant based and vegan, filling, nutritious and has GREENS in it, making it the perfect start to the day.
What's so good about these chocolate covered protein bars?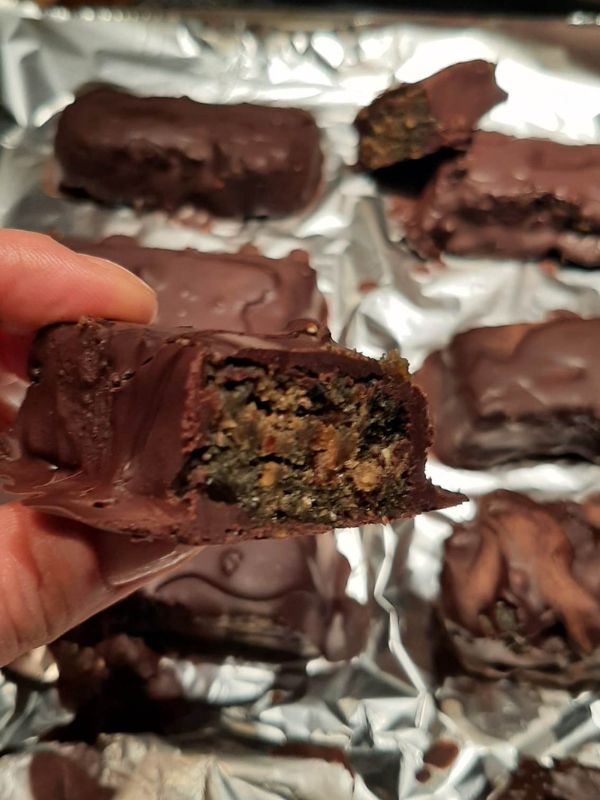 These amazing, homemade breakfast bars contain the superfood spirulina, which is a green algae grown specially on lakes. Spirulina is a rich source of many nutrients and is an alkalinising way to start your day the right way. It may not be the tastiest superfood on earth, but you CAN disguise it in many ways, such as in these vegan protein bars.
You can make our chocolate covered protein bars in advance, ready for the week ahead.
They are freezeible, and in fact taste better straight from the freezer.
The fact that they are easy to freeze means that you can keep them for much longer.
These bars a a complete meal that is high in raw energy to get your days off to a good start.
They are also 100% RAW. Eating lots of raw foods in general will have many health benefits and ENERGISE you.
Benefits Of Spirulina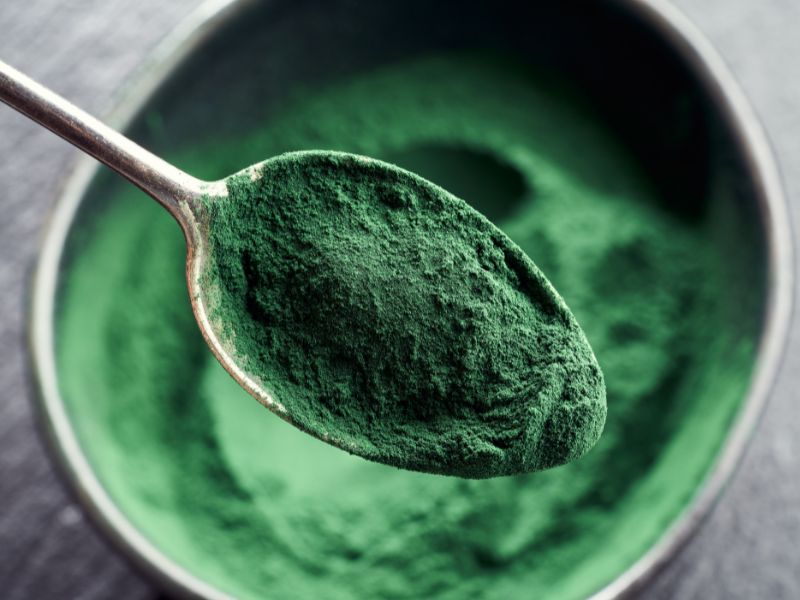 The green superfood spirulina is highly alkalinising and has a myriad of health benefits, including:-
High in bio-available protein – a great source for plant based eaters and vegans.
Low calorie/low carb.
Has powerful antioxidant and anti-inflammatory properties.
May lower cholesterol when taken consistently.
May reduce blood pressure when taken consistently and alongside other lifestyle changes.
Helps to boost iron levels.
May help improve muscle repair and damage due to its antioxidant properties.
Can help support blood sugar control.
Other Awesome Ingredients in our Protein Bar Recipe
Dates- filling, chewy and high in slow release carbs.
Raisins – high in antioxidants and slow release carbs.
Raw cacao – high in antioxidants.
Protein powder – high quality, whole foods protein powder adds great texture and many more nutrients.
Chia seeds – high in protein, zinc, iron and fibre.
Tahini (optional) – high in calcium, healthy fats, B-Vitamins and fibre.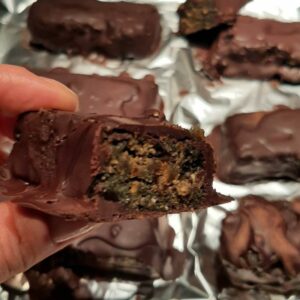 Chocolate Covered Protein Bar Recipe With Spirulina
Equipment
Loaf tin

Food processor

Large tray
Ingredients
1

cup

raisins

No added oil or preservatives preferred

1.5

cups

pitted dates, roughly chopped

No added oil or preservatives preferred

½

cup

protein powder

Whole foods, high quality protein powders are highly recommended. Especially powders with added nutrients and greens.

2-3

tbsp

chia seeds

2/3rds

cup

tahini paste

Raw is preferable to keep these bars fully raw. You can also use other raw nut butters or just normal, 100% peanut butter.

2-3

tbsp

maple, brown rice or agave syrup

These syrups are good because they are minimal in quantity but will give your bar extra sweetness and help it bind.

2/3rds

cup

melted coconut oil

High quality, RAW and organic is preferable.

2/3rds

cup

raw cacao or carob powder

You can use either of thee or a mix of both.

Sweetener to taste

Use something sugar free to keep these bars as low sugar as possible. Stevia or xylitol are good substitutes.

Tiny pinch salt
Instructions
Prepare a pre-lined loaf tin with tin foil or parchment paper on the bottom and round the sides and leave aside.

In a food processor (not a blender), process your sultanas, chopped dates, tahini paste, chia seeds until well ground, but leave TEXTURE. Then slowly add your syrup until a ball starts forming. You may need to add some water for this to happen, but go very easy on this as it will changed the finished texture and result.

Press you mix into your pre-lined tin and squash down hard. Put into freezer while you get on with your chocolate covering.

Now prepare your chocolate coating by melting you coconut oil very gently in a saucepan. You want to keep it RAW so do not lot the bottom of the pan touch the heat, instead hold it above the heat and break down with a knife until just melted. There is no need for your oil to heat, juts keep it warm. It will melt when only slightly warm.

Once you oil has melted, add your other ingredients and stir well, smoothing in any lumps.

Prepare a large, flat baking sheet by covering it with tin foil or parchment paper.

Get your bars out the freezer after about 15 minutes. Turn onto a chopping board cut into 6 bars. Be gentle so that they don't break.

Now pour your chocolate coating into a shallow bowl or something that will make it easy for you to dip your bars.

This part may get messy! Dip your bars into the chocolate, turning and coating all sides using your fingers and a spoon. Place on your prepared tray and repeat the same process with all bars. If you have any mixture left then spoon it over the top of the bars. Don't worry about it dribbling down the sides or pooling because you will be freezing them anyway.

Now add your bars back to the freezer as the are on the tray. Freeze for 10 minutes. Remove, then individually wrap in tin foil.

You can store these in the fridge for up to 1 week. Or, just eat them straight from the freezer as they do not freeze rock hard. They are in fact tastier from the freezer in our opinion.
Video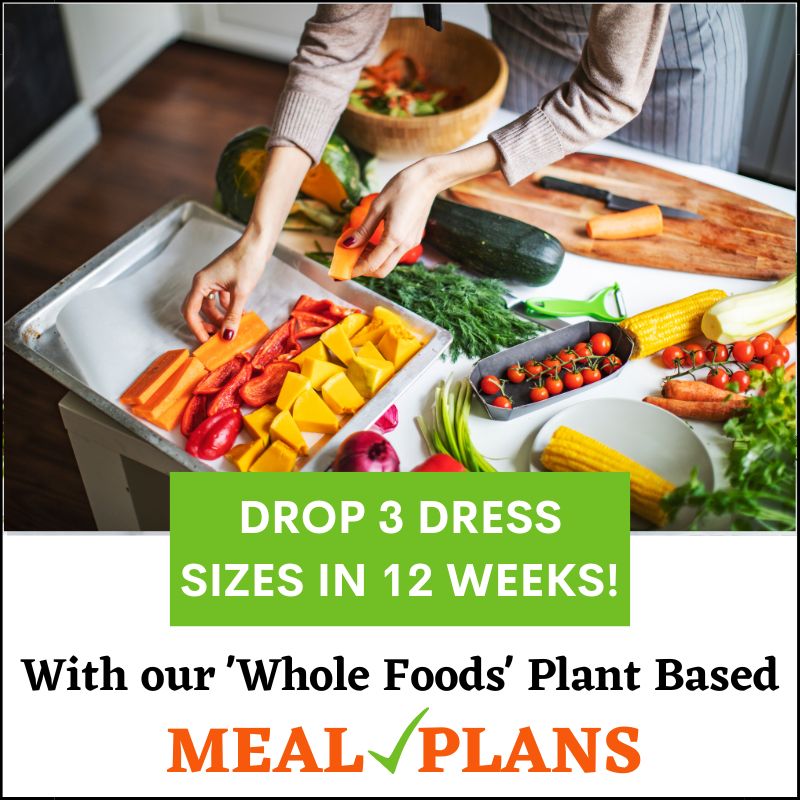 Thanks for visiting us today!
If you liked these chocolate protein bars, why not check out our delicious, whole foods plant based brownies that also make an awesome breakfast or healthy snack?
We hope you like our delicious recipes and would love for you to share them with your friends via your social media channels.
Let's start a plant based revolution!